Lessons From My Father
7 lessons learned & a few missed.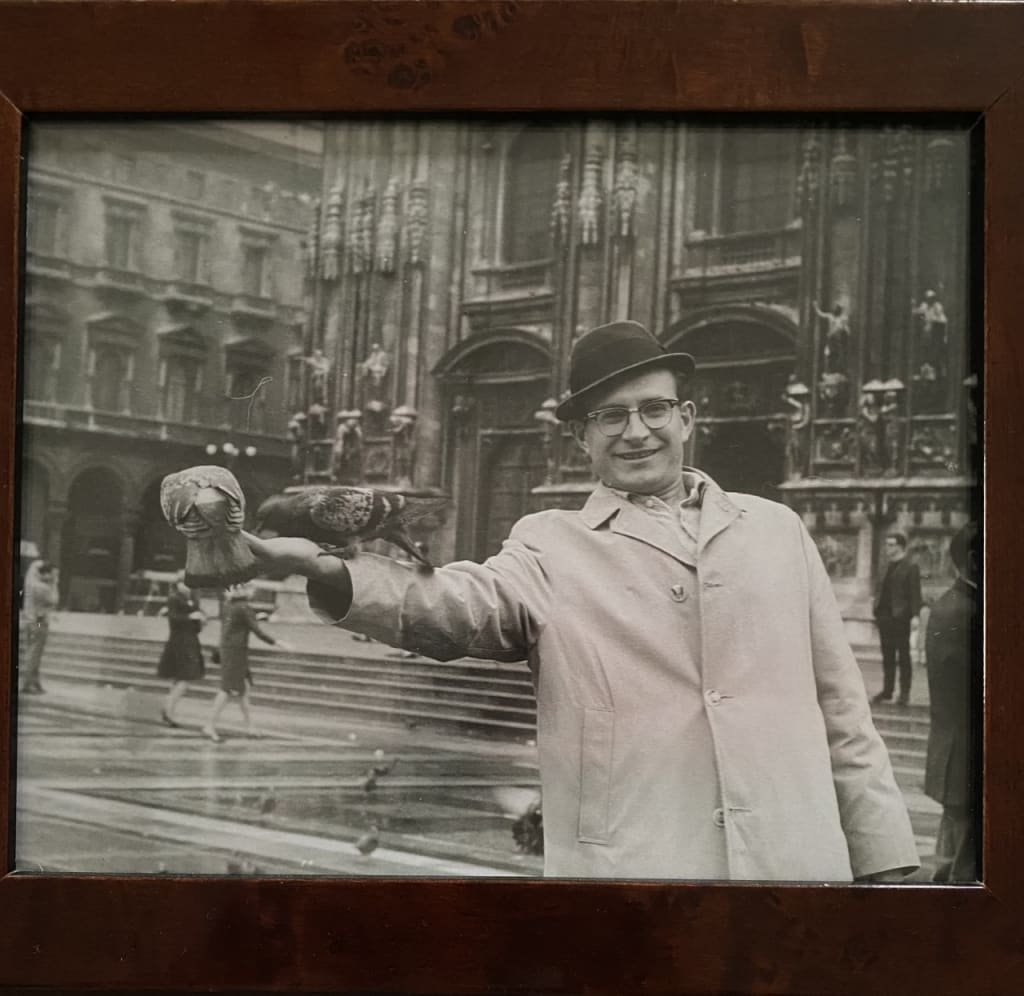 Photo of my father, László Nagy in Rome.
Born in Hungary in 1938, my father's arrival in the world came at a tumultuous time. Hitler had made his presence known, and a year later, the Nazi leader's march into Czechoslovakia set the world's great nations on a collision course against chaos and evil.
With the Germans and the Russians marching across Hungarian soil claiming occupation during WWII, brutality from one or the other was assured, and death from a bullet or starvation seemed imminent. Yet, he survived.
After the dust settled, my father watched the red star of Russia sewn into the Hungarian flag, and communist occupation brought oppression, tyranny, poverty, and terror to a formerly free and prosperous country.
At twelve years old, my father left his brothers, mother, and father behind on the family farm and ventured into Budapest, where his education continued as a Millwright's apprentice. Six years later, at eighteen and conscripted, my father donned the red star-tainted uniform of the Hungarian National Army.
The year was 1956, and as it did for hundreds of thousands of Hungarians, it was the year that would change his life forever. 1956 began with his swearing an oath to the communist-controlled Hungarian army and ended with him being charged with treason and an "execute on-site order" placed on his head.
I learned an early lesson in his reluctantly told and rising to rage stories of those times.
Fight.
In his childhood, he fought to survive his father's brutality and abuse and fought to protect his brother's from it as well. In his youth, he fought poverty by learning a trade. Then, in the first years of adulthood, he fought the Russian army.
Stationed at Killian Barracks in Budapest when the revolution broke out, my father broke the laws of his military obligations. First, he dropped the army jacket with the Russian emblem and picked up his patriotism. Then, opening the armory, my father handed firearms to Hungarian citizens, arming them against the column of Russian tanks pouring into the city.
The revolution failed and marked a traitor, my father fled his country.
In Canada, he would realize the freedom he hoped and fought for in Hungary.
But fighting for life wasn't over, not for him and not by a long shot.
Perseverance.
It was the lesson taught by example and a trait delivered to my DNA.
My father and I had a problematic relationship. We had loud battles during a long, quiet war, but I learned from him. Whether I wanted to or not.
Sometimes those lessons came in reserved words when I was close enough to hear, even though he rarely spoke them directly to me. Other times the lessons came with the crash of his hand or the whip of a willow switch.
The advice offered with the warmth of his rich, plump tones are remembered; the wrath of the punishments justly delivered long forgotten.
Not long after I was born, my mother died. It was tragic and traumatic. My older brother, three at the time, must have suffered greatly, though he doesn't remember much. But my father lost not only his wife, the romantic love of his life, but also the mother to two boys and the family's matriarch.
My father fought depression, trauma, loss, despair, rage, and more. But, responsibility forced the next lesson I would learn from him.
Resilience.
He had two young boys that needed a mother, and so, sight unseen, through penned letters, he courted and more-or-less, contracted a new wife for him and a new mother for us.
It was no small feat to extract a person from Hungary, especially with the cold war on and Hungary still under communist rule, but he did it, and in late 1975, my stepmother arrived.
Although his formal education ended with grade six, my father never stopped being a student, and the next lesson he demonstrated continuously is possibly the most important.
Learn. Knowledge was everywhere, and his curiosity was limitless.
Growing from Millwright to Machinist, my father eventually became head of the machine works for the town mine, and at home, he was everything else. Carpenter, cementer, mechanic, engineer, and inventor, but when he wasn't elbows deep in a project, he was nose deep in a book.
He read everything from popular mechanics to poetry, fiction to philosophy, spirituality to war history. He had as much room for the improbable as he did for the practical.
He believed in extra-terrestrial life, considered Bigfoot a possibility, and thought twice about swimming in Lake Okanagan and confirming that Ogopogo, the lake serpent was real.
My father knew things a poor peasant boy with minimal education shouldn't.
He spoke five languages—Hungarian, English, German, Russian, and Italian.
From a Catholic upbringing, he shifted to Buddhism. He did strange things and made weird sounds on weekend mornings. From meditations with deep, reverberating "Ohms" to breathing exercises making it sound like he had trapped a dragon in his room. Sound baths from odd instruments and bowls accompanied his practice of manifesting with intention.
He completed public speaking courses, improved as an orator, and taught himself to sing operas.
He also found other ways to keep in the good fight for his homeland. For example, he worked tirelessly on a campaign with the Canadian Hungarian Community to bring a Hungarian studies department to the University of Toronto. After his passing, I discovered a binder with petitions to government officials at all levels, lists of names giving support, and established fundraising. The project was successful with the first Chair of Hungarian Studies established in 1978.
Work.
There was a lot of it in every season, indoors and out. Doing a good day's work was a good day. The lessons there were straightforward. Work hard, do the job to the best of your abilities and see the job through.
Romance.
This is where I am probably most like my father. He loved women; all shapes, sizes, and shades—as do I. He was endlessly awed by their beauty, strength, grace, and seduction—as am I. And both of us fell in love often and with surprising ease.
Whether it was being drawn to the curve of a calve to the bend of the knee, a corner of an eye pulled to the side with a smile or the way a woman's fingers fell around the stem of a wine glass—yes, my father and I fell in love with beauty constantly.
He was a romantic at heart, and few things pleased him more than being responsible for a woman's smile, a noble endeavor I hold dear. My father believed in grand romantic gestures and noticed the smallest of things to mention, and he delivered them both with charm.
I witnessed him so overwhelmed by a beautiful woman that he was overcome by impulse—a sudden, unsolicited compliment—always genuine, never rude, and never missing its mark.
I watched as many a missus blushed, giggled, or laughed out loud while admonishing his praise. Their delight and a smile were more than enough to satisfy his soul.
From him, I learned that a woman was to be respected, admired, protected, and adored. I do my best to honor him.
Laugh.
"Sometimes it's all you can do," my father would say. "Laugh at the silliness, madness, playfulness, and pain."
Watching professional wrestling could thoroughly entertain my father. He would be jumping off the couch, crying out and holding his head as one outlandish muscle man took a flying elbow to the head from another leaping from the top rope. The more ridiculous the characters, the more he loved it. It was one thing I could never wrap my head around. How could my serious, stern, stoic father believe wrestling was real? Yet, he did.
The lessons missed.
He also missed teaching a few lessons—things like empathy, listening, communication, patience, and praise.
His example of a husband was not ideal. He wasn't a cheat, a drunk, or a louse, but he was often harsh, unkind, and readily engaged in conflict with my mother, who gave as good as she got. Neighbors would joke that they could hear the Hungarian revolution was still on when my parents went at it.
There seemed to be nearly as many topics he didn't talk about as ones he did.
He didn't teach us about money; all I knew about it was that you worked hard to get it, and then you hid it away. So I couldn't tell you if he ever struggled to pay bills or not, nor would I be able to state his salary.
Money was a secret almost as dirty as sex, and he didn't talk about sex. Period.
That was a great mystery I would stumble into on my own, without a candle to light the dark cave of understanding a woman, let alone pleasing her.
As hard as it is to explain, even though he was there, he wasn't an involved father. I think he watched but didn't see us, and I often felt that I was something he had to deal with but wasn't particularly thrilled about doing so.
When I talk to my siblings, an older brother and younger sister, I learn that he had entirely different relationships with them, ones I can't relate to sharing with my father.
With my brother, he had tremendous pride and overwhelming joy with my sister; if my siblings were the peaks, then I was the valley.
And even though it seemed my destiny was to disappoint him, he stepped up in critical moments. Luckily, those were few, but they were all bad situations. But even then, I learned another lesson, though it was slow in coming and painful to earn.
Family.
It's is all you've got. You can fight with them if you want, but you have to fight for them when needed.
My father passed away in 1994 after losing his last fight. A rare form of cancer took him quickly and without mercy.
In the beginning years of my adulthood and the final years of his life, my father and I began to mend fences, and I suspected we would have gotten along quite well as years went on.
But even in the end, my father taught me one more lesson.
Time; there's never enough of it, and there's no getting it back.

Are you feeling charitable? If you want to donate to my coffee fund, Click on the link here, or if you want to look at my wish list, click here.
Come say Hi, on Twitter
Freelance Writer for Hire. Email me [email protected]
parents
About the author
1st generation Canadian-Hungarian
Father, Fly fisher, Chef, Reader, Leader, and working on writer.
Feedback appreciated anytime. Tips always appreciated.
Reader insights
Outstanding
Excellent work. Looking forward to reading more!
Top insights
Easy to read and follow

Well-structured & engaging content

Excellent storytelling

Original narrative & well developed characters

Heartfelt and relatable

The story invoked strong personal emotions
Add your insights