Junior High Warm-Ups. Three Movies and a Big Dad Win.
Building Inspiration, Self-Esteem, and Confidence in My Introverted Tween
Photo by Author. Dad and daughter on our week away camping the in the high alpine.
Upon returning home from a vacation visiting my extended family on the east coast, it was time to change gears. We had a lot to do, and big things were on the way.
None more significant than my twelve-year-old daughter's entry into junior high. To say she was excited about it would be an understatement.
This was her dream come true, and it was on the horizon.
The school is only about five blocks from our front steps. It's a meandering route along bike paths, through a park, across the main boulevard, into a second park, and then you turn a corner, and Bob's your Uncle! Her aim, since primary was biking or walking to school from home, without a parental chaperone, and meeting friends at designated points along the way.
Throughout the summer visit, she kept in regular communication with her troop of best friends. Detailed plans were formed, outfits planned, oaths of sticking together sworn to each other.
Now, as a father, I, too, was excited for her. A new school, and fingers crossed, a complete CoVid lockdown-free school year. But, beyond her ideas of fun with friends, hanging out in the hallways by their lockers and lunch trips to the convenience store and restaurants a few blocks away, I also wanted her to find herself. I want her to be inspired and motivated, but I want her to feel safe and confident.
The world for these kids today is vastly different from when I was in junior high, even though the dynamics of junior high life are the same.
She's an intelligent kid, my daughter. She's very tough and tremendously sweet and talented. She's got real courage, and she has real anxiety. Physically crippling anxiety. Panic attacks, self-doubt, identity issues, depression, and the stress stemming from being an introvert. At twelve. It doesn't take much, and she's running down the rabbit hole.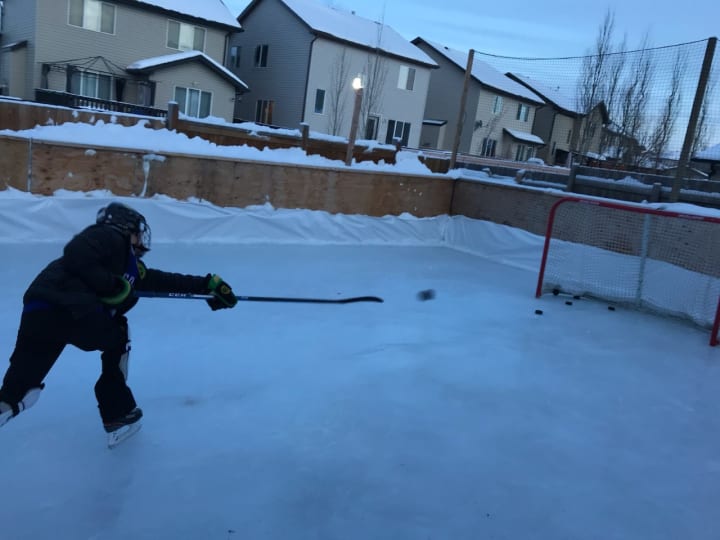 How does the life of a youngster get so severe? So hard with such intense emotions?
When her issues began manifesting in concerning behaviors such as withdrawing from her usual joyful activities of art with her own Instagram art page, which you can see here. Then ceasing her reading, writing, playing, and less communicating, I knew it was time to reach for help. Real help. Not the guessing game of parents trying to "make her feel better."
We talked to her about counseling, and because her primary school had an excellent program discussing and supporting mental health awareness, she had no stigma attached to it. She agreed that a counselor would be a positive action. It took me a few months to find the right therapist, and it was a therapist I was after, not a school counselor. I had my share of those during my school years, and I can tell you they did much more harm than good. Why? Because they weren't professionals. They were just teachers who took some additional courses, then listened to your gripes followed by immediately revealing your deep, dark stuff to your parents. Parents in the 70s and 80s were not equipped to discuss and support mental health, not my parents anyways.
Times have changed, and we have been dragged along as the parents of today's children.
My daughter has a phenomenal therapist specializing in my daughter's specific age group, with those particular issues. That was key. The second key is that the therapist is a woman. My daughter loves her therapist and looks forward to going to see her. My opinion? Thank God for her. That's the verdict from this Dad. The therapist can help my daughter navigate her way through the tough stuff. My job is to drive the bus the rest of the route.
Her therapist also helped me. I'm a very engaged father. My daughter and I have a close, strong, and joyful relationship, but the more I learned about her issues, the more I felt I had failed. How had I been unable to deliver an innocent, carefree, fun childhood? I worked hard to foster a good relationship, to protect her innocence. We had excellent quality time together, from cooking together to week-long camp excursions in the high alpine. But still, she was sad. Her therapist helped me reframe my perspective. This was my daughter. My job is to be there for her. It wasn't about me.
But this isn't a sad story; this is a story about wins- Dad wins. If you are unfamiliar with the term, a "dad win" is a connection from father to child. They can be small, for example, a well delivered, well camouflaged Dad joke. A good pun, or especially a good laugh best enjoyed at the expense of the mom.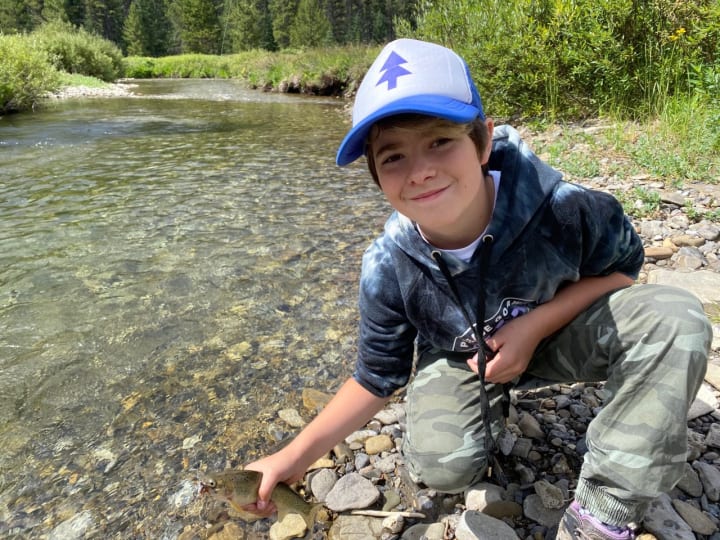 Or.
They can be big. An extended camping trip alone in the mountains with a tent and not another soul around for miles and miles. The first BIG fish on the fly rod. Sharing a true story that sets in a bit of awe and pride in her Dad, further solidifying his superhero status.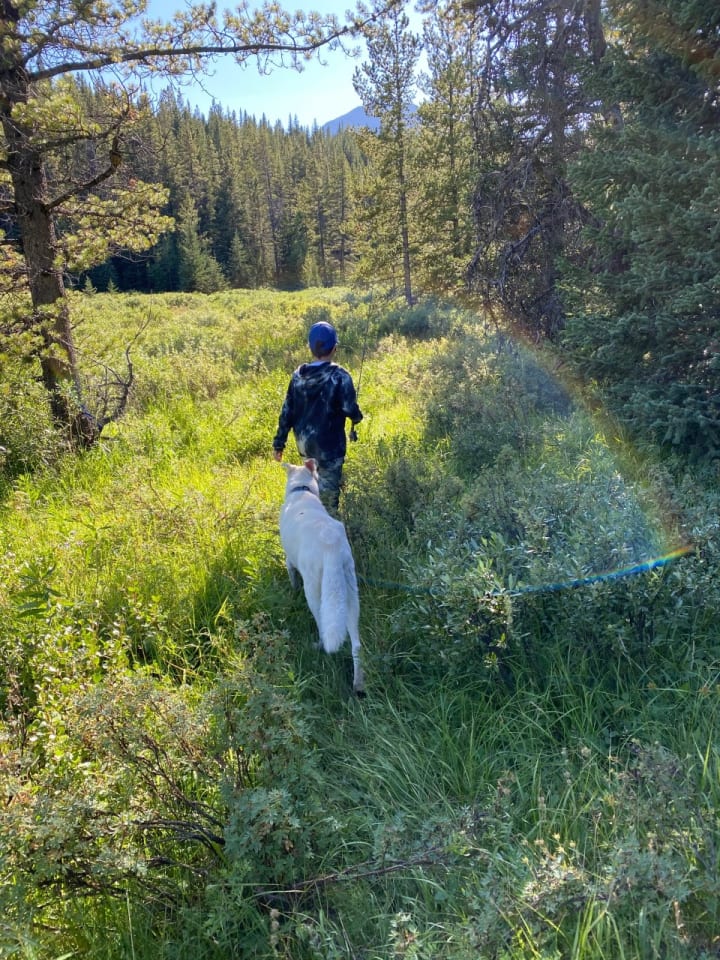 But the most significant wins are getting in under the skin. Sharing the space together inside where the child really, truly feels things. Understanding. Connecting. Motivating, encouraging, and teaching how to be a good human. How to be yourself and be okay with who you are and knowing that her Dad is on her side, no matter what.
This is a story about those wins.
Plan 1. How to make my daughter brilliant, inspired and ahead of the pack.
Reading books through summer and writing short reviews/essays for me. I had a solid list of age-appropriate novels for her. I had imagined her reading in the shade of oak trees and beneath a sun umbrella at the beach. Then happily writing her short essays for me. I dreamed of her devouring books like I do and pleading for another while forgetting that she even had devices with screens.
This was a complete and utter failure. Not one book was read. Not one word was written.
Then I read this movie review of the Dead Poet's Society, here by Sarah Paris and a new plan formed. I had confidence going in. Now it's just days before the first day of school, and I'm three wins in for Dad.
Plan 2. Find and watch inspirational, feel-good, life lesson movies relevant to her age, life, and issues.
Discuss them afterward and let her know that she is supported, loved, and encouraged to be herself.
I'm just briefly discussing the movies we've watched thus far and how they were home runs for both child and parents.
Movie #1. The Dead Poets Society.
During the movie, my daughter reacted the way I had hoped, only better. She jumped up from her chair and clapped, hollered, and whooped. She laughed and loved the kind of teacher Mr. Keating was. Then, she fell into the back of the chair and cried and called, "Oh, Captain my captain!" She was inspired to learn.
Afterward, we discussed the things about the movie, the generation it was set in, and all the feels. My daughter loved Dead Poets Society.
Movie #2. The Perks of Being a Wallflower.
My daughter fell in love with this movie in the first ten minutes. She cried at the kindness of the high school seniors that accepted, recognized, and supported the main character. She cried a lot. She clapped a lot. She yelled and threatened the jerks, "don't you do the devil's tango! Oh no, you don't!" She cheered a lot. In the end, she proclaimed it was her new favorite movie of all time. She was inspired to be just fine with her being an introvert, with her anxiety, with herself.
Movie#3. The Half Of It.
A modern twist of an old love triangle story. A tale of learning, discovery, growth, risk, and courage. My daughter melted. Cried and once again threatened the adversary to the love that should have a chance, "I swear to God if you kiss her…!" She's a great defender of noble love.
There is a lot of pressure on kids her age to broadcast a sexual identity, even at only twelve! My daughter believes she is or will be gender fluid/bi-sexual, with which I have no issue. Her mother, raised devoutly Catholic with Nuns as teachers, is struggling more with this. I just want my daughter to suffer as little as possible. Love is hard enough at any age, with perhaps those first loves being the most difficult to bear. She cheered for the courage of the main character in the final scenes of the movie. Jumping out of her chair, raising her arms in triumph, then dancing, literally dancing across the living room with joy, sharing in the character's victory. She learned the value of accepting who she is.
After that movie, she was really emotional. Curled into a ball in her chair, I could tell she had a lot going on. I stepped over her enormous and utterly unnecessary bean bag chair, scooped her up and held her. I told her, "You don't need to worry about being anything to anyone. Just be you for you." She wept into my shoulder and hugged me back tight. She came away from it, perhaps feeling a touch better about her identity. I came away with a big Dad win and a daughter that knows her father loves her unconditionally.
There is nothing more important I can do.
This week my girl is happy. She feels strong. She feels good. She feels brave.
This week was a great set of wins.
children
1st generation Canadian-Hungarian
Father, Fly fisher, Chef, Reader, Leader, and working on writer.
Feedback appreciated anytime. Tips always appreciated.