I Did It!
A Guide to Surviving the Holidays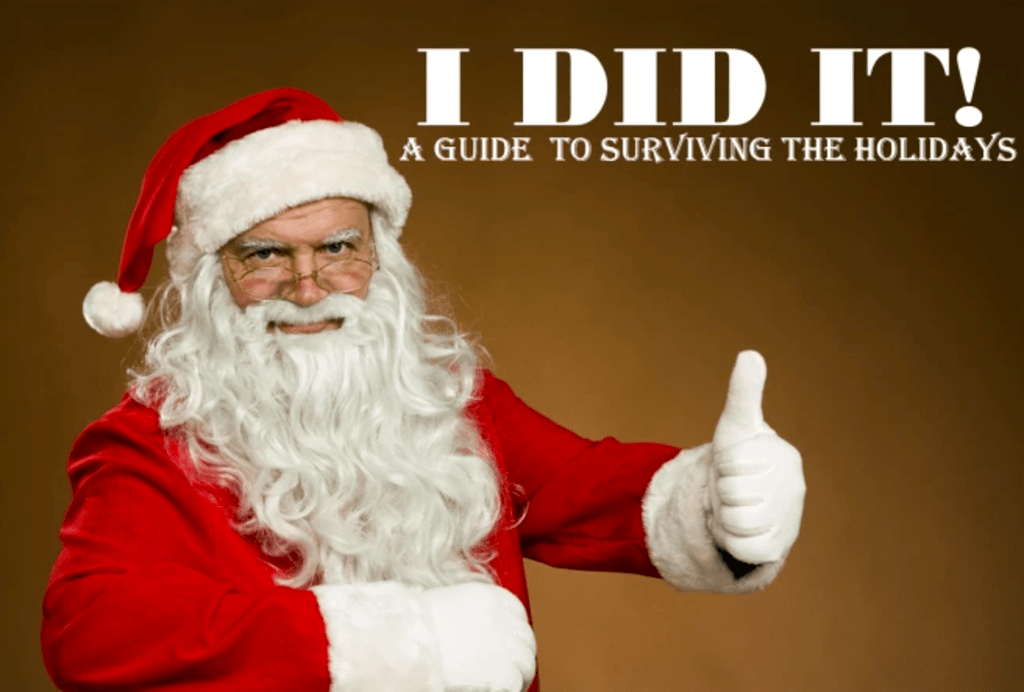 I've had some amazing Holidays over the years. Even the less spectacular years were still pretty good, at least in the end. It's not easy though. It starts out great with your favorite carols playing, some early gift buying, then things take a sharp left turn down Crazy Avenue with week after week of nothing but carols playing in every place you go. Add in the steady build of frustration that comes with the crowds, the parking, and the ever-approaching shopping deadline and it can wear down even the hap-hap-happiest among us. It can turn even the sweetest of little, old ladies into nightmares that would scare the pants off Freddy Kruger if their shopping experience isn't up to snuff. I worked in retail for a long time, those crazy shoppers left a nasty mark on my view of the Holidays. I've been out of the retail rat-race for seven years now and the flashbacks are just now starting to fade. Still, once everything was done and I realized that everything turned out OK, I got an enormous sense of well-being and joy at just having survived another one. That's how it is for me, anyway. It's best summed up in the final scene from one of my very favorite Christmas movie: National Lampoon's Christmas Vacation starring Chevy Chase. As anybody that has seen the movie (and who hasn't?) knows, the Holidays are a mess for our boy Clark Griswold. Clark has to deal with the struggles of the season, just like the rest of us... he has shopping to finish, dealing with in-laws that are staying in his home for the duration of the season, a boss who's a jerk, surprise relatives showing up that nobody was expecting (or wanting), and his tree being burned down by a careless uncle and his cigar. Then, in one final yuletide insult, he doesn't get the holiday bonus he was depending on. That prompts the inevitable Christmas meltdown... we've all been there. But Clark's boss ends up in a kidnapping and his family ends up being on the receiving end of a SWAT incursion into his home. Still, despite all the chaos and missteps, he keeps his cheer throughout the film and everything manages to work out in the end. In a quiet moment of reflection at the end he says, "I did it." Those three words basically sum up how I feel when I finally get to wrap it all up on January 1.
This year is a little different. My two sons took some big life steps in 2018 and both are now married men. We even have our first granddaughter on the way. They are now the patriarchs of their own holidays and they may find it's not as easy as this old guy made it look. So, again I put pen to paper (or fingers to keys as it turns out) to offer some advice. How do you survive until you get that "I did it" at the end? How do you keep your sanity and somehow pull together a great Holiday Season for the ones you love? Well, it's all about traditions... creating them and keeping them. In my case, it's keeping the traditions alive. In theirs, it's going to be about creating all new traditions with their new families. I don't know which traditions they will keep and which new ones they will start, but I've listed a few things here that I recommend giving a shot this season. Maybe they will help you (and them) make it through to January with some cheer still firmly in place.
1. Watch the Christmas specials.
I know what you're going to say, "they are worn out" and "we've seen them all a hundred times." But, have you? Be honest, how many times over the last few years have you seen the old specials on the cable guide and just moved right on past them? I know that's something I'm guilty of. But this year, don't. Not because they are masterpieces of cinema. They aren't. Instead, do it for the nostalgia. It might just wake up that wide-eyed child that sat and watched them with joy and hope the first time so many years ago. And if you can get in touch with that little guy this season, it's going to be a good one.
2. Spend time with the tree.
This is something that I've done since I was a child—it's mostly something I do alone, it just seems to revitalize my holiday spirit when everything is starting to get to me. Turn the lights on the tree on and everything else off, including the TV. Then just sit there, look at it all, and take it in, if only for a few minutes. I know it sounds corny… but try it anyway. If you're like me at all, after all the other distractions are gone, the memories will start flooding in. You'll notice just how beautiful the tree really is and you'll remember the great trees you've had over the years. You'll remember the fun you had watching and listening to your parents put the tree up... even when the lights wouldn't quite work right and Dad got a little testy with everyone. There's magic in that ol' tree…
3. Eat the treats.
On a diet? Cheat a little. It's the Holidays, man. Still watch the portions, but of course… you can eat the cake, just don't eat the whole cake, right? If you must, be mindful of your diet, but don't let it ruin the joy that all the baked goods and candy can bring. After all, most of them were made with love—especially for you and the family. Don't worry, the treadmill will still be waiting for you in January, right where you left it.
4. Drive through neighborhoods you don't know just to look at Christmas lights.
Some of my greatest memories of Christmas as a child were doing this with my family. We had this ritual we did every year: We would all pile in the car and go shopping for each other. Then, as a treat we'd go to Shoney's, which was a big deal back then. Afterwards we would cap off the evening just driving around looking at lights. We'd do that until my siblings and I fell asleep in the car. It was the one thing I looked forward to most, looking back. So, plan a few evenings this year to just go out with those you care about and drive around looking at lights and listening to Christmas carols. You'll cherish the memories.
5. Understand that everyone else feels the same way you do.
We are all in this together, folks. We all hate not being able to find a parking spot, sitting in traffic, and hearing Christmas carols 24/7. It's universal. But, since we know that, we should each be mindful of how we treat each other. A little kindness can go a long, long way. And do something extra for the folks in retail… God knows those poor souls deserve it. Start by just saying, "thank you."
6. Really put some thought into the gifts you give.
Remember, it's not the cost of the gift that makes it special; it's the love that goes into finding and giving that perfect gift that matters… even if it's a 50-cent piece of candy. Make it a mission to find something small, but significant for everyone on your list. Limit the spending to only a couple of bucks. Handmade is even better. If it's given with love, it's an amazing gift. And no gift cards this year unless it's absolutely necessary, like in the case of teenagers. Do not try to guess what they'd like… it's impossible. Just get the card.
7. Cook together.
This is a joy that I myself have only discovered in recent years. It turns out, I love to spend time in the kitchen with my wife as we try to cook. Granted, there is usually some wine involved… or scotch, but it can be very good for you to spend that time together working on something you both will enjoy eating and sharing. The Holidays magnify that feeling because it's not just for the two of you. Bake cakes. Make candy. Share it with the people you love. It'll mean a lot more than you think.
8. Spend time with your family.
I know, sometimes it sucks. Don't get me wrong, I love my family dearly, but the hustle and bustle of getting up and dressed and ready to go only to hit traffic and make a long drive can sometimes put me in a bit of a mood. But it's worth it. The bonds you share with your family are like no other you'll ever have. So, even if it means starting the day early to visit four houses and eat three times in one day. Make the effort… it's what you'll remember. It's what the Holidays are all about.
9. Watch the kids.
At the malls, in the stores, and definitely at home with your family, just watch the kids. The wonder and joy found in the eyes of a child this time of year is priceless. There's nothing like seeing the lights of the season in the eyes of a baby for the first time. So, keep your cellphone in your pocket and be mindful of the little ones around you. Don't just look, but truly see them. They see magic in everything and you'll be amazed how much of you still wants to rejoice in the sights and sounds of the Holiday Season the way they do.
10. Have an "attitude of gratitude."
Say a prayer of Thanksgiving every day. I think this goes without saying, but the moment you realize that you are not in this alone is the moment you will truly come to understand what the Holidays are all about. And in that moment, you know that everything you are as a person and everything you have in your life is a precious gift… you must be grateful. So, take stock of what you have and give thanks for it as often as you can... especially when things are hectic, and you want to scream. Instead, take a second and say a little prayer of thanks for being there in that moment. It can change your entire outlook.
These are some of the things that help me. The trick, I think, is to focus on the good and to take joy in whatever doses it comes in… even if the doses are small. Sometimes the smallest joy can fill our heart with more love than the biggest gift under the tree. So yeah, relatives can be a pain. Shopping is insufferable, and the traffic is relentless… even if you are just trying to get to the grocery store for some milk. And don't get me started on the fact that they start playing Christmas music in the stores earlier and earlier each year. It's not even Thanksgiving and a lot of businesses are already cranking out the Rudolph. But if we try a little each day to understand and remember the reason for all the humbug, it becomes clear that maybe Christmas, perhaps, means a little bit more.
Oh… and whiskey.
Don't forget whiskey.
That helps a lot.