Holiday's at Home
The good, the crazy, and the mountains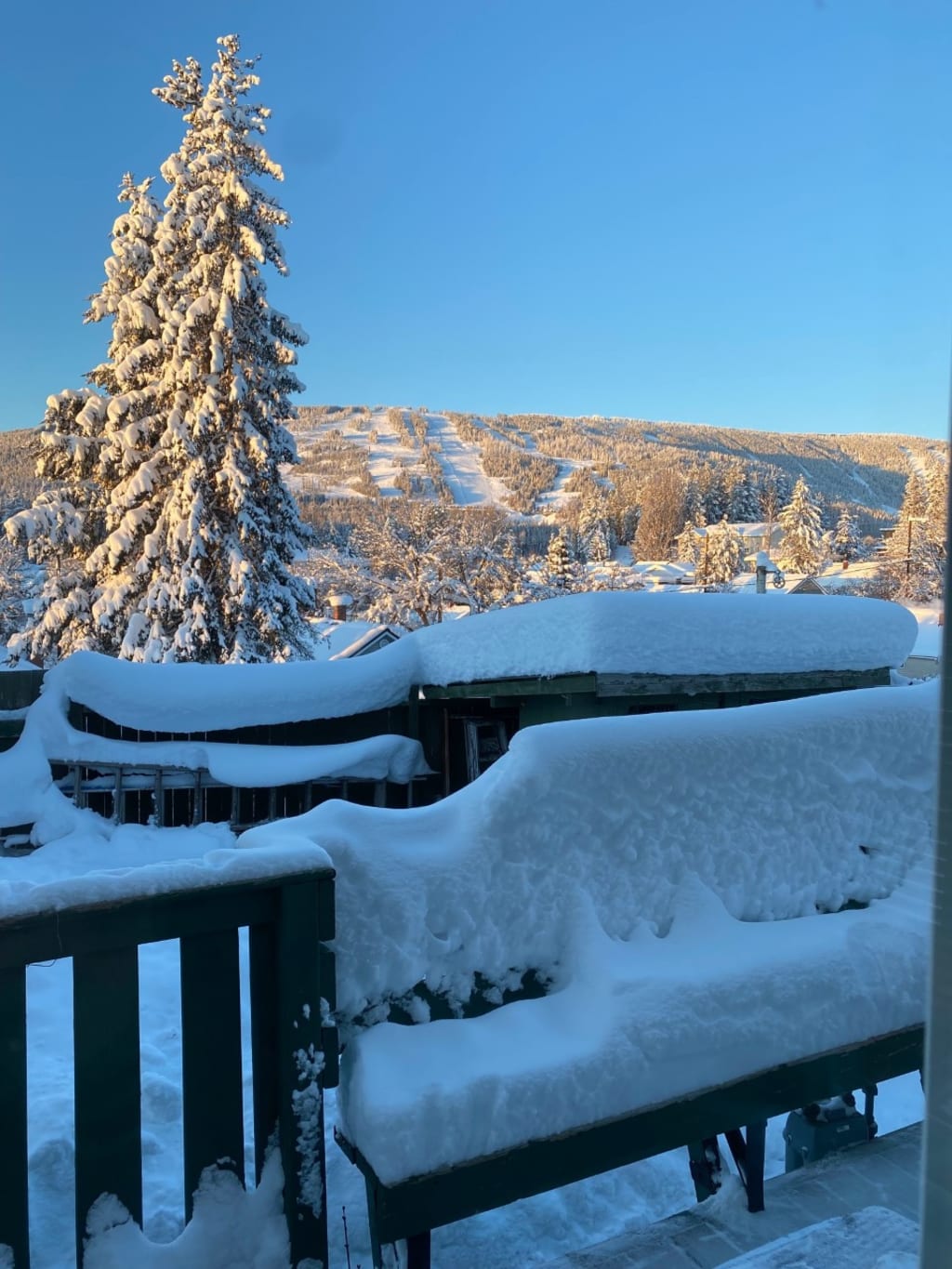 Photo by Author. Morning mountain view.
I am not an alcoholic only because I have a plumb bob that finds the line. Were it not for this primitive device dangling somewhere near the bottom of my rib cage, I would be a bloody mess.
There have been a few instances where I bobbed the plumb and ignored the line cast across my limitations. The results were not good. The night of my last shift at a pub where I moonlighted coincided with the first time I met a member of my now wife's family. The shift ended at 11pm. The shots started arriving in the kitchen at 8pm.
This was a neighborhood pub; think "Cheers," It was not for dancing. I danced and unfortunately for my wife, she danced with me. There was a horrible yet impressive washroom scene and a very poorly thrown dart. Both stories are better left with a vague picture and your own imaginations.
Our condo was three and a half blocks from the pub. The town law said that if you looked like you were drunk when walking the streets, you were thrown in the drunk tank. So there was zero chance I could make it home. My gal borrowed her niece's car to deliver me safely home. She had to stop five times in three and a half blocks so I could empty my stomach. That was in 2003. The plumb bob has held the line since then.
Yesterday, I nearly tipped the level, and I blame my 78-year-old mother. She's a bad influence.
My mother arrived in Canada in late December of 1975. That's 46 years gone by, and when she speaks English, it still sounds like she came last week.
"I don't know vat ve vill do for some supper? What do you thinking ve should make?" She listed different options. Her freezer rivals that of a well-stocked restaurant; she has everything. Coming home to cook is like stepping into a culinary mecca. Then, with the family gathering together again, my mother thought she would extend an invitation to her boyfriend, Jim, to join us.
"But I don't think he vill come anyways because he doesn't like to drive in the night. You never knows it, and he likes you very much to have another man to visit with. He might say yes." She snuck off to her room and dialed up her beau. She pranced back into the kitchen, delighted to report that Jim was coming for dinner.
"Jim will come!" she reported with the adorable glee of a teenage girl. Then she asked me if I could scale up dinner.
"Can you make a dinner in de vay of Chef Arpad? Make it something very nice?" my mother excitedly asked. I replied, of course, I could and that we should decide on a dessert idea and get started as it was already past noon.
"Ooh! You know vat it is I have?" she asked or stated as she rushed over to her bookshelf. Extracting a small, hardcover Hungarian recipe book, she flipped the pages to a recipe she had in mind. "Dis von I have never made it. Supposed to be a very good and famous Hungarian cake! Maybe you can make this von?"
I skimmed the recipe and checked the ingredients list. True to Hungarian culinary form, it was basic in components and a little complicated in construction. We checked off that the ingredients were in-house. I got to work. Mama was excited.
My mother is very proud of me. My career choices have all been those deemed respectable, worthy, and talent-driven in the eyes of old stock Hungarians. In Europe, a Chef is held in high regard. The fact that my professional culinary career took me to elite kitchens, restaurants, and hotels put me in exalted status amongst her crew of Hungarian ladies.
Wherever I worked as a Chef, I would invite her as my guest for special dinners and events. My Chefs and restaurant proprietors adored her, and she was treated like royalty on each occasion. She attended black-tie affairs from coast to coast with stays in the most luxurious of hotel rooms enjoying 5-star, 10-course menu's and when my work was done in the kitchen, and I came to a ballroom, it was often to find her perched on the arms of a gentleman as they danced around the room.
So it was with my work in the oil fields. First moving from the grueling labor in minus-40 degree weather to becoming a field engineer, then operations manager and managing the overwhelming workload of running simultaneous operations in the US and Canada out of Calgary office and 24/7 on my phone and then finally breaking free with my own consulting firm.
And now, it's writing. She tells everyone, "my son is a writer, and he is very good!" In Hungary, a writer is a poet, an artist, and a keeper of magic. In a country where the stories of legendary warriors, kings, and saints have been handed down for hundreds of years, a writer was the movie star before there were movies. She will tell me what she needs to be done around the house on each visit home. Then she feeds me. After the meal and before work, she ushers me to the space she's cleared for my writing area and tells me, "now sit down and don't vorry about anything. Write."
"It's past twelve o'clock now, we can have a just a little drink, and I will clean ven you doing the food!" By the time I gathered the equipment and relieved the oven from its duties as a storage unit, Mama had the counter stacked with bottles.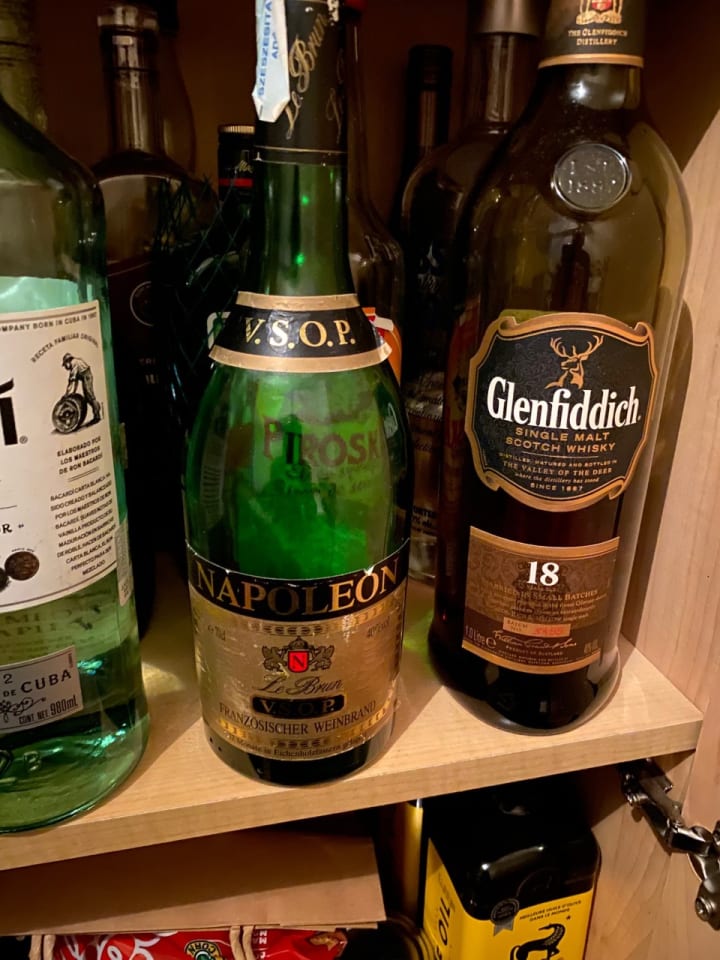 We began with a shot of locally distilled Elderberry liquor. Then, with fresh ground bean coffee brewed, we bumped it up with a shot of 20-year-old Napoleon Brandy, a splash of 18-year-old Glenfiddich single malt, and because it's Christmastime, a dribble of Frangelico.
That coffee was a kick in the ass and got us moving. But, it was the second cup that had the house humming. So, while I began the dessert creation, I connected the Bluetooth speaker and opened a playlist of music I knew Mama would love. Piaf, Puccini, and Pavarotti.
The house was alive with excitement. In and out of the kitchen, she would come to see the process and ask what was next. An hour later, the cake was made and resting. I finished wrapping the dry herb-rubbed pork loins with bacon and began the mushroom sauce. A Napoleon-Frangelico flambéed mushroom, red wine reduction.
Done with coffee, we moved to red wine.
Jim arrived, and with the pork in the oven and the rest of my kitchen work done, I gathered my daughter, niece, and Jim, where we moved to the dinner table for a game of Chinese Checkers. Mama filled our glasses with more red wine. I won the game.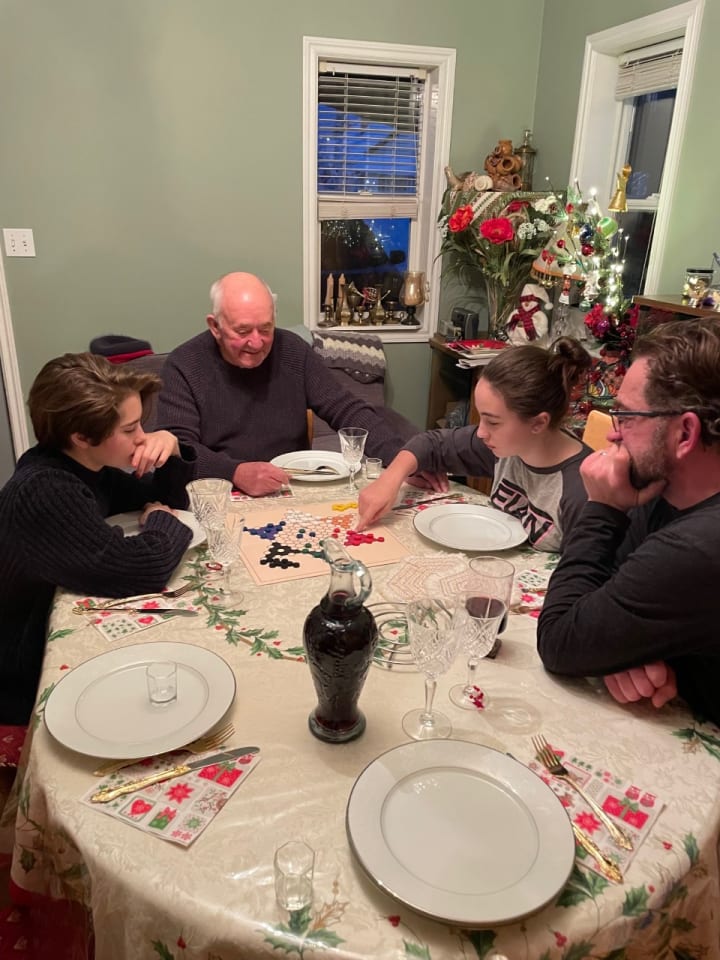 Dinner was served. A crisp bowl of fresh greens with peppers, cucumber, and onion. The roast pork with its decadent sauce, mashed potatoes, and roasted cauliflower rounded out the plates.
The youngsters teased being grown-ups and asked for wine. So I gave them each a few ounces of red to try.
"Dad?" my daughter asked, being called on her bluff, "Is this the same as church wine?" I smiled and told her, "It's quite a bit better." Ten minutes after tentatively sipping their wine, the girls were silly with faux drunkenness. Seated at their own table, they giggled their way through dinner.
At the adult's table, we entered into worldly discussions. The thing you need to know about my family is that sitting down to a group meal means unavoidably entering the pit of conspiracy. My earth-mother, cannabis championing sister, is the valedictorian of conspiracy theories. A wildly vocal anti-vaxxer, she enjoys informing us sheep how she's "been deep in the web," and she expounds on the "truth that's out there," and believe me, some of it is out there!
Since my previous visits, she had relented somewhat on enlightening me when I asked her, "maybe you should think about why you choose to believe the very worst narrative of every single story?" Aside from the flat earth theory, she believes in every other conspiracy. Her current plight is against the 5G triggered-microchip- vax monitoring-mind control and population eradicating pathogens we have been force-fed.
In her attempts to stay bonded with my sister, my mother goes along as a willing participant, offering her usual statement of support, "Yeah, dis iz da big bullshet!" It's never "shit," always "shet." If she gets worked up enough, she will drop an eff bomb in the following fashion, "dis iz when the fecking iz the big feck for everyone to getting the fecking."
I stayed quiet and poured more wine. My wife's kind and considerate nature were being tested. I poured more wine as my mind replayed my wife's limit being breached many Christmas's ago. The gathering was bigger that year. My brother still lived locally then, and a few hippie stragglers were added to the table.
The discussion devolved rapidly. There was a video we were made to watch. Voices were raised. It was Christmas chaos. Finally, having reached her breaking point, my otherwise steadfastly empathetic and sweet wife snapped.
Upon hearing the indignation at our ignorance and the utter inflexibility to listen to another perspective, my diminutive wife rose from the family table. She declared to my kin, "If you all actually believe everything you say," Her voice rising in octaves, "then, I'm sorry, but you're all fucking insane!" Then, apologizing and excusing herself from the table, she added, "IT'S CHRISTMAS DINNER FOR GOD SAKE!"
This year my wife put the brakes on before we all flew downhill. She ignored everyone, engaged Jim in a rational conversation, and got him talking about my mom. She saved the evening.
The dessert turned out brilliantly. I knew the story behind the famous dessert, and being a storyteller, I held the room as I regaled them with the legend. Cake all around with tiny tumblers of Jägermeister and more Elderberry liquor.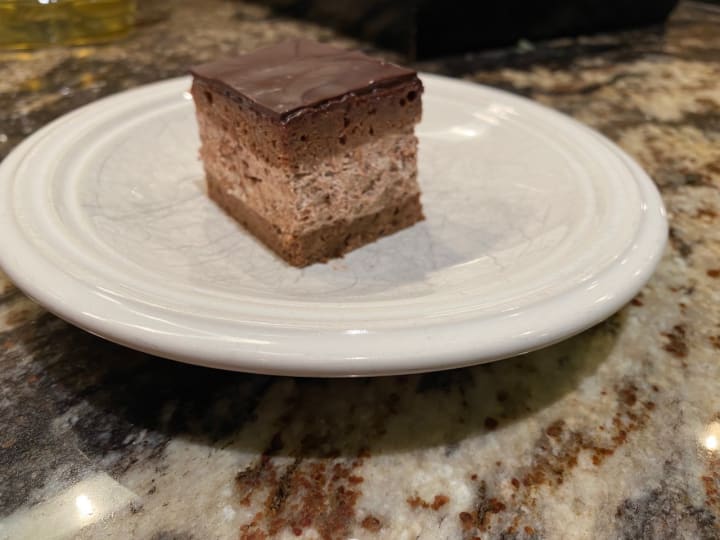 When it was all said and done and my sister and wife performed the cleaning duties, I laid on the couch and suddenly realized the plumb bob was swinging dangerously over the line. The sudden body sweats, the room tilting with a blink of the eyes. Only small, necessary movements and water. One more sip of anything, and I would have been finished.
We said our goodbye's to Jim after lighthearted teasing about a sleepover and fresh pancakes in the morning, making both he and Mama blush. Then, I dressed Jackboy up in his vest and took my 105-year-old dog out for a cooldown evening stroll.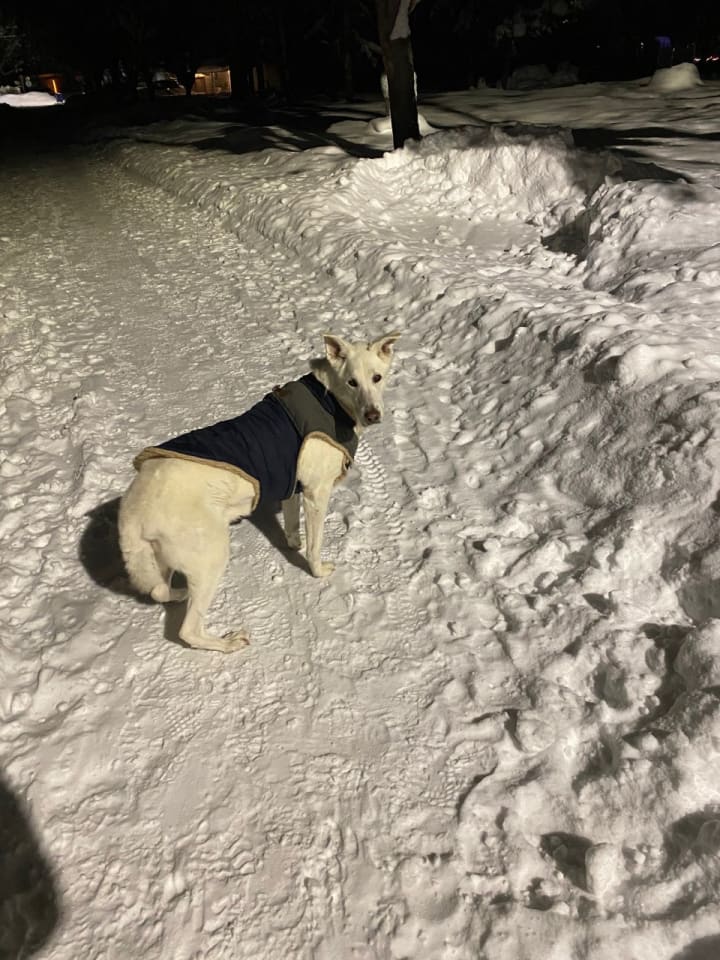 I woke up feeling no worse for wear, and before anyone saw me, I brewed a strong coffee and took it to the rim with more Glenfiddich, the hair of the dog, and all that.
It's a beautiful morning. The sky is blue, the snow is deep, and all is calm. There will be roofs to shovel, wood to chop, and kids to set sledding. I love being home.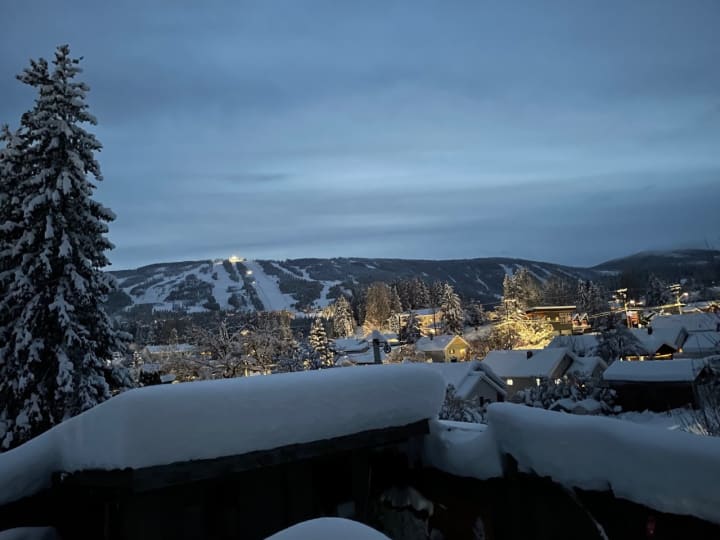 About the Creator
1st generation Canadian-Hungarian
Father, Fly fisher, Chef, Reader, Leader, and working on writer.
Feedback appreciated anytime. Tips always appreciated.
Reader insights
Be the first to share your insights about this piece.
Add your insights