Hallmark Review: 'Baby's First Christmas'
Rough characters and an ultra-sweet tone make this Hallmark film about an eventful Christmas Eve divisive.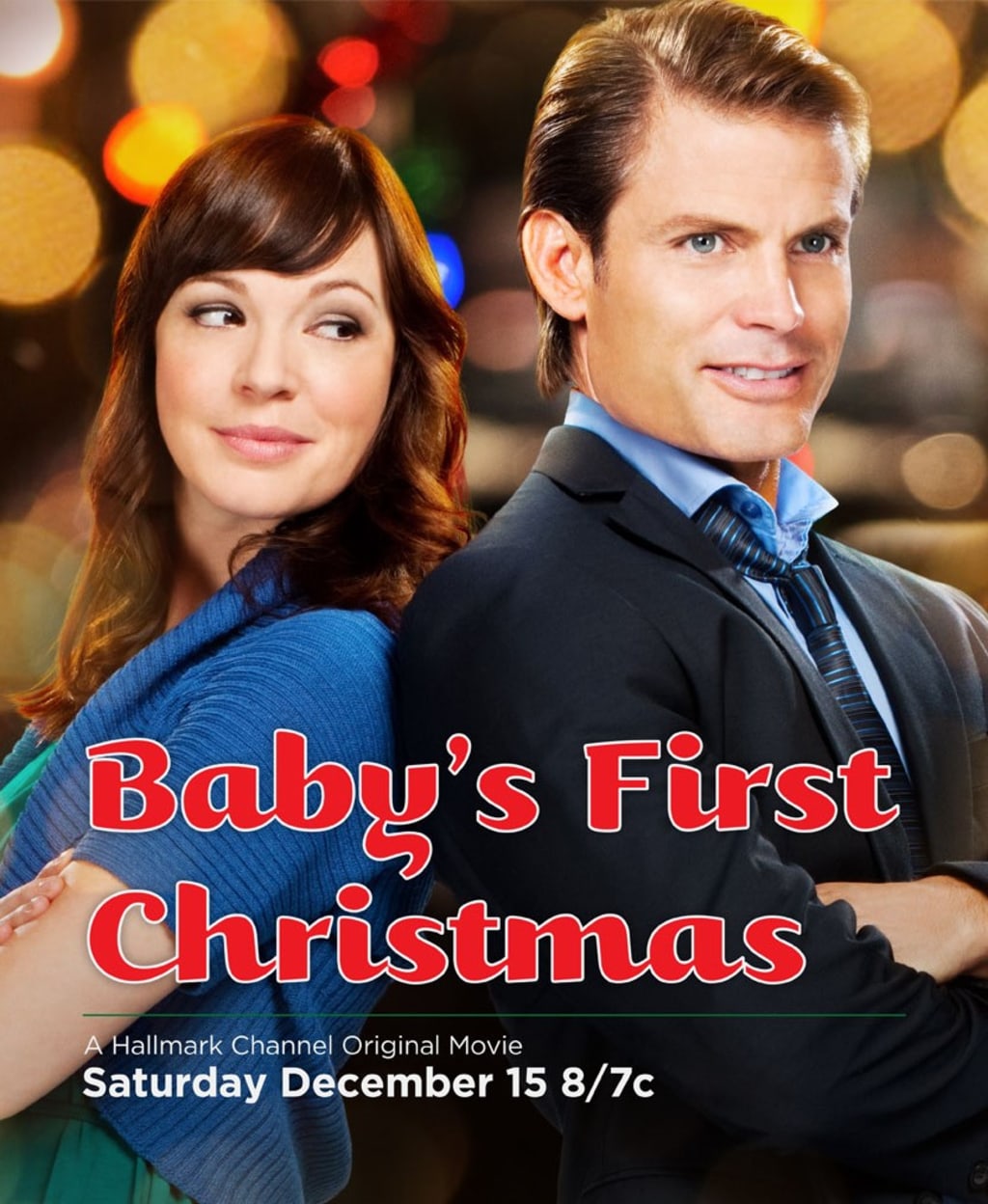 For as long as they have known each other, lawyers Jenna Pendrell (Rachel Wilson) and Kyle Davidson (Casper Van Dien) have been the bitterest of rivals. That makes the fact that Kyle's sister Trisha (Natalie Lisinska) and Jenna's brother Jim (Noah Cappe) are a couple all the more awkward. With Christmas approaching and Trisha and Jim expecting their second child soon, Jenna and Kyle find themselves travelling to spend the holiday with their siblings. But as soon as they arrive, Trisha and Jim rush to the hospital as Trisha begins having contractions, leaving the two estranged in-laws charged with watching over their young niece Karen (Ella Ballentine).
While Jenna and Kyle are initially at each other's throats as usual, the pair puts their differences aside when they find that their siblings are in major financial ruin and at risk of losing their home. With Karen in tow, Jenna and Kyle rush to try and save Trisha and Jim's house--leading to a crazy Christmas Eve for a pair of squabbling rivals and their niece. As the night goes on and Jenna and Kyle see different sides to each other, will their differences ultimately keep them apart--or will the magic of Christmas bring them together in a way they couldn't imagine?
If there's one thing most Hallmark Christmas films have in common, it's this: they're escapism to the max. In the realm of Hallmark Christmas films, the holiday season is always a time of joy and love, and by Christmas morning, everyone is happy and all is right with the world. This is likely why Hallmark is such a love-it-or-hate-it brand, as this sort of sugary escape is sure to attract some and repel others. Baby's First Christmas, however, finds itself in a superposition, where there is just as much sugary sweetness as there is a sense of blunt realism at play for much of the film.
In addition to the aforementioned financial situation, we have Jenna and Kyle's rivalry (which is quite a bit more vitriolic than most Hallmark rivalries), pregnancy complications, parental estrangement, and a minor character who is revealed to have lost a loved one in the 9/11 attacks. Counteracting this blunt look at life's harsher realities is the film's ultimate "Christmas is a time of love and hope" theme, one which is greatly exposited by the Christmas-loving Jenna. But despite these significant touches of realism, the lighthearted feel of the film greatly outweighs it, and while this isn't necessarily a terrible thing, it feels odd to bring so much grittiness to a film only to cover it up with a heavy layer of sentiment that ends up dominating the film's tone.
This, however, is not the main problem with Baby's First Christmas. That can be placed on the backs of Jenna Pendrell and Kyle Davidson, who both spend a great amount of the film immensely unlikable. For much of the film, Jenna is shrill and whiny on top of being cloyingly sentimental, while Kyle is cold and unnecessarily brash. While the latter's unlikability is presumably intentional for his character development, the film only briefly addresses Jenna's flaws and reduces her "redemption arc" to one brief apology, with the worst of Jenna's flaws being her habit for starting as many fights with Kyle as he does with her and thoughtlessly disregarding Kyle's justified issues with his former alcoholic father.
This is not only an example of the film sugarcoating its more serious plot points, but also an example of the heightened malice felt in Jenna and Kyle's rivalry--which is made worse by the fact that Jenna and Kyle often wind up sniping at each other right in front of their niece. Because of this, the supposed romantic tension between Jenna and Kyle never materializes, with their third act falling out (caused by Jenna lashing out at Kyle over a revelation that Kyle had no power to change) bringing both leads' infuriating qualities back to the surface just as the film was working at mellowing them out. As a result of this, the chemistry between Jenna and Kyle is rarely believable, making for a romance that's near impossible to root for.
Rachel Wilson and Casper Van Dien do all they can to bring likability to their characters and charm to their relationship, with a scene in the third act where Jenna, Kyle, and Karen end up in a horse stable being the best scene for both Jenna and Kyle. Natalie Lisinska and Noah Cappe make use of their limited screentime to grow into a sympathetic couple, with Cappe having a particularly strong scene where he prays for the safety of his family. Ella Ballentine is charming as the precocious Karen, and both Art Hindle and Patrick Gallagher share emotional scenes with Van Dien as Kyle's estranged father Christopher and surprise ally Sal.
For all the cast's best efforts, however, the uneven writing and unsympathetic leads for Baby's First Christmas outweigh those efforts. For much of its runtime, the film is made somewhat uncomfortable due to the hostile relationship between its leads, and the uneven tone when it comes to Realism vs. Escapism only furthers this feeling. In the end, despite a promising premise and actors who try their hardest, Baby's First Christmas isn't a movie to dedicate a memory ornament for.
Score: 4 out of 10 Clippers games.
movie review
About the author
Aspiring writer and film blogger: Lifetime, Hallmark, indie, and anything else that strikes my interest. He/him.
Twitter: @TrevorWells98
Instagram: @trevorwells_16
Email: [email protected]
Reader insights
Outstanding
Excellent work. Looking forward to reading more!
Top insight
Heartfelt and relatable

The story invoked strong personal emotions
Add your insights