From Poland to Argentina: A Journey for Survival
The story of my ancestor's survival during the Holocaust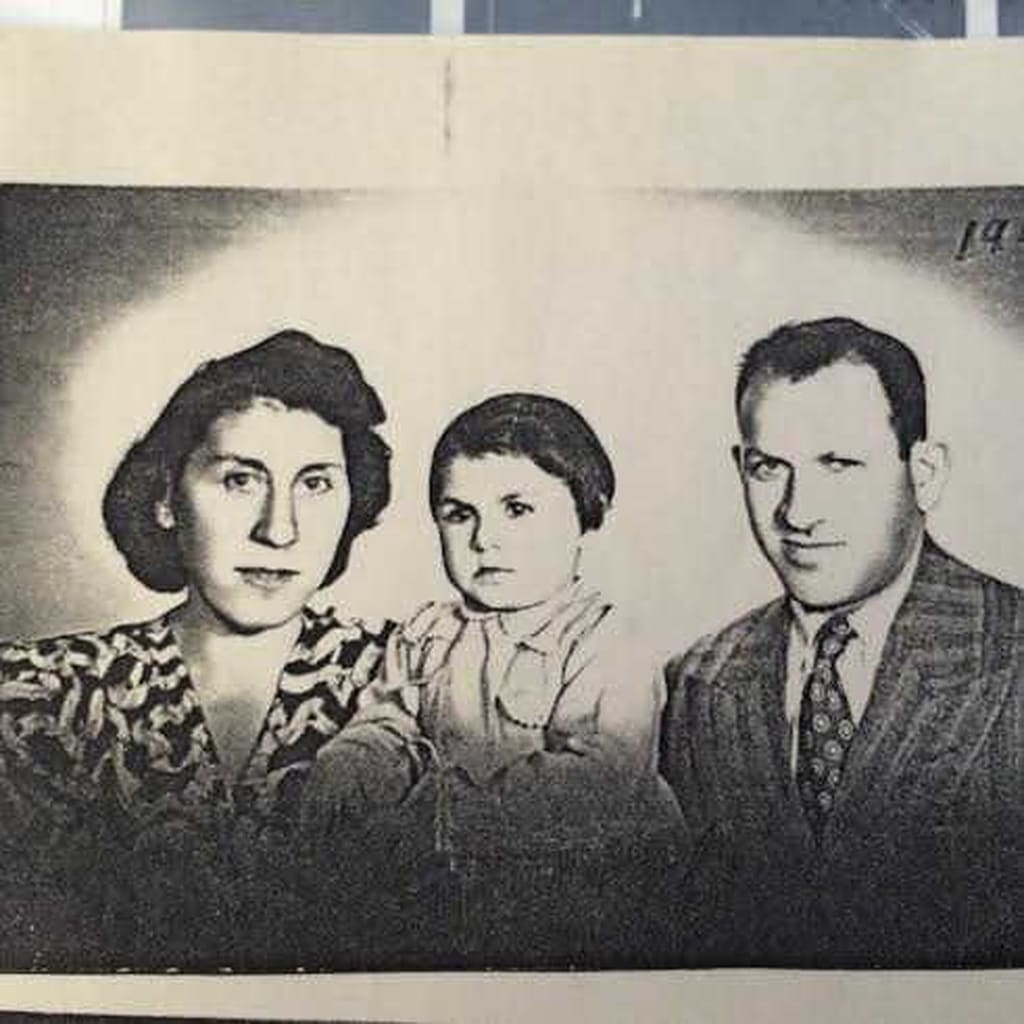 My 2x great-uncle Aron Grimland was born March 14th, 1914 in Kobryn, Poland to Abraham Grimland and Sura-Rejzla Glocer. Aron had six siblings, Soloman, Izak, Ethel, Joseph, Moshe, and Leah. Three of his siblings, Soloman, Ethel, and Joseph immigrated to the United States during the 1920s and settled in New York and Ohio. Aron married Ana Dimetman in 1938 and settled in Warsaw. While they were there Ana gave birth to their first child, Misha.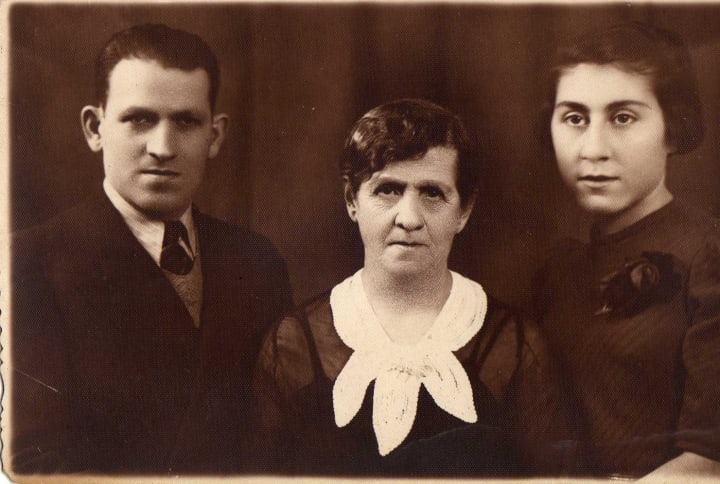 In September of 1939, Nazi forces began invading Poland, and citizens of the city received word that the Nazis would shoot all men upon arrival. This prompted Aron and other men to flee the city. Nazi forces began attacking the city shortly after and Ana would later describe these attacks to her daughter Ines as like being in Hell. These attacks destroyed many buildings in the city and killed about 18,000 civilians.
On September 14th, 1939, Nazi forces squared off against the Polish army in the Battle of Kobryn. At the end of the three-day battle, Polish forces withdrew clearing the way for Nazi forces. The Nazis would soon hand over the town to the Soviet Union as part of the Molotov-Ribbentrop Pact, a non-aggression pact between the Soviet Union and Nazi Germany.
Aron eventually returned to Warsaw to look for Ana. Once they were reunited, the two fled Warsaw that night with another group that was fleeing the city. The group hired people to safely guide them into the Russian occupied area of Poland. However, these men turned out to be members of a gang and robbed the entire group, leaving them with nothing. The group did not let this discourage them from making it into Soviet territory and eventually, they were able to find their way and found a place to stay.
Soon after, Russian soldiers charged into the house where Aron, Ana, and Misha were staying and forced them into a cattle car along with many others. After several days, the Grimlands arrived in Siberia where they lived in wooden shacks and worked as forced laborers. While in Siberia, they experienced brutal weather conditions ranging from hot temperatures in the summer to 60 degrees below zero in the winter. Many of the people in these camps died of exhaustion or starvation including Aron and Ana's son Misha.
Two years later, in 1941, the Polish-Russian Military Agreement was signed between Russia and the remaining Polish government which allowed for the Polish army to have a military presence on Russian soil. This army, commanded by General Władysław Anders, came to the gulag that Aron and Ana were being held to recruit Polish men for the newly formed army. Aron attempted to volunteer to join but was rejected for being Jewish.
The Nazis would eventually begin to retreat from Russia and Aron and Ana would be sent to Kursk, Ukraine. While they were in Kursk, Ana gave birth to their daughter Idessa. Aron, Ana, and Idessa were eventually brought back to Warsaw by the Russians where they attempted to locate the rest of their family. Upon their arrival, they received the news that their family members who had remained in Poland had been killed and that the home they lived in before the war no longer stood.
Ana's brother Edward, who lived in Argentina, attempted to organize a way for the Aron, Ana, and Idessa, to travel to the United States by going through Sweden. Edward and Aron's siblings that were in the United States were able to coordinate with the National Refugee Service in New York and fund the visas of Aron, Ana, and Idessa.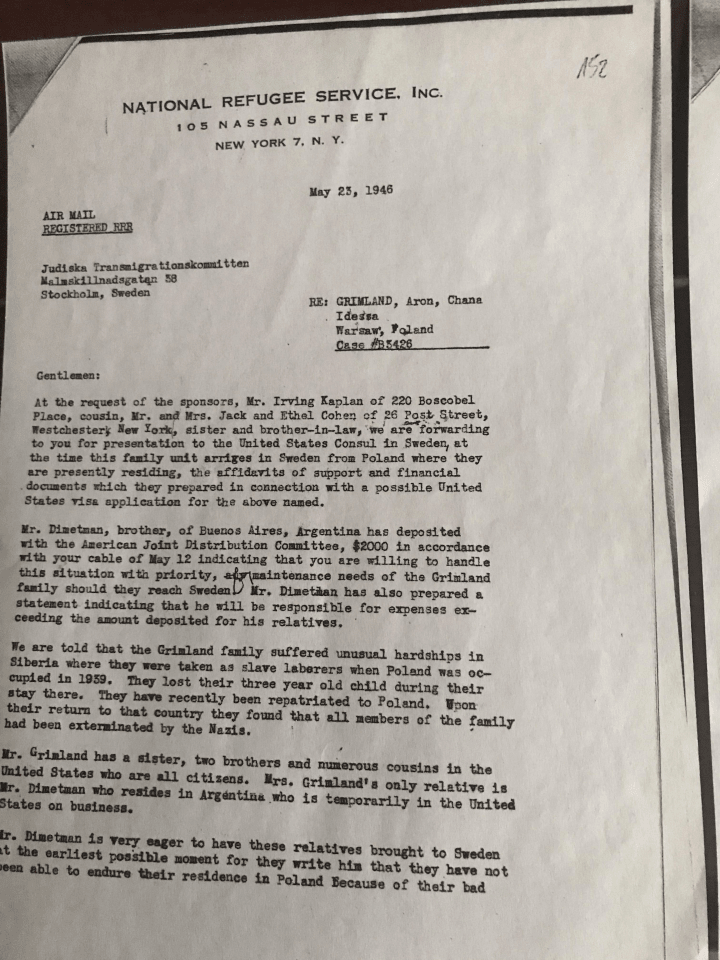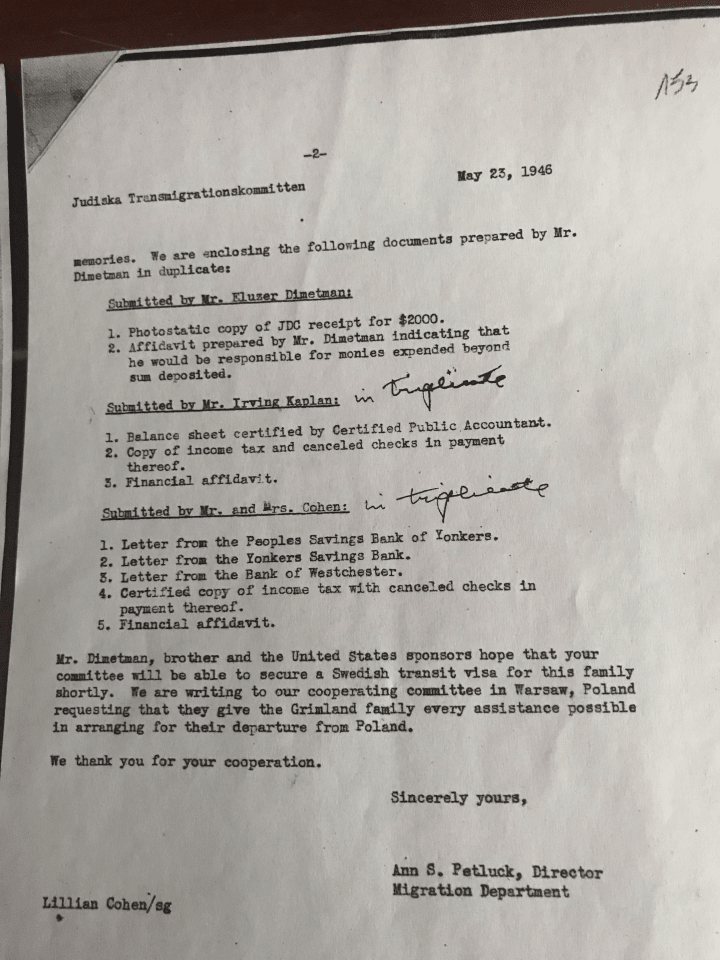 Although it appeared that the plan to travel to the United States from Sweden was secure, the plan fell apart and the Grimlands would instead have to instead make their way to Argentina via France. During their journey, the Grimlands would end up in a refugee camp in Vienna, Austria for an unknown amount of time. After leaving the refugee camp, they made their way to Marseilles, France. Once the Grimlands finally arrived in France, they traveled on board the French ship the Groix. They would travel on this ship to Brazil where they were joined by Ana's brother Edward.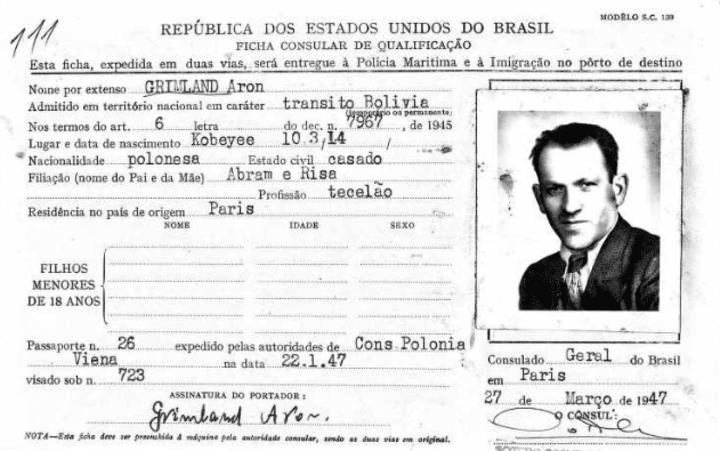 Once in Brazil, the Grimlands would travel to Buenos Aires, Argentina via bus where they would settle and spend the rest of their lives. Their daughter, Idessa, would change her name to Ines and Ana would give birth to their third child, Roberto, in 1948. During their new lives in Argentina, Aron and Ana supported their two children by working out of their house making clothing. Aron died on November 30th, 1967 at age 53 and Ana died on August 10th, 2002 at age 87.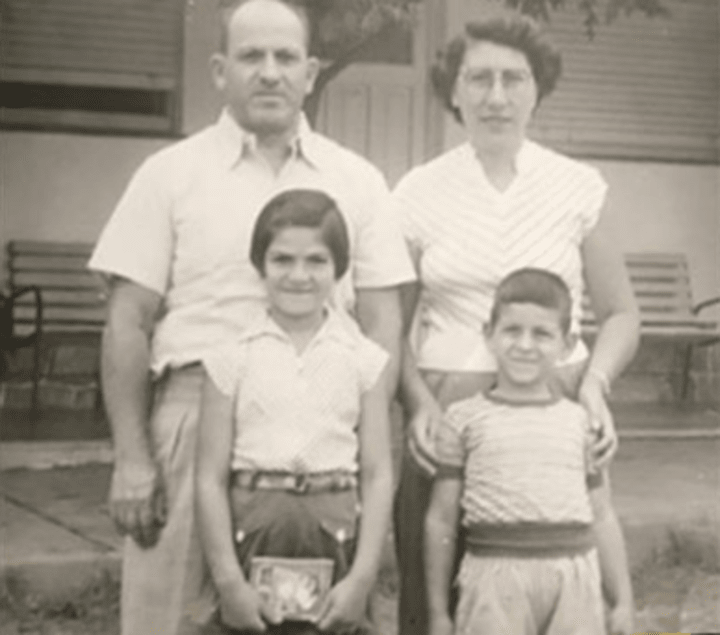 According to their daughter Ines, Aron never spoke of his siblings that went to America or of his experiences during the war. Luckily, she was able to learn more information from her mother. The two of us now work to keep the memory of our relatives alive and tell their stories. I thank Ines for providing me with her mother's first-hand account of their journey.
Stories like this are all too familiar to those who have Jewish ancestry. It is important to never forget the terrible events of the Holocaust and those who perished and to make sure that an event like this never happens again.