Freedom
Runner-Up in Dads Are No Joke Challenge
The Most Valuable Lesson My Father Taught Me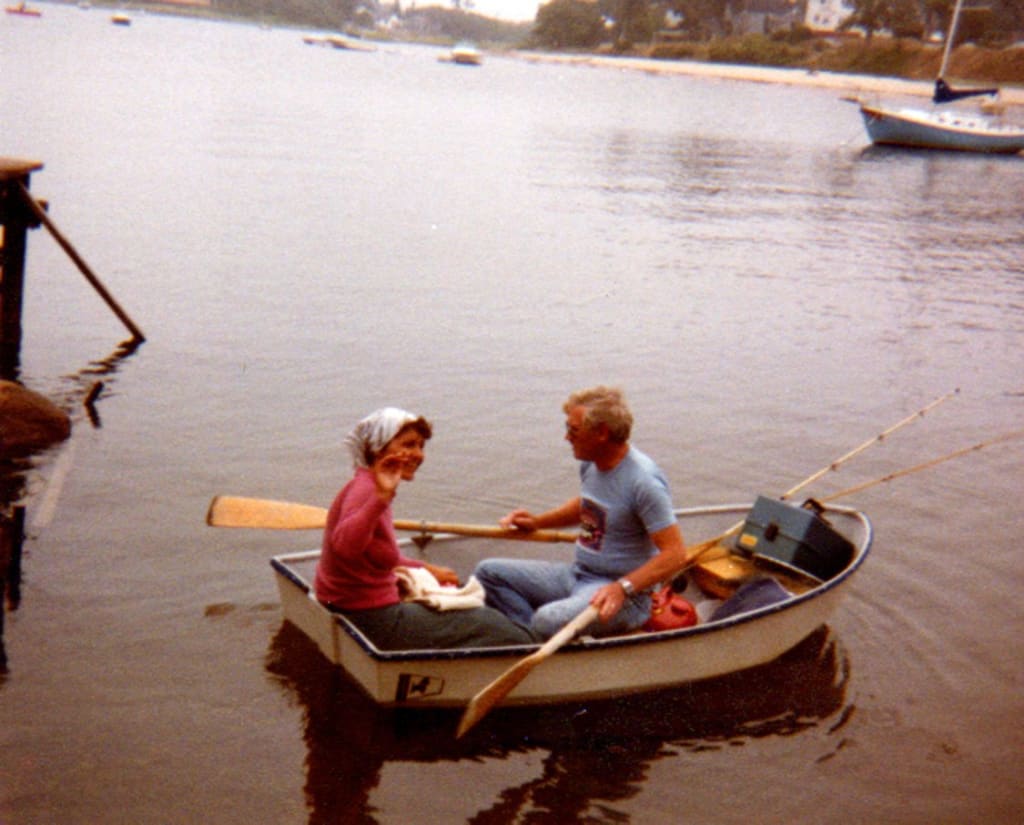 My Dad in 1980
"Dad, Dad! Look what I found!"
I stood over my dad, bouncing on my toes with excitement, as he sat in his patio chair, trying to relax on a lazy Sunday afternoon.
In my hand I held a mason jar half-filled with ocean water and pebbles, collected from the seashore that was in our backyard. It was 1980, and I was twelve years old. My family had rented a house on the beach near Cape Cod for the entire summer.
Dad held his newspaper safely to one side, avoiding the fat drops of seawater that fell from my hair, landing with a splat on the white concrete. He squinted at the jar's contents.
"It's a hermit crab." His voice held a note of surprise, due to the tiny crab's unusual appearance.
"It's pink!" I crowed unnecessarily, pointing at the shell. "How cool is that?"
The hermit crab's shell was covered in waving strands of pink fuzz that resembled fur.
"How strange," Dad murmured, taking the jar from me, and holding it up to the light. "I imagine it's some form of algae."
I nodded. I had seen algae growing on crab shells before, but never in my favorite color. The fact that Dad had never seen it before, either, made my discovery even more special.
"Can I keep it?" I pleaded. "Like, in an aquarium for the summer?"
Dad immediately glanced around, in search of my mother.
"If Mom says OK?" I pressed.
Dad hesitated another few seconds, before finally nodding his consent.
"Cool!" I danced on my toes, sloshing water from the jar, and causing the tiny crab to hide under the pebbles.
Dad held up a hand, and I sobered immediately.
"You'll have to take care of it." His tone was serious, and I nodded solemnly. "We'll find something small to use as a tank, but you'll have to change the water every week and do some research. Find out what they eat, and how to care for them."
I nodded again, and Dad went back to his newspaper. I walked away, endeavoring to appear mature and responsible, but my heart sang with glee. A new pet!
I reached the seawall at the edge of our backyard, and held the jar up to the light, studying the little creature inside.
"I'll take good care of you," I promised. "I'm going to name you…Pinky."
Dad helped me research. We pored through an outdated set of Encyclopedia Britannica that had come with our furnished rental. We read together that hermit crabs are social critters, and I was happy to find Pinky some friends. It turned out that hermit crabs only needed fresh seawater to find their food – tiny plankton – so I made sure to change the water every few days. I found snails to clean the glass of the small tank Dad supplied and decorated the interior with driftwood and a raised beach area of pebbles and sand.
Pinky's friends all had bluish-grey colored shells, but they seemed to get along fine, regardless (a lesson for another day). I spent hours observing the tiny creatures, and Dad would come into my room every evening to ask me how they were doing.
He was proud of my curiosity, but being a man of few words, he never told me. One night I overheard him telling my mother that he wouldn't be surprised if I became a scientist. His words created a glow in my heart that no other person has ever been able to replicate.
My father was the most intelligent man I've ever known in my half-century of life. He had trouble expressing his emotions, so I made do with his hand laid on my shoulder, or a pat on my back. His interest in what I, his inquisitive daughter, was discovering in the world around her showed his love without words.
Beyond my aquarium project, there were several other "science" experiments that Dad and I conducted, born from the embers of my curiosity. At the age of eight, I remember telling him that I loved crickets. I had all sorts of questions about the wee creatures after discovering how they made their delightful music. Instead of directing me to ask my teachers, or visit the library, he suggested we observe them for the winter. Together we captured three crickets from our cellar and kept them in a jar. We tried feeding them different fruits and vegetables, and I recorded our findings in a little notebook. We learned they loved to eat potato, and if they were given a bit of tin foil, they would hide it under the twigs and leaves of their habitat. This behavior led me to recognize that all creatures had their own unique experiences in their life on this planet – their own likes and dislikes. I feel this insight at such a young age has made me a more compassionate human being.
***
One of the greatest lessons my father ever taught me was that summer I was twelve, when I was caring for Pinky.
One Saturday morning, I woke up to find Pinky had deserted his shell. His strange, nearly translucent body – terrifying to me in its fragility - was naked, and he was on the back of a snail, trying to pull off its shell.
"Dad! Dad!" I ran through the house in my pajamas, frantically calling my father. "There's something wrong with Pinky!"
Minutes later, my dad was peering into the aquarium, watching Pinky exhibit his strange behavior. The snails were hiding, tucked inside their shells, but Pinky persisted, his little claws wrapped around the edge of their mobile homes, trying to separate snail from shell.
I was in tears. "Why is he doing that?"
Dad turned to regard me, a thoughtful look on his face. "I think he's outgrown his shell."
I sniffled. "Is he going to die?"
Dad looked sober. "He's very fragile without a shell. One of the other crabs could kill him." He pursed his lips. "Maybe you should take the other crabs out of the aquarium and set them free. The snails can't hurt Pinky. Then you can look for some empty shells and see if he approves of any of the ones you find."
I nodded hopefully. I knew Dad would have a plan! "If I get him a new shell, then he'll be OK, right?"
Dad was silent for a moment, then he met my eyes. "I really don't know. I think you should try. If you put him back in the ocean the way he is now, there's a pretty good chance he won't make it. He's defenseless."
I spent the next three days collecting empty snail shells for Pinky and presenting him with dozens of choices. The shells would sink to the bottom of his lonely tank with a plop, and Pinky would inspect them, backing into a select few that made the cut. Unfortunately, whether too small or too large, Pinky never settled into any of them, always emerging after a few minutes.
I observed all this with a troubled mind. Pinky looked unhappy, his translucent body showing his innards, as he sat on his driftwood log, in a tank empty of companions.
Dad came into my room on the third night, where I was staunchly positioned in front of the tank, watching Pinky dejectedly.
"Still no luck?" he asked, laying his hand on my shoulder.
I shook my head and sighed. "Do you think I need to set him free to find his own shell, Dad?"
Dad took his time answering. His blue eyes, magnified by his glasses, looked into mine as he said, "Sometimes you have to let things go, even if you care about them. I don't know if Pinky will survive, out in the ocean with no shell, but that is his world. It might be time to let him return."
He patted my shoulder. "It's up to you," he said, and left my room.
I lay awake all night, the weight of that decision heavy on my twelve-year-old mind. What if Pinky died in the sea because a predator attacked his defenseless body? But… what if Pinky died in his tank because I wouldn't let him find his own shell?
I made my decision, and the next day I returned Pinky to the ocean, my tears falling as I gently deposited the tank's contents into the shallow water.
"Good luck," I said, praying that he'd find the perfect shell, now that he was free.
***
Thirty years later, I sat by my father's bed, as he lay dying in hospice in his own home.
He had been drifting in and out of consciousness for several days and hadn't said a word. Somehow, I knew he could hear me, though. I spent a lot of that time whispering accounts of my best childhood memories to him, hoping my words would spark good dreams. More than anything, I wanted my dad to have peace in his soul as he left this life.
"You were right, Dad," I murmured, after softly recounting the tale of Pinky and our summer at the ocean. "Sometimes when you care about someone, you just have to let them go."
And so, I did.
values
About the author
Shell St. James is a New England author living in an 1895 farmhouse with her musician soulmate, feline muse, and a benevolent ghost. Her novel, "The Mermaid of Agawam Bay", is available on Amazon. Find out more at www.shellstjames.com
Reader insights
Outstanding
Excellent work. Looking forward to reading more!
Top insights
Heartfelt and relatable

The story invoked strong personal emotions

Excellent storytelling

Original narrative & well developed characters
Add your insights