Fixing up Grandpa's Chair
A true labor of love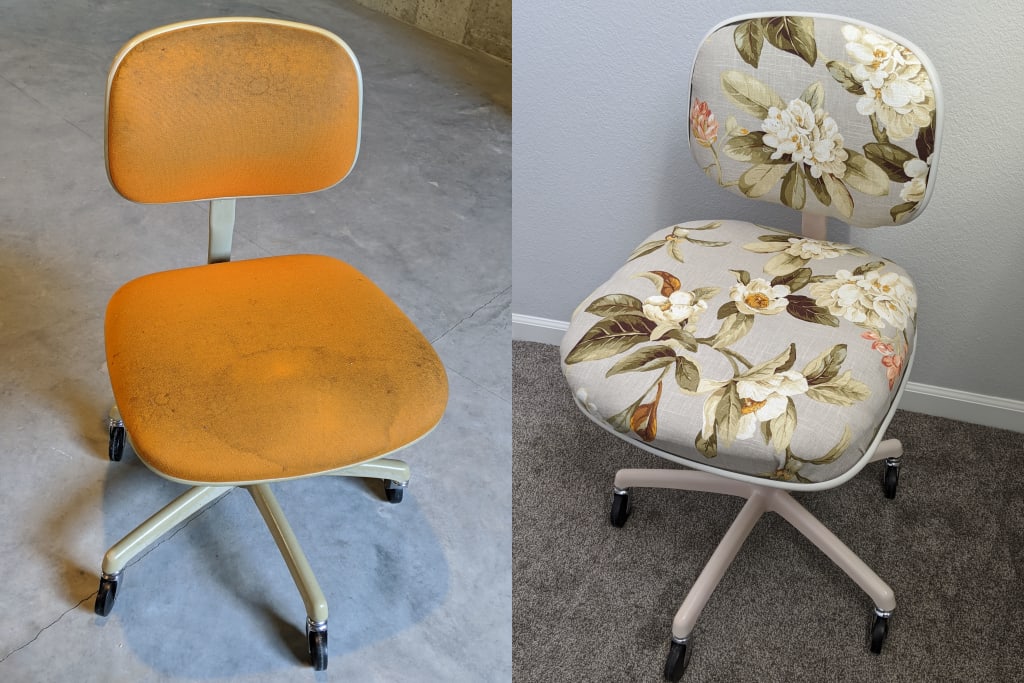 Before and after
From the time I first sat behind a sewing machine in 6th grade, I was hooked. Remember in junior high when we all had to carry around a bag of sugar/flour because it would somehow teach us that we didn't want to be a teen parent? Well, my school used baby dolls and I was the weirdo who sewed a new wardrobe for my fake baby. While I now sew for my real kids, sewing is still my favorite creative outlet all these years later. Despite this, my favorite project I've ever completed--and the one that means the most to me--wasn't a sewing project at all, but fixing up my sewing chair.
Growing up, I was extremely close to my grandma and grandpa. Like many children, some of my favorite childhood memories were made at their house. Over countless batches of the most delicious oatmeal chocolate chip cookies anyone's ever tasted, my grandpa instilled in me my love of baking. My grandma passed on to me her love of sewing and crafting (as well as her way of expressing her love through food and handmade gifts). While I never had to fight with my brothers over whose turn it was to pore over my grandma's button collection or fabric scraps, there was one thing we'd always fight over--my grandpa's office chair. It would always be a mad dash whenever we'd arrive to see who claimed it first. I have no idea why (other than because kids are just plain weird) as there really wasn't anything extraordinary about the chair. It wasn't particularly comfortable. It was covered in the most garish bright orange fabric you could imagine. But it was Grandpa's, so it was special. Years later when my grandpa got sick, he asked us each to pick one thing of his we wanted when he passed. I picked that chair. This decision was met with plenty an "Are you sure.... Wouldn't you rather have [about a million things worth more and less ugly]?" But I wouldn't be swayed. When my grandpa started at-home hospice, many possessions, including his chair, were moved into storage in their old shed to make room for his hospital bed.
By the time I received his chair it was rusty and filthy from years of who-knows-what settling and dripping on it. When we moved into our current house and I finally had a permanent sewing space to call my own, I knew I had to fix up my grandpa's chair. I debated restoring it to its loud, orange original glory, but opted to make it something I loved for its sentimentality as well as aesthetics. It was truly a labor of love.
I started out by selecting some new fabric, then picked out some coordinating spray paint for the base and back. I spent hours researching the best paint to use on the vinyl(?)/plastic(?) trim. I bought some upholstery foam-a bit thicker and cushier than the original, though, because if I'm going to be refinishing this, I might as well go ask out, right? Planning complete, I disassembled the chair as completely as possible. I removed countless staples, then the vinyl, and the old fabric--showing on the underside that unfaded, vivid orange I remembered from my childhood. I carefully spray painted the metal, plastic, and mystery trim. I traced the supports on the foam and carefully cut it out, glued on batting, then trimmed once more. I cut out my fabric, covered the foam, then stapled it to the seat and back support. Next, the trim was restapled on, then the chair reassembled.
However, despite careful research and planning, it took months of overcoming hurdles every step of the way:rusted screws I couldn't get off; plastic so hard my staple gun couldn't penetrate, etc. All along the way as my husband saw my frustration at nothing seeming to come together as planned, he would tell me it was ok, we could just buy a new chair. Again, I wouldn't be swayed. Finally, six months after first tackling it, my project was finished. I am well aware it is far from perfect. The fabric isn't stapled on particularly evenly. I should have cut the foam a little less square. I could have chosen a less windy day to spray paint the base. Despite all this, I couldn't love my chair any more. Now whenever I sit down at my sewing machine, I'm surrounded by my grandma's old sewing notions, my grandpa's old chair, and memories of two people whose love helped shape me into who I am today.