Fairy Tale With An Unhappy Ending
Marriage, Family, Fatal Mistakes and Prison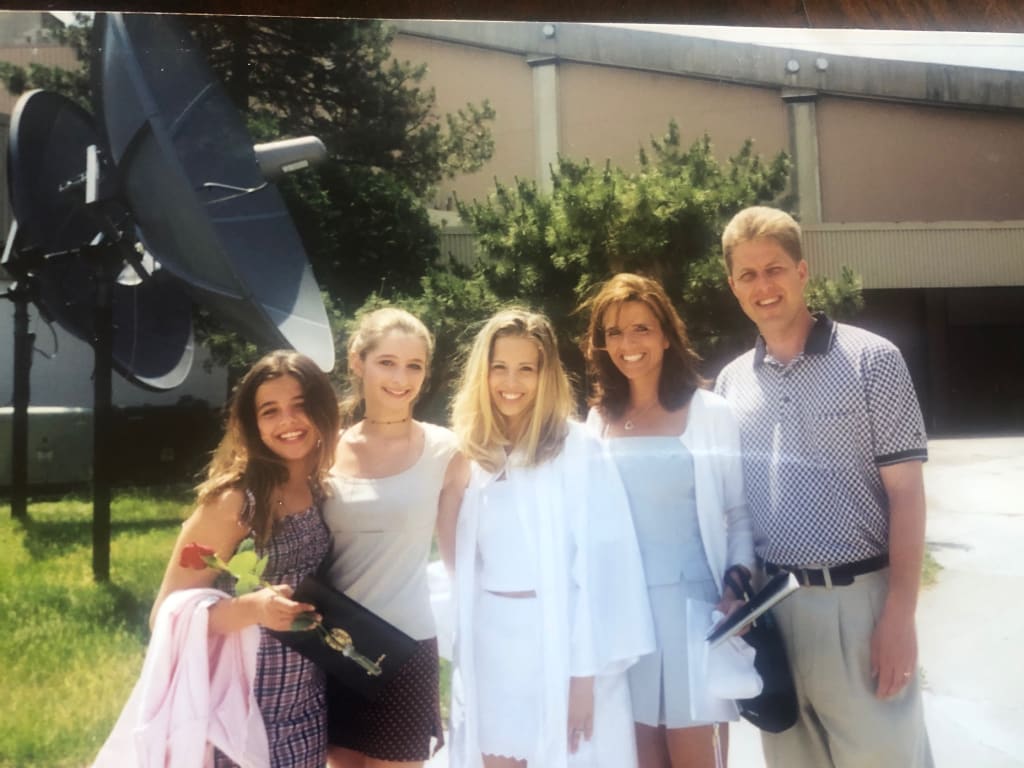 At my oldest daughter's high school graduation a little over a month prior to tragedy.
The divorce rate among couples where one spouse is incarcerated for one year or more is 80 percent for men and close to 100 percent for women. I am that statistic.
I had not thought much about that statistic for myself until the other night; I had an authentic moment of fear and panic. My husband has been incarcerated for the past four years for a non-violent white-collar crime and is due to be released in 45 days. My husband has served his sentence with courage and dignity. I am very proud of him, and I admire him. The caveat is that one of our worst fears have come to fruition we had prayed and hoped that we would both remain healthy so we could enjoy the rest of our lives together. My husband recently diagnosed with reoccurring thyroid cancer, along with an unknown growth on his kidney.
My husband and I are under high stress the same as every family who has a loved one incarcerated. We have been anxiously waiting for the Judge to rule on his compassionate release request. I find it very unethical for the Judge seventeen days later sitting on his request while my husband is a sitting duck for COVID with his unhealthy condition. My husband, in his anxious state, was lashing out. Not at me but the situation. It was a side of him I had not witnessed since before incarceration. I immediately became defensive and rose on my hind legs out of fear, not fear of my sweet, romantic, loving, thoughtful husband but fear of my past nightmare.
My first marriage was one of those remarkable stories of teenage love and resilience. It was September 1980 I sat in study hall with two of my friends, Laurie and Cathy, studying the boys scanning the room to whom we would ask to the Sadie Hawkins dance. I spied a Leif Garrett look-alike sitting by himself reading a textbook. For those of you too young to know who Leif Garrett is well, he was a 1970's heartthrob. Thick blonde wavy hair, lazy bedroom eyes, and a smile that melted most teenage girl's hearts. I put my dibs on this Leif Garrett clone. After two days of not having the courage to ask him, Laurie and Cathy gave me the ultimatum "Ask him tomorrow, or one of us is going to ask him."
That following morning I dressed in my best clothing. I wore a red pencil skirt with a matching white blouse with red trim around the short sleeves and red cherries on the back of the shirt. Sitting in the study hall, my hands were sweaty; my stomach had butterflies. I knew I had to be courageous and ask this devastatingly cute boy to the dance; otherwise, I would forfeit to one of my friends. I walked over with conviction to where this boy was sitting. I introduced myself as Cassie Monaco and asked if he would like to go to Sadie Hawkins. He looked at me with that same smile that belonged to Leif and asked me to sit down. He said his name is Jim Martin and inquired as to what was Sadie Hawkins. I explained it is the first dance of the school year where the girl asks the boy to the dance. It is kind of a hoe down (Haha no pun intended). I believe he agreed to go with me as he asked me my phone number, but it was hard for me to understand him; he had an unfamiliar way of speaking. I chalked it up to that is how they speak back East.
We went on a couple of dates before Sadie Hawkins. Our first date, Jim invited me to the drive-in movies I was taken aback by such a forward suggestion for a first date. Jim picked me up for our date in his light green pick-up truck, a former Forest Service truck. The truck had a bench seat; I stayed on the passenger side even as the movie "The Black Hole." began. Early into the movie, Jim asked if I would like popcorn and a soda. I replied, "Sure." Jim left and came back with popcorn and drink; however, he chose to get in on the passenger side of the truck to sit next to me. Very clever and sly.
I was still having a hard time understanding Jim when he spoke so many times I just smiled. Weird, I know. But this I understood he said to me, "would you like to see the hole in my chest?" I know even weirder. I wasn't going to be rude and say no, so I exuberantly said, " Yes." he lifts his shirt, and it is not an actual hole, but his chest is sunken in, but it was still fascinating, and clearly he thought it a phenomenon. Then he did it; he made his move and dove in for that first kiss. As we heavily made out, he laid me on the bench seat, and we continued the heavy petting that happens between teenagers.
We had only been dating three months when we decided to run away together. The morning of December 3, 1980, started uneventfully. I had dealt with "Earl must die." the prior evening regarding my having skipped a class. Jim and I cut out of school took a drive up Blue Mountain. The school ended up calling our parents, and this would be the beginning of what would alter our lives forever.
Jim and my routine were to meet in the high school parking lot every morning before going into school. As with every morning, Jim jumped into my car to talk, but this morning conversation took on a whole new life. He looked at me and said, "Cassie, we love each other let's just run away together." I was stunned at this suggestion. My head swirled "what about my plans of splitting town when I turned 18 to become an actress?" In reality, I am not even sure being an actress is what I really wanted to do. I just knew I was good at it because I acted since I was seven-years-old harboring dirty secrets, and pretending my life could be like the cast of " Happy Days." Then I thought about the time just a month before When "Earl Must Die." grabbed me by my throat, slamming me against the kitchen wall pinning me as I gasped for air before my mother rescued me. Then, just a week after almost choking out, "Earl must die" berates me as I called to say I would be fifteen minutes late coming home from a Halloween Party at Jim's parent's house. That following morning I went into my mom's dresser drawer and downed a handful of codeine three pills. I did not want to die, just a desperate plea for help.
The thought of running away sounded appealing. However, I was a responsible person. I told Jim, "listen, I have to speak to the Vice Principal about cutting class. Let me see how that goes." I had dressed smartly for the meeting with the Vice Principal. Brown polyester slacks, a white long-sleeved top with brown embroidering. I wanted to make a good impression. I sat across from the Vice Principal's desk where obviously my attire or the fact that this was my first infraction in twelve years of school had no impact on her. She sentenced me to two-weeks off the pom team and detention. I felt my blood flooding my face and body with heat such a harsh punishment, I thought to myself. I calmly rose from my chair, straightened my shirt, and, with conviction, walked right out of the school door to my 1975 Mercury Monarch, where my three-month boyfriend was waiting for me.
I opened the car door, and I said, "Okay, let's go." We sat in the car for a bit, quickly coming up with our plan. Jim suggested we drive to Jupiter, Florida, where his Grandma Dottie lived. He said she has a guest house where we could stay. We figured out that between us we had $160.00. We stopped by my parent's house, where I grabbed a travel-sized bottle of silkence shampoo, my toothbrush, toothpaste, a brush, a pair of jeans, a shirt, one clean pair of panties, a pillow and a blanket. We left Missoula headed on Highway 90 East.
It was a gray day, not a sparkle of sunshine to be found. I watched out the passenger window as each mile marker pass us by as we listened to Christopher Cross and Bread on the 8-track player. I knew with each passing mile marker; there would be no turning back, nor would I want to turn back. My only concern was how this is going to break my mother's heart.
It took us most of the day to travel from Missoula, which is Northwest Montana to Billings, Eastern Montana. In Billings, we stopped by a store, and we bought a loaf of bread, a jar of peanut butter, a jar of jelly, snack cakes, and a six-pack of sodas. We sat in the store parking lot as we prepared our dinner by spreading peanut butter and jelly on white bread with Jim's buck knife. Our humble dinner would be the beginning of learning and appreciating to live and survive as a minimalist.
We crossed into Wyoming later that night, where we parked and stayed in a rest stop. I cannot ever recall feeling fearful other than "Earl must die" finding us. I did not fear our journey. I think that is the brilliance of being young and ignorant. I always say. " I did not know I couldn't, so I did." I still live by that phrase. We huddled together in the front seat of my car. It was bucket seats, so we laid them back and shared the pillow and the blanket and turned on the car for heat throughout the night. We woke up to what seemed like mountains of snow. We were able to maneuver the car out of the snow and continue our travels. We made it to South Dakota, where we again spent the night in a rest stop. The following morning, while Jim was pumping gas, I went into the gas station bathroom that housed a toilet and a sink. I put my head under the silver faucet and let the warm water drench my hair. I used the travel-sized silkence shampoo that I took from Mom and Earl's house and washed my hair. Using the brown sandpaper-like paper towels, I dried my hair as best I could. When I walked out of the bathroom, I recall a person remarking, " Geez, did she just take a shower in there?" I did not even turn around and look at them. I walked straight to the car to continue our journey.
We entered Des Moines, Iowa, later that day, with only twenty-dollars left. Florida was not going to be our destination. The day was rainy, gray, cold, and depressing, and the country was in the middle of a recession. 17-year-old kids don't know what a recession is, but we soon figured it out as we witnessed 50 and more people in line for a job at a gas station.
Our twenty- dollars was able to get us the cheapest flea-bag motel room in Des Moines. We were able to shower and sleep in a bed for a night. The following morning we got in our car to look for jobs; that's when our car ran out of gas. We had no alternative other than to get out and walk and look for jobs. Again, I do not recall any fear just more of a matter of factly; this is what we have to do. It was cold, snowing, and miserable outside. We abandoned the car on the side of the road on our mission to find jobs. I walked into a Denny's to apply for a waitress position. My current homeless status made it difficult to fill out a job application, and I could not put my previous employment of 93 stop and go without being found out. An older woman sitting next to me must have felt my distress. She reached out and started a conversation I explained how my car ran out of gas, and I had no money. This woman digs in her purse and hands me a five-dollar bill. I could not believe my good fortune. I turned around as I walked out to make sure she was still there because I thought maybe she was a real live angel, and to this day, I believe she was an angel.
The blessing of our angel completely changed the course of our journey. We were able to put a little gas in the car and drive to our next employment opportunity. We drove to Perkins, where I went in to apply for a waitress position. As I write this, I cannot tell you why Jim himself did not join me at these restaurants looking for employment. I made it past the application stage right into an interview with the manager and assistant manager. During my interview, the manager asked if I would like to try a hot apple dumpling a new dessert item. It smelled of warm apple pie, and the aroma of the red cinnamon sauce tempted my tastebuds as my mouth watered watching the vanilla ice cream gradually melting from the warmth of the dumpling. My hungry belly was becoming even angrier from not being fed. Yes, I wanted to try this fantastic new dessert. I politely declined. My reasoning was if my boyfriend can't eat, then I cannot eat either. I was handed my uniform and put on the work schedule.
I waltzed to the car where Jim was waiting, and I exclaimed, " I got the job." We thought about our next move, and we needed a place to stay that night. We took a chance and drove to a hotel near the airport. We asked if they accepted checks, and yes, they did. I did not have money left in the checking account, but we could stay for the night and order room service a big ole Canadian bacon cheeseburger. The following morning the hotel cashed a twenty-dollar check for us. I think the hotel eventually got their money. I did have a paycheck from 93 Stop and Go waiting for me.
We put some more gas in the car, got a newspaper so we could find a place to live and gathered up some dimes for the payphone. We encountered our next roadblock nobody offering a home for rent would talk to us because we did not have any money for a first month's rent and a security deposit. Another lesson quickly learned. We would not be deterred; we continued calling on places for rent. Finally, a man answered, and he gave us hope he told us to meet him at his rental property and gave us direction to get there.
Dave Sollenberger was his name. A real estate investor in Des Moines. He had an apartment building, not in the best part of Des Moines, but he showed us around, and he made us an offer. He said, " You kids work around here for the first month, and the next month you start paying rent. "We moved in with our pillow and blanket to our one-bedroom, one bath roach-infested apartment.
Our jobs were to clean out the apartments where people either moved or evicted. Plus, Jim did some maintenance work. I would work the 11:00 p.m. to 7:00 a.m. shift at Perkins, then come home and help clean out apartments. When you first start waitressing, you don't get tips because you are training and shadowing another waitress—cleaning out apartments allowed us to find food left in cabinets and refrigerators to fill our hungry bellies.
Jim and I lived in Des Moines for six months then moved to his home state of Maryland, where we would have family support. I was now pregnant with our first child due in October.
We overcame the odds we had a successful marriage, not without its ups and downs, but it was a solid marriage. I recall when Jim would work the swing shift, I would wait for him to come home at 10:30, and we would sit around the dining room table talking about our day and solving the world's problems. The many evenings we would dance in the living room as the Bee Gees, and Burt Bacharach would play on the CD player.
July 17, 1999, I woke up at 1:13 a.m. I was in a panic. My heart was beating out of my chest; I had not heard from my husband. Early that morning, Jim left for a golf outing with three of his buddies. He would drive from our home in Bowie to the Eastern shore where the guys lived and where the tournament was held. Jim was going to spend the night at his friends, but he would call me to say he was in for the night and safe.
An hour later, the house phone rings. It is the hospital Jim was flight lifted to the hospital; he had been in an auto accident. I quickly got dressed, went into our oldest daughter's room, and explained that their dad had been in an accident. The hospital was a two-hour drive from our home. I cannot even tell you how I got there; my mind was all over the place. I walked into the emergency room, where they directed me to Jim. He was lying on a gurney as the nurses were pulling glass out of his hair. He had a third-degree concussion and three broken ribs, but he would be fine. I was in a state of confusion. Jim was the only one there I kept asking where were his friends was this a multi-car accident? A doctor came up to me and, curtly, said, " It was a single-car accident, and there was a fatality." I walked away in disbelief and tears from my husband. I prayed to God, please don't let it be Pat. Not that anyone's life is more important, but Pat was newly married with a six-month-old son. The other two men were single. It was Pat who lost his life.
Jim was not formally charged until January of 2000, in November of 2000, he was sentenced to three years with two years suspended for vehicular homicide while intoxicated. The Judge was allowing us the weekend for us to get our affairs in order before Jim had to report to county prison.
The drive to taking Jim to jail was mostly in silence. It is the only way I could force my tears from streaming down my face. One never thinks this type of tragedy will happen to their family. We were just living the American dream. Pat and his wife were also living the American dream. After dropping Jim off at jail, I think all of Maryland could hear my cries. Did I have any right even to cry? My husband was alive.
The first thing I did when I came home from taking him to jail was to put the coffee maker away. I only drank coffee in the morning because Jim liked to drink coffee in the mornings. It became our routine to read the Washington Post and have a coffee cup before going to work.
I would wake up at the crack of dawn every Saturday and Sunday for the hour drive to visit Jim. You had to be at the jail early to get your name on the list to visit for fifteen minutes through glass while speaking through a phone. It was always so noisy in the jail the best way I can describe is it was untamed.
Three months into Jim's sentence, the Judge allowed work release. Annette, the court reporter during Jim's sentence, took a liking to Jim, and her husband's family owned a concrete business. They offered Jim a job. It was an indescribable blessing. The job did not pay much, but Jim got to get out six days a week for twelve hours a day. On February 13, 2001, his first day of work release, I got up at 4:00 in the morning to make the hour drive to touch, feel, and smell my husband as he came out of jail to go to his job. I look back now and am not sure I was allowed, but hey, " I did not know I couldn't, so I did."
The same cries heard when I dropped off Jim in November of 2000 could again be heard in June of 2001 as I intercepted a voice mail to my husband by Annette (the court reporter) professing her love to my husband.
Our marriage would not survive, and it was not the affair that was the demise of our marriage. I understood how that could happen. A person becomes vulnerable, and I am sure he felt that Annette was somewhat of his savior. Jim is not a bad person, he is human. It was the man that came home to me that I no longer knew is what took down our marriage. Jim came back home different. He was unusually cruel to me; it was a living nightmare. He looked like the boy I ran away with, the man I married and the father of our daughters. Jim would never come back to us the way we knew him. Maybe if I could have been more patient, but I was in too much pain to weather a storm that I did not know would end. Maybe he just fell out of love with me.
The other night my loving and sweet husband felt the brunt of this pain as the fear of a possible reoccurring nightmare came to mind. My husband quickly forgave me and will never make me feel guilty for having an authentic moment. Our path is never straight and paved. There are many obstacles and forks in the road that will lead us to our purpose.