Discovering Telesford
The First 56 Pages of my Book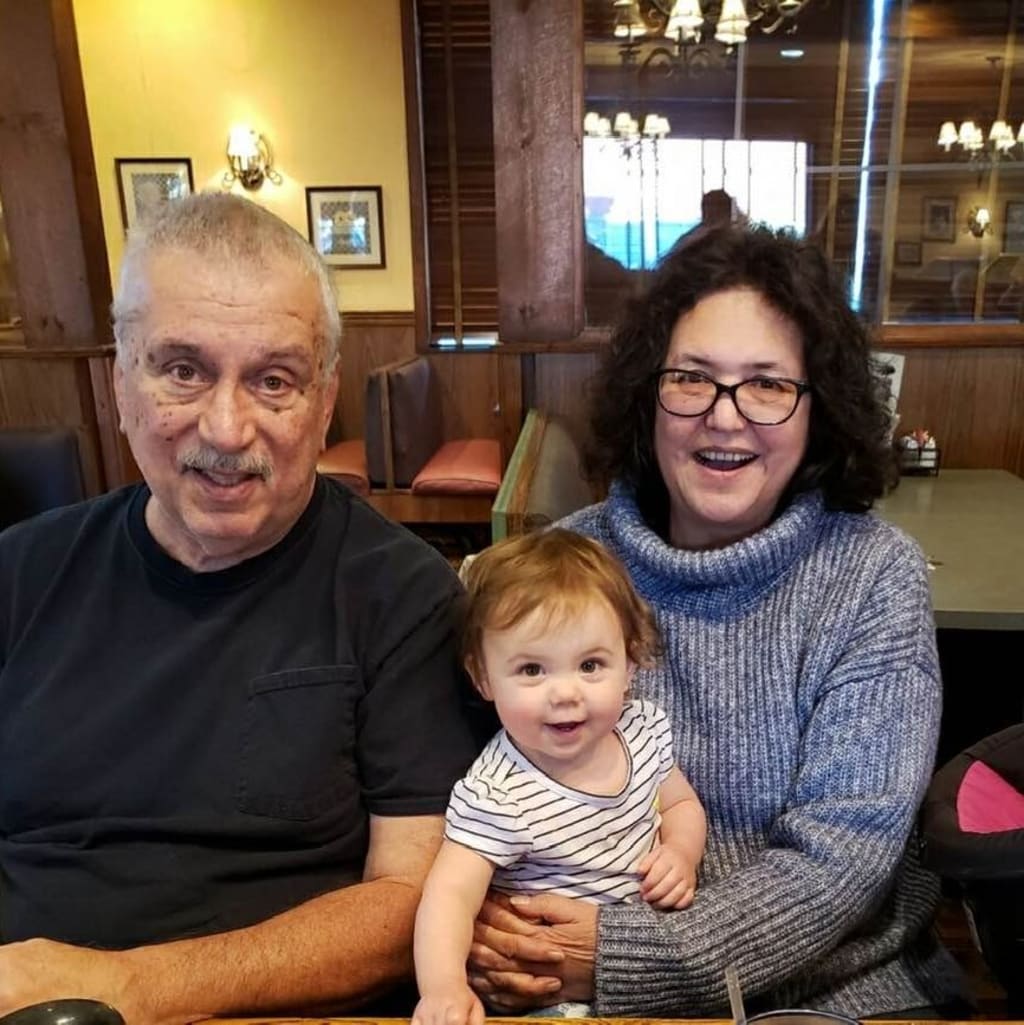 DISCOVERING TELESFORD
by
Bridget J. DeFalco
This tome is dedicated to my sons, Justin Paul Richards and Zachary John Richards, without whom I would never have survived thus far. Special thanks for life lessons learned goes to my stepdaughters, Amanda Richards and Shana Kunkle, who have helped me in understanding unconditional love.
Foreword
I am one of those people who rarely takes the time to read the foreword to a book, however, in finding myself committing to writing this book, I believe that a foreword is necessary so that the reader can gain some perspective on my particular version of insanity.
I have had more than the average number of negative experiences throughout my life. Chalk it up to bad karma, being in the wrong place at the wrong time (my mother's womb), choosing a difficult soul plan (for those who believe in the metaphysical aspects of life), or simply, bad luck.
This book is an autobiographical account of those experiences. Chapter by chapter, phase-by-phase, good decision by bad decision by good decision; I lay bare before the reader the days of my life, and the events that I have survived thus far.
Bad things happen to good people every second, of every minute, of every day. This is a hard cruel fact of life. Why negative events are more prevalent in some lives rather than in others is one of the great mysteries that lie beyond human understanding. I do not attempt to philosophize as to why some individuals are more afflicted than others are, nor do I attempt to evoke pity from the readers of my story, I do not feel sorry for myself.
I have survived no great holocaustic event; my story is about personal tragedies that have occurred during my experience here on earth. Some are minor, some are major, but none has any historical significance or relevance to anyone other than me, or those close to me. I am a product of pure and random chance, as is my life.
I have been called by many names in my life. Among them Bridget Delfine, Bridget Richards, Bridget DeFalco, Brigid Bishop, nigger, slut, whore, bitch, psycho, mother, stepmother, wife, sister, daughter, muse, scholar, and inspiration. You will get to know all the versions of me if you venture to continue turning the pages of my tome.
I simply wish to tell my story.
Survival
Survival \sər-ˈvī-vəl\ noun the state or fact of continuing to live or exist especially in spite of difficult conditions (Merriam-Webster, 2015).
Today happens to be Mother's Day, 2015. Was there a special reason why I chose to contact a prospective publisher and begin writing today? Maybe, maybe not. You can decide if you stick around long enough to finish reading my story.
Let me tell you a little about the Bridget sitting behind this keyboard today, and the story of survival she embarks.
Today's Bridget, "me", is 53 years old. I am currently a graduate student at Marywood University in Scranton, PA, studying clinical psychology. I did not go to college at the apropos time; I began my higher education in earnest in January of 2012 at Penn State University at the youthful age of 49 years 11 months. I graduated with highest distinction in May of 2014 with a major in psychology and a minor in sociology. I had the highest GPA of my graduating campus cohort. From the get-go, my intention was to attend graduate school, I aspire to become a licensed psychologist, and to become a university professor when all is said and done.
I have a twenty-eight year old son, Justin, who is an assistant district attorney, and I am in the seventh year of a second marriage to Frank DeFalco, whom I have been involved with since 1997.
I have three dogs, two Boxers and a Shetland sheepdog, a calico cat, and a Russian tortoise. I have a granddaughter named Ava who is two years and four months old at this writing, and I have a lifetime of misadventures to share with you.
I have recently grown close to my stepdaughters from my first marriage, a marriage that ended in 1993, Mandi and Shana, they will be prevalent in my story at different periods of my life, as you shall see.
Justin was not an only child. He had a brother. I had another son. Zachary. Zachary was just 14 months younger than Justin was, I had always called them my "Irish Twins". Zachary was murdered on September 11, 2014 at the age of 27 years 2 months. Although my loss of Zachary is integral in my need to express myself in this manner, surviving his death is just one part of my story of weathering this storm referred to as life.
My immediate circle has changed, diminutized, grown, and shifted over the years, and as you read of my experiences, you will (hopefully) shift and grow with me.
Everything that I am about to share with you is true and factual to the best of my knowledge and recollection. I withstood living through it; you should be able to tolerate reading it.
Heritage
It was 5:48 p.m. on August 11, 2008, I had just walked into the house after a preliminary arraignment at Luzerne County Courthouse where I had pleaded guilty to my second DUI in seven years. I was feeling defeated, depressed and questioning my sanity. I was frightened of how this arrest and guilty plea were going to affect my family and me. I wondered if I was an alcoholic and was already scheduling counseling to find out just what inside of me was broken.
I was a "New Age Life Coach" and "Professional Tarot Reader". How could a person who advised others for a living screw up this royally? I doubted myself and I doubted my ability to make solid choices. I was in a lot of pain.
The phone rang in my home office, I checked the caller ID, and it was a number that I did not recognize. Normally I would never pick up an unrecognizable number, but due to my recent DUI and the scheduling of counseling and preparing legally, I answered the phone on the second ring.
Here is the blog that I posted on my New Age Life Coaching site the next day describing the joy that this phone call brought me that first day. Little did I know that this was the beginning of many endings for me.
Discovering Telesford
I do not even know where to begin, but I must apologize to my regular customers for my absence yesterday, and my sporadic availability right now. When you read this blog, I am sure you will understand why!
I am elated, joyful, overwhelmingly surprised, and shocked. I am optimistic, happy, curious, and anxious and confused, all at the same time.
Those of you who are regulars know that I had a very special bond with my father, and some of you are aware that there was a great mystery surrounding my father's natural father. It has been a family secret for 80 years, and yesterday, my dearest friends, IT WAS SOLVED!
I cannot say for sure, but this must be the feeling that adopted children feel when they find their birth parents after having given up hope, at least it is highly similar!
All of my life, I did not know my true heritage on my paternal grandfather's side. I knew that my paternal grandmother was English, from Yorkshire. I knew that my mother was one-half Irish from Dublin and one-half Czechoslovakian.
Due to the etymology of my father's surname before it was changed, being "Delfino", we believed that we were Italian, (Sardinian), or Spanish in origin, but we had no way of knowing.
Growing up in a small, northeastern U.S. "coal town", we did not fit in as our gene pool evidently kicked out five Mediterranean looking children when my parents produced us. Those around us were blonde, blue-eyed and not very open minded about diversity while growing up in the 60's and 70's and we were kind of "misfits".
We were only told by our mother that our biological grandfather was named Telesford Delfino and that he was a world champion light weight boxer under the name of "Pedro Campo" back in the roaring 20's. She would give us no other information and my paternal grandmother ostracized both my father and his children, having little to no contact with our family during my formative years.
She had another "husband" and three other children. Dad was treated like the skeleton in the closet by that entire side of the family, as were we as his children. It hurt. It confused me as a child, but now, yesterday, a good deal of my questions were answered, the skeleton leapt out of the closet, and our family secrets were revealed!
It was 5:48 p.m. on August 11, 2008 when I was getting ready to log in to start taking calls, having had personal errands to run and experiencing a late start to my day when my phone rang, displaying a long distance number and a name I did not recognize. I could tell it was coming from a residential number and not a solicitor or business call, so out of curiosity I immediately (unlike my normal behavior, I usually let unknown callers go to voicemail), answered the phone.
A strange voice, friendly but seemingly a little uncomfortable to my ear said, "Is this Bridget?" I replied yes. (At first, I thought it was a client looking to schedule a session with me).
The voice on the other end of the phone picked up a notch in happy anticipation. She said, is this "Bridget Delfine", again I affirmed. I could hear the smile on her face. She said, "I saw your post on the ancestry site I just joined three weeks ago, you are looking for your grandfather, Telesford Delfino?" Again, with my heart beginning to beat very fast, I said "Yes".
She said, "Your dad is Kenneth Appleton Delfine (Delfino)?" "Oh my God, yes!"…body temperature rises, pulse beating out of my wrist! The voice was rising in excitement just as my emotions were too, and she said, "He is my grandfather too! I saw your post and we have been searching for you and for your dad all of our lives!"
She continued, "My name is Alma, my mother's name is Josephine, you had two uncles and another aunt and we have found our "Sonny Boy"!"
I was in shock and disbelief, how could this be? I had been chasing Telesford's ghost for thirty years! I had found some obscure boxing statistics, but little else. Due to the etymology of the name, as stated, I had focused my search on the United States and Europe.
Alma continues, "My grandfather was married to Olive Appleton from Philadelphia and my grandfather could not find Sonny Boy, he had a picture of him when he was about three years old and he always sang the song "Sonny Boy" by Al Jolson. My mother and her brothers and sister have been searching for Sonny Boy for all of their lives and when I saw your post on the ancestry site looking for descendants, I could not believe it. The post was dated 1999 and you had a webtv email address, and I have been googling and googling to find you, I found your tarot site and kept searching and I was hoping this was your phone number!"
I was flabbergasted!
Telesford fell in love with Alma's grandmother after he and my grandmother, Olive, separated and they had more children together! I had more aunts, uncles, and cousins that I never even knew of! Alma said, "I saw your picture on your website, you look just like my cousin! Oh, you are my cousin! I have twin cousins!"
Alma proceeded to tell me that my grandfather was from the Filipines, he was born in Davao City and came to the U.S. in 1922. He met my grandmother, who was in her late teens, at that time. She was the reigning "beauty queen" of Philadelphia at that time. She told me that Telesford was born on January 5, 1901 and then she gave me her mother's phone number in Canada! She was still alive! She was only 61 years old! Her name is Josephine! My Aunt Josephine!
I called Josephine and got even more information.
My grandfather had come looking for my dad after my grandmother Olive left the Filipines with him around 1930 when my dad was only five years old. Olive's family told my grandfather that Olive was dead! They also stated that they had no idea where Sonny Boy was! Liars! They knew right where he was.
Olive was protecting her second, illegal marriage! She never divorced Telesford! Telesford was a Filipino Catholic, there would be no divorcing! So she went and married her second husband anyway!
Huh? We were the black sheep?
Oh, this is a big skeleton!
No wonder she would never give us any information and there were no photographs! We were lucky we had dad's birth certificate the way that woman covered her tracks!
Telesford, now believing Olive to be deceased, proceeded to marry Josephine's mother, Alma's grandmother.
Of course, now there has been a joyous exchange of familial photographs, and initial arrangements are being made for a meeting with my beautiful new cousin Alma and my Aunt Josephine, (whom I somewhat resemble). How amazing to finally be able to identify a family resemblance that up until now, I could only see in my father, siblings, and children. None of my cousins on either my father's or my mother's side have any real resemblance to us. We are "Mediterranean" in appearance; I would assume that our ancestors in the Filipines are of Spanish descent due to the etymology of the name. When I researched it further, it is a Castilian name in origin, which is why I was trying to find Telesford in Spain, never thinking to look in the Filipines, especially with his boxing moniker being "Pedro Campo".
I have never seen a baby picture of my father until now, nor have I ever, ever seen a picture of my real grandfather, Telesford. The picture that Esel, Alma's younger sister has sent to me via email is from 1955. Although Telesford is in it, there is a crease across the picture, still obscuring his full face, so I am ever hopeful that they will forward more pictures where I can clearly see the man who was my grandfather and who searched his lifelong for his "Sonny Boy", my father.
Esel also forwarded the picture of my father, age three years old! My son Justin is the spitting image of him!
I received pictures of Esel, Josephine, and Alma as well!
Unfortunately, Dad, and his other three siblings have passed on, never reuniting with each other, and Telesford passed in 1976, a last attempt at finding my dad occurred in either the late 60's or early 70's, but he never gave up. Dad grew up thinking that his father did not want him or care what became of him, all because of one woman's selfish need to bury a secret that she took to her grave with her.
Josephine wishes to visit Dad's grave upon her visitation here, which I will surely see to, and I now have a new, beautiful, extended family that I am sure will take much of my leisure time learning about!
The High Priestess in Tarot is all about "Secrets Yet To Be Revealed" and this lifelong secret has now made itself known to me!
Sonny Boy
Performed by Al Jolson
Climb up on my knee Sonny Boy
Though you're only three Sonny Boy
You've no way of knowing
There's no way of showing
What you mean to me Sonny Boy.
When there are grey skies,
I don't mind the grey skies.
You make them blue Sonny Boy.
Friends may foresake me.
Let them all foresake me.
I still have you Sonny Boy.
You're sent from heaven
And I know your worth.
You made a heaven
For me here on earth.
When I'm old and grey dear
Promise you won't stray dear
For I love you so Sonny Boy.
When there are grey skies,
I don't mind grey skies.
You make them blue Sonny Boy.
Friends may foresake me.
Let them all foresake me.
I still have you Sonny Boy.
You're sent from heaven
And I know your worth.
You've made a heaven
For me here on earth.
And the angels grew lonely
Took you because they were lonely
I'm lonely too Sonny Boy."
(Jolson, 1928)
That was the end of the initial blog. The comments that arrived a few days later on that blog really opened my eyes and will be very important to this story later on.
The part of this story that I did not share with my clients and my web audience is quite different from the joyous reunion that I report here. I have to admit that I was very hurt and confused by the reactions of my four siblings and my own mother to the resolving of a 78-year-old familial mystery.
As soon as I got off the phone with Alma, I shared with my husband, Frank, the great news! I was in heaven! Despite a pending potential jail sentence for my guilty plea for my second DUI, I felt that this was a sign, a sign that I needed to stay optimistic and continue moving forward with my life. I took this miracle as a sign that I need not fall into the pit and despair of a clinical depression. The endorphins were flowing!
Frank shared my amazement and joy and was happy for me. He seemed to like seeing me happy, it had been quite some time since he saw me that way.
After I calmed down a bit, I could not WAIT to share the news with my family.
The first person I called was my sister Karen, ten years my senior. We had had a difficult relationship over the years, however, I felt that this mystery being solved would be a sure fire way for us to become closer somehow.
Her reaction was nothing like what I expected, quite the opposite.
Karen has a penchant for Italian Cuisine. Without evidence of true heritage, she decided that she would adopt the Italian culture and convinced herself that our mystery grandfather was of Italian descent. When I contacted her I opened with "Hey Karen, it's Bridget, guess what? You are not going to believe what happened! I found our missing grandfather! You're going to have to throw away all of your Italian cookbooks and start learning about Filipino Cuisine!"
I thought she would appreciate this little bit of teasing. She did not. Karen said "What? We are not fucking Filipinos. Filipinos are all fucking nurses! I'm not a fucking Filipino, who told you this bullshit?"
I actually thought she was joking, playing with me. I told her the whole story. Karen's response was "That woman's a fucking liar, we are NOT FUCKING FILIPINO!"
After skyrocketing into the joy of finally being able to identify whom and what I was, I was very taken aback, shocked, and appalled by her response. I still thought maybe she was joking, and told her about dad's baby picture, all the details the Filipina relatives had shared with me, the fact that they had the family names and addresses of the Appleton's, which I knew were valid as I had taken our family tree back to 1604 on the site that Alma found me on. I also had no doubt that the picture I received was a photo of my father, my son Justin at the age of three was a carbon copy of him, the photo looked like the same child in a different outfit taken in black and white.
With further discussion, to my dismay, I realized she was seriously upset. She screamed at me "I am not a fucking Filipino! All Filipinos are nurses! I am not a fucking nurse!"
There was no calming her. I just laughed, this was a typical Karen reaction. Totally ridiculous. My energy immediately went back to that of withdrawal from her and her energy. I laughed again and said, "Perhaps you may not want to be part Filipina, but you are and there is nothing you can do to change that fact, so I guess you better get some Asian Cuisine cookbooks and rethink your identity." I then hung up. I was disappointed, to say the least, that she did not share my joy, but I thought that perhaps I would have a better reaction from other family members.
By the way, it is very important to note, my mother, of Irish and Czech/Hungarian descent was a nurse, as well as her three sisters. Hypocritical thinking here on Karen's part, very ridiculous, what was wrong with being Filipina and what was wrong with being a nurse? MY MOM WAS A NURSE!
I moved on to the next family member to share my joy.
I called my mother. I communicated my story to her. Before I could even finish telling my tale my mother said "She's a liar. Your father was NOT a Filipino." Usually able to get my mother to see my side of the mountain, I pressed on. After nearly an hour of pushing the details into my mother's head, she finally agreed that perhaps they were relatives of dad, but her demeanor was one of rejection.
I next contacted my brother Jimmy who is seven years my senior. My younger brother Danny, six years my junior, was living with him at the time. Danny actually answered the phone. I was very pleased that Danny was just as amazed and in awe of finding our lost family as I was. He updated Jimmy as we spoke and I shared the details. I arranged to visit them the next day and provide them with copies of the photographs I had received of dad as a child and other family members.
The next evening, after having printed out copies for each sibling and my mother of all of the photos, I made my rounds to deliver them.
I went to my mother's house first. When she laid her eyes on the baby picture of dad, she could no longer deny that this was his true family and she softened a bit. I had also taken the photos shared with me and added some of my own family photos and made a little video set to the tune of "Sonny Boy" by Al Jolson. I played it for mom, but she seemed angry as she viewed the clip. The family resemblances are exceedingly strong, and instead of finding happiness and comfort at finding our missing family, she became irritable and told me to "shut it off". I was sad and confused but honored her request. I left copies of the video and photos with my mom for Karen, as I did not want to visit her in person due to her volatile temperament and initial reaction.
I then went next door to my brother Kenny's apartment. Kenny has no telephone so this was news to him. He is eight years my senior and since his divorce in the mid 80's he had lived alone next door to my parents, renting a small apartment. I was surprised that he was very calm when I imparted the story to him. He simply said "Well, it was a hundred years ago, nobody cares about what happened back then." I gave him copies of everything for himself and for his two daughters.
I continued my travels down to my last stop, Jimmy's house, where, at least initially, I thought I would be welcomed with my folders of goodies. At first, I felt that I was. I shared the photos, I shared the video I made, and both of my brothers appeared deeply moved by it. Danny was very excited about the genealogical work I had completed on the ancestry site and even agreed to have a DNA test done to help map our genes, we needed my father's son to have the patriarchal DNA. Danny did not have enough money to pay for the test, but I was anxious to dig further into our gene pool, so I offered to lend it to him, the cost was ninety dollars.
I had, with permission, given Aunt Josephine Jimmy's home phone number and while I was there, she called them to meet them by phone. Aunt Josephine then shared that we were not actually descended from pure Filipino lines, but that Telesford, (whose correct name is actually Telesforo), had a Filipino father and a Chinese mother. She shared this with Jimmy while on the phone with him. Danny spoke with her as well. I was happy. I had solved the mystery.
When the telephone conversation ended, so did my optimism. Jimmy said to me "Don't tell Jamie about this." Jamie is his only child, a daughter. I said "Why?" He said, "She doesn't need to know this." I replied that I would not go out of my way to contact her to share this information, but that if she asked me about it, I would respond with the truth. Jimmy got irritable. He then said to me "Don't tell Bobby Morrell about this." (This was my father's cousin through his mother). I had met the man ONCE in my life, at my father's funeral when I was forty-three years old. I think I may have said hello to him when he offered his condolences, even if I wanted to, I would have to do a lot of research to find his contact information. I was confused and this last statement made me angry. I said, "I'll tell everyone I know what my heritage is. I think it is amazing that we found each other after seventy-eight years of secrecy and lies. This is the stuff that bestselling books are made of!" I was not going to let my newfound family be destroyed before I even had a chance to connect with them fully.
I went home and shared my experience with Frank. Neither he nor I could account for this negative reaction to solving the mystery our family had fantasized about solving for three quarters of a century.
This was the beginning of many endings for me, at least for the next seven years.
In order for me to explain to you how important "Discovering Telesford" was on my own personal journey of growth and understanding, we have to go back to the very beginning, my beginning, the only beginning I know.
I survived discovering my heritage, and I lived on.
I Am Born
I had to steal that line from Dickens. It always hung over me for some reason, Dickens has always been a favorite author of mine.
It was 12:28 p.m. on Monday, February 5, 1962 when I entered this sad, yet wonderful world.
According to my mother, the G Rated version of the day of my birth was that there was an intense snowstorm going on outside, it lasted for days. I was born at Frankfurt Avenue Hospital in Philadelphia, PA. My mother informed me that she brought me home by taxi and that the neighbors had to shovel our way in to the small dwelling that was to be my first home, a housing project in Northeastern Philadelphia.
There are few baby pictures of me and now I fear that they are lost to me forever, as you will understand as my story unfolds. My mother told me that the reason that there were no baby pictures of me was because at the time of my birth, my family was very poor, and therefore, hiring a photographer was out of the question. I later came to realize what the true reason was.
I was born as the fourth child of Kenneth Appleton Delfine and Jane Catherine Delfine, nee' Wilson. Dad was thirty-seven at the time of my birth and mom was thirty-three, twenty-three days shy of her thirty-fourth birthday. I came into this set of parents with a pre-existing sister, Karen age nine and one-half, and two pre-existing brothers, Kenny age seven, to turn eight in a month's time, and Jimmy age six and one half at the time of my arrival.
I was oblivious to the life we had in Philadelphia. I had not yet developed a "consciousness" so I really can't say I feel any special attachment or repulsion to that time. It always did make me feel insecure and a little unwanted when there were no baby pictures of me around, but I accepted mom's initial reasoning for this minor neglectful act of parenting. Perhaps it would not have come to my attention at all that my arrival was not documented in any significant way if it weren't for the fact that there were portraits galore of Karen, Kenny and Jimmy around the house. Later the photo collection would also include Danny, six years my junior, but no portraits of Bridget.
As a child that wore heavily against my self esteem. As I grew older, my father would tease me and tell me that there were no pictures of me because he "found me under a rock on an Indian reservation" and brought me home. I sometimes believed him because I spent the bulk of my childhood in fear of my father and siblings and occasionally my mother as well. Perhaps I was adopted and that was why I felt like I didn't really belong in this family? The fact that genetically I was an exact duplicate of my father did not dawn on me until I was a little older, but for some reason, a good portion of my early childhood was dark, frightening, and intimidating.
My very first childhood memory occurs after we had relocated to Freeland, PA, my mother's hometown. We were renting a home on Ridge St., Karen had her own bedroom, Jimmy and Kenny, always referred to at that time as "The Boys" shared a room with bunk beds in it, and I resided in a crib in my parents' bedroom. I was likely about two years old give or take at this time. My siblings refuse to give these memories any credibility, stating that it is not possible to have a memory be active from that age, however, I have this and many more from the time that I was a toddler.
On a Saturday morning 1964, I am in my crib, dressed as customary in one of my older brother's white t-shirts as a nightgown. I can hear Kenny, Jimmy, and Karen downstairs in the kitchen talking and evidently having breakfast from the sounds of silverware hitting plate or bowl. I do not know where mom and dad are. Karen would be around twelve now, Kenny 10 and Jimmy would be nine, I am just two years old. I am unable to get out of the crib myself, so I start to call downstairs to the family "Bring me down! Bring me down! Bring me down!" and I am ignored. I escalate my desire to be released from my crib and yell louder, "Bring me down! Bring me down! Bring me down!" No one answers my call. This goes on for what, to me, seems like an eternity. I was being ignored.
Funny, it just dawned on me, I never remember anyone coming and getting me out of my crib without me calling out "Bring me down!" No loving mother, father, or sibling waking me to a morning routine, just left in the crib until by virtue of the racket I made someone would bring me down into the family circle.
I continued to shout out my desire to start my day and my siblings continued to ignore me. Being but a toddler, I began to cry. I had no cognitive understanding of using tears for manipulation, I cried because I could hear everyone downstairs and even at this early age, I understood that they could hear me too. I was being willfully ignored by my heretofore caregivers. I felt scared, I felt abandoned, and I cried harder. I remember crying so hard that I began to hyperventilate, still no one came.
At the sound of my father's car arriving out front I heard chairs scrape the kitchen floor and my sister Karen arrived to release me from my pen. I was covered in blood as the hysterical crying and hyperventilating had brought on a nosebleed, I was prone to severe nosebleeds throughout my childhood. She tried her best to clean me up and ran down the stairs with me. I felt some sense of comfort. The memory just fades out of my psyche at this point.
February 9, 1964 was a very pleasant evening for me. Many people in my life have tried to discredit this memory due to my age, again, freshly turned two years old, but this memory is extremely lucid to me and has always been one of my cherished nostalgic mementoes.
It was a Sunday night and I was allowed to stay up late! Freshly bathed and dressed in a clean white t-shirt from my older brothers, I sat on the floor in happy anticipation of seeing The Beatles perform on the Ed Sullivan Show for the very first time. It was an historical moment for the nation and for me as an individual. I remember the sheer ecstasy I shared with my sister Karen that night, as she was a great fan of The Beatles, and that association and pleasant memory has made me love that band for the entirety of my life. It is deeply grounded in my psychology.
Music of all types from that period was very important to me, you see, my father would buy me a forty-five rpm record every payday. He was employed as a bartender at the local American Legion at that time, to the best of my knowledge and recollection, he had difficulty holding down permanent positions during the early years of my life. I know that he had worked briefly at the Tobyhanna Army Depot, his veteran status had been integral in his being hired, but he only stayed briefly as later I was told he could not stand sitting still for long periods of time, so he quit. Men in this area spend their entire careers and support their families quite well at that depot, but not my dad, it was too mundane for him I guess.
All of those records my dad had brought home for me are now lost, forgotten in the attic of the home I abandoned when I was divorcing my first husband. That saddens me, but in the big scheme of things, I suppose it is inconsequential. My love of music did develop at that time in my life and subconsciously it always made me think of the father/daughter bond from those early years.
Dad was the one who brought me down and dressed me daily. He was the one who bathed me. I can remember him having me stand on his shoes while we danced to the tune of "Daddy's Little Girl". I remember him cooking me soft-boiled eggs, which we referred to as "dippy eggs", he would say "off with his head" as he sliced the top of the shell off so I could dip my unbuttered thin strips of toast into the golden yolk. I loved my dad and felt very bonded to him. He could be very kind and nurturing when he wanted to be.
I do not remember my mother at all from that period, however, I do remember my dad taking me to "meet" her for the first time. Yes, that is right, I remember my dad taking me to meet my mother sometime during my second year of life. My siblings were with us as well, evidently, they already were familiar with this person referred to as "your mother" by my dad, and she was a total stranger to me.
We went to a hospital, I know not where or exactly when this occurred, it could have even been before I was two, my memories from that period are certainly not in any chronological order. In this hospital environment we entered a room that was furnished in dark green vinyl furniture, it must have been some type of visiting room. My dad carried me in, I remember being wrapped around him. There was a woman in the room. I was very frightened and clung to my father very tightly and hid my face in his shoulder. The woman said, "She doesn't even know me". I did not. This was a complete stranger to me. My dad peeled me off his shoulder and put me on the floor. I grabbed his leg and tried to climb up it, back into the safety of his arms. He said, "This is your mother, go to your mother, now" very sternly. I was scared. I could not move. He grabbed me, hoisted me up into the air in one swift motion, and plopped me on to the strange woman's lap. I screamed in terror! The woman started crying. My father ripped me back up off the woman's lap and said "Jesus fucking Christ, what's wrong with you? That's your mother." He held me aloft and shook me. I was scared and confused and could do nothing but cry.
The lady said, "Ken, put her down, you're scaring her, it's okay, she doesn't remember me." Then the woman told my sister Karen to take me to the "commissary" and get me a hot chocolate. Karen took me by the hand and we went to a big cafeteria where she sat me at a table and gave me a hot chocolate and we waited there for my father and brothers.
That was how I met my mother.
In time, my mother came home and began working the midnight shift at the White Haven State School and Hospital. When she first started there it was inhabited by tuberculosis patients. During the days, when my siblings were at school and my dad was at work or wherever he disappeared to, mom tried to sleep. She would tell me to get "in her nest" that crook formed by your legs when you bend them at the knees, and lie down and watch TV while she slept. I tried to be good and stay in her nest so I would not upset her and would wait for either my grandfather Wilson, mom's dad, to come and get me, or for my siblings or father to return to attend to me. She would get very upset if I got out of "the nest" while she tried to sleep, I tried my best to be good.
During this time frame I remember an incident between my parents that I observed, hysterically upset, from my crib. Mom and dad were screaming at each other. Dad was throwing a big blue suitcase around in the bedroom, grabbing all of his clothes out of the closet and drawers, and throwing them into the suitcase. Mom was crying and grabbing at him, vacillitating between screaming at him to get out and pleading with him to stay. I was in a panic. Where was my dad going to go? I would be left here alone with this "mom" woman that I barely knew. She never made me dippy eggs! I started crying hysterically and screaming, "Daddy don't go! Don't go!" My words fell on deaf ears as they continued screaming at each other.
I could take it no longer. I clearly remember hoisting my right leg up over the crib rail and pulling myself up, balancing precariously on the rail and then BAM! I hit the floor face first. I immediately vomited, I was choking on my tears, and my nose began to bleed, having made direct contact with the floor.
They both went silent. Dad ran to my side, picked me up, and started to pat me on the back and comfort me. He took me to their big double bed and sat me up by the pillows. Mom ran to the bathroom and got a damp washcloth to clean me up. They both lay down on the bed with me between them and comforted me. The fighting had stopped and the memory fades.
During this period of my life, my grandfather became my daily babysitter. I truly felt safe and secure in his company. Grandpop Wilson was seventy-two years old when I was born, so by the time that I was two, he was babysitting me on a regular basis. Under his care, I was doted on and spoiled. He told me tales of the coal mining days when he was a boy picking slate in Eckley, PA and he shared a lot of the family history with me. He taught me rhymes and songs, he taught me how to blow threw a blade of grass and make it whistle, he bought me penny candy, and generally made my childhood pleasant. I was my Grandmother Wilson's namesake, having been baptized Bridget Jane, named for my grandmother and my mother. I did not realize it at the time, but for how generous kind and caring grandpop was to me, he did not treat my older siblings in the same manner. Their accounting of his behavior is quite different from mine and I have no recollection of any of the harshness they say he displayed toward them, although I am aware that he brought treats for me whenever he came and did not bring any types of treats for them. As a child, I just assumed that this was because I was "the baby" of the family, after all, there had to be some benefits to being bottom girl on the totem pole.
I spent many afternoons with grandpop and fuzzy, my soft and cuddly security blanket, still in my possession to this day, playing at grandpop's house and enjoying being a child. Grandpop was of Irish descent. His mother's family, the Gallaghers, came to the United States during the mid nineteenth century from Dublin and settled in Eckley, PA. His fathers' family originated in Belfast, Protestant Catholic, and settled in Mahanoy City, PA as farmers. My cultural upbringing was primarily Irish in nature due to my grandfather's influence and I always considered and identified myself as Irish American despite my olive complexion and black curly hair. People would look amused when I told them that I was Irish. As a child, I did not understand why. This will unfold as we progress.
I started kindergarten at Daniel Coxe Memorial while living on Ridge Street at the age of five. I have no idea why, but when I reviewed my old kindergarten report card, I had missed thirty-five of the one hundred and eighty days of half sessions I was supposed to attend. I remember being switched from the morning class to the afternoon class, losing some first friends and gaining new ones, but I do not have any idea why. I assume that my mom's work schedule just had her too tired to get me up and get me ready for school. I remember grandpop taking over the task of getting me back and forth to kindergarten and I know that I did like it.
When my parents went out to go grocery shopping while we lived on Ridge Street, my sister Karen was charged with my care. I dreaded grocery shopping night. I begged to be taken along but it was not always convenient for my parents to do so. When they left me in Karen's care I was at her mercy.
I had a recording of the Washington Irving story "The Legend of Sleepy Hollow". The headless horseman was a terrifying figure to me and I was actually too frightened of the record to listen to it. I was too young for the story I suppose.
Whenever my parents would leave, my dad would firmly instruct my older siblings not to play that record, because it terrified me. Each time my parents left me in Karen's care she would blast the part with the headless horseman laughing, I would scream, cry, and be terrified out of my mind and she would laugh and enjoy watching her baby sister deal with true terror.
A big part of Karen's entertainment during my formative years was terrorizing and psychologically abusing me. I have no idea why. She took great pleasure in watching me become frightened and found joy if she saw terror in my eyes. I will never understand why a sister ten years my senior found it more beneficial to torture her baby sister than to attempt to nurture her.
From this time in our lives, I have one vivid memory of another fight between my parents. When I discussed this with my older siblings, they deny that this could ever have happened, but in my minds' eye, I still see it as clearly today as the day it happened.
It was daytime, I believe it was early afternoon. The older siblings were not home so I assume they were at school. Mom and dad were talking and I was on the living room floor using fuzzy for a pretend picnic blanket playing quietly. All of a sudden I heard my dad screaming at my mother, mom was pacing back and forth between the kitchen and the living room and dad was close behind her every step aggressively arguing with her. Confronting her about something that I did not understand and the tone and body language between them frightened me.
Mom went to sit at the desk we called the "secretary" to use the phone, as she went to sit, dad screamed at her, "Get rid of it!" and pulled the chair right out from under her and mom landed squarely on the floor, hard. That had to hurt. I know that I was five years old at this time, it had to be autumn of 1967, because I realize that this memory pertains to my mom telling my dad that she was pregnant with my little brother to be, Danny.
I survived my birth and toddlerhood, and moved forward into my school aged years.
School Days
Christmas 1967 was wonderful! Santa brought me a blue two-wheeled bicycle with training wheels made by Kent. The bicycle was still in my mother's basement on Front Street when she passed away in July 2010, but, as with all my childhood memorabilia, it is lost forever now. I remember riding that bike through the living room and waiting for the snow to melt so I could ride it outside.
My memories from this point forward are firmly established, detailed, and permanently engrained in my mind. No matter how anyone may try to discount them, they are my personal history and my truth.
During the spring of 1968 I was very excited to learn that my parents were buying a house on Fern Street in Freeland. This was cause for great excitement in the family and it was a new beginning for me. I was going to be attending first grade at St. Mary's Byzantine Catholic School, which was located directly across the street from our new home. The convent, which housed the nuns who taught at St. Mary's School, was right next door to our new home. My mother was very pleased that I would be able to get to school alone, no one would have to take me, and I would burden no one's schedule. The house we were purchasing was a former rectory to St. Anthony's Church and it was rumored to be haunted. That did not deter my parents from closing on it.
I was six years old, Karen was sixteen, Kenny 14, Jimmy 13, and Danny was born in June of that year when we first moved into the new house.
I remember being pulled out of class in kindergarten with several other children as we were going to parochial school and would not be moving forward into the first grade at Daniel Coxe Memorial. We were different. We were going "someplace else". Up until this time in my life I felt like I was just like everyone else in my class and in the small town of Freeland, PA. That was about to change dramatically upon my entry into my new school. I was going to begin a life phase that quite probably made me feel like a misfit for the next twenty years of my life.
Fern Street was a wonderful street to grow up on. There were many other children in the neighborhood to play with and all of the gardens up and down the hill were adjacent with no fencing between them. The nuns at the convent let the neighborhood children use their garden for football games and the playground for St. Mary's School was on the other side of the street, complete with a basketball court. What I did not realize is that I was not one of the average neighborhood children. All of the neighboring children were white. I thought I was white, but the children of the neighborhood did not accept me as such. They were suspect of my ethnicity. I was frequently called a "nigger" when going to the playground to play. I was spit on, urinated on, and bullied for the next five years, nonstop. I could not leave my house without checking to see who was out and where they were so that I could avoid them. I frequently came home crying after a schoolyard spat and I received little comfort from my mom, she was usually sleeping.
I was attending St. Mary's, a Byzantine Catholic School and from day one, I was pegged as .
a misfit. Why? Because I was a Roman Catholic, my mother's family was generationally attached to St. Anne's Church and School, located on Ridge Street, catty-corner from our former home. Karen, Kenny, and Jimmy had all attended St. Anne's School, but my mom had opted to enroll me in St. Mary's due to the proximity of the school to our new home. St. Anne's was only three blocks away, but it would mean someone would have to actually walk me to school and impose on their schedule, so mom chose to do what she did so as not to inconvenience herself with getting me to school. She had a sick infant and she worked midnight shift as well. She received little help with childcare from my dad and Karen, Kenny, and Jimmy were in high school and not around much.
My class at St. Mary's consisted of eight children in total. Two girls, myself and a girl named Paula, and six boys. We were the smallest class in residence at the school in the late sixties and the compact size of the class made me stand out like a sore thumb. Most of the children at St. Mary's were blonde and blue eyed, all were fair skinned. The one or two that did have olive skin were from ethnically identifiable backgrounds, Italian, Greek, or some other recognizable local ethnic group. I was not so easily categorized. I was supposed to be Irish, but I did not resemble any Irishmen in the Freeland area. I looked foreign and I was teased mercilessly at the school for my appearance. Being called a nigger, always by boys who were a little older than me and intimidated me was a daily knock against my self-esteem. I was excluded from neighborhood play and tormented on a regular basis.
On a few occasions when I reported these hazings to my older brother Kenny he confronted and threatened some of these boys, but he was already on his way out of the family circle, in his late teens, when things got really rough.
In 1968, Danny, my baby brother, had been born with a bad heart, his ventricle had an irregular rhythm, and he had three holes in his heart. Having a sick child puts a strain on a family that cannot be explained unless you live through it. Everyone is affected by the constant concerns that go along with a special needs child. Even more upsetting to my family was the fact that my mother had inadvertently infected Danny with whooping cough as an infant, having transmitted it to him from her work clothes at the State School.
The family began revolving around Danny's illness from the time he was born. At around the age of eight I became a primary care giver to my younger brother, he was two.
Despite being a misfit at St. Mary's I excelled at my studies. It became known that I was very bright. If there was one thing that I could glean a little pride and self-esteem from, it was my school performance. The problem was that beginning in second grade and continuing throughout my primary and high school education, my attendance was sporadic at best.
Karen became my nemesis during the years of 1968 through August of 1970. I have no idea why she derived such great pleasure from removing any sense of safety or security I managed to muster up, but my being in a state of fear apparently was her favorite form of entertainment. I was like the ant that she burned under a magnifying glass or plucked the legs from, while her captive during those years. Although, as her baby sister I admired her at that time, I was very frightened of her as well.
I remember her and my brothers setting the dining room table one day, they were arguing over who was going to pour the milk. We normally were not given drinks at the table because if we accidentally spilled something during the meal, my father would strike out hard and heavy. My mother got into the practice of having us wait until after our dinner was eaten in order to avoid one of her children being beaten at the dinner table. This was a holiday meal, so drinks were going to be allowed with our meal.
Karen flew into a rage with one of my brothers, I do not remember which one, she ended up spilling all of the glasses of milk when she pushed and swung at my brother and setting my father into a rage that lasted for hours of screaming, cursing, and yelling. No dinner was served that day.
Karen never hit me or tried to fight with me during these years as she was ten years older than I was. What she did do was psychological abuse. The home we bought on Fern Street, as I stated earlier, had been rumored to be haunted. I was very young and frequently very scared when left alone in that house. My mother left at ten p.m. each evening she was scheduled to work. My dad and my older siblings were usually still out of the house when she was ready to leave. Danny was in his crib and mom would leave and tell me that I needed to stay on the couch downstairs until someone returned home for the night. This began when I was seven years old. I spent many frightening hours waiting for someone to come home and relieve me of my watch in that Fern Street house. Mom always told me that if I had any problems to run next door to the neighbors, that gave me some small sense of comfort, but I was frequently frightened just the same.
I had our collie dog, Missy, to keep me company and give me comfort, and usually someone would come in by midnight and I could go off to bed. Remember here that I had to get up for school the next morning, being only in primary school. Mom always reassured me that if I got frightened I should go pick the baby up because he was an "innocent soul" so nothing could happen to me if I was holding him. She did not try to convince me that ghosts were not real, she just told me how to protect myself from them. She also told me that if I was ever confronted by a restless spirit, I should bless myself and say, "In the name of Jesus Christ what do you want?" Oh yeah, that was great advice to a highly intelligent and imaginative child of six, seven and eight years old.
Mom frequently used the metaphysical to manipulate and control me.
On the evenings that she did not have to work, I wanted to stay up late with her, school night or not, to spend some time with her, get a little maternal nurturing. I supposed there should be no issue with a bedtime for me as it was not an issue on the nights mom had to work, but I was wrong. Mom needed a break from time to time and did not want my company late night. She would tell me that my guardian angel was sitting up on my bed crying because I was not retired for the night and that if I did not make haste to my bed, the devil would be waiting for me instead. As I was a Catholic school student and I trusted my mother to give me good information, I believed this to be so. I would hurry off to bed, hoping that I made it in time to avoid any demonic visitations.
Karen was well aware of my fear of the devil and my uneasiness about ghosts. She used this to further her enjoyment of manipulating me. Frequently upon awaking I would find a cryptic and creepy message from the devil on the bookshelf next to my bed in the room I shared with her. The notes would have a very detailed illustration of a devils' face, usually very fearsome and a message that read, "I was here watching you while you slept. I will be back tonight. Tonight may be the night I take you with me." I would run to my older sister with the note in hand, frequently scrawled on the little toy chalkboard I had with the counting beads on top, I would be terrified of the message left for me and Karen would tell me not to tell mom. She assured me that I could protect myself by performing a ritual to the "Great Water Spirit" every night before I climbed into bed. She instructed me on how to perform the ritual. I had to pat the top of my head and rub my belly simultaneously while repeating the phrase "Owala, Owala, Owala" five times in front of the bedroom mirror. She assured me that this ritual would protect my physical body and my immortal soul from being taken away to hell by the devil.
I performed this ritual faithfully for an extended period of time. The notes continued, the drawings became more gruesome, the devils looked meaner and fiercer than ever. The notes told me that the ritual would not protect me and that one night soon the devil was going to take me for certain as soon as my mother left. Karen informed me that there was nothing she could do to help me, the ritual was the only way she knew to stave off the devil, but maybe it was because I was so bad the ritual just would not work for me.
I spent many frightening hours waiting for someone to come home so that I could go to bed and perform my ritual to protect myself from the devil. I had many nightmares during those years of morphing into a devil myself. In these dreams I frequently imagined that I grew horns and a tail, I vividly remember one nightmare during this time where I was at the Daniel Coxe Memorial school yard playing hopscotch and grew the horns and tail right there in front of everyone and floated up into the air above the playground. I awoke screaming, but I was in my room alone.
One night, when my mom had chased me off to bed so she could have a little quiet time, I was in front of the mirror doing my ritual when my mom came upstairs to use the bathroom. She saw what I was doing and questioned me about it. I explained to her in a very matter of fact manner that the devil was indeed visiting me on a nearly nightly basis and that if I did not do this, he would take me to hell with him body and soul. I still had a note on the chalkboard from the previous morning and I showed it to her. My mom told me I was safe and that I did not have to do the ritual anymore. I did not believe her. It took her several weeks of coaxing to get me to stop. I never received another note from the devil after that. I did realize that Karen had been the one deviling me after all and I resented her for it.
In late summer 1970 Karen began attending college. At first she went to the Penn State campus in Hazleton, PA, but at some point she convinced my parents to allow her to transfer to the main campus in State College, PA. My tormentor was finally gone, I had a room to myself for the first time in my life. I was eight years old. Kenny turned sixteen in March of 1970, bought himself a car, and took an afternoon job at a truck stop in nearby White Haven, PA. Jimmy was fifteen and out and about, living the party lifestyle of a teenager in the seventies. The gradual disappearance of my elder siblings led me from childhood smack into adult responsibilities rather quickly.
By third grade I was the primary caretaker of Danny, my baby brother. I was responsible for feeding, bathing, and changing him, along with keeping him entertained. He was a sickly child, he was quite small for his age due to his heart condition, and he frequently had to be medicated with antibiotics to prevent infections. By the time I was eight or nine years old I was administering his medication as well.
I began missing more and more time from school, more than thirty days of the one hundred and eighty required for a full school year throughout my attendance at St. Mary's from grades one through six. My truancy increased in frequency as my responsibility for Danny's care increased. My classmate Paula would bring me my homework after school and I worked independently, always maintaining very high grades, but already falling behind socially.
My mother still worked the midnight shift, she had to sleep at some point. Mom would frequently keep me home from school to tend to Danny the toddler so she could get some rest. I remember staying away from the windows of the front of the house so that the kids playing on Fern Street during recess and lunch would not see me. The noises from the playground made me feel lonely and isolated while I babysat Danny when I should have been in school.
On the occasions when mom was up, awake, and caring for Danny I did get to go out to play with the neighborhood children. Danny would stand at the front door, holding the screen open when I tried to escape to the playground, clad only in a diaper and a shirt, yelling, "Bridgie, Bridgie, Bridgie!" Mom would generally call me back inside and instruct me to dress Danny and take him with me so that he was contented.
Sometimes I did escape to go play without my baby brother, on these occasions I would be able to escape for an hour or two, but eventually the phone would ring and my mom tracked me down and told me to come home to take care of Danny.
I remember a time when I was at a playmates house that mom did not have the phone number to, it was someone from public school who lived at the bottom of Vine Street, one block over and one block down from us. They had a great house. There was just one brother and one sister. The basement was a family room with aquariums with live fish and the attic was a playroom set up with real desks and a chalkboard! I loved playing there, and best of all, mom did not yet know that I had befriended them so she could not call me on the phone and make me return home.
I knew by routine that my mom wanted me home between four and four-thirty to watch Danny while she prepared supper (on the days that she cooked), and one day I was just having so much fun at the Vine Street friend that I lost all track of time. I was hurrying up the alley with my bike to make it home, it was already after five, and I was afraid mom would be upset. My mom met me in the alley and with a paring knife in her hand, grabbed me, and started screaming at me for not telling her where I was going before I left. I was confused. How could I tell her where I was going when she was asleep and I had no idea where I would end up on any given day when I left the house. She shook the knife at me and told me she should slit my throat for disappearing the way I did, she needed me to watch Danny so she could peel potatoes. My mother had never physically assaulted me before and I was extremely surprised and frightened. I was the one who always went to the store for her, I ran all of her errands, did her grocery shopping, and did my best to care for my baby brother. I could not believe she was threatening to hurt me so violently. She dragged me up the alley, my bike lay on the side of the road and brought me in the house and got out a yardstick. Mom hit me across the back of legs, beat the calves of my legs until they were black and blue and told me that that would keep me from running around town again.
I was bruised for weeks. Mom told me to tell my dad I fell out of a tree. When he asked me what happened to my legs, that is what I told him, he believed me.
My mom did not drive, so whenever she needed something from the store she called me in from my limited play to run her errands for her. On Fern Street you could frequently here my mom's voice calling out "Bridget! Bridget! Bridget!". None of the other moms in the neighborhood stood in the doorway and called their children home to run errands like that, but my mom did.
By the age of eight I was going to Joe Mac's Thriftway on a frequent basis with the family shopping list, a wad of money in my hand and filling up the shopping cart with a week's worth of groceries. I arranged to have them delivered to the house. Danny was usually in the baby seat of the cart. I had no idea that this was unusual, it never occurred to me that the rest of the people in the store were adults. I just accepted the responsibility.
The elderly people in the neighborhood began to watch for me passing by on my way to the store with Danny in tow. Frequently they would call to me and ask me to pick up a loaf of bread or a quart of milk while on my errands. They would give me anywhere from ten cents to a quarter for this service, and sometimes even invite Danny and me in for a glass of milk and a cookie or two. I became very friendly with the senior citizens of Freeland. What a sight I must have been, walking around town grocery shopping with Danny in tow and running errands for the neighborhood.
My main escape, the only time I felt that I could be free to be a child to some degree was at my grandpop's house. The only problem was getting there, in order to visit my grandfather, I had to run the gauntlet. To get to my grandpop's I had to travel the alley known as School Street. I had many adversaries there for some reason. All of the children, primarily boys, in that area all the way over to Walnut Street took pleasure in calling me "Bridget the Midget" and calling me a nigger as well. If Danny was with me I could not go the long way around, he could not make the trip, so I would stand at the end of the alley, grab his hand tightly, and walk as quickly as I could through the names and stones that were thrown at me. I was frequently spit at by the boys and when I did stand up to them to protect my little brother, a boy named Peter came down into the alley to fist fight me. He punched me right in the face while the other kids cheered for him. The only thing I could do was pick Danny up and run. My first priority was his safety. The ironic point being that the boy who beat me up for denying I was an African American was that he was even darker than I was. His family was identified as partially Italian so he was allowed to have dark olive skin and still be considered "white". I was not.
By the time that Danny was in my primary care grandpop was eighty years old. He was blind now and could no longer cook for himself. I would go to grandpop's house on Friday's to make his supper for him because Uncle John worked late at the local bank on Fridays, and he cooked for grandpop on the other six days. Grandpop loved a fried egg sandwich on white bread with ketchup and he frequently would dine on a frozen chicken dinner. While I was there grandpop would send me out on errands for this or that and would always let me keep a nickel, dime, or quarter for a treat for myself.
I handled money like an adult during these years and I began to see money as a way of making friends. If I saved up a dollar, I could buy chips and sodas for the neighborhood kids and maybe they would like me and let me play with them more. Whenever I had saved up any of my errand money I would do this, frequently buying chips, cupcakes, ice creams, or sodas, for the kids at the playground. To me spending money on people made me feel like they would appreciate and accept me, the other kids never had money that I knew of, and if they did, they certainly did not spend it on their friends.
By the age of ten I was already associating money with a way to make people like me, I realize now that this became one of my primary codependent habits, as we continue you will see this is a recurring theme throughout my life.
Grandpop frequently discussed my mother with my Uncle John, I would find in later years. My cousin Bridget Wilson would tell me when we were young adults that grandpop was aware of the pressing responsibility level mom had put on me at an early age and strongly voiced his disapproval of it to my mom and to my uncle. I did not know it back then, but when Bridget shared this fact with me I started to understand that my childhood was different. She relays a story to me of grandpop yelling at my mom on the phone, "You have to let her be a child". I remember being a child, briefly, for about six years, after that it seems I was just an adult in a child's body.
At some points during these years Karen came home for visits. On one occasion she saw me walking by the old Freeland High School while a passenger in her friend Becky's car. They stopped and asked me if I wanted to a ride home. I said yes and was happy that I would not have to walk all the way up the hill with my clarinet, I had just finished my weekly lesson.
Once I was in the car, I got that sick feeling in my stomach that seemed to creep up on me whenever I was around Karen. Becky did not drive towards our house, she took a route that had us out in the woods. We may have gone to Upper Lehigh or Highland, I am not sure, I was only nine years old, but Becky and Karen took me on a little detour and informed me that they were taking me out into the woods and going to hang me from a meat hook until I just wasted away and died. They graphically described how they would place the meat hook between my shoulder blades and how it would protrude out from my chest. They informed me that it would be a slow painful death as I bled out. Karen told me that scavengers would come and likely try to start consuming my flesh before I was even dead. Karen said that once I was dead animals would carry my carcass away and no one would ever know what had happened to little Bridget Delfine, she just disappeared one day. My sister also told me that because I was going to die a slow, painful, and lonely death that my soul would become a restless spirit and would wander the woods aimlessly for eternity. I did believe them. I was crying, shaking, and begging for my life. I told Karen I would do anything she asked if she let me live. Becky stopped the car on the side of the road and told me we had arrived. My crying and begging continued, I thought I was begging for my life. Karen started laughing, Becky pulled back onto the road, and they took me home. Karen told me not to tell mom or dad what happened or she would make sure that I ended up on that meat hook. I went in the house and never told my parents, I kept the secret.
During our years on Fern Street I became the keeper of many secrets, my own, and those of others in my family. I kept it a secret that I used to lift money from my mom's hiding places, a dollar here, a quarter there so that I could buy food for me and Danny on days when mom slept too late to make supper and there were no groceries that were simple enough for me to prepare for us. I told the priest in confession that I stole, so I thought that since I confessed it regularly, my soul was okay.
My mother shared what she considered family secrets with me. On an occasion when I had been brutalized by some neighboring bullies I questioned my mother about my ethnic roots. I knew that her side was a mix of Irish and Czech/Hungarian and that dad's mother's side was pure English through and through, but I had no idea about my dad's real father. On the infrequent occasions when we visited or were visited by my dad's mother we were sternly warned to never ask a question or bring this subject up in any way else Olive, my dad's mother, would become hysterical.
My imagination ran wild with the reasons that the mere mention of a person's name could do this to someone, especially someone so cold and composed, as my Aunt Olive appeared to be. We, the Delfine children, were not allowed to refer to my father's mother as grandmother, but were taught to call her Aunt Olive. Her second husband, Al Barsky, was known to us as Uncle Al. I had no idea why we weren't allowed to use the correct family name to reference her, but I was told that the reason was that she believed that she was too young to be a grandmother when Karen was born and insisted that she not be referenced as grandmother. I found that odd because I had cousins of the same age group who freely called her grandmom, but being a mere child, I accepted it as told to me by my mother.
My father never referred to Olive as mom or mother, he simply addressed her as Olive.
My mother told me that my real grandfather was a famous professional boxer named Pedro Campo whose real name was Telesford Delfino. My mom told me that he and Olive had a passionate love affair, married, and had my dad, but that something went wrong, she did not know what, and Telesford disappeared. My mother also told me that Telesford was very rich and had left a large sum of money with Olive for my father's care in a trust fund, and that Olive had used dad's trust fund to set Al up in the car dealing business. Mom stated that Olive had hidden the fact that she had been divorced and already had a child from Al when she met him. She told me that dad had been placed into foster care as a child when his own grandmother could no longer care for him. According to mom, dad could not stand to hear children cry or whine because the family he fostered with used him as a caretaker for the other children in the home and were very abusive to him. Mom said our heritage from the Delfino side was French at one point and at others she told me that we were Spanish. I was instructed to claim that I was French when confronted about my ethnicity by others, adults and children alike. There was some truth to the story mom told me, but not much, she told me this was the big family secret. She also told me that maybe someday Telesford would find us or leave us money and we may all become wealthy.
I had no reason to disbelieve my mom, why would my own mother lie to me about something as important as my family lineage. The amazing story of my true heritage gave me ammunition against the bullies who called me a nigger and insinuated that I was black, now I could state clearly that I was French. When asked why I was so dark if I was French, I was informed by my mother that Mediterranean French were olive skinned, again I believed her. The bullies did not care what I now said that I was, they continued to use racial slurs against me, but inside I harbored a secret. I was special in some way, and some day my lost grandfather would prove that to be true.
Life went on at the home on Fern Street. I shared my family "secret" with anyone who would listen. It validated my existence. I did have someone, somewhere who cared about me.
Mom shared other secrets with me as well while we lived on Fern Street. She would have me call her in sick off work when she was too tired to go. She would have me call the local bar rooms in search of my father, who was rarely home at night. Dad shot darts and played poker for money whenever he could. On nights that he had a big win he was very happy bringing in a big plastic bag of money and throwing it on the dining room table. He would generously give me ten, sometimes even twenty dollars at those times. In the early seventies that was a fortune to a child. Other nights, he was not so pleasant when he returned home. He would yell, scream, and curse, sometimes for hours. Maybe it would be because the dishwasher was not emptied, or maybe someone did not do the dishes at all. Housework was helter-skelter in the Delfine home. The kids had chores but as they got older and began exiting the homestead there were less children of an age to accomplish some of the chores. I pitched in whenever I was told, but had no routinely scheduled chores other than making sure that Danny was tended to. If that meant cooking so he could eat, I cooked, I did not always wash up the dishes as typically there were already soiled dishes present. I did not generally pick up any of the clothes or newspapers that would be scattered around the living room, as they did not belong to me. I did my own laundry and kept my things in my room. I learned early on that if I wanted clean socks and underwear, the only way to make sure I had them was to wash them myself.
Mom had taught me how to run the washer and the dryer and as I was rarely, if ever, supervised during the day, I washed my clothes and took care of myself. The clothes that were lying around belonged to my baby brother, mother, and father.
My bedroom was kept neat and tidy after Karen moved out. When she lived at home and shared the room with me it was frequently a pigsty. If you remember the way that Oscar Madison from "The Odd Couple" kept his bedroom, that was how Karen kept her room. The Boys were not much better. Piles of clothes and dirt and filth repulsed me. When Karen moved out I thoroughly cleaned the room and kept it that way.
If dad was agitated or frustrated about something, anything at all, the tiniest little thing could trigger one of his rages. He could rant, rave, scream, curse, and carry on for hours. The "F" word was a large part of his vocabulary during these episodes.
Once, when he could not find a clean bowl in the kitchen, he went into a rage, screaming at my mother that she was a Shanty Irish Bastard and he said if you cannot keep the dishes clean, then he would take care of it. He went through every cupboard, took every plate and bowl in the house, and smashed them off the kitchen floor. It took my mom and me hours to clean it all up, we had carpeting in the kitchen, and it was hard to clean the mess. We could not go in the kitchen barefoot for weeks for fear a missing shard of glass would slice our feet.
I sympathized heavily with my mom during those years. My shift of affection had pulled away from my dad, he no longer treated me like "Daddy's Little Girl", and he ignored me for the most part, only paying attention to me if he believed there was a need for discipline. His discipline was harsh, fast, and physical.
At dinner one evening I was seated to the direct right of my father. My mom was serving hot dogs cut up with baked beans. I have never liked baked beans, the consistency made me gag. Mom was usually very careful about not putting anything on my plate that I could not or would not eat because of dad's unpredictability at the dinner table. Dad took notice that I had eaten all of my meat but had not touched my baked beans, I was hoping he would not notice and that he would exit the table before me. I do not know what he was angry about that day, but he ordered me to eat the beans. I tried my best, forcing them into my mouth in small amounts and gagging as I swallowed the disgusting food. He went into a rage and screamed at me, "You black bastard you! You eat those fucking beans or I'll shove them down your throat!" I began to cry, making it absolutely impossible for me to swallow the food that was already in my mouth and I felt like I was going to vomit up the food that I had already ingested. My tears sent him further into his rage and he backhanded me from his chair screaming, "You little black bastard, you'll eat those beans!" Now my nose was bleeding as well. He reached over, grabbed me by the back of my neck, and slammed my face into the plate of baked beans. He did it with such force that the plate cracked and sliced my nose. More blood, blood mixed in with my baked beans, along with tears and saliva. I tried not to cry as it seemed the more I cried the more infuriated he became, but I could not hold back the sobs that were choking out of me.
My mom intervened and yelled "Ken! Let her go! You are hurting her! She won't be able to breathe!" At that point he snapped out of it, released my neck, got up from the table, and stormed out the door. He did not come home that night and mom did not have me call around looking for him. I felt like it was my fault that he walked out and stayed out all night. Mom, who was a nurse, cleaned up my bruises and assured me that it was not my fault. She told me to go upstairs, take a bath, and go to bed, which I did. That was my dad's form of discipline.
As the nuns who taught me at school lived right next door in the convent, just five feet away from our house, I am sure that they frequently overheard my dad's rages and cursing and it made me feel embarrassed and ashamed to go to school and face them.
I never brought playmates into my home, that was impossible. My mom did need to sleep during the day and I could never be sure that my dad would not be triggered by something that would cause a rage to occur. I always went somewhere else to play, Danny in tow.
By the time I was in fifth grade I had a few friends, Paula, Susan, and another Paula who was also charged with caring for her grandfather, I had some neighborhood friends as well. One of the most pleasant experiences I had was when Susan invited me to sleep over at her house one night. My mother actually allowed me to go and I thoroughly enjoyed myself. Susan made us scrambled eggs for breakfast in a black cast iron pan, I swear they were the best scrambled eggs I had ever had. I could not reciprocate with an invitation to come to my house, but I longed for that connected feeling that seemed so elusive to me throughout my childhood.
In 1973 when I was eleven years old we sold our home on Fern Street and bought a double home on Front Street. My mother wanted to live closer to the downtown area so she did not have to walk up and down what was locally referred to as "the hill", so I again was optimistic that positive changes were coming my way. Jimmy, who was eighteen and had been out of the house for at least a year at that time was living in the Chicago area. Karen, twenty-one, was at State College, Kenny, nineteen, was still at home and was now the manager of the local truck stop with a steady girlfriend so he moved with us and of course Danny, age five and myself, now eleven, went to the new house as a family.
By sixth grade I was leaving St. Mary's School to attend public school, I just wanted a change, I was searching for something outside of myself to make me feel contented, and I thought that changing schools might help. I had missed many weeks of school during the sixth grade as Danny was now in morning Kindergarten classes at Daniel Coxe Memorial. I had to walk him to school every morning, which made me late for mass at St. Mary's Church, a daily part of our curriculum. I also had to leave school and skip lunch to go back down to the school to pick Danny up when his half-day session was over. If my mother was sleeping and if my father was not available, I would miss the afternoon of class at my school in order to care for Danny. Within weeks of beginning class, Danny began to refuse to stay at the school without me. He would throw major temper tantrums and due to his heart condition, which the school staff was aware of, they would have me take him back home or have me stay in the classroom with him. By the end of September, Paula was dropping my assignments off for me after school and I was attending Kindergarten classes as Danny's personal caretaker on a daily basis. I did not attend school at St. Mary's unless there was a test for which I had to be present. My mother took my homework next door to the convent for review. I worked independently and maintained a high grade average despite receiving no instruction whatsoever.
In March of 1974 I convinced my parents to transfer me to public school. One of the teachers at St. Mary's had become very abusive toward me and my father agreed that I could transfer. It would also benefit the family in the caretaking of Danny as Foster Intermediate, the public school I was entering was on split sessions, whereby classes for the sixth, seventh, and eighth grades were held from noon until five p.m. My mother arranged for me to leave Daniel Coxe Memorial with Danny one half hour early every day so that I could be at the public school by noon on most days. During sixth grade I missed over one hundred days of school in order to take care of Danny and have him attend Kindergarten on a regular basis.
At the age of eleven I had come to understand that the world was a dangerous place. People were cruel and generally did not like you and would try to hurt you emotionally and physically if they could. Family was something that you were responsible for and had to help however you could, money could buy you companionship and maybe friendship if you spent it on the right people. I also was of the mindset that if something was wrong, it was my job to fix it, if someone needed help, it was my job to help them, and I was always mindful of making sure that I fixed any problems that anyone discussed with me, friend or foe, child or adult. By the age of eleven I was severely afflicted with codependency.
I survived my childhood, such that it was.
The Serial Monogamist
I was a little disappointed with the bedroom assigned to me at the new house. On Fern Street, I had shared a room with Karen that was quite large and lined with bookshelves, paneled in that pink vinyl that was popular in the sixties, with an attached room we referred to as the back room that served as a storage space.
On Front Street I was assigned the front bedroom. Although there was a red carpet from my former bedroom moved along with our bedroom set, for some reason it was never put down, it lay in the between our twin beds for years and eventually was moved to the attic. The bare wooden floor was plank and unfinished. The walls were plastered and there was a large green piece of velvet hanging on one wall, when I looked behind the cloth, there was a large whole where a window was boarded over and never plastered. When my parents had looked at the house a mirror had been covering that hole.
The room was quite small and even though Karen was away at college, it was her room too, so both beds from the twin set were placed in the room, there was about a three-foot space between the beds. There was no closet, there were no electrical outlets and just one light hanging from the wall in the doorway with a pull string attached and a bare bulb in the socket.
I hated it, I found the room depressing. Dad promised to remodel the room soon, he was a carpenter by trade now, so I believed that once other projects were completed around the house he would follow through.
In the spring of 1974 I transferred to Foster Intermediate and juggled my school attendance with Danny's Kindergarten schedule. Mom continued working at the state school and dad landed a great job at the Berwick Power Plant, a local nuclear plant that was under construction. He was a general foreman for Bechtel Corporation and in charge of the entire second shift of the operation. He was also elected president of the local laborers union seated in Wilkes Barre, PA. Dad worked on the remodeling of the new house as he could, he had purchased some second hand kitchen cabinetry and decided to redesign the kitchen of the house, and he was building bookshelves and a desk along the wall adjacent to the kitchen. The downstairs was constantly torn up for the remodeling, I helped him cut and hang sheetrock and spackle and paint when I was home while he was working.
Things seemed to be going well at the new house. I was adjusting to my new school and schedule and was making some new friends. I had a little bit of a social life. On Friday nights I could generally get out from six until nine p.m. with my friends for trips to the Refowich for movies or to Dot's and Woodies, the local teenie bopper hangouts for cheeseburgers and french fries. My attendance at school was still very sporadic, but my home life was peaceful for a time. Dad left for work right around noontime or so and did not return home until after midnight, so I did not cross paths with him too much during the week. Kenny had left the truck stop and had begun working with dad pouring concrete on afternoon shift. He had a serious girlfriend, so he was not around too much, and mom slept during the day and worked her midnight shift.
It appeared that our family was becoming a little more prosperous. Dad was renting the other half of the double out and they now had two steady incomes. The power plant required a lot of overtime Dad would frequently take Danny and me on outings to the mall or for day trips to fish, swim, or visit local family entertainment spots while mom slept. Gifts were plentiful, whatever the latest style, I need only say to dad or mom that I liked it and it was purchased for me. Vacations to Wildwood were an annual event. Yes, life was good for a while there.
In June of 1975 mom suddenly announced that she was applying for disability due to her poor vision and would now be a full time stay at home mother! I was thrilled! I could finally be set free of the chains of childcare for my baby brother! I was thirteen and Danny was seven, this would be a great summer! Mom was cooking meals on a regular and consistent basis, the house was kept clean and neat, I had more freedom to go out with my friends and socialize, mom was awake and around during the day and slept during the night, I was happier than I could ever recall.
One day in late June mom and dad told me I had to watch Danny overnight, they needed to make a trip to Philadelphia to see my sister Karen. Now she had a boyfriend from Philly, I thought nothing of it at the time.
The next day when mom and dad returned, they returned with a newborn baby girl in their arms. They told me that it was Karen's baby and that they would be raising her for a while until Karen got on her feet. I thought they were joking and looked outside to see if there was someone else standing in front of the house who really was the parent of the new baby. No one was there. I immediately realized that this was the reason that mom had quit her job, not to take care of me and my brother Danny, but to raise Karen's newborn daughter, Jennifer.
Mom was very happy to have a newborn baby in the house again. Now I understand why she had so fastidiously cleaned the home, we had a newborn and everything had to be clean for the baby. Jennifer was blonde, blue-eyed, and very, very fair. Mom seemed to be enthralled with the baby's appearance, she was a beautiful, and obviously white, baby. Everything seemed fine at first. Yes, I had to help with the new baby, but not in any primary caretaker role, I was more frequently expected to keep Danny entertained and out of trouble and on occasion babysit Jennifer along with Danny so mom and dad could go out, or so mom could run for coffee at Woodie's the local coffee klatch shop.
Jennifer's crib, a brand new white solid wood model, was set up in mom's bedroom. Dad, by this time, no longer slept in the bedroom with mom, but used the living room couch as his bed. Danny and Kenny shared a room, and I still had the unremodeled, uncarpeted, front room.
At some point around this time Dad bought a forty-foot cabin cruiser, his first boat, and christened it "The Sea Deuce". He had it harbored in Wildwood and began chartering it out on the weekend for deep sea fishing cruises. Every Friday after work he would head straight to Wildwood, NJ and leave Wildwood on Monday morning and go straight to work at the power plant. This was a pattern that would continue for the remainder of his career and result in his being in Jersey from April through October full time after his retirement, until his mid seventies, for the duration of the next twenty-five years.
As the months passed and we entered the autumn, it became apparent to my mom that Jennifer was not developing at a normal rate. She was five months old that November and she still could not sit up without propping, she did not crawl, and she did not seem to babble as the other babies of the family did. Mom became increasingly concerned with her developmental progress and life continued on. As we entered the fall of 1975 mom began to insist on my babysitting Danny and Jennifer more and more frequently and limiting my ability to socialize. Frequently my only break from the kids was when I went up to my grandpop's to run his errands or prepare his meals. In general, mom insisted that I be home to watch them in the evenings while she ran to Woodie's with the girls of her coffee klatch, she would frequently stay at Woodie's, which was just around the corner, until closing at 11 p.m. Mom was still preparing dinner on a regular basis, but she was reverting to her old midnight shift sleep pattern, not rising until early afternoon, making breakfast my responsibility to prepare for the children. Dad was home on most mornings and Danny was now in second grade and Dad took him to school and mom collected him at the crossing guard two blocks away after school. Things were not so bad.
In November of 1975 I found my first puppy love.
References
Sonny Boy. 1928. Retrieved May 10, 2015 from www.metrolyrics.com/sonny-boy-lyrics-al-jolson.html
survival. 2015. In Merriam-Webster.com. Retrieved May 10, 2015, from http://www.merriam-webster.com/dictionary/hacker
humanity
About the author
An aspiring writer who has had many life experiences that can at times be shocking, heart-warming, and sometimes brutal.
A survivor of domestic violence, and the murder of her 27 year-old son.
Much to say, trying to find ways to express it.
Reader insights
Be the first to share your insights about this piece.
Add your insights