DANCE
~ Rise above your Raisin' ~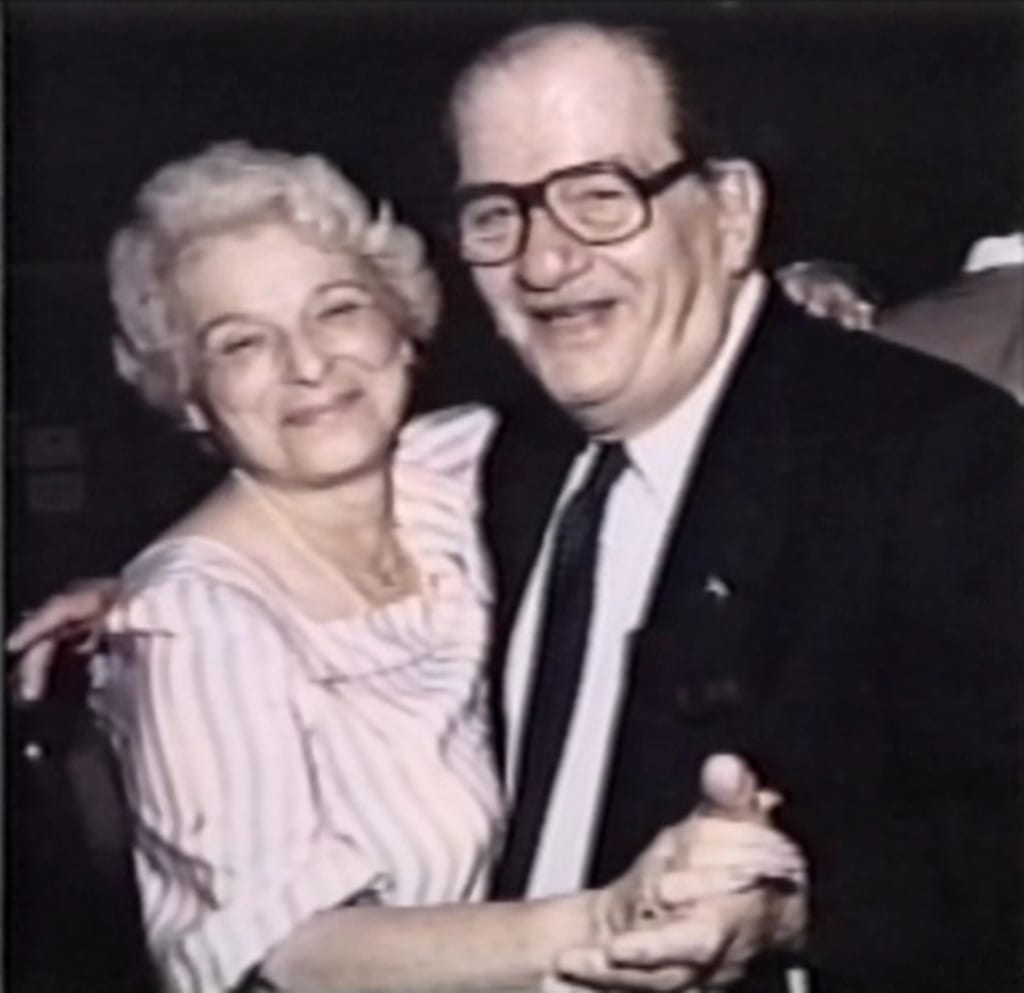 ~ The Folks ~
As a prelude to 'Dance' although, at times, these little memories may seem trite and inconsequential; perhaps even boring. And, you may not want to take the time to read most of it. But when the time comes that 'The Kids' are 'Nana's or Papa's' themselves these little-ditties may be kind of fun and interesting for them to pass on to their grand-kids as well: So, for the next-gen — may they have long and happy lives!
Mom~Nana~Alice would always be dancing around 'she was a child-tap-dancer' those were Pre-Bop (or is it called 'Be-Bop' of late?). She'd stand there and grab your hands and start singing jolly tunes, always, even into her 90's she'd Tap away with big-toothy-smiles—think you get the picture?
Wherever we went, even when I'd take her to the Doctor (again at 90+) she would dance around to the piped-in medical-office music—I mean WHO does that? She would constantly announce while pointing at me boasting to everyone within ear-shot, "and he has a twin-brother, too!" She was always fun to be around—Nah, it never got embarrassing—we were used to it?
Mom: "When you have a twin you never feel alone."
We would go to the weekly community sing-a-longs, at the Sunland Elementary School. Mom~Bet's~Vic~Lar~Jay would sing along to old tunes such as: "By the Light of the Silvery Moon" or "John Jacob Jingleheimer Schmidt" and other whimsical favorites. Jay was often asked to just "Lip-Sing-It"—Don't really know why?
Mom and Dad (Nana & Papa) loved to dance together. They would go dancing, especially on New Year's Eve. I couldn't figure that out, it was always so crowded everywhere that 1st night of the year. But it was a major event that was special to them and they savored every bit of it; down to the costumes.
They would get all dressed up: Mom in her best 'Prom' type dress, with her full-length white gloves, to complete a woman's 'dress-up' at the time. Essential Holly Golightly (Breakfast @ Tiffany's) formally-dressed attire; a fashion- must in the Actress Audrey Hepburn era. And Dad would have his best suit and tie on, with his shoes so shiny you could see your face in them. He actually had this dress-code that we could never possibly wear white socks with a suit; anybody remember 'dress-for-occasion-codes'? Ah, simpler times! As Leon Redbone once sang, "He'd go Insane - Going anywhere without his Stylish Walking-Stick!" Step-High!
The Folks would go to the Champagne Ballroom next to the Santa Monica Pier where they would dance to the music of then very popular band leader, Laurence Welk. Or they would go to the Coconut Grove at the Wilshire Ambassador Hotel. And, in later years, their favorite was the Caesars Palace in Las Vegas for huge New Year's Eve bashes along with lots of crammed-attendees dancing together — But, they always went, and loved it!
Ooh, Big-Sister, Vicki Lynn, wasn't always the perfect child while the folks were away as well; such an instigator! She would dote on us! Often having these little projects for us to do, that always got us in trouble; fun to mention now. Such as: Sis would assist her 'Little Brothers' to stay up until the stroke of midnight then eagerly equip us with pots/pans to bang together on the sidewalk to welcome in the New Year — never knew how that ear-smashing tradition got started?
One year, on Hanukah, Vicki had Lar and me go over to the empty lot next door and collect wood-branches; we were quite young at the time. Then we put them on the kitchen table and painted them, along with a bunch of Domino's and old poker chips, in lots of bright colors and glued-on-glitter: We made a 'Hanukah Bush' because little Jewish kids like us never had a X-Mas tree. Well, when Dad walked in and saw it he just lost it! I still remember how loud he screeched when he saw that 'tree' on display! No-Mo 'Holiday' trees ever for us after that—Thanks A lot, Vic!
— Mom: "Do you want me to tell Dad?"
— Dad: "Don't ever pass-up an opportunity to shut-up!"
Jay Kantor, Chatsworth, Cal
'Senior' Vocal Author
For Our Kids Someday