Breastfeeding Tips And Its Benefits For New Mum
Breastfeeding Tips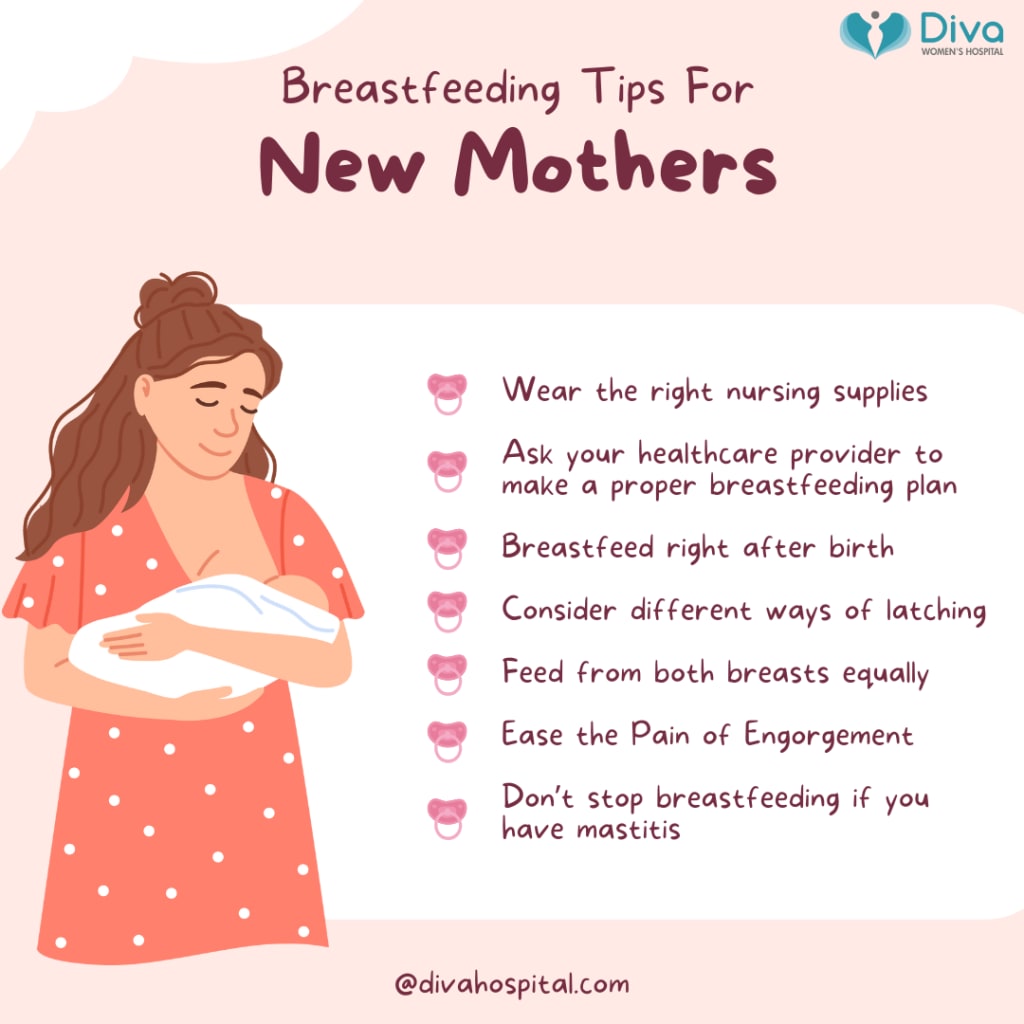 From the moment you get pregnant, you start generating a great human and a fantastic new feeding system. Breast milk is considered beneficial for the growth of both the baby and mother. Breastfeeding also has so many advantages, as your baby benefits from your milk in various different ways. However; it is not as easy for women as it requires some difficult changes in your daily lifestyle routine. Read this blog entirely to learn about some tips and tricks that can be beneficial for you throughout your breastfeeding journey.
Some Breastfeeding Tips And Tricks
Wear the right nursing supplies
You must not wear tight bras or t-shirts as it can be challenging for you to handle breastfeeding. Therefore, it is highly suggested to arm yourself with the right nursing supplies as a well-fitted nursing bra can give your breasts the right level of support. Also, you can feed your baby without completely addressing yourself. You can also consult your gynaecologist regarding the best breastfeeding tips and tricks as it will help you deal with this phase effectively. You can't always feed your baby from your breast as it can be painful for you. Hence, there are kinds of bottles and pumps that can be used to pump milk and store it for later.
Ask your healthcare provider to make a proper breastfeeding plan
You must tell your doctor before delivery that you would like to breastfeed your baby. This will help doctors arrange the resources you need for breastfeeding. If you are taking medication that is harmful to your baby, your doctor will most likely recommend an alternative medication for a period of time while you breastfeed your child. An experienced gynaecologist and pediatrician would definitely suggest you breastfeed your baby rather than give him/her dairy milk. Diva Women's Hospital provides proper birth and breastfeeding plans to its female patients so that they can take proper care of their babies and themselves as well.
Breastfeed right after birth
It is good to breastfeed your baby as soon as he is born, and those first milk feeds nourish your baby and help you to figure out these new skills and proper breastfeeding routines. The first few days' milks is actually colostrum that contains rich proteins and antibodies that help in the growth and development of your baby. Breastfeeding also encourages the release of the hormone oxytocin, which strengthens your bond with your baby. Breastfeeding means skin-to-skin contact, and this helps in stabilizing your baby's body temperature, blood and sugar levels, breathing, and heart rate.
Consider different ways of latching
First, sit in a comfortable breastfeeding position, then cup your breast with your hand to guide the nipple to stroke your baby's lip. This action will teach your baby to open his mouth wide and suckle. Make sure you bring your baby close to your breast so that aiming the nipple towards the roof of his mouth becomes easier for you. Lay-back and baby-laid latching breastfeeding techniques would be effective as they will help your baby naturally explore his/her surroundings, find your nipple and latch on. You can also try different breastfeeding positions as per your and your baby's comfort, such as; cradle hold, cross cradle hold, football hold, and side-lying position.
Feed from both breasts equally
If your baby prefers one breast, make sure to feed him/her from the other breast in the next feeding so that both breasts are empty equally. There are several applications and ways to remind you which side is now filled with milk. You can use such applications and software to keep in mind the routine and entire breastfeeding timing of your baby. If your baby doesn't want to nurse from another breast, pump your milk and relieve pressure from your breast.
Ease the Pain of Engorgement
Engorgement occurs when the blood vessels in your breasts are swollen and overfilled with milk. This causes pain and even discomfort, and this can happen when your little baby doesn't nurse efficiently. The best way to prevent this issue is to make sure that you feed your baby when he/she is hungry and nurse from both of your breasts. Pump some milk and/or express your breasts manually to relieve the pressure before breastfeeding your baby. You must also massage yourself to help the milk flow. Diva Women's Hospital has gynaecologists who help their patients with breastfeeding, massage, and other important tips.
Don't stop breastfeeding if you have mastitis
Mastitis refers to the condition where clogged milk ducts get infected and its symptoms include a cold, fever, and swollen and painful breasts. If you notice such symptoms, then consult the best maternity care hospital near you as they will prescribe some tablets and antibiotics which are safe for your baby. To deal with this, you can take a warm shower and offer your baby the breast with the blocked duct and let him nurse for a long period. This will be helpful for breastfeeding even when you are sick. You can also massage the lump when you nurse your baby at the same time.
Diva Women's Hospital specializes in child and mother's care and has successfully achieved hundreds of deliveries. We also provide proper care and support by giving personalized training at our doorstep through video, literature, teleconsultation, and breastfeeding classes. Choose Diva Women's Hospital to make your motherhood journey special and memorable.
pregnancy
About the author
I am Amyra Trivedi, and I'm a content writer specializing in nature and healing writing. I have over 4 years of experience. https://divahospital.com/
Reader insights
Be the first to share your insights about this piece.
Add your insights