Born during the One Child Policy: How being an adopted Chinese girl affected my life.
The One Child Policy is known worldwide. If you haven't heard it, the clue is in the name. I was one of the many byproducts of it.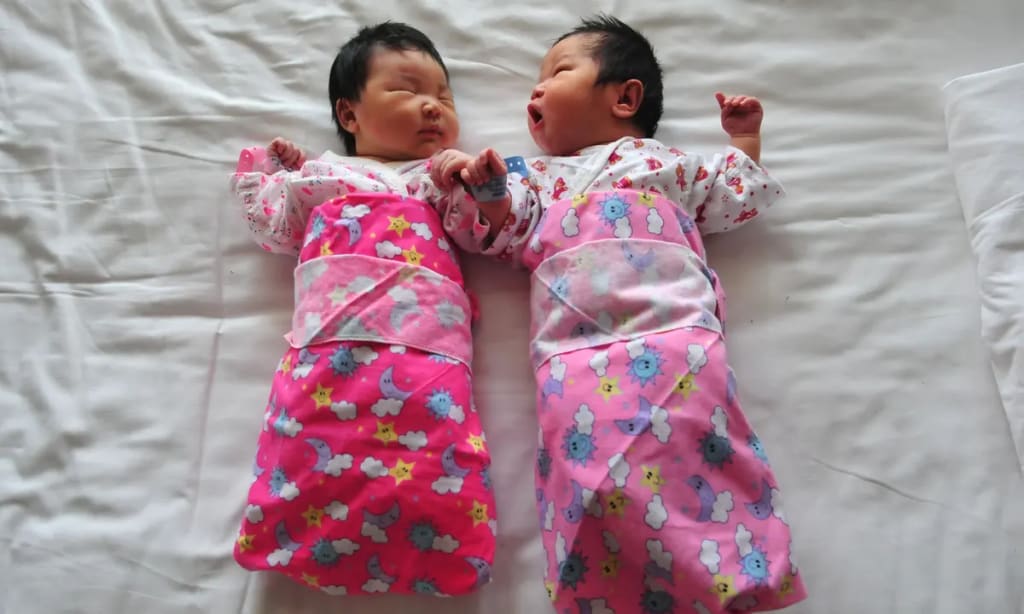 The One Child Policy is known worldwide. If you haven't heard it, the clue is in the name. Due to the increasing population, a law was passed to encourage families in China to only have one child. Any more and there would be huge taxes, which most couldn't afford. Being a girl, I would not have been worth keeping in the eyes of my biological parents. Not that they didn't want me, or chose to give me up — I'm sure it was extremely hard for them. But whilst boys could work on the farm, a woman was expected to marry and therefore wouldn't bring them any income. This meant that the taxes would not be a good investment for the future.
I do not remember much from my early childhood, but I have been told and records have been kept. On the day of my birth I was left in a basket and wrapped with cloth. It was a market day which meant that many people would be about. My biological mother watched from a distance to ensure that I was in safe hands. A police officer found me and took me to the local station. A missing notice was placed in the paper for me, alongside many others, in case someone had actually lost their child, without meaning to. However, nobody claimed me and I was taken to an orphanage. They vaccinated me and found out what they could, and then I was fostered.
There are many records of my foster parents. They fostered another baby and had an older girl and boy themselves. Because they worked in the care system their taxes were slightly less. They looked after me well. I learnt to talk and play in the year that they looked after me for. I had everything a baby needs and I was cared for every day. Their two children would rush home to come and play with me.
My mother used to be able to write to my foster mother. We have lost contact with her now however. But many pictures and notes remained and I know she loved me. We have gone back to the orphanage but couldn't find out much more than we already know.
A month after my first birthday, I was adopted by my English parents. They spent roughly a month with me in China in various hotels before we flew back to England. At the time, naturally I was scared but I warmed up to them quite quickly given the circumstances. They had a guide/translator to help them through the logistics. We are still in touch with him and his son today.
Now, I am living in Britain. I have a British passport and citizenship, and attended state schools. The time spent in China seems like a very small part of my life, though often I feel as if I am not really at home in England. My family is well off and educated and I have many opportunities which I am grateful for. I may not have had the chance for all of the good things I have experienced to happen if I hadn't been adopted. I do feel as if my adoptive parents are my real parents. Some people are surprised by this but they have looked after me since I was one and stayed with me permanently.
Some friends I know who are also adopted do not feel this way. I find this sad, but it is their opinion. There is a group called CACH-All — this stands for Children Adopted from China. It was later expanded for all adopted children, though the majority who attend events are Chinese. They hold events throughout the year where I have met many girls who can relate to me, and made many friends. I have also gone to a Chinese summer school for girls like me, where we did some cooking and writing in Chinese, but also fun things such as paddle boarding. Mostly it was for us to meet girls who understand each other.
Of course, it has not been amazing the whole time, and there are negatives which come with the positives. I will expand on this in a separate post. There is nothing which can help this — it is what it is as my mother says. But overall I feel extremely lucky to be adopted.
Thank you for reading!
adoption
About the author
Tottenham Hotspur, competitive cheerleading, WW2 planes, cooking, equality <3
Whatever comes to mind!
Reader insights
Be the first to share your insights about this piece.
Add your insights