Art of Healing
In their handwritten words.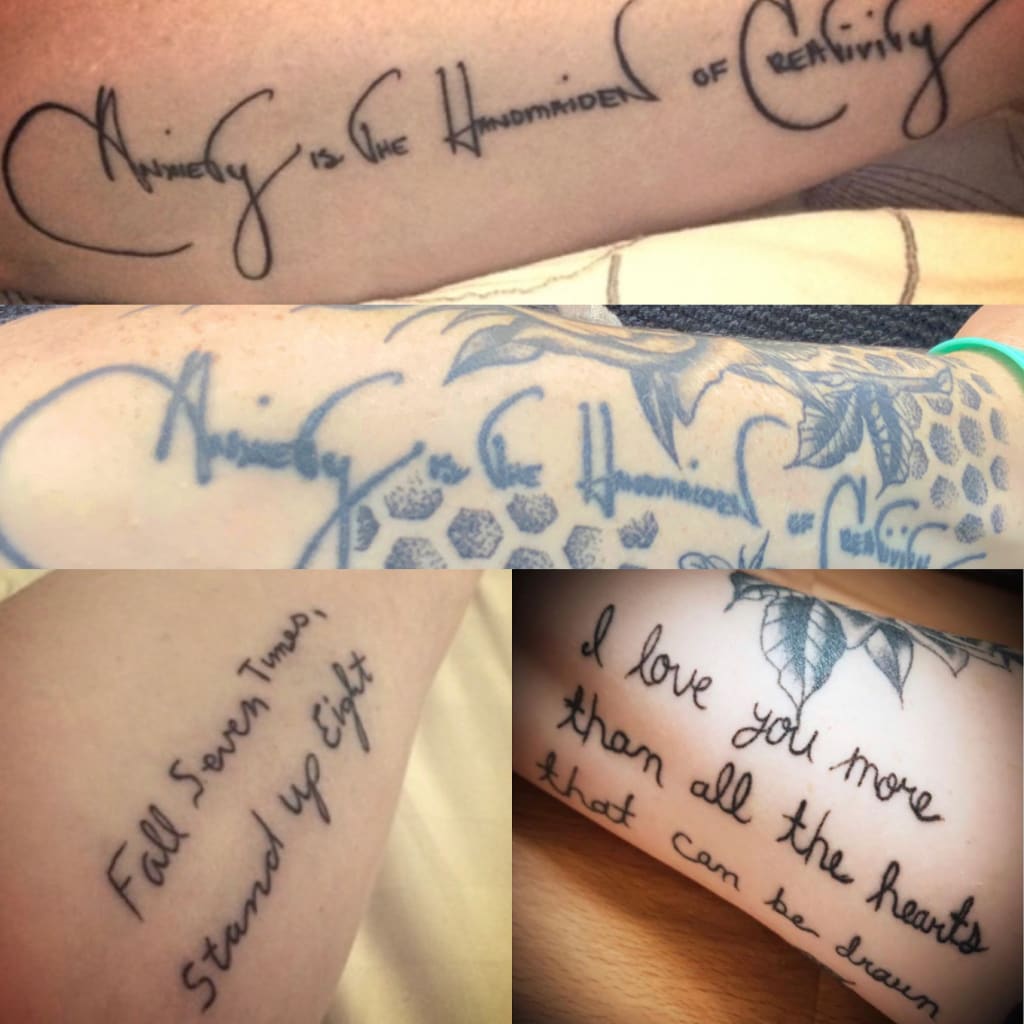 Handwritten by my mother, father, and daughter
All my life I have been crippled with anxiety. I was unable to handle what normal little kids could do- going to school, having sleepovers, etc. I remember going to a book store with my dad and found a "how to" book for braiding bracelets. I found that when I was focusing on creating these bracelets, I felt calm, I felt safe, I felt normal. The word "calm" or act of BEING calm was always a challenge for me. Soon I found I was born a creative and it helped my anxiety. Being a creative, I was finally able to discover more and more talent within myself, especially when it came to making jewelry. My hands became and have been my salvation, helping me to heal emotionally with what they can do physically. My right hand is my dominant tool. I've used my hands to create jewelry, learn massage, be a cosmetologist, a makeup tattoo artist- the list goes on. Down the side of my right arm I have a T.S Eliot quote written in my mother's handwriting. We share the same crippling emotions of anxiety, and creativity was one of her outlets as well. I remember when she would get anxious she would draw. My mom created beautiful doodles and elegant, random words- just to calm herself. Of course she was the perfect person for the job in designing my tattoo. The quote reads "Anxiety is the handmaiden of creativity." Now I can keep my mother's creativity with me always. I've used a negative emotion to create beautiful things, and my tattoo is always a reminder of that.
Through the years I've added more artwork from a few different artists- I have two other tattoos, hand written by family. The one on my left arm is in my fathers handwriting. As a young adult the best thing my dad could ever offer was his infinite wisdom of telling me to always stand right back up when I fell. He would use an old Japanese proverb: "Fall seven times, stand up eight." In 2003 he had a stroke, and he used his own advice by not letting that stop him from pursuing his goals. He wrote 2 books and received his Masters in History. His stroke effected his dominant writing hand (which by the way, he had the most beautiful handwriting pre-stroke) but his handwriting now is genuine- it shows what he has overcome, and how hard he worked to write with his left hand again. Another perfect reminder that I can keep with me always.
The other tattoo I have is designed by my daughter, handwritten in her own words. I put this one on my right inner forearm, something very personal to me that I can keep close. I became a single mom with many challenges, but luckily with lots of support from my family. My daughter has never given up on me and she is my world. In her very own words she would write " I love you more than all the hearts that can be drawn" in every card, note and drawing she gave me. Thirteen years later and she never forgets to write it. She also has been given the curse of anxiety, but also the blessing of creativity. I decided to give her more opportunities to grow outside societies "norm." She has the freedom to learn and experience things on her terms. She uses her skills in SFX makeup and is absolutely incredible. She isn't afraid of what people think, she is her own person. She expresses herself beautifully and I will always support her and keep her note with me forever.