Aquarius Compatibility Prediction for Love and Marriage with Other Zodiac Sign
Check Here Aquarius Compatibility Prediction for Love and Marriage with Other Zodiac Sign. Aquarius Compatibility Prediction by Pandit kapil Sharma.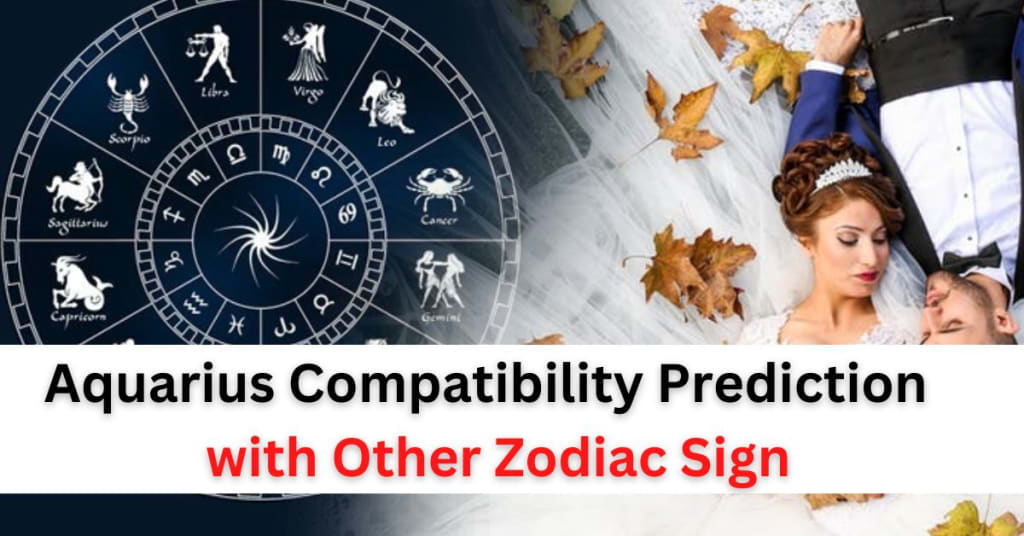 Did you get a partner for your love life and decide to get married to another or the same zodiac sign person? You need to think more while choosing a life partner. You have to decide many things while choosing a partner. It's up to you whether you want to do love marriage or arrange marriage. If you choose the wrong partner, then you have to suffer for your life.
When you decide to get married than most people also look for the zodiac sign of their partner, and they think of whom they should choose. If your zodiac sign is Aquarius, then there are various other zodiac signs from which you have to choose your partner, such as –
Aquarius with Aries – The Aries and Aquarius people had made trust and respect for each other. Both of these people will provide positive energy to their physical relationship. They both had an amazing bond in another field. They will develop various things as a romantic couple. This pair will lack the compassion in them. They had a passionate connection.
Aquarius with Taurus –Both Taurus and Aquarius people nothing had common in between them. People with Aquarius will love to spend their time at the sunset while Taurus people will be befuddled. The ambitions and abilities of both the signs will take them in different directions which makes it difficult to develop a strong relationship.
Aquarius with Gemini – If Gemini chooses Aquarius, then there are fewer chances of their compatibility with each other. Only fewer relationships will work out otherwise in other relationships there will be some problems. If any one of them had mars in the 7th position, then it will affect their relationship. They will always take the help of other people for solving their relationship matters. If you both decided to get married then first understand each other and look out for the problems that will come in your relationship.
Aquarius with Cancer – Mostly, Aquarius and Cancer have not considered the best match because Aquarius is more demanding with Cancer and they had less intimacy due to which they both get separated. If they both accept each other then their relationship is good and they can share their point of view. Aquarius should identify the unique characteristics of their partner and plan something interesting for them.
Aquarius with Leo – They both are compatible with each other and had full respect for each other's achievements and goals. They had a strong person on their opinions. They can make a great pair because they respect the small efforts of their partner. Leo people express fewer feelings while Aquarius people can express their feelings easily.
Aquarius with Virgo – Aquarius, and Virgo don't have much compatibility, but they both will attract each other at a fast speed. They both are loyal and trust each other, but then also they will hide things from each other. Their marriage is for a longtime, but they had to do many compromises. The quantity of love is not fixed for the people of Aquarius if they had a female Virgo partner. If they are not satisfied with their physical relationship, then they have some problems in their married life.
Aquarius with Libra –People with Libra and Aquarius are conscious regarding their relationships and marriage. Both people had so much love due to which they can stay for a long time. When they both get married, they try to always stay together. They will also consider the point of view of other people due to which problems will come in their married life. There will be successful compatibility between these two people.
Aquarius with Scorpio – Both people of Aquarius and Scorpio had wonderful They are both can be attracted to each other naturally, but they had to do many compromises. They can make out things in their relationship better with the support of their partner. People with Aquarius make their relationships more compatible.
Aquarius with Sagittarius – Both Aquarius and Sagittarius people will accept everything about their partner, so their relationship will flow easily. Their relationship will be affected only by their anger issues, but they can solve the issues soon. People with Aquarius are emotional, so Sagittarius people will help them make They both rely easily on the case of marriage and love.
Aquarius with Capricorn – Both Aquarius and Capricorn people had many things in common in the case of love and romance but they both are not compatible because they both can make their assumptions quickly. If they are in contact with the other partner of the same thinking then they will get away from their partner. Aquarius people are calm in nature but they hide some things from their Capricorn partner instead of clarifying.
Aquarius with Aquarius – In the case of romance and love, both Aquarius people will form a great couple. They both are connected with people of the same type. They had diversified interests but they both learn new things from their partner. It is difficult for them to be with other signs because they love to be within themselves which makes them different from others. If they both will respect each other then they had the possibility of leading their relationship in a good manner. They both can understand their partner better than anyone else.
Aquarius with Pisces – Both Pisces and Aquarius people will form a good couple in case of romance and love. They will do extra efforts for making their partner comfortable. They both can forgive each other easily but if it comes to their families, they will become anxious. People with Aquarius are weak in balancing their emotions but Pisces people can manage their relationship. They both are compatible with each other.
Characteristics of Aquarius
People with Aquarius are optimistic and advanced.
They are exceptional and self-reliant.
They are clever, sensitive, and calm in nature.
They can quickly get bored.
They express their individuality and creativity well.
They are innovative and strong.
They are educated and knowledgeable.
About the Creator
Pandit Ji Solved Love, Marriage, Family, Relationship, Money, Job, Career, Study, court case , Divorce , ex-Love back, And other all type problem visit now: www.astrologysupport.com and Call and Whatsapp Now +91 8875270809
Reader insights
Be the first to share your insights about this piece.
Add your insights