All The Bright Places; Sharing Movies That Share It All
The best part of raising a child is growing with them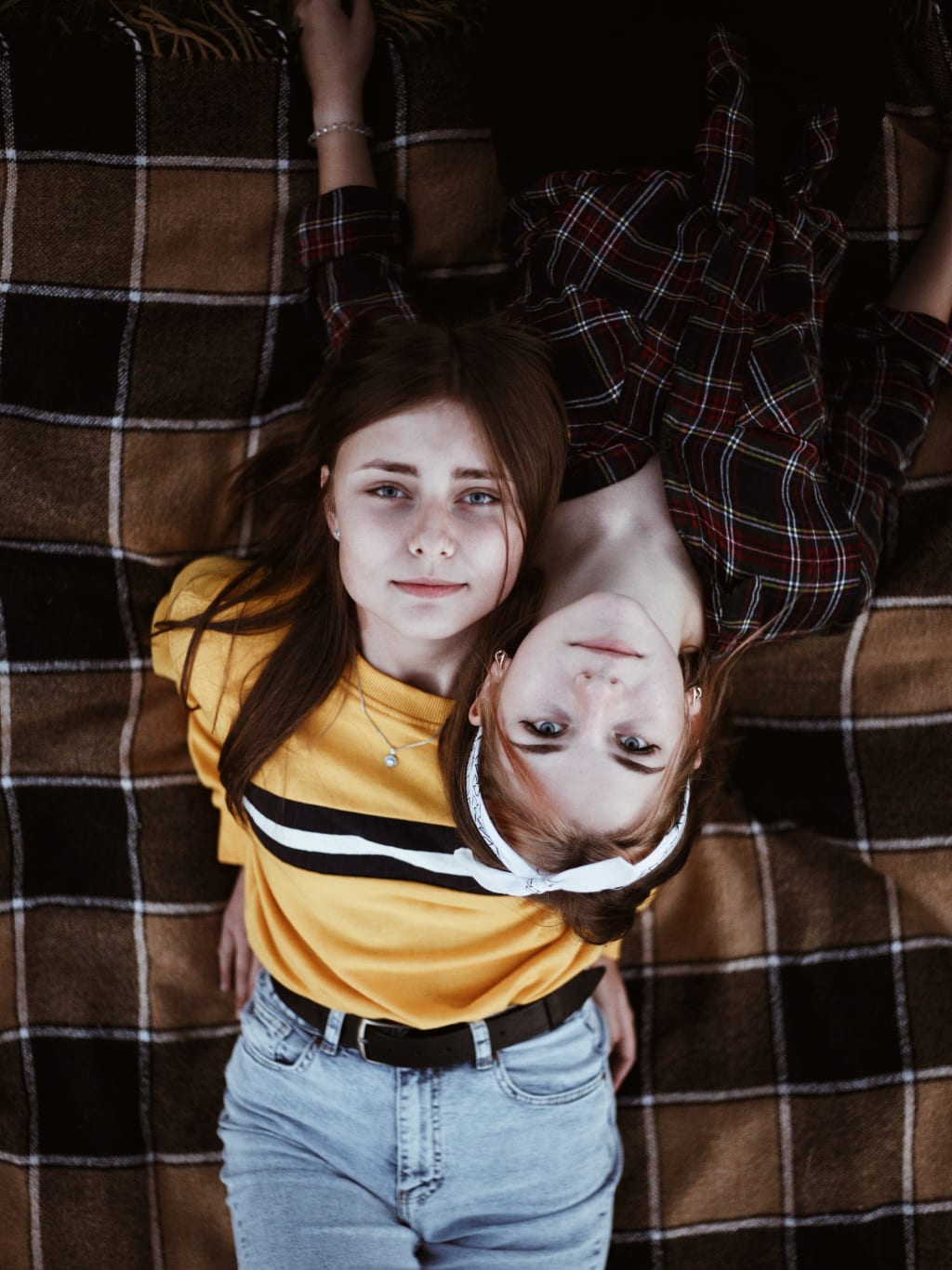 Photo by ilya mondryk on Unsplash
My daughter (12) is a champion of love — big, sappy, destiny-driven, fate-sealed, underdog love stories. For a little girl, she has a huge romantic heart. She gets that from me, with tales of my grand romantic gestures, the epic fails, and the hard crash and burns. But in between them, there were some moments. Some wins. Some real, movie-time, big screen, whole heart love stories. Then, the best story of all. The love story of her Mom and me. It's a good story, a sweet romance with the rush of infatuation, the leap into the unknown, and the charm of being, deeply, sweetly, in love.
For my daughter, it's not the "who" in the love story that matters; it's all about how much their heart aches for love. The right love. The love they are supposed to have.
So, over this Christmas break, with our visit to my mother's extended a week due to COVID delaying schools re-opening, it was a nightly movie marathon. We rotated picks between my wife, daughter, niece, and myself.
At home, we pick silly movies, other times big stories; then as parents, we like to filter in a piece that is going to challenge her mind and heart. But I always drop a real heart squeezer in there to watch her climb to a kneeling position on a chair, couch, or bed, eagerly anticipating a victory for love.
Wearing her heart on her sleeve, my daughter, with hands clasped in prayer, leans toward the tv, willing the couple to get together, encouraging the underdog to risk it all, pleading for wounded one to get over their ego and see the love that's staring them in the face.
And when it all comes together? Cheers, tears, leaps, and claps. Her little heart bursts with joy in the victory of a love meant to be. I love this. I love seeing her blossom from a tomboy to a pretty young lady with all those possibilities waiting for her.
I'll only touch on a few of the movies we sat through over the holidays. Not intended as a review of the films so much as it's meant to show us old parents that young love still grows.
But buckle up because today's world is far different from the days of our youth. Still, I feel it's good to show your kids movies like this but even better to grow with their age as they live through it.
The Epic Film; Girl's choice — Forest Gump.
Most, if not all of us, have seen this lavishly clever, historically twined tale of a simpleton with a pure heart. But, unfortunately, neither my daughter nor niece, who are only two weeks apart by age, had seen the movie, so one night, we started early, and with a wood stove burning bright, we settled in for the epic.
When Forest, Forest Gump, sat in the tree with his Jen-nee, the girls' hearts melted from the start. They knew the unlikely pair were meant to be together for life. And so, when Forest took the stage at the Lincoln Memorial with the Washington Monument standing tall behind the Lake of Reflection and Jenny called for Forest, the girls crawled to the edge of the pull-out bed, chins resting on palms I glanced over and saw their great, giant smiles. Then, the movie reached them as it hit us all, right in the feels.
The Comedy Film; Collective choice — The Good Boys.
A film centered on a trio of grade six boys and their pubescent shenanigans, I regretted giving it the thumbs up almost immediately.
It's not untrue to say that boys are foolish, and these three take the cake. Between the ultra-honest kid, the approval seeker, and the love-struck and determined one, the "bean bag boyz" bond in a quest to make it to a party. But not just any party — a kissing party.
It has a quest, conflict, disappointment, victory followed by more disappointment, and, in the end, a message of growth, change, and friendship.
As a side note, my wife and I learned that Grade 6'ers of today are far more vulgar than we were at that age. Worse yet, adult jokes, sexual themes, and inappropriate references littered the script throughout the movie, and our girls caught almost all of them, and yes, I paused the movie twice, asking the girls, "how do you know what that means? How do know you what that's for?" With my wife patting my knee, saying, "Later hun, that's a discussion for later." Then leaning over, she whispered, "But we are definitely going through her phone after she falls asleep!"
The Heavy Film; Mom's choice — The Miseducation of Cameron Post.
This 2018 film, starring Chloë Grace Moretz, is a tale set in the early 90s' about a girl caught in the backseat of a car with the prom queen. Her conservative, ultra-Christian aunt, with whom she lives after losing her parents, sends her to a Gay conversion camp — God's Promise.
The film hits upon essential and relevant topics to today's propensity for children as young as my own to declare their sexual identity (before having kissed anyone, romantically, ever). Well-acted and emotionally charged, the film was better than I expected.
The movie hooked our girls immediately, then almost as quickly, they felt the betrayal, expressing anger, fury, and rage.
There was a lot of pausing with discussions that began with, "How could they do that?"
" What was wrong with people?"
"OMG, I would NEVER stay at that place! If I called you to bring me home and you said no, I WOULD BE GONE!"
My sister, a non-practicing Catholic, and her Italian husband, a renounced Catholic, have opted for a more holistic spiritual influence on their children rather than the education and indoctrination of organized religion. In contrast, my daughter has gone to Catholic school since day one and has a close relationship with God and her church.
A curious and deeply satisfying thing happened between my daughter and niece. The theme agreed upon by both without even discussion was one of universal acceptance, tolerance, and love. It simply didn't matter to them how someone identified themselves, sexually or otherwise. In their minds, everyone is entitled to and deserves love, compassion, and understanding.
Then, over popcorn and cream soda, the young girls went back and forth about religion, God, Christian dogmas and Catholic principles, holistic beliefs, and spirituality outside church walls. My wife and I only interjected on points that required further definition or accuracy. I think we talked about the movie as much as we watched it.
The Guaranteed Heart Warming Sweet Smiles All Around Romantic Movie; Dad's choice — Serendipity.
Mom groaned, "Ugh! I've seen that like a hundred times! Isn't there anything new?"
Dad responds, "Babe, love never grows old. Now, tell us why you've watched it a hundred times," with a knowing smile worn on my face.
Mom smiles, giggles, "Ohhh, okay, I'll watch it. You're right, Dad. You girls will like it."
I watched the girls for reactions more than I watched the movie. Heads dropped at all the near misses, close calls, and almost, finally together again moments. There were loads of groans and moans, shrieks and scolding, but through it all, I could see one thing binding the girls to the star-crossed lovers; Hope.
Both girls tossed out proclamations as buttery as the popcorn they packed in their mouths.
"They have to meet!"
"He's going to break his girlfriend's heart. She loves him, they're getting married! That is so not cool."
"He's definitely not the right guy for her, and he doesn't even care about her! All he cares about is playing that weird flute! He is literally the worst rock star ever!"
And what's wrong with seeing a happy ending? Life's hard as hell far too soon. So I say, let hope live.
In the end, it was four thumbs up. All of us loved the movie, even the older people.
The Life is Hard, Unfair, Beautiful, Sweet and Cruel and We Can Begin to Grow Up Now Movie; Dad's choice — All The Bright Places.
The opening scene held the room in silence, gripped the girl's hearts, and never let go.
Without giving away any spoilers, all that can be said is that this movie is poignant, beautiful, and heart-wrenching. There were tears, and it called for a long hug and longer exhale.
It's just one you have to watch.
These movies, their messages, and our children's growing hearts and minds can strengthen the bond between parent and child when shared.
We work so hard to protect our children as we raise them but there comes a time when we have to cross the threshold, holding their hands instead of carrying them. My daughter makes my heart full, and I'm so proud to watch the young woman she is becoming.
Everyone needs helps at one time or another and I sincerely appreciate any that comes my way. Click on the link here if you want to buy me a cup of coffee! Thanks in advance!
movie review
About the author
1st generation Canadian-Hungarian
Father, Fly fisher, Chef, Reader, Leader, and working on writer.
Feedback appreciated anytime. Tips always appreciated.
Reader insights
Be the first to share your insights about this piece.
Add your insights