Alice's Kids is the Nation's Answer to Poverty Outcasting
A Little Help Can Go a Long Way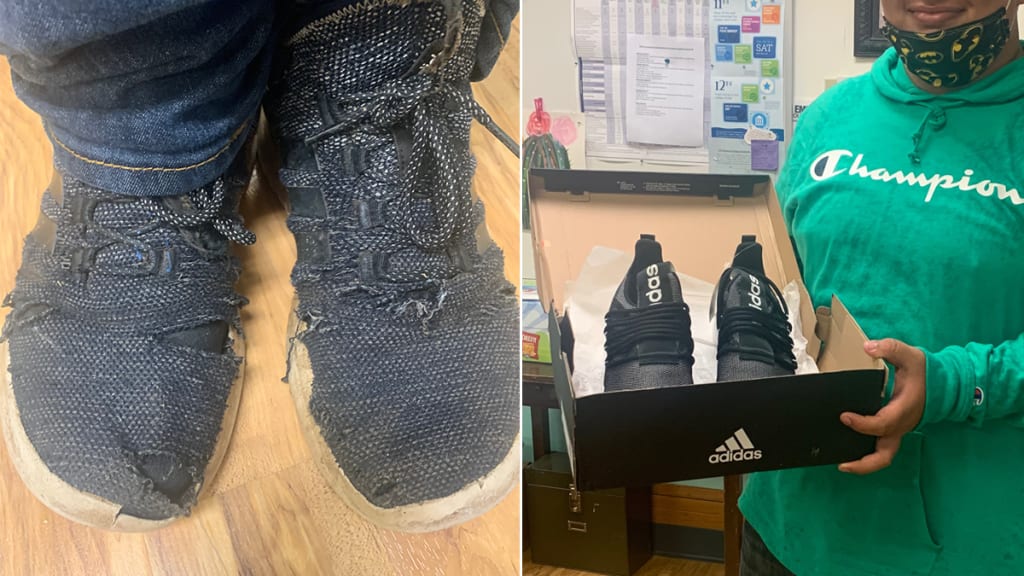 I grew up in a comfortable, secure household, never wanting for the bare necessities of life. I didn't have to, because they were always there. I wore relatively new clothing, and my appearance never made me stand out amongst the sea of students from middle to upper-middle-class households. And yet still, I was often on the receiving end of criticism. Maybe my jeans were a little too tight, or a shirt I wore was a bit too busy.
I would venture that most students faced some semblance of criticism no matter how new or clean their clothing may have been for their appearance. So, can you imagine being a child who has to wear old, torn and dirty clothing? Or shoes that are clearly too many years past their prime? They don't want to slip into their damaged kicks, but the alternative is to go barefoot. It's a notion so many of us don't even consider because we've never had to. But that's not the case for the founders of Alice's Kids, a charity devoted to reducing the psychological strain of poverty on school-aged children.
Ron and Laura Lee Fitzsimmons grew up in poverty, their wardrobes comprised largely of second-hand clothing and their address frequently changing. Already mentally strained by their complicated upbringing, Ron and Laura suffered ridicule from their peers, who chipped away at whatever confidence remained. Lambasted for wearing clothing other students recognized as their "hand-me-downs" and for showing up in less-than-stellar wears, Ron and Laura Lee were targeted merely for their financial status. While not every child raised in poverty is able to overcome the anguish of annual teasing and the qualms of a broken system, this brother/sister duo took their childhood experiences and used them to launch an organization with a clear purpose.
Named for their mother, a woman who did the best she could with the hand she was dealt, Alice's Kids targets school-aged children with a specific goal in mind - help them feel as "normal" as their peers do. It's a sad concept that shouldn't even need to be addressed, but, much like in everyday society, classism is rampant in school settings. A student attending school in tattered apparel is prime for bullying, and it's unlikely that anything short of changing their appearance will quell the incessant verbal battery of economically-driven insults.
Alice's Kids recognizes this outcasting of the impoverished and offers opportunities for new clothing, essential daily health and wellness supplies, funding for "normal" school events like the prom or school trips, and so much more. They hone in on the things that help create a normal academic experience for students otherwise plagued by things out of their control.
It's important to note that Alice's Kids isn't affirming that there's a disparity between the impoverished and the rich. Instead, it's attempting to circumvent society's view of the poor to show that a little help can, indeed, go a long way. It takes so little to make a child once outcasted by their classmates look and feel like what society views as "normal." This should stress that, save for their economic status, children raised in poverty are no different than a child raised in the middle class. They just need a new shirt or a touch of help to enjoy some of the things we take for granted. They're not pariahs. They're just living in an environment where uncomfortable choices need to be made and sometimes another month of heat outweighs new sneakers.
In a school setting, poverty outcasting is based on one's ability to meet the norms perceived by their fellow students. Whether it's physical appearance or the ability to go on a school trip, a student who falls short of either is viewed as "lesser than." Alice's Kids shouldn't have to step in to buy new shoes just for a child to feel normal, but Ron and Laura Lee started the charity because they knew better. New shoes, in the eyes of most children, are normal. They may not understand why, but to them, shoes with holes are inherently bad and a sign of an issue with their owner. It's a lesson we learn as we grow up and leave home to face the realities of limited income versus unlimited needs.
This isn't something we can expect to be rectified overnight, which highlights just how crucial charities like Alice's Kids are. Unfortunately, the fix to childhood poverty is complicated and won't come in our lifetime. But Alice's Kids helps lessen the effects, allowing those that were once outcasted to enjoy a life that so many of us take for granted and consider "normal."
Along with donations, which help Alice's Kids purchase gift cards for children, the charity is always seeking referrals for children in need. Teachers, counselors, social workers, and other parents are encouraged to contact Alice's Kids via this referral form. All children remain anonymous throughout the entire process, so the men and women that help the gears turn behind the scene never know who their helping. Even when a gift card is issued, it's provided to the referrer so the child never knows they're receiving assistance.
The Year Ahead
None of this actually matters if the numbers don't back the hard work put forth by the Board of Directors, staff, and volunteers at Alice's Kids. In this case, the numbers do speak wonders.
According to the January 2022 newsletter, the charity adopted a new budget projecting it will spend upwards of $700,000 on children, about $165,000 more than what was spent in 2021. With a recent annual appeal in Q4 2021 having pulled in over $1 million, the funding (and community support) is certainly there to help Alice's Kids with its critical mission.
children
About the author
Writer | Avid Gamer | Horror Enthusiast | A Voice for All Industries
Writing and building communities are my passions
Featured on all corners of the Internet
Reader insights
Be the first to share your insights about this piece.
Add your insights