A Very Merry Care Bear X-mas
Love, The Chief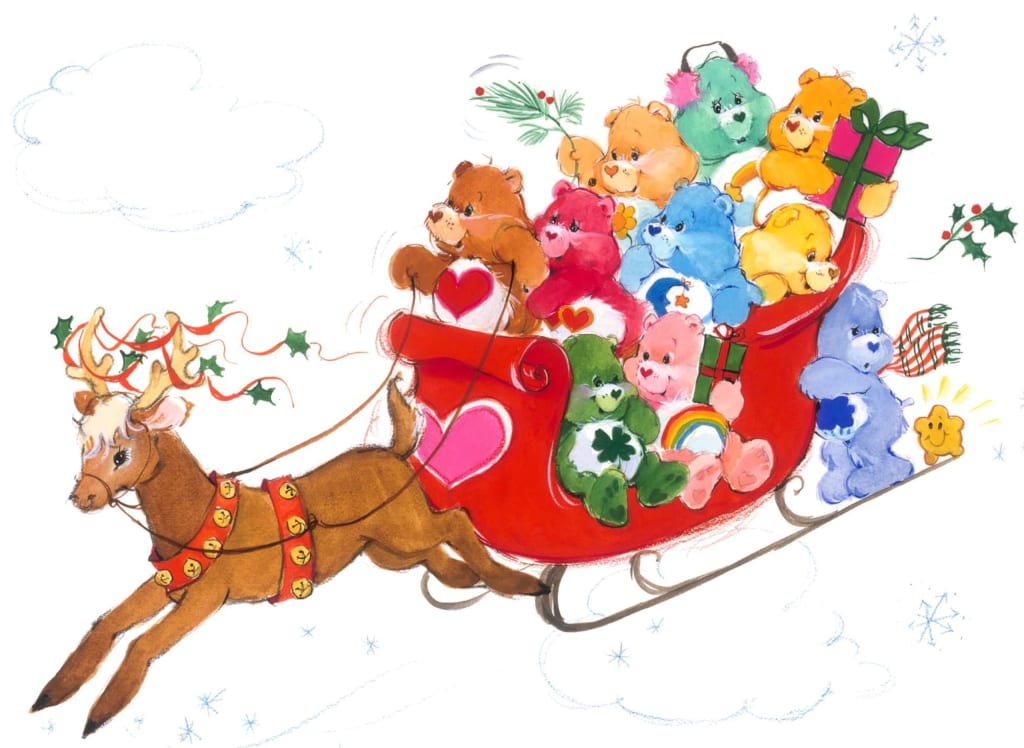 Though very far away and not able to be there for Xmas, I want to send Happy Thoughts your way.
Each of you have found a special place in my heart for many reasons. There is a very good chance that most of you don't know it but you have become the random family when my "family" wasn't. Not a single one of you are replaceable.
To my favorite Fire Departments, Hall County Fire Department, and Gainesville Fire Department , Augusta Fire Department- Love you as always.
To my favorite sheriff's department, Richmond County and Hall County Sheriff's Department-Thank You for the reminder that there is good law enforcement.
To my favorite state patrol, Ga State Patrol, the days I would see the Orange and Blue were always good days. You simply reminded me why Carebear is so important.
To all of the civilians of the Care bear verse...
The last few years have been extremely hard, without my furbabies or anything that made me me, each of you have become the care bear crew, whether it is with your words or actions, or something that I see in you. Words can not explain the difference you have made in one person's life. While Care bear does not have a permanent location, despite the obstructions, you are the people I want in my corner, the people's corner I want to be in. Many of you will be working, many of you are away from home, many of you are missing loved ones just like I am. However, we are family, and family always has families back. I genuinely miss everyone of you and wish you were near. Often we feel the entire world is against us, or that we have to get up and go out into a world that doesn't care. It true. We have all been there. We all have competing obligations, work, kids, family, bills, and the weight of the world on our shoulders. Yet we get up every day, we show up, we do our best and we keep moving forward. We are present in a world that often disrespects us based on nothing, a public we have committed our lives to serving and protecting. In those challenging moments please know this..You are seen, you are heard, you matter. Not just in your official capacities but as people. Your stories, struggles, your achievements...We celebrate and grieve with you. You are not a badge number or compliant form, or a mistaken name in a critical incident. You are important. We all struggle, we all have moments where we don't want to , we push ourselves, to exhaustion, we forget to eat, and we gloss over our pain. This Xmas Eve,near and far the reach of humanity and care bear is greater than the evil in the world. If you need to talk, talk to me, choose that over a bottle, or contemplation of what it would be like if you aren't around. There is no shame in reaching out to each other, that is what family does-Red, Blue , or emergency. We must remember that even Heroes are human, that there is no shame in that humanity, and together we are stronger than anything. I used say television, telephone tell a First Responder- the fastest forms of communication. The Carebear Network is what serving the public is all about, but we must remember we are also a part of this amazing family- a family that takes care of each other, even when it seems the odds are against us, we rise to the challenge..we are present and always 10-8, not just for the community but for each other.
Have a very Care bear Christmas..Love KCCO Care bear Chief.
humanity
About the author
@UnicornCarebear Cash App
@UnicornLegal Buy me coffee
"Justice delayed, is justice denied" "Injustice anywhere is a threat to justice everywhere."
Tattooed, Employed and has a Psych degree..Always on the look out for a group of Avengers.
Reader insights
Be the first to share your insights about this piece.
Add your insights