A Tribute to the Three Women Who Shaped the Lives of Twelve Siblings
God gave us three mothers—my biological mother, Salome, my maternal grandmother, Lola Ingga, and my mother's sister, Auntie Gundina, who raised us very well.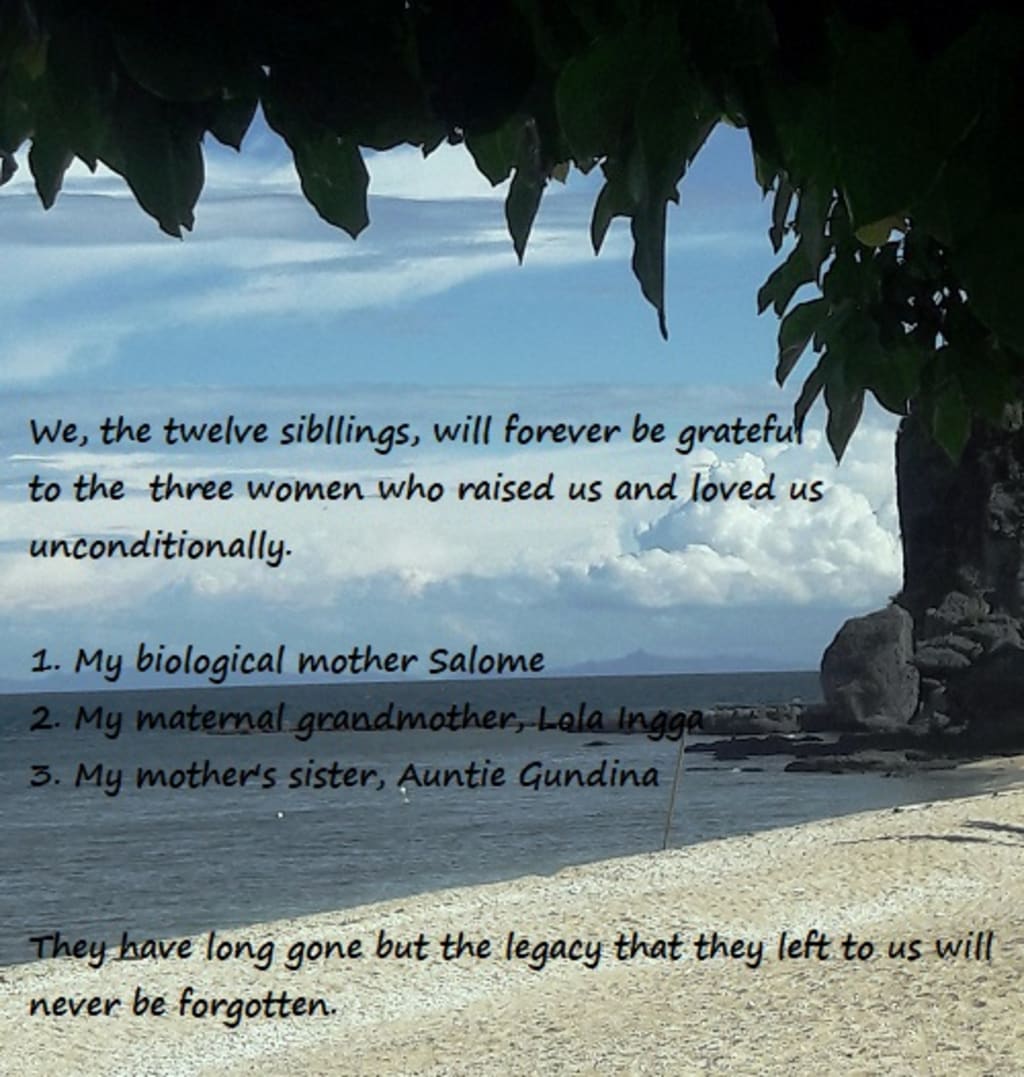 photo by: Irene Navita-Tijam
I grew up in my grandmother's house wherein my childhood memories were deeply cherished. It was there where discipline and moral values were strictly imposed and observed. Being the first granddaughter, I was the favorite.
These three women were the greatest influence in the lives of twelve siblings, nine girls, and three boys. Raising twelve siblings was the most challenging job on earth. We were raised by these three women in a very conservative manner during the 60s and 70s.
My father was a military man, and his income was not enough to raise twelve siblings. As the twelve children kept coming one by one, my Lola thought of putting into her custody the older ones and she took charge of sending us to good schools. She was a widow of World War II soldier and a U.S. veteran pensioner which afforded her to support us.
Educational attainment was the main goal of these women. They saw to it that we get a good education with the aim that our life would be improved when we get old.
They were the three people we looked up to. They cared for us. They loved us unconditionally. They were our heroes. Although we grew up in a very strict and disciplined environment, still we had fond memories of them. They were the authorities whom we respect and at the same time loved. There were times when we showed disrespect to them because we felt that our freedom was suppressed. But look at us now, the twelve siblings that they took care of, where all have a good and peaceful life.
Nobody in this world can match the way these three women raised the twelve siblings and became successful at that.
The rules and the lessons that we learned inside the house of Lola Ingga:
Lola's words were a commandment that was strictly obeyed by the twelve siblings.
She and my mother and my auntie, taught us that faith in God is the most important thing in this world. We were raised in a Catholic way of life. Lola Ingga was a very religious person, always praying the holy rosary. Aside from the regular Sunday mass, she attended to, she went to Baclaran Church every Wednesday when she was still physically able. She required us to pray the novena in every feast day of the year, like the town fiesta, holy week season, the Santacruzan during May, etc.
Although Lola Ingga was very strict, we felt her love for us so dearly to the point that she pampered us with all the things we wanted, like clothes, shoes, bags, etc. She would buy us imported foods and goods.
She was so generous when it comes to food and always sees to it that there is abundant food on the table. She did not want us to get hungry. She did not want the visitors to leave her house without eating. She used to stock not less than six sacks of rice in her stockroom. During those times, when the refrigerator was not yet affordable, she would stock up lots of fried fish in a basket hanging above our dinner table. She would buy tons of fruits that we can eat anytime we want to.
Lola's house was the center for the vendors coming from different places, including the street cleaners. They stopped over in the morning for a free breakfast and coffee before they go into their own businesses. She was well loved by these people, in spite of her being frank and strict.
Lola would always tell us that mealtime is a sacred time and that we should observe proper behavior. We had to observe strictly the rules during meal time.
Eating a meal will not start unless everybody inside the house was present.
Nobody was allowed to join the meal without a shirt on for the boys.
Laughing and talking in a loud voice was prohibited.
Washing the dishes after meals were done by us on a routine.
The most awaited time of the year was Christmas and New Year celebration, wherein Lola would buy us new clothes, shoes, and the most delicious foods on earth like ham, bacon, queso de bola, etc.
Auntie Gundina taught us how to do household chores like cleaning the house, clothes washing, ironing and cooking, which she said were important tasks that should be learned by the girls.
We were brainwashed on the importance of moral values, which was strictly observed during the '60s and '70s. We were required to behave properly. Lola was so overprotective and very strict to the girls when it comes to a boy-girl relationship. Auntie Gundina took charge in doing a background check of each of our suitors. They had to endure the three women's intimidation to test their sincerity. Those who were persistent enough won our hearts, which eventually led to a church wedding. We had to get first the approval of these three women before we commit to a relationship and marriage. A chaperone was always required whenever we go out to attend any party or event when invited. Every party or event that we attended to was trailed secretly either by Auntie Gundina or my mother.
The church wedding was a tall order. A live-in relationship was a big no. If you elope with your boyfriend, you will suffer a condemnation by the whole clan. Thus, you will be scared to defy the rule because you will not have peace in your life, except when they approved the relationship.
Their never-ending lectures and reminders at times caused disagreements and sometimes we showed disobedience and disrespectful behavior to them. But then we realized that it led us to become good persons, made our marriage work, have raised our children properly, became good homemakers and at the time were able to practice our profession and got good paying jobs.
Lola Ingga denounced the practice that women during her time were not allowed to get an education because of the belief of every father that women should only stay at home.
Lola Ingga was a brave woman. She taught us how to take care of ourselves from sexual harassments and other forms of intimidation. She required us to always bring a knife (balisong) inside our bags for self-protection. She taught us how to use the knife for the purpose.
In the 60s and 70s, during our teenage years, the dresses we wore when we go out must be approved first by them. Girls were not allowed to wear mini skirts, very short pants and blouses with plunging necklines. Otherwise, we were banned from going out. But we were able to break that rule secretly in our own way.
Auntie Gundina was a single mother, with one child. Lola Ingga did not approve of the man she married, so she caused the separation. Maybe that was the reason why Lola was so very strict and cautious on the matters concerning relationship and marriage.
Whenever I think of them, I wish that they could hear how thankful we are. I wish that they know how grateful we were because they molded us into a fine and decent persons and the reason why we have raised our children the same way.
Before my mother had her last breath, I was able to tell her how grateful I was for the way she brought us up. I regret that I was not able to say that to Lola Ingga and Auntie Gundina.
These three beloved women in our life had a long and healthy life. Lola Ingga passed away at the age of 96, Auntie Gundina at 87, and my mother at 89.
They practiced a healthy lifestyle by eating healthy foods. Lola and Auntie adhered to a diet eating only fish and vegetable, little rice, less salt, and less sugar. Lola used to drink tea three times a day. Auntie used to drink black coffee.
My mother who was more liberated in eating all kinds of delicious foods has drunk all kinds of food supplements, which protected her health and gave her a long life.
We are forever grateful to these three women, Mother Salome, Lola Ingga and Auntie Gundina, who sacrificed a lot in shaping our lives.
These three women had adhered to the verse in Proverbs 22:6: "Train up a child the way he should go, and when he is old, he will not depart from it."