Wix Announces European Launch of "Playground Academy" Program
Website Development Platform Wix Assists Up-and-Coming European Designers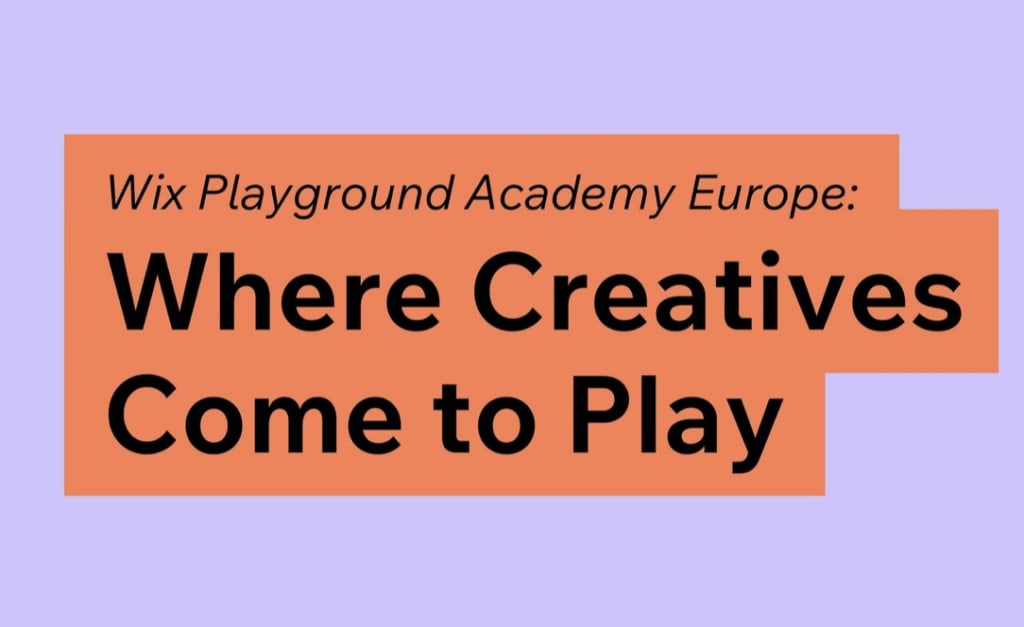 Wix Logo
Wix, a leader in website design technology, has just announced that its prestigious design program, Wix Playground Academy, is starting a European branch. The Wix headquarters is located in New York City but the company reaches global audiences and the need for a European branch of the popular design program was increasingly apparent.
Launched in 2020, the European Wix Playground Academy offers the same services as its American counterpart. It enables up to forty students to attend sessions designed to enhance their skills under the mentorship of award-winning designers such as Jessica Walsh and Debbie Millman. The program is free to those selected and runs virtually which had opened suggested of expanding the initiative to more regions of the world, no physical studio space necessary.
Academy graduates of the past have secured jobs at leading design firms worldwide. This program was created to help aspiring designers prepare for a career in the industry and so assembling a team of top-rate designers to lead the course was essential. The instructors at the Academy in Europe include Alex Bec , Ollie Olanipekun , Pinaffo - Pluvinage and Alexandra Zsigmond.
It's Nice That will host the famous portfolio review session at the end of the course which is critical to assisting fledgling designs get their work seen. Dafna Sharabi, Art Director at Wix Playground, recently discussed the program via an exclusive interview.
Meagan Meehan (MM): How did you discover your love for web design and how did you get involved with Wix?
Dafna Sharabi (DS): After I finished my degree in visual communications, I worked at a studio that specializes in branding and print. I was interested in the digital design that was becoming very popular that's when I joined Wix (10 years ago!) as a designer at the studio.
MM: How did the idea for Wix Playground Academy form?
DS: We understood that we have so much experience in web design and web creation and we wanted to teach the next generation and give back to the community. We decided to establish the Wix Playground Academy and give and opportunity for young designers to learn from the best designers and Wix as well as leading designers from around the world and also the opportunity to get mentored by Wix designers, a money-can't-buy experience that the students can't get anywhere else, not even in design school.
MM: How long did it take to establish that academy and what was the most rewarding thing about the initiative?
DS: The most rewarding moments are when you see how the students implement everything they learned into beautiful websites, when they discover what kind of creative they are and in these times of Covid 19 it was the most rewarding to see how 48 students graduated from the Wix Playground Academy online.
MM: What do students learn in this program?
DS: Develop a user-centered approach to interaction design while creating and implementing a style guide for site components.
Photography and Styling: Understand how to create dynamic images through industry-standard lighting and staging techniques.
Sketch Software: Practice using a lightweight vector graphics editor to quickly iterate user interface design ideas.
Illustration and Animation: Learn how to create a consistent illustration language, develop a storyboard and animate your work.
Client and Project Management: Turn clients into partners by learning collaborative approaches, effective communication techniques and efficient project planning.
Content Writing: Craft compelling text written in a human voice that makes the user excited to act.
Code and Content Management: Learn how to implement database collections, create content-rich websites, add custom forms and change site behavior.
Production: Learn how to plan the time and resources in order to produce photoshoots and videos.
MM: How do you select your teachers?
DS: At the Academy we have workshops, lectures and mentoring. We carefully curate successful, up and coming designers from around the world to give talks and workshops. In-house Wix specialists personally mentor the students' day to day. The one-on-one mentoring is what makes our program so unique.
MM: What do you seek in possible participant portfolios and why was it important for you to offer this service free?
DS: It's a privilege for us to educate the next generation and give back to the community. We have over a decade of knowledge in web design and feel that we need to share it. We want to see in designer's portfolios that have a good base of the foundations of design and creative thinking. We want to make sure that students already know typography, lay-outing and so on as we do not teach that part but we build skills on top
MM: What made you decide to start a European academy and how does it differ from the American one?
DS: We want everyone to get a chance to join this unique program. Different time zones make it hard for students around the world to join and we saw that there was a demand from the European students. We decided to open our Wix Playground Academy in Europe in the format of evening classes for one month.
MM: What other countries might you expand to?
DS: Eventually we plan on growing but we don't have a specific plan at the moment.
MM: What has it been like to move this initiative entirely online?
DS: Surprisingly extremely successful. We were able to make the change from physical experience to an online one very fast. We put a lot of thought into how to create the online experience and it worked very well. We heard from students that they experienced slow adoption in their design schools and we were able to provide the learning experience that they were looking for.
MM: Might you consider keeping an online component even after Covid?
DS: We love physical gatherings and learning experiences. We believe nothing can replace that. Having said that, we see many advantages in online learning and will definitely keep some of the activities online, especially so more people can attend them.
MM: What are the best student success stories to date?
DS: Students are being confident in their knowledge and talent and finding amazing jobs in the industry.
MM: What projects are coming up for you soon and is there anything else that you would like to mention?
DS: Simply improving on what we already do!
* * * * * *
Applications for the Playground Academy Europe (CET) are now open through mid-December 2020. Any designer or design student over the age of 18 is eligible to apply by submitting their portfolio. Applications for the US-based summer program (EST) are now open as well.