Ways to Help You and Your Child Ease Into the New School Year
Keeping back to school jitters from becoming life long problems.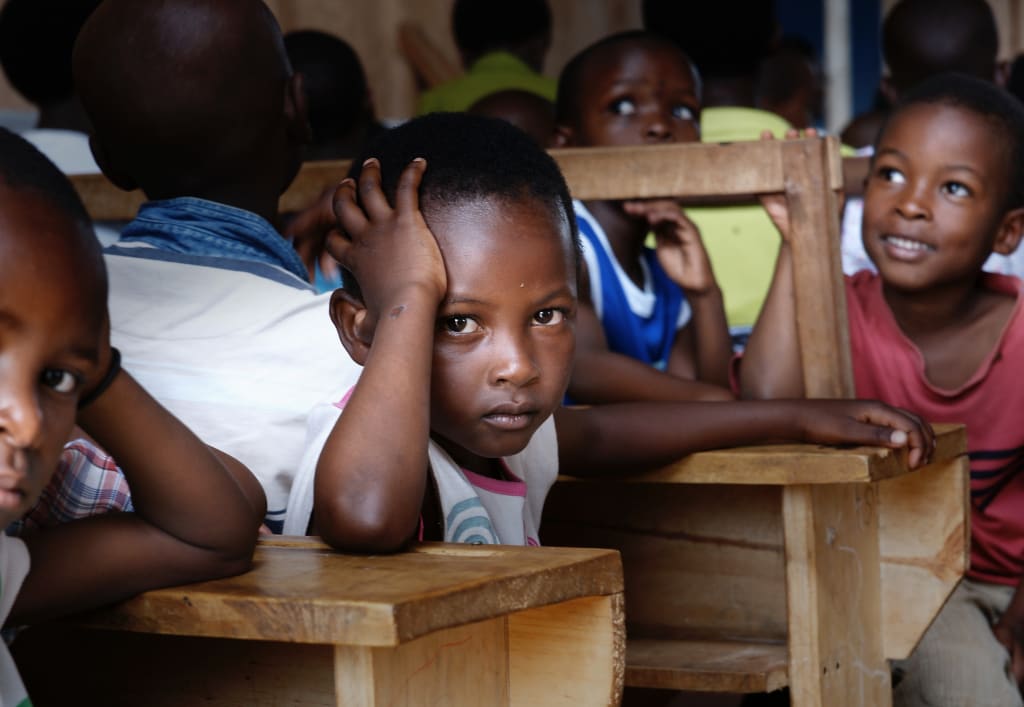 I don't recall other first days of the school like I remember my first day of college. Graduating from high school at 17, to enter college two months before my 18th birthday did not worry me. Categorizing me as smart, and noting I made friends with little effort did not help me on my first day as a college student. My anxiety level was so high, I sobbed before leaving my house. I had no clue then, but I had a full-blown panic attack. After a pep talk from my sister, I got it together and made my way to school. I made it through my first semester with a B-average. However, I did not return to college for another three years.
Children School & Anxiety
Many parents, like others were worrying about major life circumstances like the different aspects of their job and financial matters. As I have become an adult, I realize there are many more issues and challenges to be a parent. But it is detrimental to our children's development to pay them proper attention. Understanding the impact worrying has on a child's emotional and physical health merits the intent to give our children time to express their concerns just as much as their excitement about school.
During the school year, students in kindergarten through college worry about their academic performance, navigating through social norms, and being away from the comfort of loved ones. You do not have to search far to learn how these small matters can morph into life changing problems, forever impacting the outlook for the remaining life of our students. As we're pushing our children's emotional needs to the side, there's a growing number of college students seeking help for anxiety issues, and the number of reported suicides of children aged 13-18 is increasing. A study focusing on US children under 18 found that there are 17.1 million children with a form of mental health issue. A group aged 13-18 years old found that more than half a million suffer from an anxiety disorder. From that same group, over 45 thousand have issues classified as suffering with severe impairment, and the average age for a child to develop an anxiety disorder is six years old. These statistics show the likelihood of our children becoming impaired by an anxiety disorder, so trying to keep our children's mental health balanced in an unbalanced world requires an all-out effort.
There are nine categories of Childhood Anxiety Disorders. This presents over one-hundred signs & symptoms for someone suffering from an anxiety disorder. This intensifies the challenge when students show up the first day of school with shortness of breath, tightening of the chest, a headache, or inconsolable crying; leaving them with an already defeated mindset. As the student's caretaker, it is important that we remember it is necessary for help from a licensed mental health counselor and physical doctor, as we're trying to understand and implement strategies to best support the student. So as a family member, friend, educator, peer, or advocate to children, here are some of the most common signs and symptoms of anxiety related to school, and ways we can help.
Worrying Hours, Days, and Weeks Ahead
Caretakers prepare yourself for a barrage of questions. Young students may ask these questions out of excitement and curiosity. And our older students may be silently showing worry in silence, or expressing their concerns to friends. I found it helpful to meet my children "where they were." If they were excited, I would build on their excitement, and get them to tell me what they were looking forward to at school. We talked about strategies to help them get through tough times when expectations were not met. Sometimes I would start the conversation if we pass by their school. I found my children became more at ease when I matched their excitement by coming up with my own questions, and expressing my feelings about them starting a new leg in their life journey. One thing that I found to be helpful, even for myself (I still do this when going to places I've never been) is research and a visit. I use Google Maps to get directions and learn about the landscape. I zoom in and look for landmarks, and it helps a great deal when I spot something familiar. Use the open house and orientation days to get to know the neighborhood. Once in the building, point out bathrooms and the main office, or other places your student will enjoy or find a resource. I believe this was why my children weren't too impacted with separation anxiety.
When it's time to meet with the teacher, include your student in the conversation. Ask your child is it OK if you share their concerns with their new teacher. It is just as important to clear it with your child when you want to share their strengths and accomplishments. Remember to keep the conversation about YOUR child.
Problems with Sleep
As the days come closer to school, it is very helpful if our students have gotten used to a pattern for bedtime. My older teens still grumble when I remind them of their school day curfews, and encourage them to prepare for bed early. They have never told me they appreciate this, but I can tell they are glad they did by their enthusiasm after school. They can't wait to tell me about classes they think they'll enjoy, or people they've met who may become friends. (Then I get a bunch of papers and forms dumped in my lap with instructions and lectures of not being the cause for them turning in their papers late). This lets me know they were awake and present throughout the school day. They engaged in conversations, and stayed alert to receive information. You may have heard or been apart of conversations where the student gives one-word answers, or makes sounds not audible to the human ear. It is obvious when a student did not rest well. They're grumpy, and will not be receptive to the start of the new school year. A tired student may return the following day with no idea of what happened the previous day, and may be unaware of expectations.
TIP: I use their energy levels as a guide throughout the school year to gauge how they are doing and feeling about school.
Isolation
We all can use a moment of solitude to rejuvenate with the prevalence of constant access through phones & social media. However, excessive isolation can result from low self-esteem; avoiding others because we feel less than. Rather than verbally reassure your child they are just as smart, pretty, and acceptable as other children, encourage your child to have a group of friends go school shopping together. One pleasure of having older children is the things they can do on their own. Keep them mindful of budgets, and items they are not to purchase. This will reinforce that they can be part of a community. Also, follow up with commendations on smart purchases and items that are fashionable and tasteful.
With younger ones, set up play dates prior to school starting. Aside from parent-teacher conferences, A "100th day of school" is a great time to check in mid-year to see your child's accomplishments, and touch base with school staff. If your child is attending a neighborhood school, schedule multiple play dates in small groups with different children in your neighborhood. For students attending school away from their neighbors, here's another good reason to attend orientation and open house; while at the orientation, discuss schedules and arrange a play date with another parent. This also gets you a new person in your support system. And when possible, hosting a back to school party is always a great way to end the summer.
Please be mindful of when isolation starts after the school year has begun. When our children are being bullied, teased (or made to feel uneasy in other ways) they are likely to withdraw and become apprehensive about going to school.
My Stomach Hurts - I Have a Headache
This is a classic go to ,and obviously, we'll want to rule out any true medical problems. After we're certain that our child is physically healthy, we want to talk with them to make sure they know we are constantly paying attention to their health and well-being. We want them to sense our need to understand their thoughts and feelings. Be genuine and pay attention to your body language and tone of voice. Ask open-ended questions to assess what's keeping your child from wanting to attend school. Let your child know you appreciate them for sharing and being honest with you. Then mirror back what they said to you. Even at a young age, children will hear what they said, and try to come up with a better reason, or expand and make a problem bigger and bigger with less truth. I remember this part of the conversation being funny. I later learned that when I didn't smile or laugh it helped them to sense the importance of them attending school. It surprised me how often, by the end of the conversation, each of my children came up with their own reasons for attending school that day, and a plan of action, which sometimes required I reward them with a special activity.
As they have grown older, they have gotten wiser and hip to the objective of my questions. They've come up with better answers, making my attempts to discern their worries harder. In that case I wouldn't give much push back, but again I am surprised how they'll jump out of bed. It's usually my son who will say, "Ma, I'm just gonna go cos I will be bored all day." My eldest was always concerned with not being able to catch up on missed work. My other two, who were later diagnosed with an anxiety disorder opted for the mental health days I allotted them each school year. I find these conversations are helpful throughout the school year. It helps me to get a window into any new issues that need my attention.
I know I mostly referred to school-aged children, but I truly believe these same scenarios can work with college students. As our pseudo-adult children, they need similar affirmation that we value them, love them, and that they are worthy to be heard and afforded the space to express themselves before they implode or explode. They need to feel the support of a community, and know they can find a safe place to just be, and there will be help when they need it… without judgement.
What Else Can We Do
Prepare their favorite breakfast, or stash a special snack with a love note.
Stay calm when your child becomes anxious about school.
Allow extra time in the morning so that the rushing does not add a new element of anxiety.
Pay attention to your child's behaviors and word choice through the school year.
If you are staff at a school, become the student's safe person.
Provide students access to a safe pass.
Make sure contact information is up to date.
My hope is each of our scholars has a successful school year, and every support or resource for a child is available and supported in creating space and opportunity for our children to grow and excel.
About the Creator
During my roughest times, I maintained my innate desire to help others. Sharing my experiences as a healing narrative helps me communicate hope. Sharing a laugh is love.
Thank you for subscribing, tipping and sharing.
IG @dollymomma_writes
Reader insights
Be the first to share your insights about this piece.
Add your insights