Top 5 Benefits of Playing Memory Games for Kids
Memory Games Enhance Brain Concentration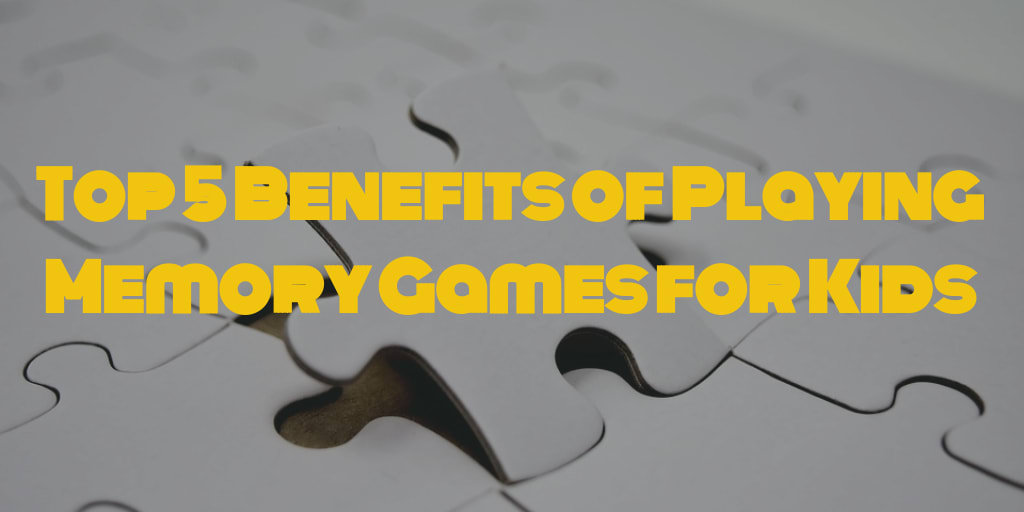 Even if they don't know it at the time, kids enjoy practicing their memory and recognition skills while playing fun online games. In fact, today, more schools are incorporating interactive memory games into their regular curricula models as a way to help children's brains stay alert, improve their concentration, increase their memory power and aid cognitive development.
Memorization games are founded on sound science and are considered one of the best practices of ensuring that our brains are working at their optimum. They have even been found to have beneficial effects on dyslexic kids in terms of increasing their cognitive development, attention, brain activity, working memory, recall, and reading performance. Allowing your kids to play memory matching games online has unique benefits, for example:
1. Improves a child's critical thinking skills
Sharpening a child's thinking skills means that he or she will have the mental aptitude to process information, make decisions, create new ideas, ask questions, try to make sense of things, organize information and so forth. Memory games are also good for visual memory aid. A child's ability to store and retrieve memories, when the stimuli that first evoked them no longer exists, and without help is a critical aspect of reading, writing, spelling, including developing mathematical skills. Kid's whose visual memory hasn't fully developed can be trained with various interactive memory games.
2. Exercise for the brain
Fun android and iPhone games are like having a personal trainer for a child's mind that is developing at a rapid rate. They can help strengthen individual skills like communication, good eye contact, social skills, reaction time, pattern recognition, and much more. Cognitive skill development is critical as a child matures, because he or she is able to not only learn new information, but to also remember, think more critically, and process what they learn and apply it in a progressive manner.
But since all kids are different, some may fail to hit age-appropriate cognitive skill milestones, and this is where memory building activities come in handy because a child needs a stimulating environment that can help develop their brain, boost their confidence, focus and attention.
Playing online games can make learning easier, however, there are specific fun online games for adults and kids where parents can play with their children to promote active learning and encourage their cognitive development in the areas of attention, memory, concentration, visualization, and perception.
3. Sharpen problem-solving skills
Memory matching games that involve strategy help sharpen a child's problem-solving skills, memory, analytical thinking skills, communication, general knowledge, concentration, social skills, even patience. Imagine you as an adult trying to solve the Rubik's cube or a Tangram puzzle, or assemble flat-pack furniture in a matter of minutes without losing your top? With the right memory game, children can significantly improve their problem-solving skills, consequently enhancing their brain power, concentration, communication, and social skills, even strengthen their numeric skills, as well as visual skills.
4. Improve spatial skills
Excellent spatial reasoning skills in children are directly linked to great mathematical skills; in fact, such kids are more likely to pursue careers in fields such as engineering and architectural designs. But the good news is that even those without these skills can gain them through playing structured online games that involve a whole lot of rotating, moving, and positioning pieces.
5. Enhance visual perception
Visual acuity plays a vital role in a child's ability to identify, understand, assess, and interpret one set of different objects from others including symbols, letters, colors, forms, shapes, patterns, size, etc. Memorization games can help improve visual perceptual skills in a child, to a point where they are able to mentally visualize outcomes with little to no trial and error. Such games can also help improve language and vocabulary.
Even where English is the first language, some kids do struggle with mastering it, and while strong vocabulary skills can be developed and polished through consistent reading and writing, children often get bored with books. There are fantastic interactive memory games that can help a child improve both their language and word association, and unlike homework sheets, fun games can keep a child stay focused for extended periods, and have tons of fun while at it.
In conclusion
As you can see, playing memory games has many unique benefits, and there are many android and iPhone memory match games that your child can play to train his or her little mind, strengthen their muscle memory, sharpen their analytical thinking skills, learn patience, improve focus and much more. So, start indulging yourself and your child with fun online games for adults and kids, just don't forget that you have to work tomorrow and your kid needs to be in bed by eight.
About the Creator
Manoj Rawat, a Growth Hacker, Ideator, Innovator and Experienced SEO, SMM and Marketing Consultant with over 8 years IT experience. He loves to share marketing tips & strategies. He is an avid sports person, traveller.
Reader insights
Be the first to share your insights about this piece.
Add your insights