Teaching in 2020
Just a peak inside a teacher's mind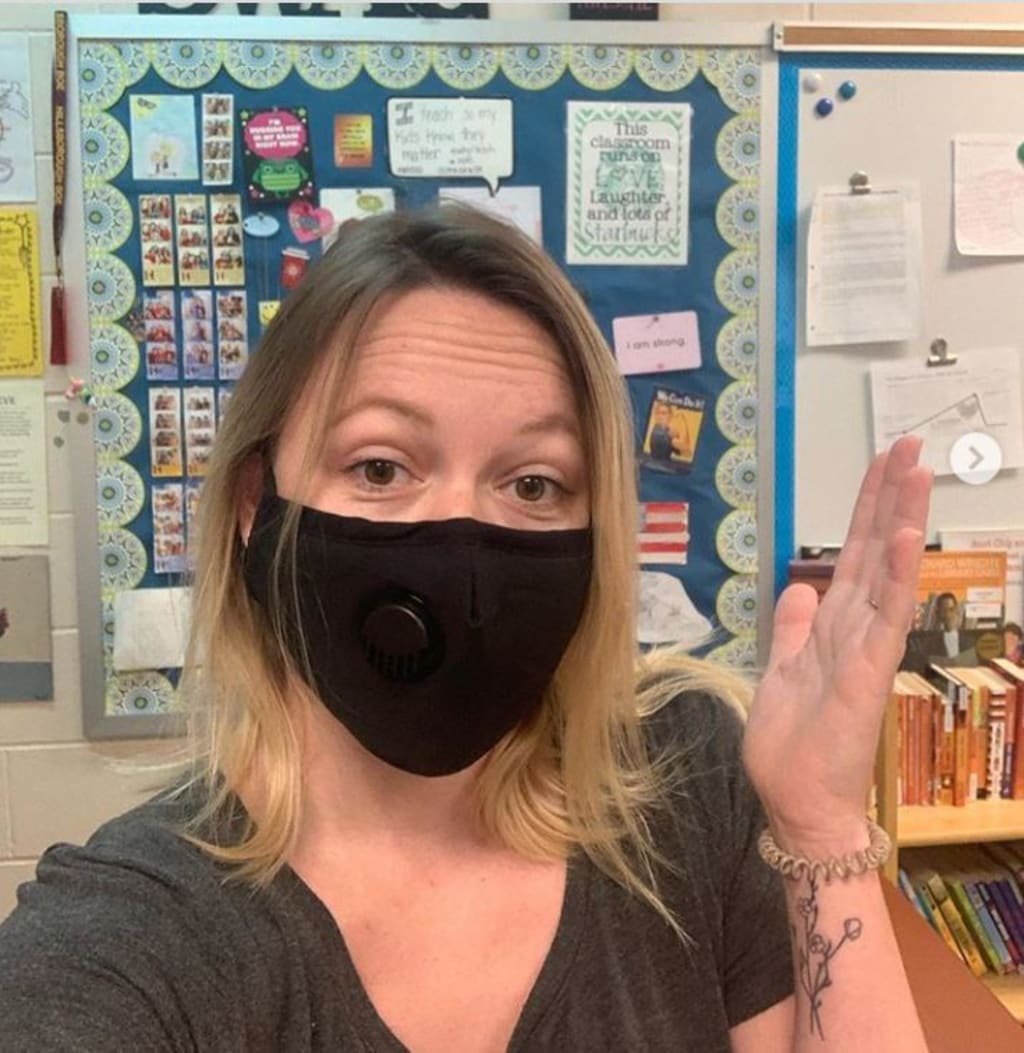 This is what teaching in 2020 looks like.
I can't open Facebook, Twitter, or any social media outlet without seeing something about teachers these days. Not just about teachers and the students that we see everyday, but specifically, about the stress, the burnout, the tears, the fatigue, the workload, and the pressure that we face on a daily basis. This has been the norm for as long as I can recall, but now, we have the addition of a global pandemic to add into the mix.
As I prepare to enter my eighth year of teaching in a matter of days, I'm sitting here trying to plan for the unknown and it's taking everything in me to fight the demons of my own anxiety.
I have known in the very depth of my soul that I wanted to be a teacher since I found myself seated in Mr. Garrett's fifth grade classroom. He created an environment in which I could safely cry while reading The Secret Garden, then pick myself up and learn how to balance a checkbook, or start a small business in our classroom economy. I loved fifth grade.
In seventh grade, it was Mr. Singletary. He wasn't even one of my team teachers; I was his TA - a privilege allotted to those 7th graders that found themselves with extra elective credits to burn. He defined the meaning of being a compassionate and fun teacher. It meant laughing with your students was mandatory. It also meant finding out more than whether or not students could complete a math problem correctly. It meant more than gleaning information from a number on a score report.
In high school, it was Miss McGlaun. She taught me that she cared… really, truly, genuinely cared. She taught me that adults could be positive people who could build me up, instead of tear me down. She also taught me the importance of keeping a box of tissues within reach in the classroom. Something I practice in my own classroom with a well-maintained and often self-funded stock of Kleenex.
At Penn State Harrisburg, it was Dr. Griess. She taught me that even when I stopped believing in myself, what made me feel weak could give me strength. She taught me that taking the easy way out was never my exit strategy, because I am better than that.
As a student, I have been blessed to know an amazing group of educators. And I have joined the ranks of people I consider heroes.
I knew that like anything else, like any other job - and I've had many - there would be hard work to tackle. Lesson planning, creating meaningful assessments, grading, working with challenging students and parents. It's all part of the job. I know that as a teacher, I have a great responsibility to fill my students' brains with the knowledge that will carry them forward in the world. I know that I am accountable for the standards against which my students will be measured. I know that these things, while purposeful, are not the reason I became a teacher.
I teach for Jordan. I teach for Shani. I teach for Stella. I teach for Jon. I teach for all of you.
I teach for the nearly 457 students that I have encountered over the course of the last seven years. I teach for the hundreds more that I hope to encounter in the years to come. These students have worked their way into my heart and become a part of me. I know that each of them can write a sentence with proper punctuation and structure. I know that each of them can provide text evidence and analyze its importance to support a claim. I know that they can determine the meaning of a word by utilizing context clues in order to better understand a text.
I also know that those things are not the important things that they walked out of my classroom with. I know that those students learned that I have the utmost respect for them. I know that those students felt loved, and safe, and welcomed, and cared for in my classroom. I know that they felt the sincerity that came with every bout of laughter in my classroom. I know that they found safe-haven in my classroom. I know that they are among the 457 reasons I wake up and go to work every day.
I also know that I am tired. You see, the thing that all of those teachers above never mentioned, was how empty I can feel at the end of the day. Being a teacher is not something that you simply turn off as you exit your classroom for the day, or in our current state of affairs, when you close the laptop at the end of a virtual learning session. I take home my work everyday. I'm not talking about the mentor texts, binders, lesson plans, ungraded papers, and student work - I'm talking about the welfare of my kids. I take home the knowledge that tonight, one of my students is struggling with the pain of loss in her family. I take home the understanding that another one of my kids is the youngest of several siblings, and probably isn't getting the kind of support he really needs to succeed. I take my kids home with me everyday in my mind and heart.
So it comes as no surprise, that while I try to mindlessly slip away into the world of Facebook, Twitter, and the plethora of social media outlets, I continuously stumble upon articles, blogs, and posts about just how tired we all are. I didn't write all of this to complain or ask for pity. More so, I wrote this to remind myself why I chose this profession.
My colleagues that have been around longer than I have all told me that "this too shall pass." Education is one of those fickle areas that finds a trend and clings to it until the next one comes along. My hope, for the sanity of all of the teachers out there, is that those in power are hearing our cries and know that we are working so diligently for the children we love, and that they will rescue us from the mountains of unreasonable expectations that we tackle everyday. If the real hope is that our students are successful in life, let's remember that they come first… not the data, not the test, not the score, nor grade. These beautiful children that are sent to us to protect, guide, encourage, love, and build up to be better than those of us that came before them - they are what matter.
This pandemic has shown us an ugly side of humanity. How do I protect them from that? How do I conquer those anxiety demons and step up for my kids while also stepping up for myself in a world that tells me that I'm not doing enough? In a system where my life is not valued enough to buy protective gear for… In a community that is so divided about what my job is or isn't that they are willing to feed me to the wolves and see what happens...
I don't know. I'm still working through all of that. And I will continue to do so with my colleagues, an amazing team of educators that want to do just the same - protect, guide, encourage, love, and build up all of these beautiful children.