Student Leadership #001
Crafting the Perfect Election Speech for You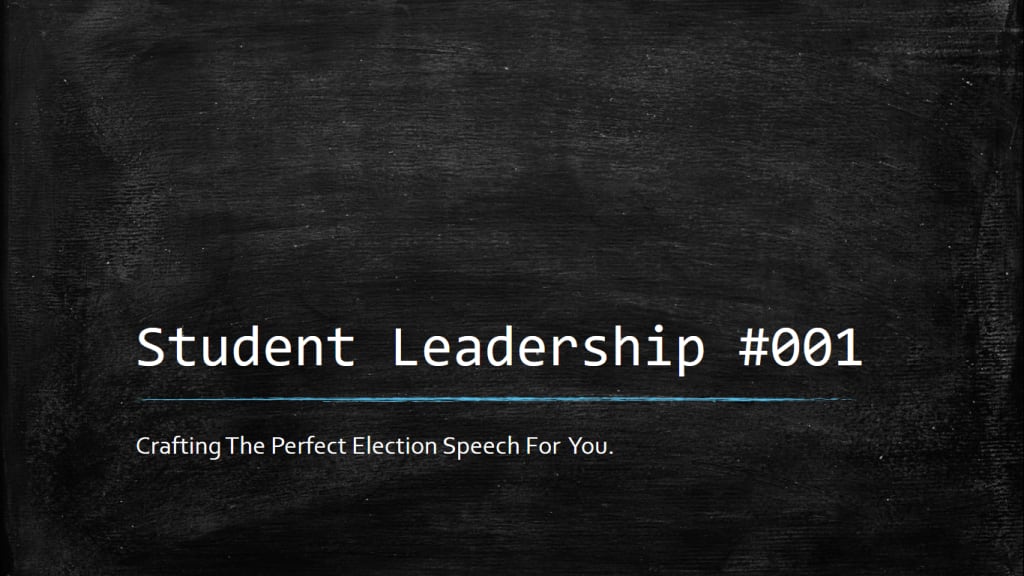 Title Slide of the PowerPoint Version of This Article
Who am I?
Ladies & gents, it's Joe here. I am a former student leader with 12 years of experience, and within that time I have built student leadership teams from scratch, worked with local government, mentored future student leaders, have been offered youth parliament positions twice and Youth Mayor; in my 12 years I pretty much did it all and also created and hosted my own student news show. So, I know more than my fair share about the subject, and now I'm sharing everything I know with all of you.
In this student leadership series, you can expect everything from crafting speeches to creating and running student leadership teams.
Now that's enough about me, let's get into the content and show you how to craft your perfect election speech.
My Rules of Student Leadership Elections Speeches:
Rule 1 – Be Genuine with anything you say.
Only choose issues you are passionate about and can do something about. If you choose an issue you aren't passionate about, people will see that and it won't go in your favour.
Rule 2 – Don't make promises you know you can't keep.
An example of this could be a large group of students want the school day shortened by two hours... This isn't going to happen... That simple.
Rule 3 – Do not trash talk... Classy insults are permitted, however.
Being a student leader, you don't want to trash talk; while it may score you points with some students, other students will not like it and staff certainly won't like it, and it could jeopardise everything for you involving student leadership.
Rule 4 – Remember you're being elected to solve other peoples problems.
The sooner you realize it's about the people, the more successful you should be. The only reason you are where you are is because people have voted you in to solve their problems.
The 3 Stage Election Speech:
STAGE 1- Introduction
STAGE 2- What You Plan to Do
STAGE 3- Ending Statement
Stage 1 – Introduction
In this stage, you simply want to say hello and state your name and class.
Stage 2 – What You Plan to Do
Stage 2 is the longest stage; you need to identify what the main 1 or 2 issues you will focus on are and what you are going to do.
Stage 3 – Ending Statement
Your ending statement can be any relevant quote or one liner that works with your speech, or a one line sentence about why you should be elected.
Example of a three stage election speech:
"Hello ladies and gents, I'm Steve Battlesbridge in 11R. It is without a shadow of any doubt the biggest issue on site is the poor safety and security measures, which have been this way for quite some time. If elected, I will take this issue to the principal and chair of governors to make it a top priority, and make on-site safer and more secure for you. You are free to vote for who you want, but ask yourself, do you feel safe?"
The great thing about the Three Stage Speech System is that it is completely interchangeable to anything you need to give a speech for.
I hope this will be of use to not only student leaders but any students that need to write a speech.
See you in the next article, ladies and gents.
P.S. All the articles I'm writing on in the student leadership series will be included in the student leadership book I plan on releasing possibly this year or next year.
P.P.S. All student leadership articles will also be available in PowerPoint format.