Should You Do a PhD?
The Pros, Cons, and Insight from Someone Who Has Done It...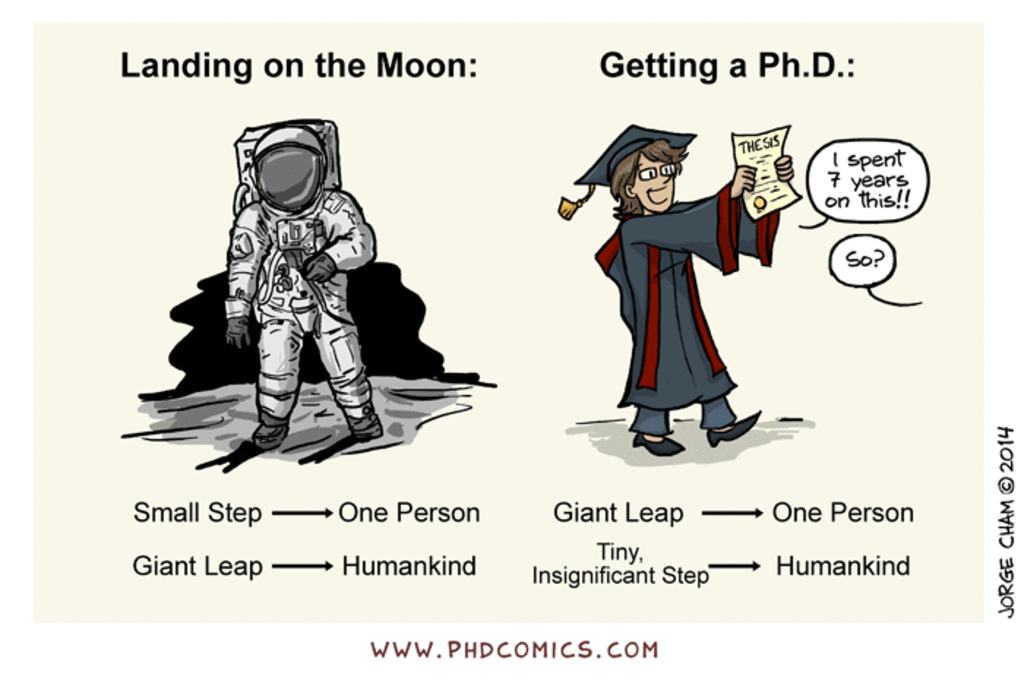 I am writing this with the perspective that hindsight is 20/20 after three years researching and writing my thesis, all the while wondering whether I had made the right decision. Three years feels like a very long time in your early twenties and I can't deny that I have struggled with a sense of 'missing out' on the relative normalcy of working and socialising in a non-academic environment. I have watched my friends move on from university, get jobs, and progress personally whilst I sit in archives or at my desk writing a seemingly endless piece of work. Don't get me wrong, I was proud of myself for winning the Studentship to do my PhD and for completing my education up until that point. Plus, I have had an extreme amount of passion for my subject and my thesis topics, but, I also have passion and pride for other things in life which I have pushed to the side in recent years.
With all of my ponderings and my ups and downs considered, the rest of this article should provide valuable insight if you are considering doing a PhD or any type of postgraduate education for that matter. There is a lot to consider when pursuing a doctorate and a bounty of confusing information already out there, so I have answered the question: Should you do a PhD? in simple 'Yes' or 'No' form. Ultimately, the answer is different for everyone and I, of course, do not know you so cannot advise on your circumstances, but these statements will help you understand what you need to consider.
So... should you do a PhD?
Yes - if you enjoy working independently. Doing a PhD involves working alone and motivating yourself to work every day with minimal time working with others or with supervision. This may be different for more hands-on subjects; for example, I have a friend who is researching archaeology and works in a communal office and lab space whereas I study English literature and was exclusively alone in an archive reading room. Even if your subject does have communal working spaces, you need to be prepared and happy working on your own project, whatever that may be, and realise how different this type of learning is to the lectures or seminars you are likely used to. If this suits you, then grad school may be for you. If it doesn't and you cannot self-motivate, you may want to reconsider.
Yes - If you are passionate about a very specific subject. To complete a PhD and submit a thesis you are proud of (that also passes scrutiny from your thesis committee), it needs to be focused on a very specific and unique subject. This is one of the biggest differences from other essays/projects you will have done in the past. It has to be narrowed down beyond your favourite subject or time period, to a detailed niche in the research market that interests you; this gives you the exciting, innovative approach necessary to pass, and assures you become the absolute expert in that one area.
Yes - if you are offered funding or a scholarship. This is more of a practical approach. Postgraduate funding and scholarships are extremely hard to come by, regardless of your background or subject of research, so if you are lucky enough to get through the interview process and be awarded funding, you may want to take the opportunity and run with it, if you think it is right for you of course.
Yes - if you want to pursue a life/career in academia or you have some idea about how a PhD may aid your chosen career. It isn't necessary to know exactly what you are going to do with your life, after all, that is a lot of pressure and some people simply know from a young age while some figure it out along the way (I am definitely in the latter category). However, it can be helpful to think about the likely direct career paths and more general transferable skills associated with your research or school and to assess whether spending three to six years in additional education is necessary for you. If it is, then you can go ahead with your doctorate with the knowledge that even when times are tough, you are doing something that will benefit your life and career in the long run and believe me, this sense of purpose can do wonders for you when you are knee deep in research and academia.
No - if a part of you has other passions/career paths to explore or you cannot see the purpose of doing the PhD. This juxtaposes the last of my 'Yes' answers. Again, this is not a strict need to know type of question but more something to consider. If, when you think about the rest of your life, you cannot find a real reason to pursue grad school or there are other avenues that appeal to you more, you may not want or need to do a PhD, and this doesn't have to be a bad thing. If it doesn't suit you now, you can always decide to pursue it in a few years if you change your mind. Delaying applying to think it over may be much better for your mental health and general performance than committing to years of study when your heart is not in it.
No - if you need or want immediate recognition or respect for your work or struggle to work independently. As I said before, a doctorate can be an incredibly isolating thing to do. With this comes the implication that you work a lot harder than you are given credit for, as nobody in the real world understands your job or role; from an outside perspective, this solitary study style is frequently seen as a lazy route whereby you are avoiding getting a 'real' job and have chosen to stay a student eternally. This adds isolation to the independent work as, speaking from experience, you can feel completely misunderstood and resentful that you are working so hard without recognition along the way. It will be worth it when you graduate with the title of Dr. before your name, but you need to be prepared for a quiet and confusing few years.
No - if you do not get funding. It is possible to do a PhD without funding. Many people do. However, if you do not get funding of any kind it should be a major part of your decision to move forward or not. Take into account the fees that your university charges, any part-time jobs you have or can get and seriously consider whether you feel able to manage your time and money well enough that your additional job/s do not hinder your studies or your mental health. If you have a plan and feel able, do it! If you don't, or are worried about this, you may need to reconsider.
No - if you're doing it to prove you can. This may sound strange, but I certainly fell foul to this when I first started my PhD. I was so shocked and proud to have got an interview for my Studentship that I did not take into consideration the doubts I had been having since I had applied. There is certainly a correlation between high-achievers and this type of path, which brings with it a sense of needing to do the highest level of education you possibly can, to prove to yourself and others that you can do it and to push yourself further. If you are thinking of doing it because you feel in some way you have to, do not do it. There may still be that satisfaction if you graduate, but it is likely you will be miserable throughout the PhD if you have not signed up for it with some degree of passion and excitement.
No - if you are looking for an extension of the incredibly sociable undergraduate student experience. Obviously how sociable you are in general will dictate how sociable and fun your experience is as a post-grad, but it is important to realise that things will be different. Personally, I was determined to continue taking part in student life, including being part of the Dance Squad at my university and even stepping up my role to choreographer to get as involved with events as possible; to some extent this gave me something fun to look forward to and social events to give me the student experience. However, it was definitely different to my undergraduate years namely because I felt much older than the other students and not to mention how much more stressed (particularly about my future) I was. There are also post-graduate societies you can join if you want to socialise more with people in the same boat as you. So, remember that you can have as much fun as you want to, but there is an ineffable difference to what you are used to and you need to be sure to make time for it and make it happen.
"I'm still confused!"
If you take anything with you after reading this article, let it be that everyone is different and you should do what is right for you. If you decide to do a PhD, you will most likely find a real passion for your subject and immense pride in your work. If you decide not to follow the PhD route, you will most likely find that passion and pride in whatever you decide to do. You should also refuse to feel ashamed if you start a PhD and decide not to finish it, or for putting off applying for a year or two. Ultimately, it is a big decision and a large amount of time to dedicate to one thing, so you need spend time thinking about whether you are curious enough about academia to put this time aside and truly take on the challenge.
I hope that some of these scenarios get you thinking about how suitable it is for you as a lifestyle and help you to be more realistic out the pros and the cons of academia and whether you should apply. I truly wish I had seen something like this when I was starting out. Either way, whatever you decide, good luck with your decision and career!
degree

Charlotte White
Hi, I'm Charlotte and I am a Ph.D Student that loves to move, dance, sing and write. I will be writing about mental health alongside my fundraising efforts for the Mind 24hr Hike Challenge in September, as well as literature, life etc.
See all posts by Charlotte White →