Navigating the High School Reunion
It'll be okay.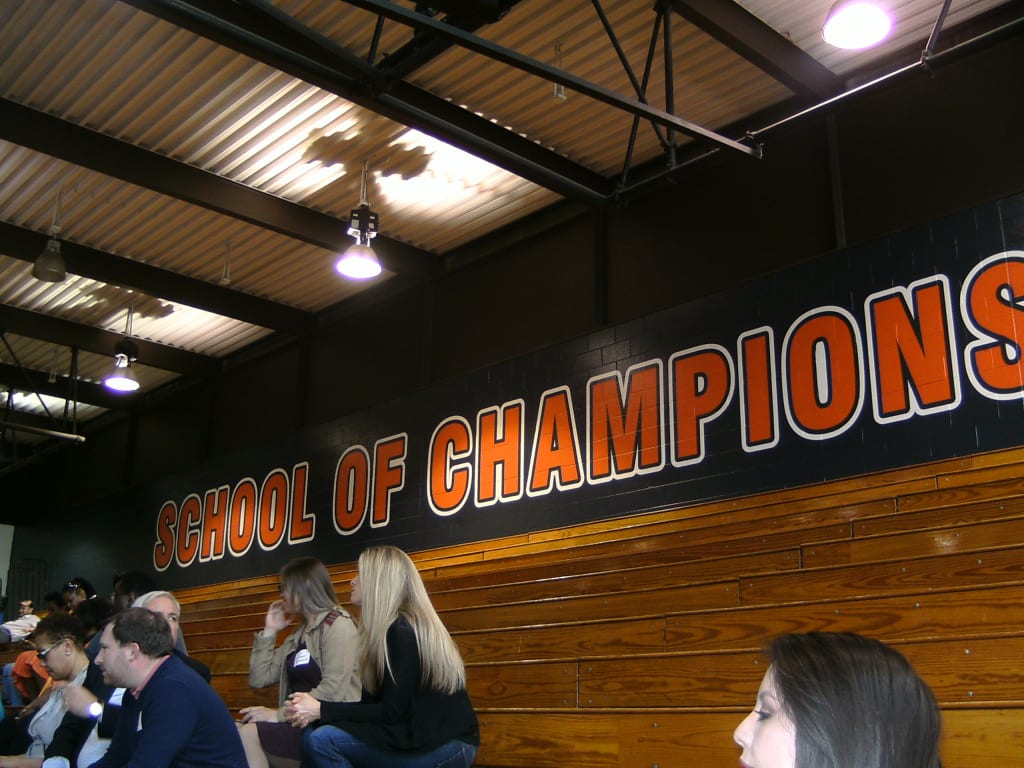 Back in the high school gym bleachers.
1. Stop worrying about your looks.
Everyone has aged unless there is a picture of Dorian Gray in a secret room in their homes. There will be plenty of wrinkles, love handles, and gray hairs on display. Dress your best and go.
2. Avoid one-upmanship and bragging.
Became CEO of a company? A high-powered attorney? Won an Academy Award? Cool, but don't keep bringing it up every five seconds. Some guy at my ten-year reunion kept going on about how well he had done in his career. It was interesting for about five minutes, then people wanted to change the subject. When the guy kept talking, people quickly eased away to mingle with others. Acknowledge your successes, but remember, one of the purposes of the reunion is to let everyone shine equally.
3. Don't renew old arguments.
Yeah, that memory of being picked on in gym class, excluded from the cool kids' clique, or embarrassed by others because of not being fashionable will resurface. However, the reunion is not the place to settle scores. Everybody should have matured, right? Even if you learn that Susan is that same witch she was back then, be cordial and keep it moving. There will be other people there who were friendly to you back in the day.
4. Tone down the sob stories.
People have gone through bumps over the years. We get it; that is life. We all want to catch up with what has been going on with each other since graduation. But it's a party. No one wants their mood brought down by hearing a long list of tragedies and setbacks. Save those for later to discuss with your closest buddies.
5. Watch the drinks.
Yes, everyone is over 21 years of age and no one has to sneak bottles in their pockets. But every party shouldn't be an excuse to overdo it on the alcohol. Consider how the event is set up. Is it formal? Is it being held at a fancy location? Have to drive home afterwards? Let those factors be a guide. Also, no one wants to be subjected to drunken confessions about unrequited love or anything else that may make everyone uncomfortable.
6. Leave the fantasies of hooking up alone.
That ex-boyfriend or ex-girlfriend or the person you had a crush on will most likely show up with a spouse on their arm. Unless they announce, "I'm still single," or "I'm divorced," don't flirt, and please don't attempt to rekindle anything.
7. Connect with others who may not have been in your circle back then.
I have become friendly with many fellow alumni who I didn't know well or didn't know at all when I was attending school. Back then, we may not have connected because we were in different grades or ran with a different group of people. No law says you have to only talk with the ones you hung around with in the hallways. Introduce yourself to others and gain new friends. Reunions are also a great opportunity to network with people.
8. Relax
Revel in the good memories and have a good time.
how to
I likes to write about many topics. In a past life, I was an unappreciated office support employee, and I was a boxing coach. I have sung in church choirs and in nightclubs. I'm speaking up and out more and using my age as an excuse.