My High School Review
My First Week as a Freshman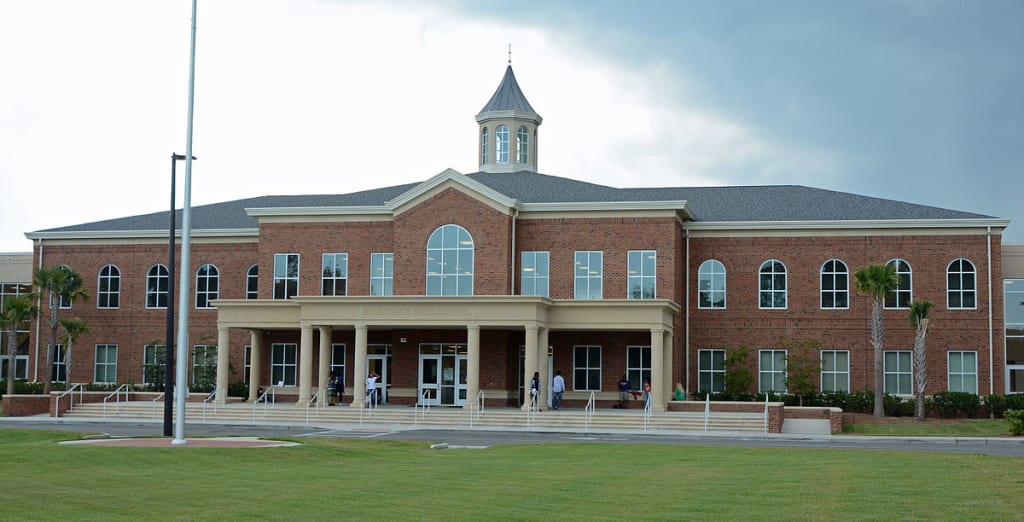 Disclaimer: The picture provided above is not my high school.
August 14, 2018. The day that a new journey began. On August 14, I embarked on a new journey as a freshman in high school. My first week has been an adventure of its own. Thankfully, I was not alone since most of my friends transferred to the same high school as me.
Before I start explaining about my first week, let me give some background information about my school (excluding the name). It is a "ghetto" school and is a low income school. There are about 1,000 students in it overall and contains a lot of clubs and sports. It also gives you AP and Honor classes. However, out of all the schools in my area, it is the "worst" due to the low funding and how bad our sports teams do in rankings.
Now back on my first week. The day before school started, on Monday, I decided to check my schedule on Infinite Campus. As expected, I was able to get all honors classes. Moreover, I also joined a sport: tennis. It was something my sister did and I decided I would do it, too.
On my first day of school, I had an alarm scheduled for 7:30. Waking up, I hastily put on my clothes I had prepared beforehand, washed my face, brushed my teeth, put on my acne medication, and went to school. I ended up getting there at around 8:10. My first class—Biology Honors—started at 8:15 since it was a minimum day. We ended up spending the 20 minutes of my first class talking about what to expect from high school and what we should do to graduate. It was to be expected and so far I was okay with my day. It wasn't too bad and my biology teacher seemed quite nice. She had a great sense of style and her aura gave you a nice feeling. My next two periods were p.e. and math. P.E. was fun considering almost all my friends were in that class and all we did was chat. The teacher, who had once taught my older sister, was old but funny and nice to talk to. On the other hand, my math teacher was horrible. Unlike all my other classes, he gave us assigned seats using equations—my mind was still not used to doing work and thinking again, but he gave us homework on the first day. Of course, it is quite normal to be given homework on the first day in high school, but as a freshman, I hated him with all my heart.
Thankfully, after his class, I was able to go on nutrition break and met up with all my friends again. To my disappointment and jealousy, their teachers were all fun so far and had no complaints. I ended up there my money to buy some snacks and soon after went on my way to my fifth period class: geography. My geography teacher can be described in one word: amazing. Since we were freshmen, he made sure to make us feel welcome and not pressured. He assured us that he would take it easy on us but still expected us to be problem solvers. He already made it to my favorite teachers list.
In 6th period, I went to my English class and met my annoying English teacher. A egotistical man who cared about himself too much and loved to talk. Emphasize on loved. The whole week, all we spent doing was hearing him talk. It was tiring and made me want to switch classes. However, throughout the week, I decided to stay in his class and challenge myself.
Finally, on my last period, I had my elective teacher. He was chill and fun. He put on music and played games. He too made it to my favorite teachers list, and I had already loved it. I knew for a fact that his class was going to be fun, especially since it was the last period of the day. After school finished, instead of going home, my best friend and I went to the bathroom stalls to change into P.E. clothes to go to tennis.
We spent two hours playing tennis and loved every minute of it... well, not exactly. The best parts were how we got to practice serving, volleys, and more with teams. The worst part? The conditioning. I hated doing the drills. They lasted for about an hour and my whole body hurt afterwards. It was pure torture.
My day ended and the rest of the week continued the same. Loved my first and second period, dreaded my third, loved my fourth, despised my fifth, and finally looked forward to my seventh. After that, my friend and I would hurry and change and go to the tennis courts. However, there was a small change compared to the first day. My best friend and I decided to stay and practice tennis for two extra hours until 7 to be able to make tryouts. Fortunately, on Friday, our coach reassured us that she would not kick out a freshman as she saw how committed we were.
Now it is Saturday and my first week of school is over. I just finished doing my biology and math homework and am anxiously looking forward for the second week of school. My favorite part of the day would probably have to be playing tennis after school. Its fun and hilarious, and it is so satisfying when you finally master a move/skill. I would rate my first week of school a 8.15/10. It wasn't two shabby and really fun but I have my English and Math teachers to thank for the deduction of points.
To all those new freshmen like me or future freshmen: don't be scared. Join a sport; it's fun. It's okay to hate some teachers for giving you homework, but just remember, this is high school, not middle school. Homework is to be expected. And, finally, just give it your best. You aren't dumb. You can do it if you try hard enough, and, of course, don't be scared to ask for help.