My Experience as a 2020 High School Graduate
And lessons that I have learned along the way.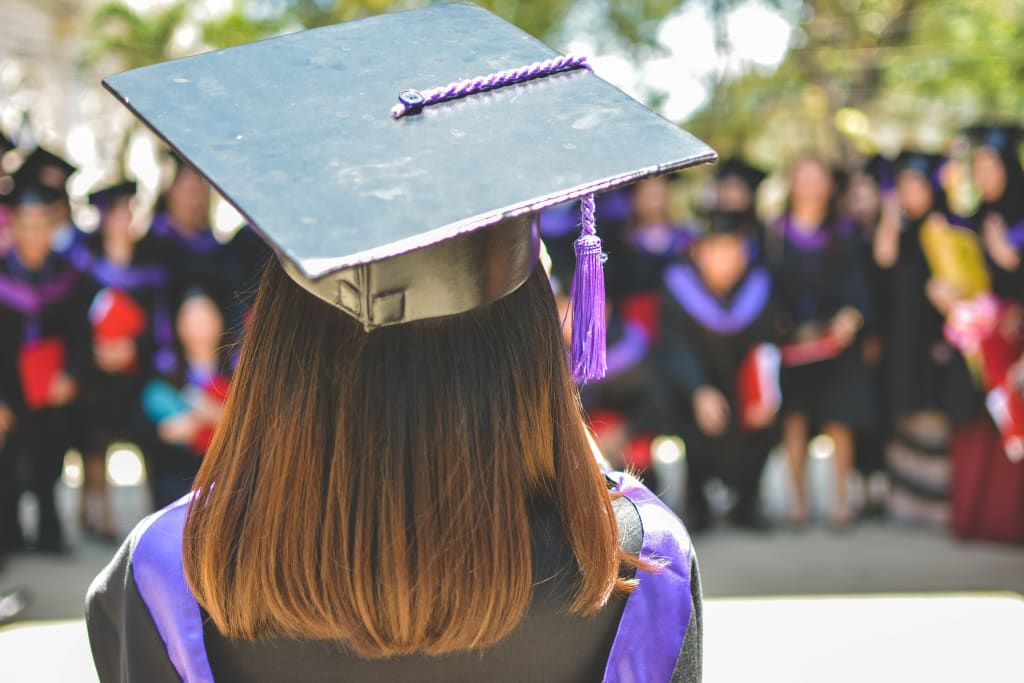 The idea that life has been turned upside down in a matter of months is an understatement. We've all lost numerous people, experiences, and events, during this time.
During the 2019-2020 school year, I was a high school senior. While many of my peers would say this with malice, I say it with pride. I have always been a student who is very involved. I was a member of my school's National Honor Society (NHS) chapter, a team captain for both the varsity girls' golf and soccer teams, and a member of our highest orchestral group. Needless to say, along with the rest of my classmates, I was robbed of many of my much anticipated senior events.
On March 13, 2020, I remember sitting in my final class of the day, staring at the clock, and counting down the minutes until the bell rang. After that, I would be home-free for the next week for spring break... or so I thought. While we were all aware of the virus, none of us were aware of the impact it would have on us in the following months. We had talked with our teachers about it for many weeks following up to spring break, but we all assumed that, if we were to stay home from school after spring break, it would only be for two weeks.
It was the talk of soccer practice that afternoon. None of us could focus on anything else. While our junior-dominated squad worried about prom being canceled, the five seniors of the team remained quiet, though we knew what was on each others' minds: senior night, the senior picnic, ringing the bell in the front lawn, graduation parties, our last day of school, graduation, etc. The list goes on and on.
During spring break, we were told that we would not be returning to school until April 15. That date was then pushed back to May 5. (The seniors' last day was to be May 13, and graduation was to be on May 17.) Spring sports were canceled around that time as well, meaning the baseball, girls' soccer, track and field, and boys' tennis seasons would never be played. Finally, we were told that our coursework would be completed online.
While I must admit that being able to sleep in every day was a great experience, I began to miss physically going to school. I missed not staring at a computer screen the entire day to complete my assignments. I missed going to soccer practices and seeing people out and about. The only time I went out in public for two months was to go to my job as a barista at Starbucks. It began to wear on me, as it did everybody else.
My school's athletic department tweeted on April 10 that they would be lighting up the baseball field and soccer field to honor the seniors who lost their seasons for twenty minutes that same day. One of my teammates and I met up in the school parking lot, hopped the fence, and sat on the field, bawling our eyes out together for the entire time it was lit.
About a month later, I was sitting in my room, typing away on my laptop for the Advanced Placement (AP) tests I had taken classes for. This would be my final act as a high school senior, as my last day of classes had been May 13.
I had my, "woe is me," moments for while after March 13, but once May had rolled around, I had only two things on my mind: graduation and college, and I wasn't looking back. And, while my school didn't give us a prom for obvious reasons, my boyfriend and I made a special night for it anyway. We fancied up, got our pictures taken, and went for a fancy dinner. After that, we spent the night camping in the backyard on an air mattress.
On July 27, 2020, our graduation was held at our local Major League Soccer (MLS) team's stadium. That way, we could still have it, but it was outdoors and the crowd and families could be spread out. I am simply grateful that we were able to have a graduation. Many schools and seniors have been unable to have that experience this year.
If you ask any 2020 graduate what they have taken away from this whole experience, you would probably get similar responses to the following: life is about the little things. You can't take anything for granted. Nothing in life is given to you.
And while most adults have learned this over the years, it was often caused by one defining moment in their lives, separately. What makes this different is that this was an almost universal finding during these past 6 months by the entirety of our generation. I would argue that our lives have thus far been book-ended by two huge events of the modern era that no generations before us had witnessed to this magnitude. We are the graduating class that was either just born, or just about to be born, when terrorists struck down the Twin Towers ('01-'02). We were raised by anxious parents, wondering what world their children -- us -- would grow up in. High security in airports is all we know. We are also the first generation to have grown up with modern technology at our fingertips since we were in diapers, and who normalized 1:1 technology in classrooms across the country.
On the other end, we stand face-to-face with a global pandemic. One of which has still yet to be controlled, at least in the United States. A vaccine has yet to be found. Schools and businesses have been shut down. Unemployment rates skyrocketed. Stimulus checks have been sent out. Not to mention the protests and riots related to recent social injustice occurrences.
However, while the unthinkable has happened, this is likely to become the "new normal." While we have seen our neighbors be torn apart, we have also seen our communities come together in the most unexpected and beautiful ways. And while it is easy to see the bad in the world, we must look for the good as well. The world is beautiful, confusing, messy, and everything in between. We must not all become cynical in a world that wants only to show darkness. We must read between the lines to truly understand the good, the bad, and everything in between, to see life for what it truly is.
This is something that no other generation can say that they have gone through. It is what our generation will be remembered for in history. So, will it define us, or are we going to define it?