Minimalist Bedrooms, VSCO Filters, and Reformation Outfits: Why do all Sorority Instagrams Look the Same?
Emma O'Regan-Reidy 2124 words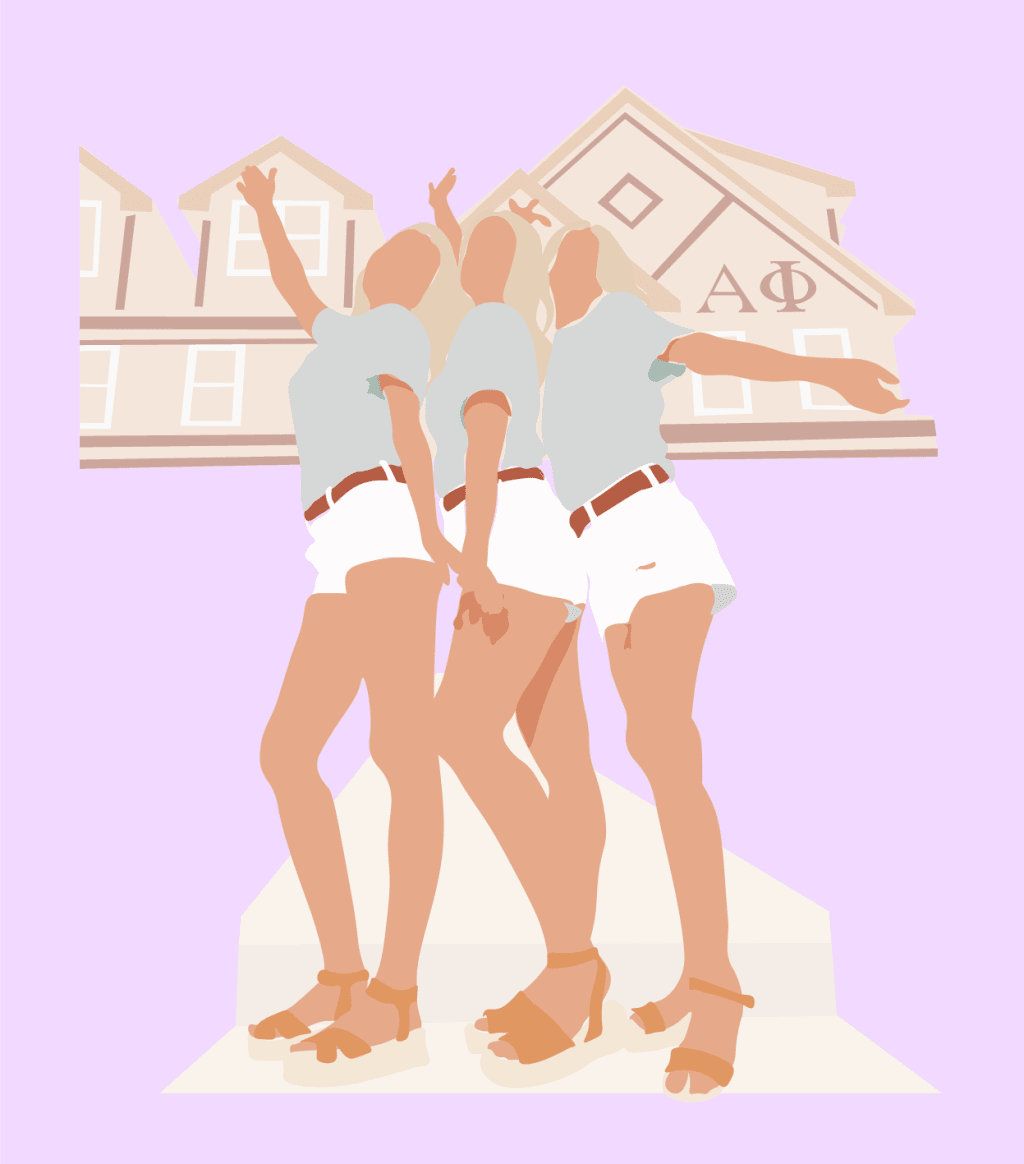 You've seen this Instagram profile before. You've probably seen the independent cafes and luminous backgrounds before too. The white marble, exposed pine and amber-hued Edison light bulbs look familiar even though you've never been there. These are interspersed with tropical holiday photos, featuring girls in Reformation or Brandy Melville mannequin outfits and Ray bans, followed by a semi-formal group shot of a red tulle sea. hash tagged #ootd selfies showcase layered gold necklaces and chunky neutral sweaters over skinny jeans, revealing their rooms which all seem to feature the same grey furniture aesthetic with pops of millennial pink and white faux fur; maybe the occasional succulent. Even though the spaces are similarly decorated, the VSCO filters layered over these images create a certain ambience of tanned skin in bleached, sunny interior and exterior spaces. If these descriptions sound familiar to you, you've probably come across a sorority member's Instagram account. Since the influx of saturated yet minimalist VSCO filters and the emergence of FaceTune have become more commonplace on Instagram, especially among these accounts, in the past few years, these aesthetics have seemingly become a template for sorority experiences on and offline. By shaping one's individual and collective sorority Instagram profile through these visuals of pastel backgrounds and sparkling smiles, these identities, like many others, have become more visible and standardized through popular photo editing and sharing apps.
University years are a kaleidoscopic, dizzying yet blissful time. There are a lot of firsts and new experiences which offer glimpses of present and future self-identity. Pressures of living away from home and balancing the plethora of decisions and tasks required of adulthood often frazzle late teens and early twenty-year olds (and arguably almost any other adult). These new anxieties could be expressed in the homogenization and aesthetics of minimalism which champion clarity and cleanliness. The act of reducing non-essential items and color-coding one's space can be seen as a natural reaction for the unsettling jolt into young adulthood that comes with college. With the weight of insurmountable student loans and a frightening climate and health crisis, practicing minimalist techniques and reading Marie Kondo could be a helpful solution. Similar to purchasing pastel-colored reusable water bottles and aluminum straws to reduce plastic bottle usage, this act of decorating and accessorizing creates a feeling of social and political agency. Consumption of products branded within particular lifestyles become emblematic of the wider collective one wants to associate themselves with. Minimalism, however, is also highly intertwined with notions of class and identity. As British anthropologist, Daniel Miller, explains "materialism, understood as a concern for increasing one's possession of goods often at the expense of a concern for other people, tend[s] to be strongly associated with poverty rather than wealth." The opposite of this being clutter. Whether it be in terms of physical objects or emotions, the accumulation of anything is viewed as a vice associated with laziness and instability; a consumer rather than a producer. In this digital landscape when it's so easy to have an idea of everyone else's productivity level, the pressure to 'live life to the fullest' is at its highest. Pansy Duncan, lecturer of Media Studies, states that "boredom is capitalist culture's other, the only emotion not on the market, the emotional economy's discard or waste-product: a kind of emotional trash." The bedrooms featured as backgrounds for this sorority #ootds or group pictures often look transplanted from a Target or Pottery Barn showroom. In order to sort out the dizzying array of emotions accompanied by college years, these easily identifiable tropes become a mode of gaining the appearance of control and productivity paradoxically through consuming. Knowing which and how many items and brands to own and showcase has become more visible through social media platforms; almost providing a template of what a college dorm room should look like. In doing so, however, they also perpetuate a singular aesthetic concealed by cultural capital and exclusivity. Through decorating individual spaces and bodies with particular commodities, these accounts create a harmonization of the sorority identity at an individual and collective level.
Coordination across social media platforms seeps into physical as well as digital spaces to create a sense of familiarity and stability in an increasingly communicating globe. Connecting to the concept of AirSpace, presented by Kyle Chayka, digital platforms are curating "a harmonization of tastes" across the world. Airspace is a way of describing the similar aesthetics of Airbnbs across the globe which champion a local, eccentric atmosphere composed of mainly IKEA furniture and decor. These similar spaces, marked by an "anesthetized aesthetic" and influenced by the "connective emotional grid of social media platforms," create an air of familiarity in unfamiliar environments. Likewise, sorority houses and dorm rooms champion this minimalist yet homey Target x Magnolia Home design framework. Airspace's "harmonization of tastes" has permeated not only material possessions and spaces, but physical features of individuals as well. In the past year with the rise of the "Instagram Face" facial enhancement procedures have become a more common aspect of beauty maintenance for the modern woman. This face—achieved through Botox and other fillers—is typically a young, poreless face with high cheekbones and full lips. As described by writer, Jia Tolentino, it "looks at you coyly but blankly, as if its owner has taken half a Klonopin and is considering asking you for a private-jet ride to Coachella." A celebrity plastic surgeon based in LA whom Tolentino interviewed for the "Instagram Face" article noted that: "ten years ago it was seen as anti-cerebral to do this[.] But now it's empowering to do something that gives you an edge [...] They come in to enhance something, rather than coming in to fix something." While appearing to celebrate individuality, this trend demonstrates how social media communication platforms actually homogenize uniqueness into a standard which becomes a repeated feature on these Instagram accounts. Football game photos dripping in golden sunset lighting, acai bowl snapshots taken with friends become environments which frame these prevalent Instagram Faces and situate them within a common narrative and impression of university experience. Journalist, Lauren O'Neill, asks in a VICE article titled "Why Every Instagram Influencer Has That Same Big Grey Sofa," "what does it mean for our physical living areas when home fashion originates in the virtual space of the internet?" This can be extended to question beauty trends as well which all stem from the same few Instagram empires, such as Kylie and Kendall Jenner. While sorority accounts don't hold the same following numbers as Kardashian-Jenners, many of these girls hold numbers often in the 1000s or 10000s. Much like the account @instarepeat, these sorority accounts follow unwritten but socially understood visual patterns which identify their bodies and lifestyles in the infinite landscape of the online. The 'harmonization' of these sorority members' tastes showcased on geometric Instagram grids offer a linking motif connecting these girls on and offline.
The often white and grey aesthetics of minimalism have translated themselves not only to the interior spaces of sororities but also their appearances and posts of themselves in exterior spaces. It's almost as if Marie Kondo organized the lighting whether the post is set in a Northeastern Ski Resort, Cancun Spring Break, or High Street independent coffee shop. Each Instagram square is a similar white, saturated and including disparate flecks through filters as if dust was caught in their iPhone camera. This particular whiteness of their surroundings, enhanced by filters, contrasts against their orangey-tanned skin and pastel boutique set outfits. If not white, the photos have a more pink tone, as if their social media audience is looking onto their lives with actual rose-filtered glasses. VSCO filters and FaceTune are tools used to smooth out these edges of the exterior—which unlike interior bedroom spaces the one posting is unable to particularly curate—and whiten these spaces. David Batchelor, in his book Chromophobia (2000) notes how color "is perceived merely as a secondary quality of experience, and thus unworthy of serious consideration." Those who use photo editing apps are able to control the amount of color—and which color—is present in their photos. This aesthetic is a visual standardization of 'life lived to the fullest;' the AirSpace of the sorority on and offline. The prevalence of these white and rosy spaces on sorority group accounts or the feeds of their members demonstrates how these specific colors—associated with minimalism, purity, and order—are valued more than others. While this could be the result of imposing order and attaching oneself to an identity in the turbulent mental space of university, it's also important to consider the politics of whiteness and its association with purity valued here.
Sororities themselves are predominantly white in race, not only aesthetics. In 2017, Princeton University collected data on their undergraduate Greek life, one of the only American universities to do so, finding that "white and higher-income students are much more likely to join fraternities and sororities." The report goes on to conclude that: "77 percent of sorority members and 73 percent of fraternity members were white, compared to only 47 percent of the student body." Comparatively, less than 5% of Princeton's Greek life members were from lower- or middle-class families, here meaning below an annual income of $0-75k. This racial predominance of whiteness perhaps is then connected to this preferred visual aesthetic of white, minimalism featured on the Instagrams of sorority members. The association between this particular aesthetic and class therefore seems inextricably linked. Fast fashion and its flammable, polyester materiality has been a burning topic recently, for instance. It's been sensationally discussed in terms of overproduction and overconsumption of cheap, unethically produced clothing which is leaving a carbon faux Prada boot step on our environment. Simply, it is associated with clutter and chaos. Stores brimming with these unethical, mass produced items, such as Forever 21 or Primark, are notoriously unorganized, loud, and messy. Notably, this is the opposite to the serene sorority photos of tilted smiles and bleached backgrounds. Even if the photo was taken in the midst of a party, this doll-like perfection is still present. Not to dismiss the negative environmental impact of these fast fashion companies, but these clothes are often associated with young buyers or the working class. These garments are affordable for lower and middle-class buyers, who are then painted as total consumers and non-producers due to their purchasing of these easily replaceable garments. The association of the working class with clutter and the more affluent with streamlined order and airy designs—compare Walmart and Target, for instance—locates the repeating aesthetics of sororities in this upper-middle class strata, reflective of the Princeton statistics.
Minimalism and its connection to visualizations of identity could also be the result of a plethora of more nondescript factors. University is a time of immense change and the reduction of physical or mental objects (or obstacles) can make the experience and transition a bit more fluid. Associating with trends and similar aesthetics, especially in your late teens and early twenties, is community building and can create a sense of solace for those leaving home for the first time and attempting to find their own footing and place in expanded social circles. These dynamics and uncertainties can be difficult to navigate, which is perhaps how this visual aesthetic emerges, as a label, or community, to help define one's constantly shifting idea of self. Repetitions among Instagram accounts aren't present only in sorority accounts, but also art school student accounts and the multitude of other stereotypical college groups and identities. By investigating these photo editing and sharing apps and the prominent visual trends attached to them, one can better locate these descriptors of sororities in the context of contemporary socioeconomic circumstances. Stability and community is achieved through these color-coordinated outfits and posts in the midst of escalating financial and climate anxieties. This frictionless aesthetic curates a cohesive, comfortable identity, which creates lifelong friendships and a sense of social stability in one's first home away from home. Although these tendencies are bonding for some, it's important to look at who's left out as well. By having a closer look at bleached VSCO filters, floral Reformation outfits, and a preference for minimalism perhaps we can better understand nuances of inequality on the basis of color in the States. These predominantly white and relatively affluent sorority institutions across the country perpetuate these particular pastel trends, saturating college campuses and suiting some while excluding others. Minimalism creates comfort and community, but it can also erase and conceal underlying anxieties fueled by capitalism's monetization of work, leisure, and self through the internet. Repetitions on social media platforms, and elsewhere in life, gain traction because they provide meaning or identity. While from an outside perspective it may seem unoriginal, existing within this cycle creates a university community on and offline.