How to Stop Being Lazy When It Comes To Studying
A Student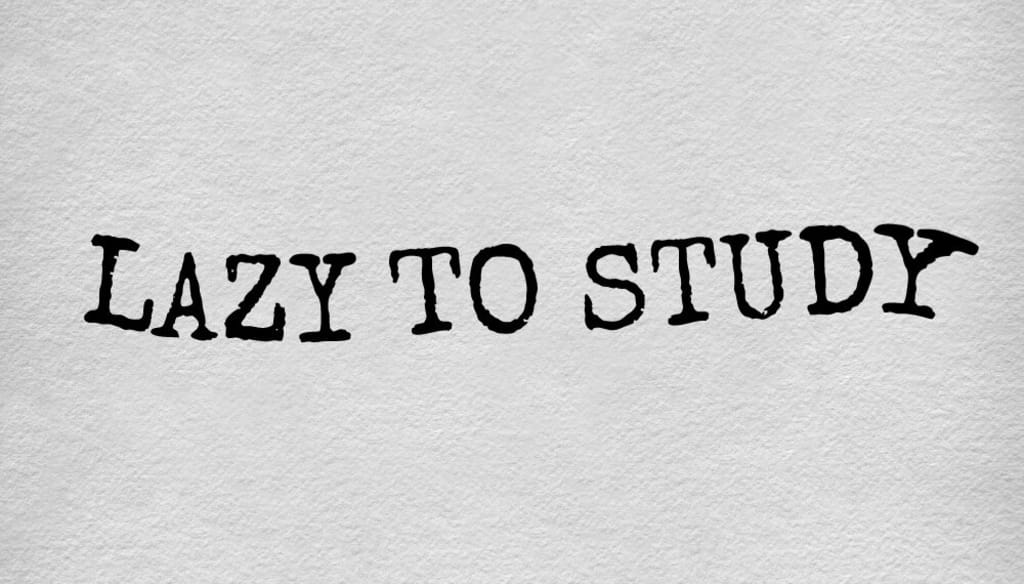 Laziness leads to the practice of purchasing time, energy, and thoughts, among other things. Furthermore, laziness poses a significant risk to one's career because lazy people postpone on everything, including work. Here are some suggestions for overcoming lethargy while studying.
Studying is the process of becoming aware of something that one previously did not know. Without it, we shall be unaware of the world's contents. Studying here has a variety of connotations. There is no one-size-fits-all approach to studying. We can learn from a variety of places, at any time and with whom we want. So there's no excuse for not studying. Isn't everything in life a lesson? We also need to be able to analyze it in order to understand the true meaning of life.Writing in this manner is akin to studying, lol.
Studying is a requirement for a student. Despite the fact that it is required, many students are unwilling to study. As a result, the workload increases, and the instructor is the one who suffers from the sap. Yes, despite the fact that we are the only ones who refuse to learn. Exams are the only time to study.
LACK OF KNOWLEDGE is a very catastrophic effect of a lack of desire to study. Why is it the case? Yes, we have no idea what is going on in the world until we study it. Learning can take numerous forms, such as reading a book. This includes academics. Because reading provides us with fresh information and allows us to discover new things that we were previously unaware of; hence, we know.
So, how can you beat laziness? Here are some study tips that I use when I am too lazy to study.
Here are some pointers:
1) Establish a study schedule
Make a study timetable and make the most of your time. For example, your schedule after school is to study. So, before you start studying, you must be able to manage your time and do things that are important to you right away. Changing school uniforms, eating, and other activities Remember! Don't just sit back and play games on your phone. It can make you lazy!
2) Reduce the amount of time you spend on your mobile phone.
This is something that many today's youngsters, including me, experience. When you're studying, don't dabble with your phone. Playing on mobile phones might interfere with our concentration as well as produce a sense of idleness.As a result, it is not advisable to use a cell phone when studying. Except if the phone is required, in which case you may use it as needed.
3) Don't be a procrastinator.
Procrastination leads to a great deal of effort (piling up). When given a chore, today's teenagers always put it off.
"Later" is a bad thought; if you have time, do it right away, even if the deadline for submitting assignments is still a long way off.
4) Make a To-Be-Achieved-Attention-To-Be-Achieved-At
You can implement these suggestions by putting down your goals. This aim, I believe, is useful for reawakening a sense of zest for studying when laziness sets in.You can also write it down on a little piece of paper and hang it on the wall of your room to remind yourself of your goals. As a result, you might be enthusiastic about learning in order to reach your desired outcomes.
5) Remember Your Parents' Hard Work
Parents must put forth a lot of effort in order for their children to succeed. Consider how hard your parents are working right now to accommodate your needs. The need for schools, as well as other requirements of existence. But how do you react to them? Is it OK to be sluggish while studying while your parents work tirelessly to send you to school?It doesn't feel fair, doesn't it? Parents expect their children to be successful. Therefore, get rid of your laziness and make your parents proud because of your high enthusiasm for studying. What parent wouldn't be proud to see their child succeed in life?
6) Always Pray To God
Pray to God, ask for help to be kept away from feeling lazy. So that we can be diligent, enthusiastic, and earnest in learning. So that what we learn is useful and the knowledge is useful for our future.
The tips above are the way I usually do. Hopefully helpful for all of you. Don't forget to get used to it!
So, what do you think?