How to Raise a Healthy Child
About health
Raising your child in a healthy way is important to increase the chances that he or she will have good health as an adult. However, it can be difficult to know where to start. There are many things you can do to protect your child's health, from helping her to learn good eating habits, to protecting her from environmental risks, to nurturing your child's emotional well-being.
Introducing Healthy Eating Habits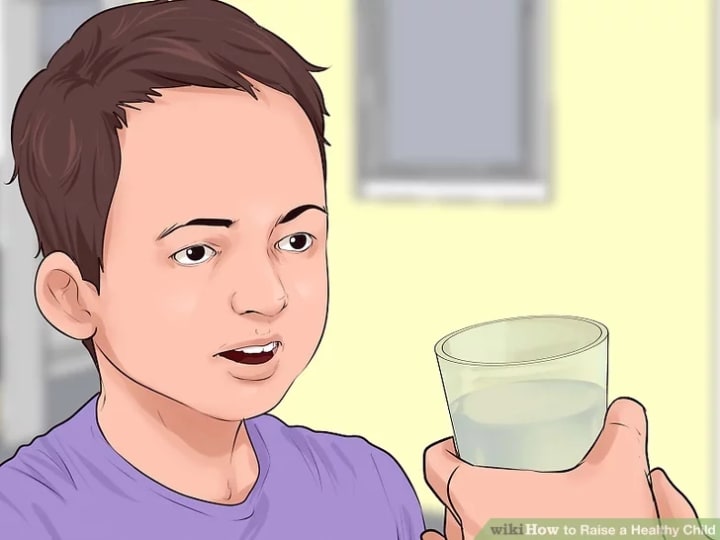 Encourage your child to drink lots of water
Kids dehydrate more quickly than adults, so it is important to make hydration a priority. By the time a child tells you they are thirsty, they have already begun to dehydrate, so you should make water readily available throughout the day and offer your child water often.
Young children, over age one, should drink about four glasses (32 oz.) of water a day, while older children should drink about eight glasses of water per day.
You can check if your child is dehydrated by their bathroom habits. If they urinate frequently and their pee is light yellow, then they are not dehydrated.
Other signs of dehydration include dry mouth, thirst, not having wet diapers for four to six hours (for babies), constipation, dizziness, fussiness or sleepiness (in children), and a sunken soft spot on the top of a baby's head.
It is also possible (but rare) for a child to get over-hydrated. Symptoms of overhydration include confusion, seizures, coma, or excess fluid accumulating in the lungs and lower legs.[3] Overhydration usually only occurs with certain medical problems or rarely when giving babies or young children dilute formula or too much water when they are ill.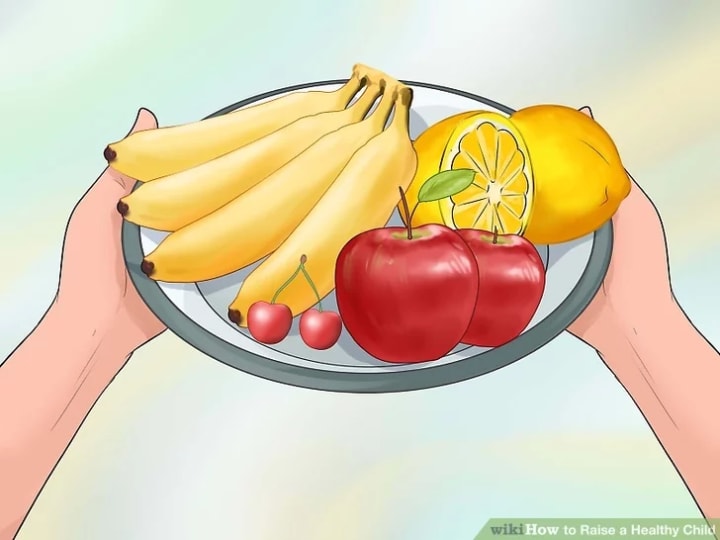 Instill healthy habits early on
Even when you have a baby, if the child is not introduced to sweets, candy, cookies, soda, and the like, they will not have cravings for these foods. Therefore, they won't need these types of treats as they grow older and this will lead to greater overall health.
Rather than giving cookies or other sweets as a snack, give your child a small serving of fruit (grapes, bananas, strawberries). These have sugar that they want, but not the overly processed kind.
Simply don't buy processed sweets and fatty foods. If you don't keep them in your house, it will be easier to keep them away from your children.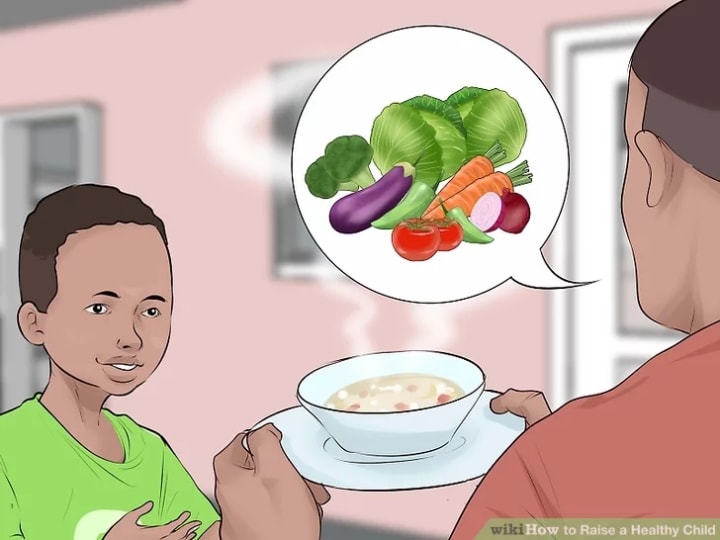 Introduce fruits and vegetables
Have a different vegetable every night. Make it fun! Maybe one night could be an Asian-themed dinner, and you could have an Asian chicken salad, or maybe an Irish dinner, and you could have potatoes.
The key here is variety. There are many kinds of fruits and vegetables. Give your child a taste of different things so that they will be exposed to these flavors and grow accustomed to them early on.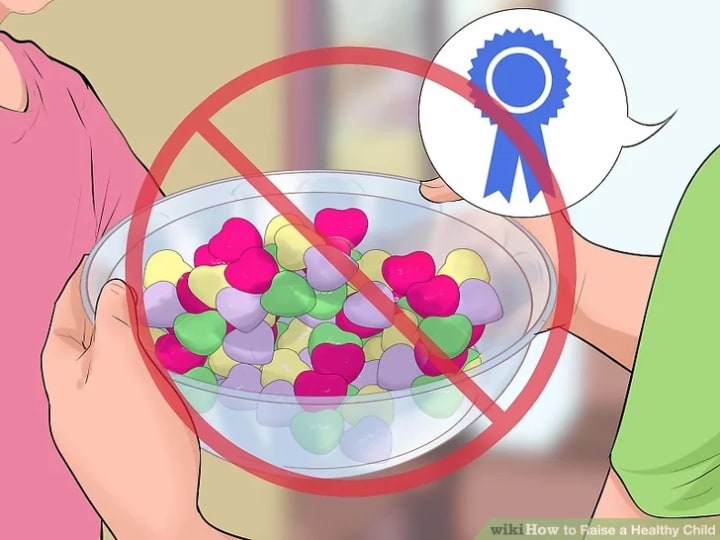 Do not reward children with sweets
If your child shows good behavior do not give them sweets. That just teaches the child that good behavior is only worth it because of the sweets. Reward them with something educational, intellectual, or just a simple hug. This will help instill in them an appreciation for treats, rather than an entitled attitude.
Try rewarding your child with quality time or fun activities so that they don't learn to become reliant on food for satisfaction or to feel good about themselves.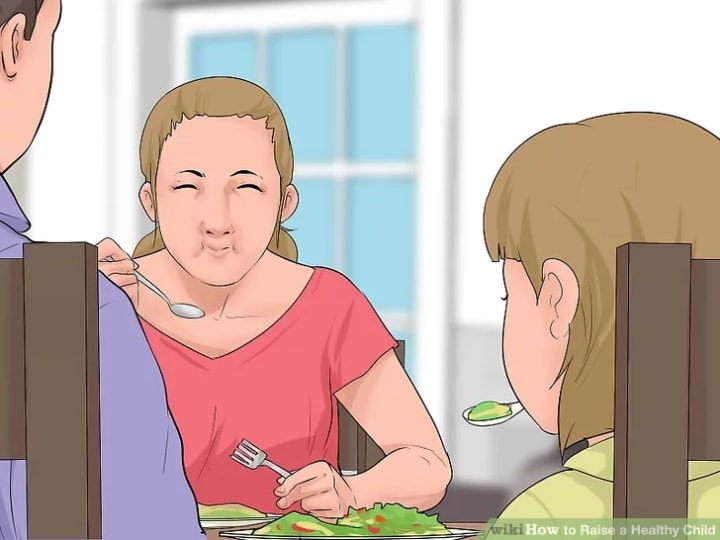 Eat meals as a family
Studies show that eating more meals at home often leads to healthier eating choices. In addition to the quality time with your loved ones, eating at home allows you to control your child's portion size, to introduce new foods, and lessens the likelihood that your child will turn into a picky eater from being able to choose off the menu at most meals.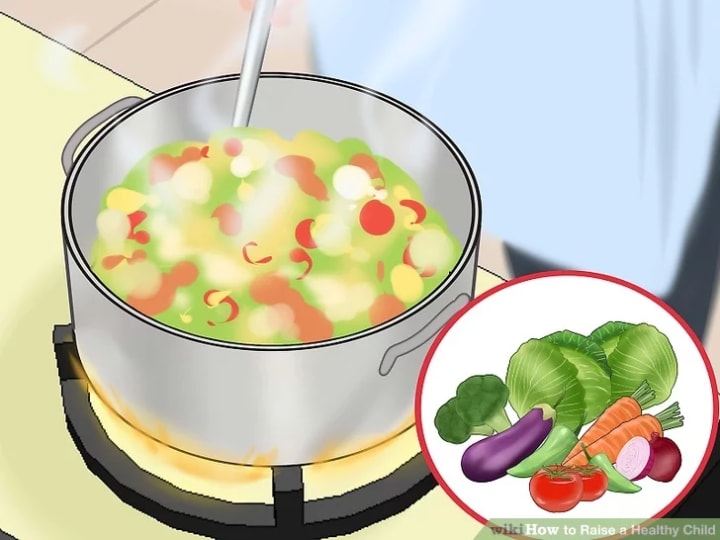 Make meals from scratch when possible
Creating a meal from scratch means that you control every ingredient that goes into your child's body. You can choose to make substitutions for healthier ingredients or to change up a recipe to account for your family's taste preferences.
You can choose to substitute coconut oil for butter if you make a meal from scratch. Substitutions at restaurants or in pre-made meals are less easy.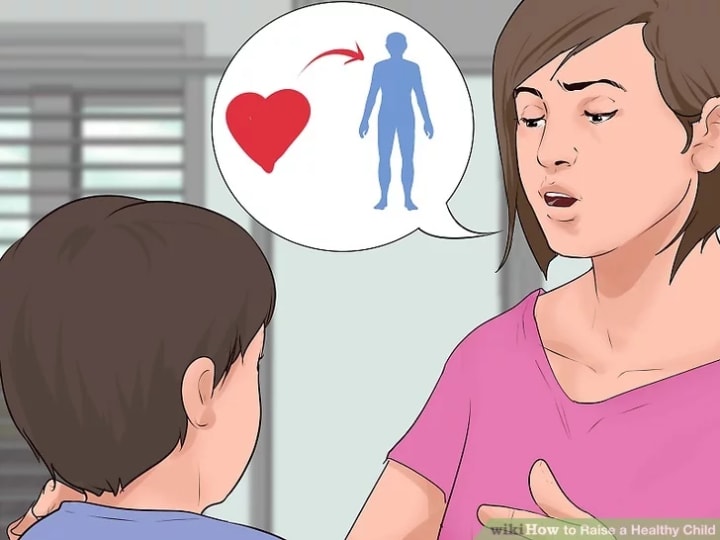 Reinforce a healthy self-image for your child
No matter what kind of eating your family does, it is important to raise your child with a good self-image. Tell your child they are beautiful and talk about loving your own body in front of your child. You should also focus on the health benefits of eating certain foods rather than whether or not certain foods will make you gain weight or lose weight.
Do not excessively talk about needing to go on a diet or how much you dislike aspects of your body in front of your child.
Maintaining an Active Lifestyle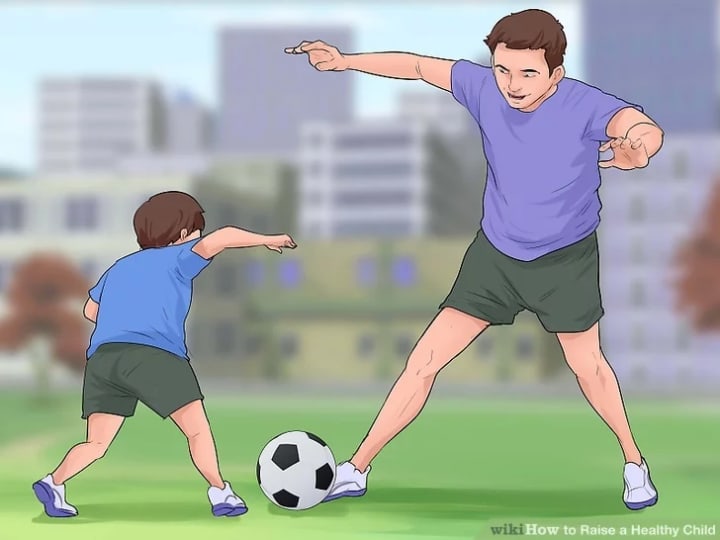 Exercise
Play sports and games with your kids. At early ages sign them up for soccer, dance, volleyball, baseball, softball, football, basketball, gymnastics, tennis, golf, or any other extra-curricular activities. Keeping fit can be fun, and playing sports teaches not only athletic skills, but helps socially, and builds sharing and team work skills.
Children should have about one hour of active time each day.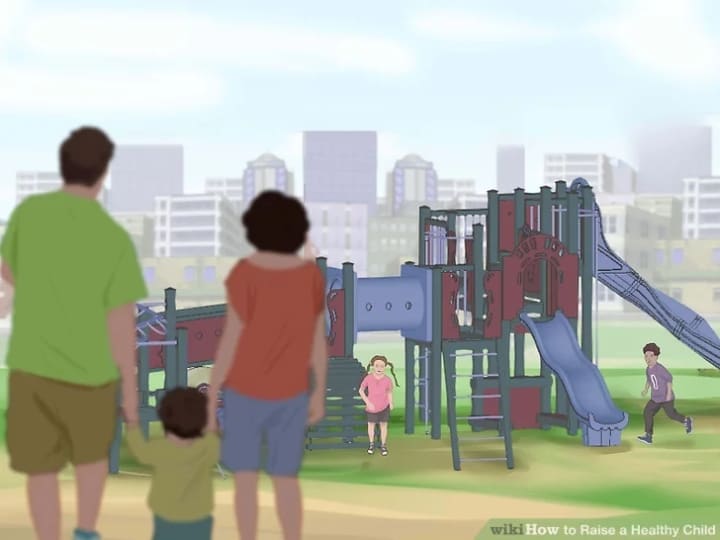 Go on active family outings
Spend time with your kids while being active. Go for a walk. Take them to the water park. Take them to a regular park. Play hopscotch. Jump rope. Do things with your kids that involve more than just sitting on the couch. It will be good for both of you!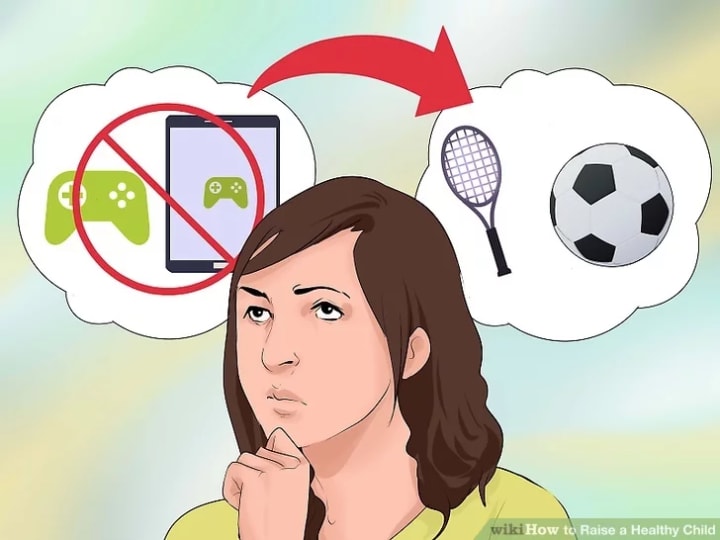 Replace screen time with active time
Spending too much time in front of the TV or computer is not good for children. It doesn't promote as much brain development as active playing and it is not good for their eyes. Plus, any time spent in front of an electronic device is time that could have been spent playing and expending energy.
Try to think of fun, active things for your children to do instead of watching TV or playing video games. You should also limit the amount of time your child is allowed to spend on these devices to two hours per day.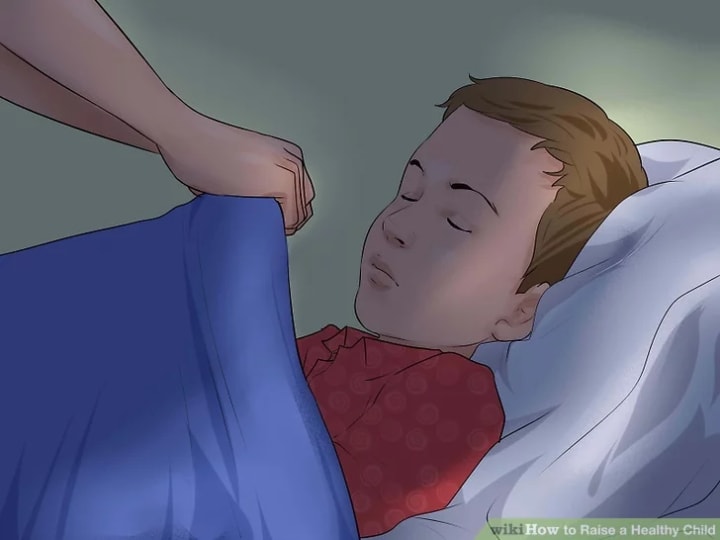 Get plenty of rest
Children need a lot more sleep than adults do because they are actively growing and developing, both physically and mentally. A well-rested child has more energy to be active during waking hours, so make sure your child is getting enough sleep. The average toddler needs between 12 and 14 hours of sleep per day (including naps), while kids ages five to 12 usually need around 10 hours of sleep per day.
About the Creator
A writer practicing in both prose and script. With a deep passion for film and screenwriting, I use this platform to publish all unique ideas and topics which I feel compelled to write about! True crime, sport, cinema history or so on.
Reader insights
Outstanding
Excellent work. Looking forward to reading more!
Add your insights