How to Make a Successful Career as a Pool Subcontractor in the Pool Industry
How to Make a Successful Career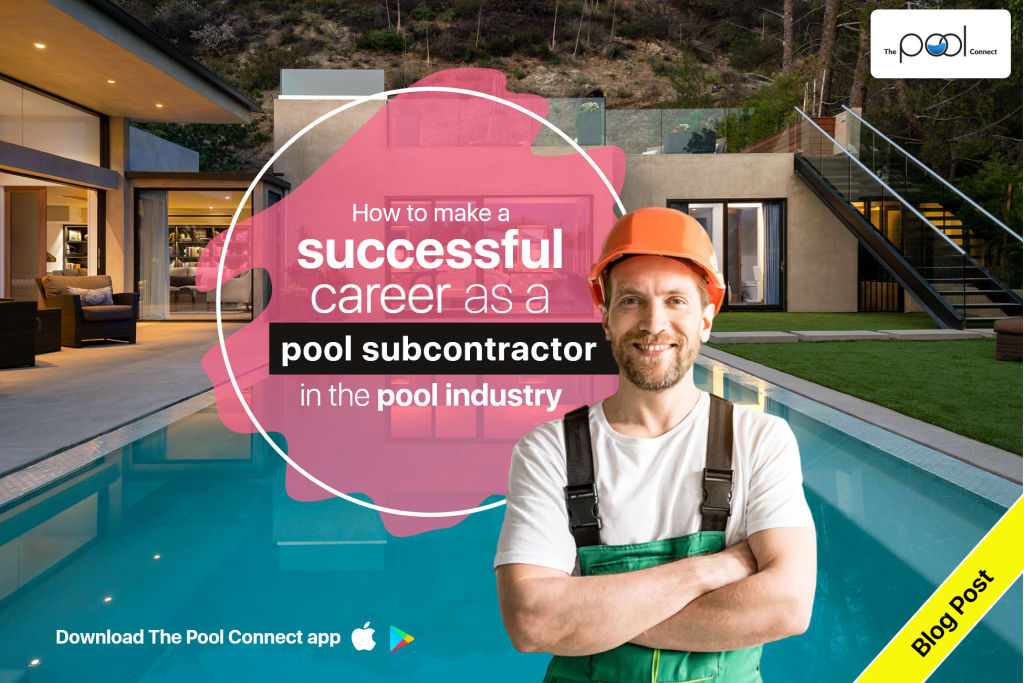 If you're looking to make it big as a subcontractor in the pool industry, getting success may require a few years of hard work. However, there are things other than hard work that will also define your success in this booming sector. With them, you'll get an edge on your competition and be able to score more gigs as time goes on. Before diving into the factors you need to focus on, let's discuss the benefits of working in the pool maintenance industry for a quick boost in motivation.
Benefits of Working in the Pool Industry
Availability of Jobs
The availability of jobs in the pool industry has gotten a boost due to the COVID-19 pandemic. Since people have started working from home more often, they have also started to use their pools more which means they need more maintenance.
On-the-Job Training
Working in the pool industry does not require you to have a strong background in how pools work. Pool maintenance is something you will learn on the job, which makes it much easier to make a career switch into it than most other industries.
Upward Mobility
Upward mobility has great potential for you as a pool subcontractor. If you're ambitious enough, you can learn the work while working under a contractor and soon end up opening your own pool contractor firm. The skill-based nature of the work makes it easy to learn fast.
Innovative Industry
The pool industry is extremely innovative and has several innovations that will make your work easier in the long run. Today, pools can be constructed in places that weren't possible before, and with the added advantage of high-performance machinery, you can get it done faster than before.
How to Succeed as a Subcontractor in the Pool Industry?
Apart from simply being willing to work hard, here are some skills and factors that will affect your career and growth in the pool industry. Use them, and you may even have your own contracting firm sooner than later.
Trade Skills
If you have worked in any other trade prior to joining the pool industry, it is likely that your skills will translate well here. Skills such as plumbing, electrical fixing, and masonry can help you get a head start ahead of your peers since these skills are what is needed as a pool subcontractor.
General Pool Maintenance Knowledge
Apart from having trade skills, having general knowledge of pool maintenance can help you do your job right. You may want to read up on the basics of water chemistry and how to maintain water quality as this will prevent any errors that may require rework.
Good Communication
Good communication is something that helps bring success in almost every career out there. You cannot expect to get more gigs if you don't use the right words to connect with your pool contractor. If you make a good enough impression on clients, they are likely to request your company to send you for maintenance in the future as well.
Problem Solving Ability
While you may not require the same level of problem-solving ability as a computer engineer, you would need to use it for troubleshooting basic problems in pools. If as an individual you enjoy solving problems or finding better solutions to already solved problems, this job is likely for you.
Interest in Updating Skills and Knowledge
While working in the pool industry, you will often have to upskill yourself to work with new and improved technology or machinery. Doing so will help you stay ahead of the curve and prevent your skills from becoming obsolete.
Taking Pride in Your Work
Taking pride in your work will also go a long way in showing your passion for your work. It will show your contractor that you want to succeed in this career and your clients will also prefer your services over your competition's.
Final Thoughts
Relying on hard work alone is not enough to excel in the pool industry. If you have been working on your skills and are looking for more gigs, you can use The Pool Connect App as it can help you easily find subcontractor jobs in the US.
Reader insights
Be the first to share your insights about this piece.
Add your insights