How Much Time Does it Take to Build a Pool?
Build a Pool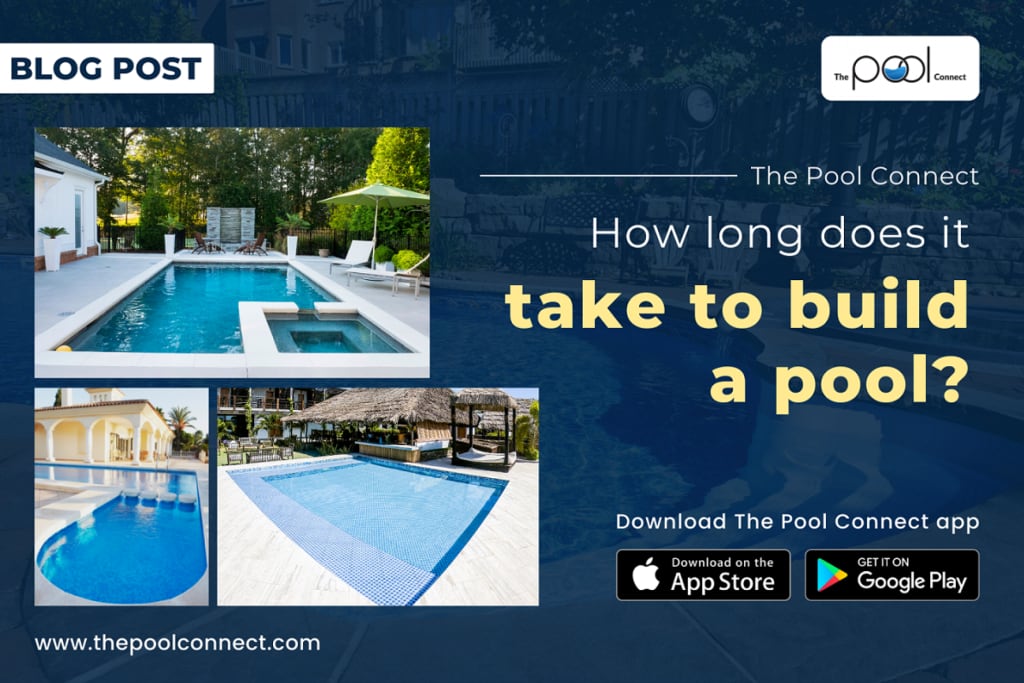 It can be thrilling to have a pool in your home. We're sure you can imagine yourself swimming, floating, and enjoying yourself in your pool on the weekends or after a long day at work. As tempting and fun as it may sound, building a pool isn't a piece of cake.
Before you can enjoy the perks of having your swimming pool, you'll need to find the best pool contractors to help you throughout the process. If you're wondering, "how long does it take to build a pool?" Wonder no more. We're here to answer your question thoroughly.
Let's get started!
Pool Design & Permits: 2-8 Weeks
First, you must decide your pool's shape, size, and overall design. They're all crucial steps and deciding factors for how long it'll take to build your pool.
When it comes to pool designs, the sky is your limit. We recommend going through various pool designs to get inspiration for your own.
Once you know what you want, pool contractors come into play. The swimming pool contractors can help you visualize the complete look by providing a 3D representation of your pool. This will help you make more changes and finalize the design.
Another important step is to apply for permits. Your local authorities will decide the time it'll take to get the permits, and you can legally start building the pool soon after you get them.
While some municipalities provide approval quickly, others require various approvals and can take months before they give the permission.
Thus, it takes 2 weeks to 2 months to get done with these processes.
Layout & Excavation: 1-2 Weeks
Next, the custom pool builders will start the process by outlining the pool's shape and placement in your home. Builders usually use form boards or wooden stakes to outline the shape.
This step will help you visualize your pool's overall look and feel.
Then comes excavation. Excavation involves using heavy machines to remove dirt from where the pool will be built.
This process can be impacted by various factors like natural obstructions, accessibility of the yard, soil and weather conditions, and others. Layout and excavation usually take 1-2 weeks.
While these obstacles can be time-consuming, professionals are always prepared and ready with ways to tackle these situations.
Frame Installation & Plumbing: 2 Weeks
The custom pool builders will give your swimming pool a structure by installing a steel frame. The pool's exact shape will get formed in this process. Installation of the frame takes about 1-3 days.
Once done, plumbing and piping will take place. This part of the process is critical, and your builder will have to go through with plumbing with utmost accuracy.
If not done correctly, unwanted repairs can occur in the future. It takes one week to get done with plumbing.
Then, we move on to hooking up electrical connections for fountains, lights, heaters, and pumps. This step takes another 1-2 days.
Floor, Walls, & Creative Touches: 4-6 Weeks
This step also varies in time depending upon the materials used by you. Moreover, weather conditions also play a vital role in calculating the time taken to install walls and floors. This process takes about 1-3 weeks on average.
Then, it's time for you to give your pool some final touches. You'll want to add tiles, decorative linings like brick or marble, and coping to your pool. This may take another 1-3 days.
Then, you'll be adding the deck, landscaping, and lighting up the space, which can take about 2-3 weeks.
Lastly, before you can start enjoying your pool, you'll also have to dedicate another 1-2 weeks to fill it with water, install a heater, filter, and pump, and add necessary chemicals.
Wrapping Up
Several variables are involved in the pool building process, but you'll be good to go with the right team of professionals. On average, your pool will take 10-12 weeks to get ready. If it feels like a very long time, the years of enjoyment you're going to have will make it worth the wait.
At The Pool Connect App, we offer personalized service to our customers, ensuring that the process is straightforward and stress-free for you. You can count on our team to turn your dreams into reality. So, what are you waiting for? Contact us right away!
Reader insights
Be the first to share your insights about this piece.
Add your insights