Home schooling is a lot better than public education.
It really is... specially when the public schools make people feel depressed.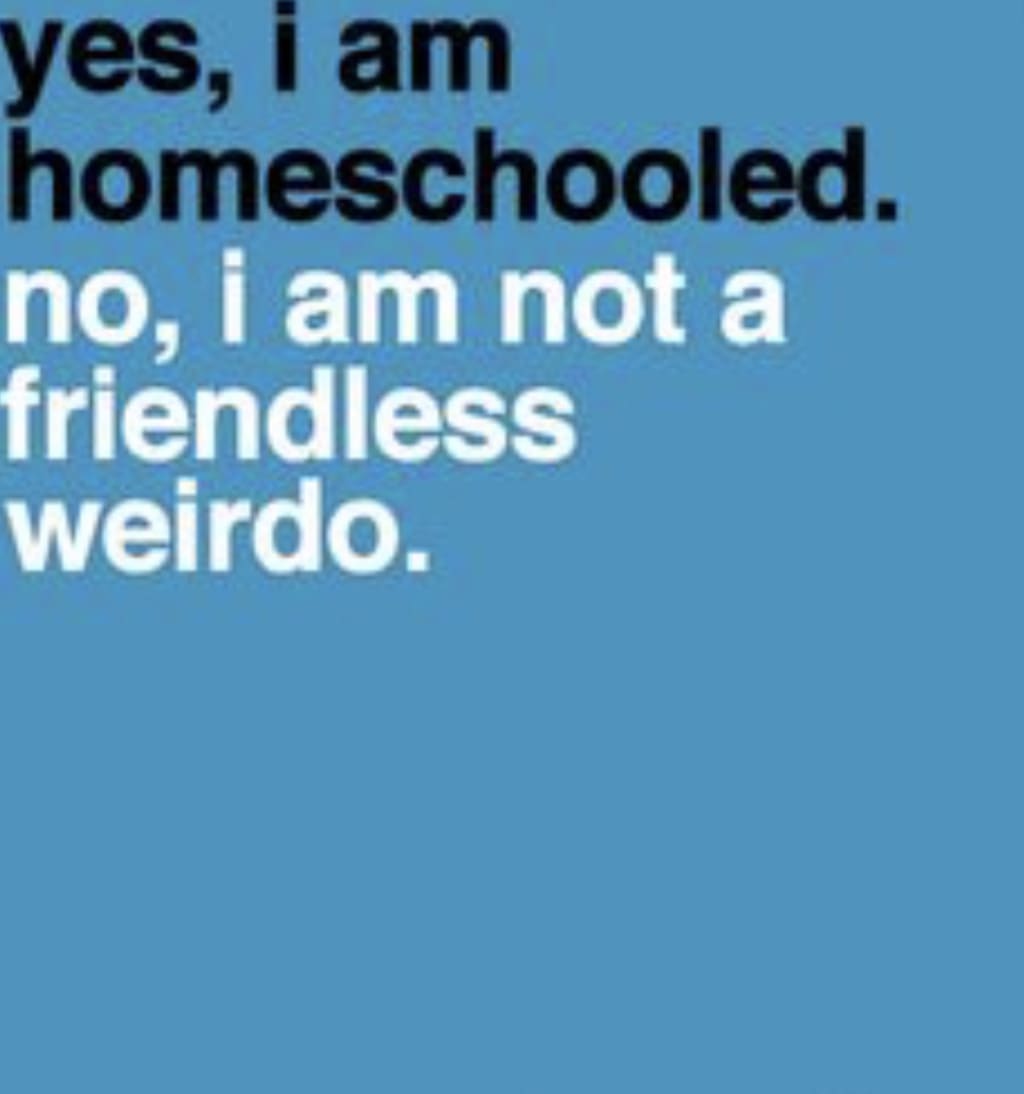 you may be wondering, "why are you homeschooled?"
Well it's a long story. Let me start from the beginning. I moved to a small town in upstate New York, I should also mention I'm Latina, the population in upstate consists of mostly white people. Now don't get me wrong, I love white people. I have nothing against them and I don't think all of them are racist. But the majority of the people in upstate are white and racist. Obviously you'll find a few people that aren't. I should also mention that I had moved from Virginia, which had a lot of Hispanic people in my area. I wasn't used to being around white people as much. Anyway, middle school was definitely troublesome but fun. I made a lot of friends. When I mean a lot, I mean as in I threw my 13th birthday party in my parent's basement and invited 40 kids. You see, I had a lot of 'friends' back then. But as time passed by we found different groups of friends and became distant. I had a few problems with a few teachers and students. I pushed through and ended up finishing middle school.
Skipping to freshman year of high school. It was alright. I had my first boyfriend, mind you he was a junior. All I can say is that it didn't work out, he was a very crappy person, in a crappy school, with crappy friends, and with a crappy personality. I felt like I was constantly getting involved and dragged into absolutely pointless drama. It was hard to fit it from time to time. I joined the volleyball team because it was my passion. Bad decision, the girls on the team were ruthless and had the worst personalities ever. I felt hopeless, sad, mad, you name it. Although I had the few friends I made.. the number started decreasing and decreasing. Why? Well everyone always gets backstabbed for no apparent reason. No matter how good of a person you are there will always be people that will use you and manipulate you. Some people are just full of crap. In freshman year, a kid brought a gun to school. Fun right? No! Absolutely not! It all came down to everyone becoming paranoid. Parents, teachers, and students alike. My school was always having problems, the school almost burned down 3 times, a Spanish teacher was fired for sending her nudes around, and we constantly had new principles. Funny thing is that half of the time they punished the kids for vaping in the bathroom but didn't even expel the kid that brought the gun to school. It was an endless cycle of crap. I knew that if I stayed in that school I'd slowly but surely go mad, like every other teacher and student in that school.
So one day in the summer of 2019, I asked my mom if she would like me to be homeschooled. We both came to an agreement. And so my homeschooling journey began. It's easy, it's less stressful, it's calming. I say calming because I feel at ease knowing I'm in my own home, in my room, and in my own space. Being homeschooled is the future. Technology will take over completely and someday schools will shut down, leaving everyone to be homeschooled. At least, that's a theory that's going around I guess. I still keep in touch with my 3 trustworthy friends, and I still get to go out with them. My schedule has become extremely flexible, it feels amazing. It's like earning your freedom back. I don't have to wake up a certain time, as long as I get my work done. I can go on ahead with my courses if I finish an assignment. The teachers are super supportive and truly seem like they care about your success. You can travel and bring your work with you wherever, as long as it's in a computer. People ask me, "do your parents home school you?" No, they don't. There are many programs and online schools that offer education. You just do all your work in the computer. I feel like this topic isn't brought up enough. Even in college they offer online classes. I definitely encourage people to be home schooled, you'll feel less crappy, and more like yourself after a while. It's a process of finding peace and feeling safe. For me public school damaged my mental health, but I finally regained all my energy back and I'm back to how I was before all the drama and scary situations. Home schooling is way better than public schools, this is definitely an unpopular opinion.