Graduating in Lockdown
How will the class of 2020 celebrate this milestone?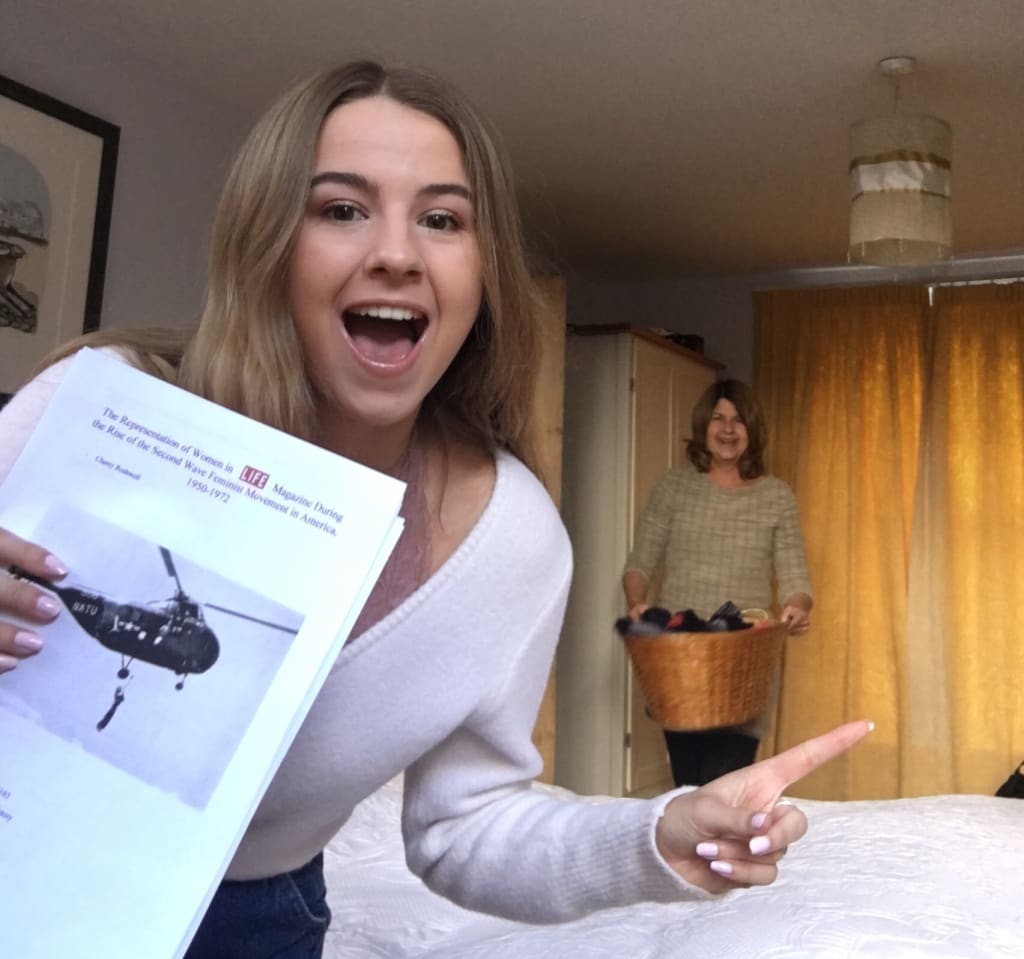 Finishing my dissertation at my family home rather than in the university library
What comes to mind when you think of 'graduation'? The event is something that seems to end every coming-of-age movie and can certainly feature as a symbolic moment of new beginnings in practically any other genre. Perhaps when you hear the word 'graduation', you think of your own memories - walking across the stage, your parents clapping proudly in the audience, the weight of the gown and the sweat on your forehead, partly from the nerves, partly from that infamous graduation cap. Maybe you drank so much with your friends that you struggle to remember the day in its entirety. Or perhaps these are all the moments you are looking forward to. Working hard on assignments and exams, all with the image of yourself collecting your hard earned diploma on a stage, along with all your peers and friends - the prospect of graduation day is a beam of hope, a source of motivation and a milestone every student works towards throughout their academic career.
However for the class of 2020, this day will be much different. We will not get to cross that stage as our parents beam with pride. Will we not get pictures taken that would forever have held a place on the mantelpiece of our family homes. We will not get to dance, drink and laugh with the people we have spent our precious few university years with. We won't get to say our grateful goodbyes to the tutors who supported us when we were feeling the pressure of our workloads. So many final moments of closure will be missed. The moment our names are called and we collect our diploma's to the sound of an applause; this moment of nerves, excitement and pride, will be replaced by receiving a letter in the post.
When I received the email to say our graduation had been cancelled, it was heart wrenching. I was devastated, and from the immediate inundation of texts from friends I knew I was not alone. We could not quite believe this moment which seems so symbolic and monumental in the life of every student would not become a reality for us, even though we had done everything right. We had worked hard, submitted our essays, sat our exams. We skipped nights out to ensure we made our 9AM lectures (or occasionally enjoyed the night out anyway and attended our lecture's feeling regretful and hungover). Regardless, we lived out our lives at university, usually poor and always stressed - but with the reassuring prospect of graduation day always in the back of our minds.
Our day of celebrating will be replaced by FaceTimes and zoom calls, and if we're lucky, some celebratory champagne with our families in our homes. Maybe one day, if our universities are kind enough, we will get our graduation day, and we will get the chance to have all those moments of closure and celebration. If that day does eventually come, sadly it will just not be the same. There is something special about the idea of handing in our final work and then a month later collecting the fruits of our labour in the form of a certificate. And then, packing up our student homes, leaving the city behind for one last time with all the closure you could ask for. Whilst I am eagerly wishing graduation will be postponed until another date, some of the magic will be gone. We will celebrate - but return to an unfamiliar hotel room, rather than the messy house we've shared with our closest friends for the past two years. Our dissertation's will be a distant memory rather than a recent achievement. We will nostalgically take pictures on our old campus that we no longer feel we belong to rather than strutting the grounds like we own the place.
Of course there is no way of telling what will happen in the upcoming months and years. I have let out all my frustrations and sadness here, but am all too aware that I am one of the lucky ones. Covid-19 has had a devastating effect. The loss of life and the impact on small businesses is incomprehensible for those of us who are lucky enough not to be suffering those effects.
I am thankful for the experiences I had at university before the pandemic hit the pause button on most of our lives. And I, like all of us, are hopeful for the future and applaud those who are working to reduce the impact of the virus and save lives during such a, dare I say it, unprecedented and scary time.