Everything you should know about paraphrasing
Here is everything that you should know about paraphrasing. What is paraphrasing, why is it required, and a few effective steps of paraphrasing?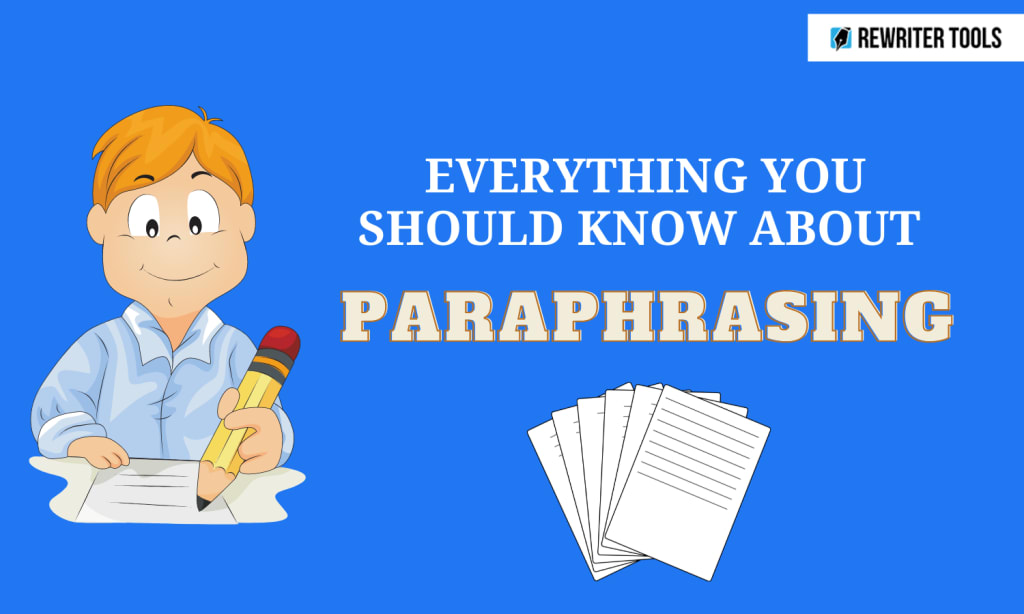 Paraphrasing
Assume you are preparing a presentation for your boss. You asked everyone in your team to give their best ideas to make your presentation unique and at the same time impactful, and they all had plenty of innovative ideas!
But now you have plenty of reports and your boss is very busy due to his pact schedule. Because he got places to be. In this situation what should you do? The solution to this problem is paraphrasing and summarizing.
Many of us may know one or two things about it but still, struggle to master the art of it. Fear not, today I am going to discuss it and give you a few tips along the way so that you can become a pro at this.
What is paraphrasing?
Paraphrasing means using your own words to express something that has already been said or written by anyone without plagiarism. When we repeat what someone else said or wrote by using our own words and thoughts to give the audience or readers a clear concept of the passage or context is called paraphrasing.
We paraphrase all the time. For example, Suppose you have gone out with your friends to watch a film and the film has already started but some of your friends could not make it on time so your friends came late, so now maybe they would ask you what did they miss! Then you would tell them the part that they missed in your own words, that's paraphrasing.
Why it's important to know how to paraphrase?
Paraphrasing is very important because we always require it at schools and colleges. For instance, if your professor asks you to read a book and write about it you are going to want to repeat some of the ideas from the book, but you are not allowed to just copy the words from the book. So, using your own word and thoughts is paraphrasing. Another example is if you read something and answer questions based on what you read, teachers usually don't want you to copy the words in your answer, instead, the teachers will ask you to paraphrase or use your own words to repeat those ideas.
Few effective steps of paraphrasing
● Read, read, and read
Read the passage very attentively so that you can fully understand the meaning. If you don't understand the passage in the first go then reread the passage until you fully comprehend it as it is not easy to paraphrase in a second language because it requires good control of vocabulary and grammar.
● Note down the key concepts
It's very important to note down the key concepts of the passage or the context. It will assist you to reconsider the idea of your version of the context. So, you should highlight key bullet points to take notes.
● Write your own version
This one is pretty easy, all you need to do is to go out for a stroll for a few minutes. After a few minutes, you'll forget what's written in the source text. So before you go out for a stroll for a few minutes, close the textbook and throw it under the bed. Try not to just copy and paste what's written in the textbook otherwise that will be flagged as plagiarism.
• Cite the source
Cite the source counting both a full quotation within the reference and an abbreviated in-text quotation.
It seems simple enough right! Well, it was so simple that you wouldn't read this right now. Sometimes it can be very hard to explain in your own words compared to the original source since it did an excellent job of explaining something. So now I want to discuss some tricks and tips for paraphrasing.
1. Start at a different point from the original:
I recommend beginning at a diverse point than the original source did. For instance, you can start your paraphrase from any part that you want. If you have multiple sentences you can begin somewhere from the center. This tip is valuable because it powers you to say things differently as well as uniquely.
2. Use equivalent words:
Thesaurus can play an essential role to help you paraphrase. Even if you change a few words, you will still need to do more than just change the words to avoid plagiarism.
3. Change the sentence pattern:
Changing from active to passive language is easy and when it comes to paraphrasing it can play an essential role. For instance, if an original sentence is "The Girl is cooking the dish" this is considered active language. You can switch this other way around. Such as, "The dish is being cooked by the girl. So, basically, you can go one way or the other but the meaning of the sentence will still remain the same.
4. Split long sentences or combine short ones:
You should avoid creating run-on sentences. So if you are going to combine shorter sentences to make one long sentence, you will wish to make certain that the grammar is still correct.
You should avoid forming consecutive sentences. Therefore, if you want to combine short sentences into one long sentence. When you do that you need to make sure that they follow the proper grammar rules.
Paraphrasing is very important for everyone. It serves a larger purpose especially if you are a college-going student. Paraphrasing helps your teacher to understand that you have adept the content which is very important. To get good grades you will need to ace this skill.
About the Creator
rewritertools.com can give you the solution, you've been looking for. Here you will get some most advanced Free SEO Tools like: article rewriter tool, paraphrasing tool, article spinner, grammar checker and word counter tool.
Reader insights
Be the first to share your insights about this piece.
Add your insights