Even Teachers Get Bullied! The Horrifying Stats and Destructive Effects
Students Help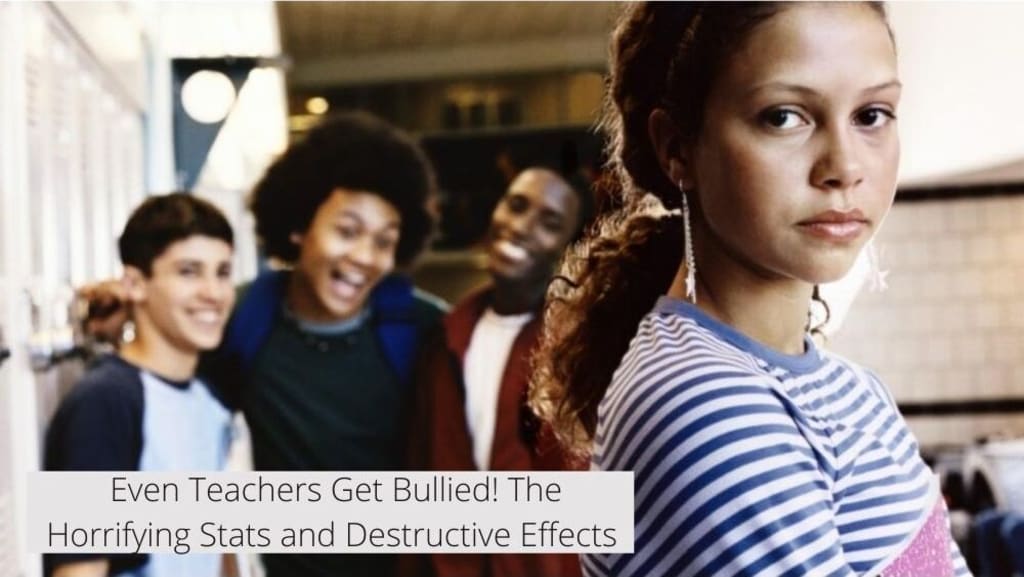 Even Teachers Get Bullied! The Horrifying Stats and Destructive Effects
BULLYING!!!
The word triggers an alarm and sends chills down our spine. Bullying is when a person misuses his power through physical, verbal, social, or cyber ways that intend to cause harm. Not only an individual but a group of people can indulge in such a immoral and criminal activity.
Bullying can happen to anybody in person or online. Over the last few years, there have been many instances of university professors or school teachers being bullied by students. I understand the surprise of many people having difficulty believing that the professors can be bullied and harassed by students. But, the truth is that nearly one out of five teachers have experienced some sort of student bullying.
Here are some facts that will open your eyes wide and let you understand that teachers can be bullied too!
Teachers Experiencing Student Bullying | What Do the Statistics Say?
1. One out of every five teachers reported being bullied, according to the statistics or survey conducted back in 2019.
2. A higher percentage of females than that of males reported physical bullying. The ratio stood somewhere around 7% vs. 3%.
3. 41% of teachers who reported being bullied at school or university indicated that they think students will never stop bullying in the future.
4. Out of those teachers who reported being bullied at an educational institute, 5% were pushed, tripped, shoved, or spit on, 13% were made fun of, called names, or thrown garbage at.
5. Bullied teachers have shared the facts that the bullying occurred in the following places:
Hallway or Stairwell (26%)
Inside the Classroom (42%)
In the Cafeteria (8%)
Online or By Text (15%)
Locker Room (5%)
School/University Bus (4%)
6. The federal government initiated the campaign of gathering data on school/university bullying in the year 2005 when the bullying rate was around 28%.
7. 11 countries with the most students bullying teachers are:
Australia
Estonia
Russia
Belgium
Portugal
Canada
Switzerland
France
Luxembourg
Poland
Slovak Republic
These are a few stats that you should know because awareness is the only key to reducing the bullying figures across the globe. Having insight into the statistics is not enough. You need to know the adverse effects of bullying on teachers.
What Are the Adverse Effects of Bullying on Teachers?
1. Teachers who have experienced or experiencing bullying are prone to depression, sleep difficulties, anxiety, lower academic achievement, and signing off of school/university.
2. The survey discovered that teachers or professors with disabilities were more worried about university safety and being injured or harassed by students compared to professors without a disability.
3. Teachers started hating themselves and their relationships with friends and families are ruined.
4. Bullying by students causes severe damage to the self-respect of the teachers.
5. Professors who believe they deserved to be bullied are more likely to face negative outcomes, such as prolonged victimization, depression, and maladjustment.
How Can Teachers Deal with or Overcome Bullying?
The figures mentioned in the previous sections must have compelled you to know what teachers should do in such stressed and harassing situations. The statistics are staggering, especially knowing that bullying can cause or affect teachers' well being. Thus, bullying is the major reason why reports of teachers leaving the profession are increasing. Thus, it is important to take actions against those students who doesn't respect teachers and insult them.
Here are a few ways that teachers should know and adopt to avoid getting bullied from students and maintain their dignity and self respect in the educational institutions and outside as well.
1. Taking Strict Actions
2. Installing Cameras
3. Reinforcing the Rules
4. Realizing Their Powers
5. Going to Higher Authorities
These are a few ways that educational institutions must adopt as it helps in increasing the safety of teachers/professors in the premises. Many schools and universities in countries like Australia and Russia have initiated a bullying prevention program and even hired some top-notch professionals as well. The program is designed in such a manner that whenever anyone whether a teacher or even a student face devastating experience, they know how to deal with it.
Summary: This article presents the facts and figures related to bullying faced by teachers and ways to overcome it and maintain their dignity.
Author's Bio: JosePh iliaz has been working with Global Assignment Help as an academic writer for the past 6 years. She provides Computer Science Assignment Help service to students who struggle with the writing tasks. She is an avid reader and has great collection of books. She keeps himself updated with all the wrong happenings around him and raises her voice against them. In her leisure time, she loves to play with her children.