Dear Teachers
Dear, dear teachers

From my English teacher. 1999
All of you deserve more than mere acknowledgment.
We send our kids to you for six hours a day. We entrust you to teach them the stuff beyond counting to 10 and identifying the colors of the crayon box. The more angelic of you are even required to instruct on the lower level stuff, like potty-training and not eating the Lego.
We give you the tasks of expanding their worldview, developing their ability to question, form opinions, and arrive at conclusions. If those skills aren't daunting enough, you also grade for—therefore are required to teach—being a compassionate and cooperative citizen.
I don't know how you do it.
I don't know how you do it sanely.
I have had my share of memorable teachers and moments that are memorable with them. My earliest memories are of the sweet ladies that made my preschool/kindergarten/daycare triplex a safe, playful, and encouraging place to develop a love of learning.
They also loved braiding my hair. To this day, if a hairdresser apologizes for pulling my hair, I am taken right back to those preschool days of the young ladies braiding my hair. It's ok, I say. It really is. Those were my first memories of teachers connecting, listening, learning, and engaging in meaningful moments that build trust with those that have chosen to make a living out of being trusted.
I've valued your guidance through my various challenges and life stages. You have cheered with my celebrations, and you have shown me that I can count on the support of a teacher outside the classroom. Your lessons did not stop when I left school.
The heart of an educator is something special.
Your words have been methodically filed away for quick reference whenever I crave the ease of grade school. When I feel my contribution to society has been inadequate as self-doubt confidently steps in, I hold on to those sweet words:
Thank you for the privilege of being your Senior English teacher! Your love & enthusiasm for learning...I'm glad to have known you & learned from you!
Your love and enthusiasm for learning. I cannot count the times I have thought of those words, Mrs. Schofield. Wondered about what truth you must have seen and questioned if I've still got that passion. Nearly twenty-three years after that hot, long walk, down the ramp and across our football field, your words are tender comforts in this world that seems to want to drift away from understanding.
Teachers like you, recognizing and, more importantly, celebrating the unique things in your students, are what help perpetual learners like myself succeed. Or, at the very least, give us the confidence to keep reading, seeking, and never settling for the answers served up to us.
I think about all of you struggling with the television carts and overhead projectors of the old days. I allow myself a little chuckle, and then I sincerely hope you are enjoying your grandkids instead of coordinating Zoom meetings.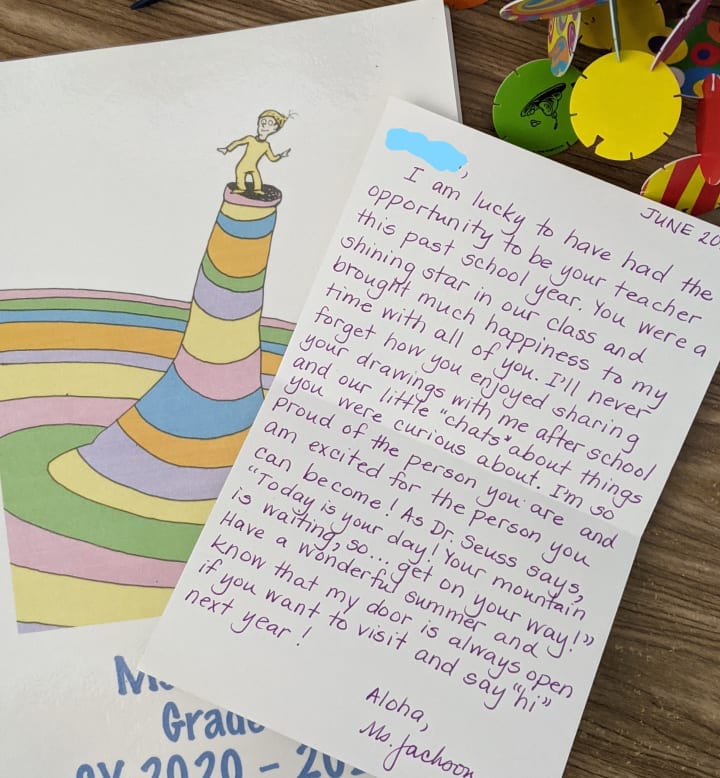 Today, my admiration, gratitude, and all the Clorox wipes I can afford are with those of you manning the classrooms right now. Or, I guess, the chatrooms in some cases.
You are the teachers and teachers-to-be that are guiding my kids, their friends, and a whole generation that will shape culture, politics, and social norms.
And wow, my letter to you is not nearly enough!
Your job, already challenging, now includes being a housekeeper and a referee in charge of making sure nobody goes home with more germs than they arrived with. You hold part-time responsibility for the mental well-being of our kids during a time when their questions do not have answers.
And you are all doing this with the same unanswered questions, concerns, and responsibilities for your own families.
There has to be a label that extends beyond essential...
Hero.
There is a memory I will not soon forget. It was a Friday in mid-March that should have brought relief. It was the last day of school before Spring Break. A temporary pause to the early morning routines and rushing to get my husband and eight-year-old out the door. A break from helping with homework—while breastfeeding—and stringent bedtime routines. Time to do nothing and not feel bad about it. Time to do the things we feel bad about not doing when juggling all the other stuff. And time to wean from breastfeeding. Like I said, relief.
But this day would be a word in absolute opposition to relief. Whispers of lockdowns were now a reality. My family and friends in California had just been notified of their two-week lockdown to slow the rapid spread of the Covid-19 virus. Case numbers in Hawai'i had not yet exploded as they were on the mainland; people had thankfully stopped traveling on their own accord. But there was fear and concern that what was happening in densely populated places like New York City could happen here.
By the time I got to Target later that morning, shelves were starting to empty. The tension was palpable. What do you get? What do you need? Stores won't close, but what if ships stop coming? Ports are always the first threat in any natural disaster facing our islands. Was that a possibility?
I was in those aisles, but my mind was anywhere but. Hawai'i was fine, but for how much longer was the unknown.
I picked my son up from school that day, wondering if you knew. Surely you did. I imagine you were huddled in doorways, in the front office, scrolling your phones looking for the same answers everyone in Target that morning did not have.
I felt guilty for the head-start I had.
An extra week of Spring Break turned into two, then a month, and finally, a whole school year's worth of days lost. My son would not return to school that year. None of our kids would. I've never stopped thinking about that part— you have been worried too.
It was hard those first weeks. No teaching was happening, but you made sure the learning did not stop. You arranged for laptops to be distributed and reallocated books and board games purchased for classrooms and gave them to our kids as gifts. Assurances they were loved and missed.
You were determined to make sure they knew that.
I imagine there was an ease to those first weeks too. You made "school" fun, and for a few hours a day, they did not think about the stress emanating from the world around them. You helped alleviate mine, even though I acknowledge yours was only beginning to rise.
Given the difficulty of instructing via a computer, you chose to engage in activities that recognized and highlighted our kids. Each day there was a new project that gave you a chance to get to know our kids and showcase their talents in a way you simply do not have the time and resources for in a classroom. You gave them new, hands-on ways to learn, with built-in lessons about resourcefulness, adaptation, and creativity.
Because of that, you now know my child more intimately, and you've gotten to know our family. We let you into our home—virtually—out of necessity. However, it was a welcomed challenge to play a more direct and inclusive role in my son's daily education.
Thank you for including us in daily art projects and P.E. challenges. The recycled art project we made from old magazines and cereal boxes is proudly displayed on my desk. A reminder of how all we are going through can—and will—be transformed into new meanings and lessons.
This inclusion meant I was now responsible for arranging materials before class, organizing schoolwork, printing worksheets, setting up an area conducive to learning...
I had to be you.
The daily heroics of your job were now evident. You do this for 20+ kids, for 20+ years of your life. Every day. Year after year. It's not just the lessons, the math, and the reading.
It's the care, the thought and planning, and the love you must have to show up every day knowing the challenge before you is to reach every kid where they are.
Who else signs up for that other than a hero?
At the start of the first full school year of pandemic, we met you through cracked windows at supply pick-up. We never saw your face or had a conversation until October during parent-teacher conferences. But you had already built a rapport with my child—all of your kids. I imagine you finally had time to prepare over the summer, and with nowhere to go, your focus was to make this as normal as possible.
Ms. Jackson, you made the school year even better than simply normal. My child developed a more intense love of learning and reading. That is a direct result of you challenging him to read other authors and dive deeper into his developing interests. His Rick Riordan collection is immense. The cultures and topics he has been exposed to have set him up for success in a world that seems to be fighting hard against change and diversity.
I am grateful for the extra time you spent curating library books for each student and the handmade gifts you made for them at Christmas. A Pikachu for my son, and over a dozen more characters, all specifically for the trending obsessions of each child in your third-grade class. How and why come to mind, but all I want to say is thank you.
I was always a good student. I loved learning, but I now know that makes your job infinitely more enjoyable and easy. There is also a bit of luck. I was lucky with teachers, and I have loved the ones that have been a part of my son's early education. He is being educated in a state and town that is very different from the one I was raised in. There are more challenges facing you here, but I am so happy with his experience so far.
That will not always be the case. However, thankfully teachers like Ms. Jackson and Mrs. Schofield exist, and I trust there will always be more within your community that he can turn to.
As we have learned in the past two years, you are more than a classroom.
It wasn't until my child started school that I realized how young you must have been when I started preschool. You were there in the early mornings and afternoons while going to school, working second jobs, and going home to your own small children after I was picked up.
It wasn't until I got to know you that I saw that your job does not stop when you walk out that door, nor does your life stop when you enter it either. I witnessed what you do for my kids while balancing your new relationships, wedding plans, and first babies. Your fourth baby, your kid's soccer tournaments out of state, graduate courses, and everything else that comes with being an adult with adult responsibilities.
Given the precarious state of the country, as I write this, I question if I should. News of members of your community banning books and threatening students goes contrary to the spirit of praise.
I am worried about the classrooms my son may occupy in the future. I am concerned with how you will teach this time in history.
The beauty of adulthood, and the pain of parenthood, is knowing those disappointments are inevitable. They are coming. I now know how you failed me and my generation. How every generation has had holes and heads turned the other way, hoping to spare the kids of undue stress. Deciding—for us—that we cannot handle the bad, horrible, and inhumane.
We are now painfully aware of the omissions in our education, and we are witnessing the profound effect on the character-building of our nation.
That is not all on you as an individual teacher. Though, it speaks to the magnitude of your profession.
Who are you without a classroom? A regular, adult person. One that makes mistakes and has moments—or whole decades—worth of poor decisions. You come with ideologies built over your lifetime and educational exposures. You have stresses at home, work, and the same collective worry as your fellow peers and citizens.
It's the intention for me.
There are people worthy of the label hero that do unimaginable things. They run into burning buildings and operate on babies in the womb. They jump from helicopters and literally risk their lives for others. There's something special about them for sure. They have abilities and courage most of us cannot fathom.
I am a mom. I know what it takes to teach skills to develop minds. I've taught my kids how to use the bathroom, colors, words, shapes, how to count to 20 and read basic sentences before they even know you exist. I have two now. One is on the eve of middle school, and the other is a year away from starting her own educational journey. They are at very different stages and are very different people, much like make up of your classroom at any given time.
If you were to tell me, I had to add 22 more tomorrow, and every day after that, I might just run into a burning building to save myself!
But you, dear teachers, do it. Every single morning and every single Fall, you go back and help the youngest of us make sense of the world. That work doesn't stop at the classroom or the gyms and fields. You carry it with you, at home around the dinner table and during summer breaks. You see the dollar section at Target as a chance to spend a little less to give your kids so much more.
I see you. I see you adding color and decorations to aging classroom walls. I see you buying pillows for a corner to make reading more comfortable, in hopes of making it more enjoyable.
I SEE you, and I can only hope that is at least a notch above thanks.
You might appear to be an average person. But give you a classroom, dear teacher, and you become so much more.
teacher
About the author
California girl, living my questionably best life in Hawai'i. Wife and mom. A lover of sports, books, craft time, black coffee, and overthinking.
Reading and writing helps me make sense of the world—big W global one, and little w mine.
Reader insights
Be the first to share your insights about this piece.
Add your insights