Creating A Proper Piano Lesson Schedule
The Top Six Things Piano Teachers Need to Keep In Mind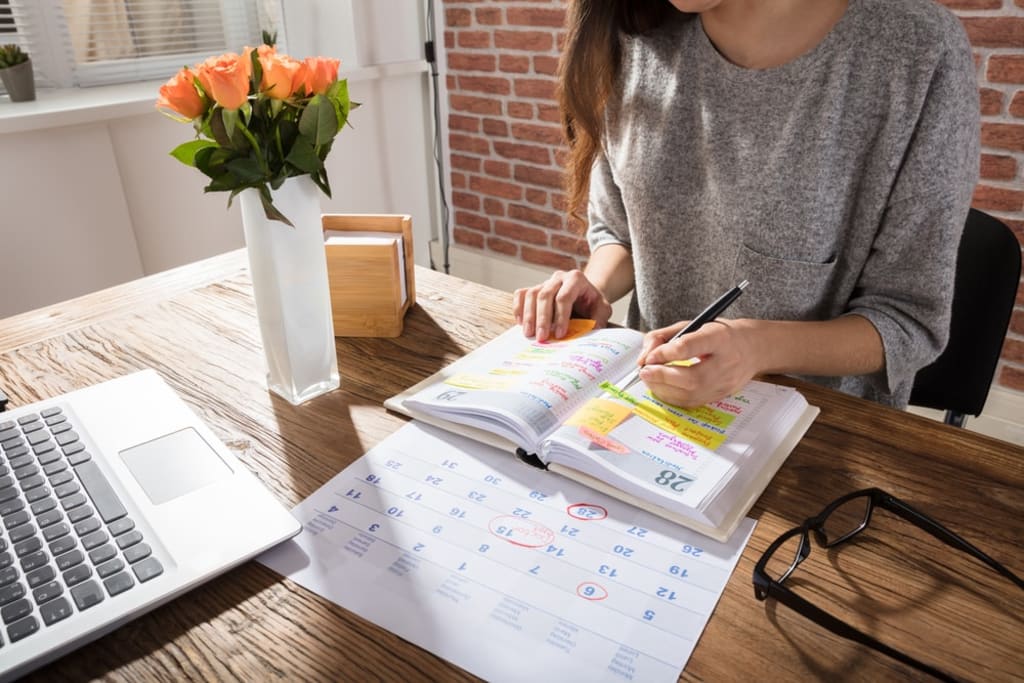 To be a successful and professional music instructor, you need to create, and keep, an adequate schedule that you can easily follow. Since a piano teacher's class plans can get a little hectic, it's easy to forget when student's classes are, as well as when you have reserved time off to run errands, if you don't have a proper lesson schedule in place. Below you'll learn a few tips on how to create your own piano lesson schedule to stay on track. These tips will also help you to decide when you should offer lessons during the week.
Handwritten Versus Digital
One of the biggest questions you'll have to answer when creating your first lesson schedule is whether you should use a physical calendar, or create a digital one that you alter week to week. Both have their advantages and disadvantages; the choice comes down to personal preference, and to whichever method works better for your organization.
When deciding on digital, keep in mind that:
Digital calendars make it easier to move or delete an event. There's no writing involved, which makes adding a lesson quicker.
Digital calendars can sync with other applications, which is convenient if you're scheduling classes over email. Oftentimes you can add the lesson directly to your calendar from your email inbox.
Digital calendars can go anywhere. If you tie it to a digital account, you can access your schedule on any device from any location without carrying a hard copy with you.
If you're hung up on a handwritten option, remember that:
Handwritten calendars make color-coding a breeze. You can physically highlight each event in a different color and even designate colors for different students so you never forget who you're meeting with and when.
Handwritten calendars help with memorization. Studies show that if you want something to "stick" in your mind, writing it down will work better than typing it out.
Handwritten calendars allow for customization. Musicians crave a creative outlet, and a physical calendar allows for organized creativity that a digital calendar does not. You can decorate and embellish your handwriting to your heart's content.
Both options provide benefits; there is no right or wrong choice. Simply decide which option works best for you.
Keep yourself organized.
Creating a proper piano lesson schedule is a great way to keep yourself organized while handling a list of students. A great article by Bustle suggests these simple steps to maintain structure in your schedule:
Keep an inbox or basket on your desk, and keep it clean
Find a pattern to your workflow
Don't let things pile up
Break up intimidating tasks
Make sure everything in your space has a home
Don't be scared to purge extra stuff
These tips are universal, but they apply well for teachers specifically. Your basket on your desk should be organized with sheet music or new student applications. Your To-Do List should indicate upcoming lesson plans that need creating and sessions that need scheduling. You should not let emails from prospective students pile up.
Since it can quickly become overwhelming to keep track of a variety of students at different skill levels, a lesson schedule can help you keep track of when you have lessons and when you have time off, in addition to tracking the progress of your students. No matter how you set up your schedule, the most important thing is that it's there to keep you organized while managing your student's lessons.
Figure out ideal teaching days and times.
Your teaching days and times depend on the type of student you're planning on instructing. For example, adult students are going to have more night-time and weekend availability. If you're targeting younger piano students, your days are going to start after 2:00 PM, or whenever the local schools get out. You'll also notice a similar demand for classes on the weekend when their parents have time off, and are able to bring your students to a lesson. It's crucial that you adapt your schedule to your students. You will need to determine who your "ideal student" is, and determine when they will realistically be available to learn.
Write down reserved blocks.
After filling out your ideal teaching days and times, it's important to write down reserved blocks of time for yourself. It's essential that you take time off for vacations, running errands, and necessary appointments. After all, even as a local piano teacher who sets their own schedule, you won't be available every minute of every day! However, it's important you write down your "reserved blocks" well in advance, so you don't accidentally overlap a class with your time off, as this will result in either lost time or a canceled lesson. If you share your available schedule with your students, make sure they know your office hours, so they don't plan on taking a class when you're away.
Create a section for notes.
An incredibly important space on your piano lesson schedule should be reserved for notes. This section should outline how well your individual students are doing, so that you can track their progress. Although some teachers do this in their own notebook, it can just as easily be done on your lesson schedule. This will allow you to determine how long their next lesson should be, and what it should cover. One way you can keep notes is by creating an online spreadsheet for your students that is linked to your online calendar. This way, you can consider sharing the linked sheet with them as well, to help them keep track of their own progress.
Create realistic goals that align with your schedule.
As a teacher, your success is measured by the progress of your students, and by the growth of your student list. But you also need to be realistic about how much availability you have, and how many students you can take on, while ensuring each of them succeeds. For example, if you teach 50 weeks out of the year, and want to take a week-long vacation where you won't be teaching, determine how many classes you need to book prior to taking time off in order to do so, and if it'd make sense to bring in new students for the year. Every instructor should be working toward improved teaching methods, or an increase in students taking lessons through them–but ensure that your goals fit realistically with your schedule.
Although it may seem intimidating to create a lesson schedule when first starting out as a music teacher, it's easier than it looks. By following this guide, creating and organizing your lesson schedule will be a breeze, allowing you to focus on teaching your students!
teacher

Donna Maurer
Donna is a hustling freelance writer who spends her time writing about everything from the music industry to the latest beauty and wellness trends. She contributes to numerous blogs and enjoys sharing insights from her own life experiences.
See all posts by Donna Maurer →