Can all contaminants be seen with naked eyes?
Do You Know Your Oil contaminate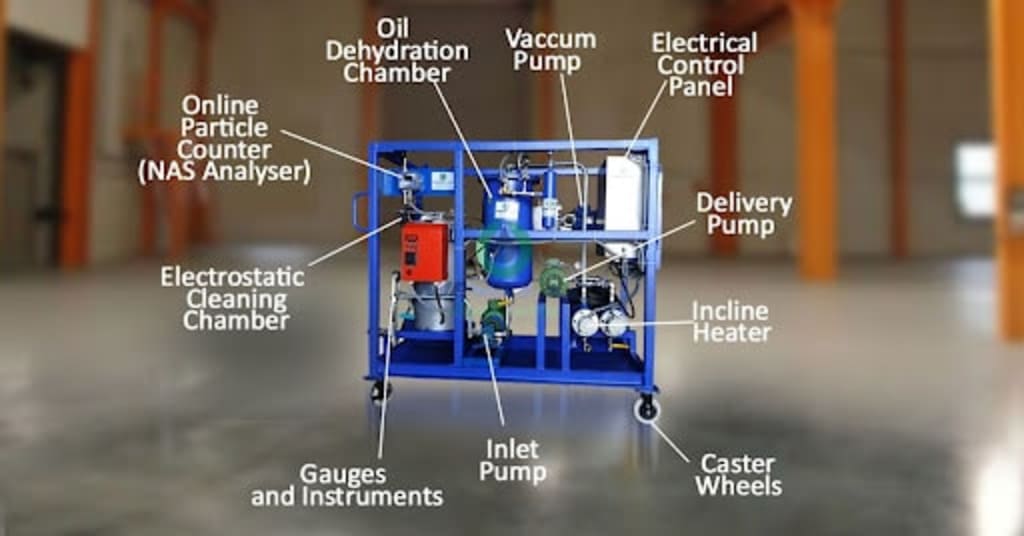 As a part 2 of #knowyouroil series, we will discuss about Particle Contamination. Whenever we talk about contamination the first thing that comes to our mind is solid particles that we can see or feel. But what we do not understand is how big a particle can really cause wear and tear to your machines, can all contaminants be seen with naked eyes? Is it too late to wait until then?
To answer the above questions we must first understand the actual clearance size of the different types of lubrication film formed between rolling and rotating components which is essential for providing proper lubrication. Oil film thickness in machinery is measured in microns (µm), or one-millionth of a meter.
For queries related to Oil Testing, follow: https://www.linkedin.com/company/minimacsystemsprivatetlimited
Below are the finest tolerance found in different types of components.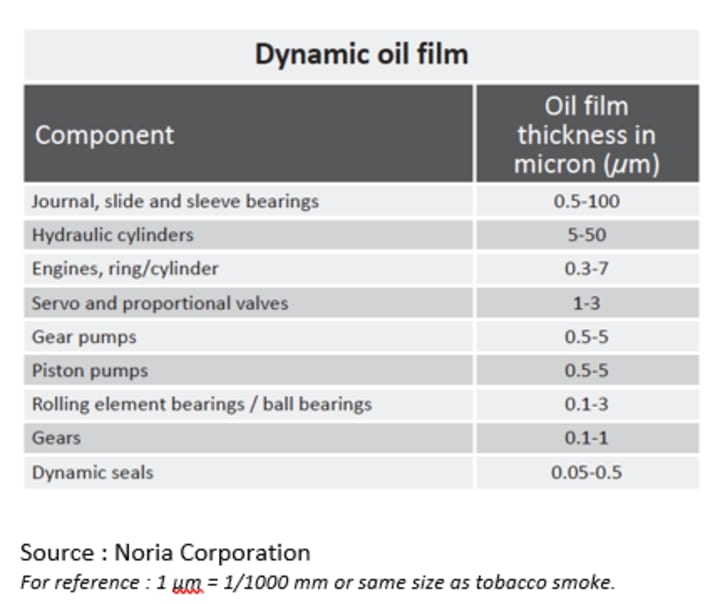 When small particles, which cannot be seen through human eyes, pass through the critical machine parts under load, they create small microtears which get transformed into cracks over a period of time due to continuous stress and strain conditions leading to the more fine generation and hence increase contamination.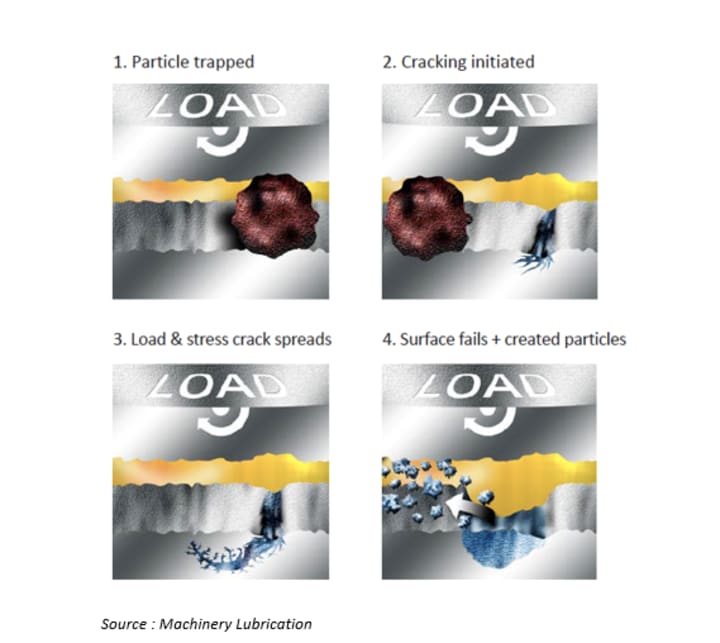 The contaminants that are considered to be most damaged are from size 2 to 20 µm and avoiding these are key to keeping your machinery breakdown free.
But it is also important to understand when to call the oil clean and when dirty, as it is understood that changing oil very frequently and maintenance every time is not feasible.
Below chart shows us what particle levels are admissible and what harms our system.

But knowing this is not enough if we don't know when to get oil sampling and testing done. Below chart provides an estimation for testing and the type of test to be conducted.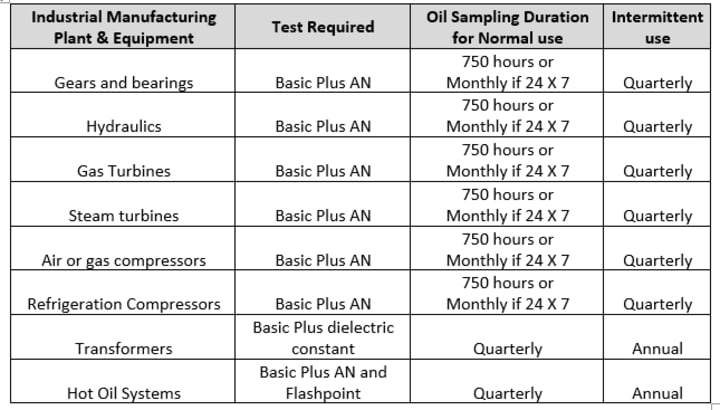 Get your machine's oil check today with our technical expert call +91 7030901266. Ask for a brochure today.
We at Minimac System Pvt. Ltd. not only design a maintenance schedule for your lubrication oil but also provide OIL TESTING and FILTRATION services and the filtered oil complies to the ISO standard of Super Clean oil as we stand for MINImum MAChinery Maintenance.
we are offering types of oil purification products.
Oil Purification Systems is a family of equipment which are used for purification, reconditioning, cleaning or reclaiming of oils. Many buyers use terms like oil centrifuge, oil filtration, LVDH system or ELC machine; however what they intend to buy is Oil Purification System.
​
Under the category of Oil Purification Systems, Minimac Systems offers standard as well as custom-built products. Product selection is carried out based on application of the requirement and the appropriate technology for cost efficient solution to the problem of contamination in lubricating oils.
​
We believe that no single technique is universally versatile and hence contamination problem of lubrication oils must be addressed on a case-to-case basis.
As a pre-commissioning activity, circulation of high velocity, high flow oil through a lube oil/hydraulic system/cooler tube/compressor and turbine lube oil systems. Flushing is to remove impurities sitting on the inside of the pipe systems. We use high velocity flushing technology to clean chamber/interior, pipe system, cavity of a component. We design and develop equipment which have the pumping, filtration and heating capability, to create turbulence inside the pipelines to be flushed. This turbulence removes all contamination from the internal walls of the pipe system. HVF technology has its application on lube oil, chemical cleaning, water glycol flushing, water flushing and hydraulic oil flushing. The key element for right product offering depends on the requirement of the client and the diameters of the pipeline as well as the fluid which has to be used for flushing. It is an essential maintenance process to extend the life of rotating equipment, keeping turbines, compressors, engines, etc. operating at their optimum level, and improving their reliability. At the end of flushing job, a comprehensive report is submitted documenting the oil cleanliness through multiple methods.
​
We have well maintained RENTAL FLEET of High Velocity Flushing Systems available across the globe.
how to
About the author
Minimac systems pvt ltd is the one of the oil purification industry. we provide All types of filteraton unit for industry oil.
Reader insights
Be the first to share your insights about this piece.
Add your insights