Building Your First Semester
PolyInnovator: D.I.Y. Degree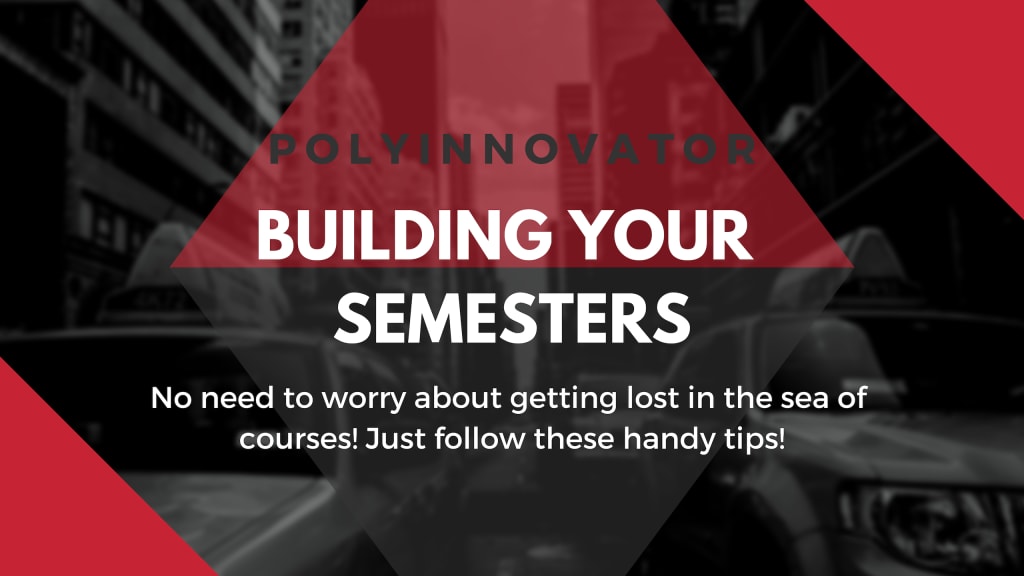 Source
When it comes to creating your degree it really boils down to making a semester at a time. Yes, you can do what I did, and collect 400 courses then make 10 semesters out of it. However, that takes a long time and I only did it because my ideal career is one of a synergy between three different "majors."
Speaking of which, one of the biggest things you should focus on is the theme of the semester. Even the theme of the degree, and then try to build it around that. For example, mine is Business/Entrepreneurship, Technology/Project Management, and master classes. There are 10 semesters in mine, each with their own theme or "major," however, it still follows a cohesive idea.
In each of my semesters I ended up having about 40 courses per semester, which if you think about it most Bachelor's degrees have only 40 courses... total. Granted some of the D.I.Y. Degree courses are an hour long, or a few weeks long. It depends. The variation is much stronger, but this also allows you to complete it much more accelerated.
Coming out to be literally as many courses, actually much more, than 10 undergraduate degrees in my educational future. Ironically, I still predict taking me around four years to get it all done.
Google Sheets is a good way to organize your list of courses. There are of course many other platforms or software you could use. However, Sheets gives you the ability to put in: Name, Subject, Platform, Cost, Certification Options, Links, Date Started/Ended, and Completion Percentage—that last one being really important for keeping your eye on the prize. You can create that cell to have certain perimeters such as red for "Not Started," and green for "Done."
Here's a link to my first semester video just so you can get more of an idea.
One important thing to note about each of my Semesters is the level of overlap. I found it really prudent and important for the concept of interleaving, as well as the purpose of repetition. Interleaving is when you change subjects of learning back and forth in order to maintain a stronger concentration.
The brain needs constant reminders for things to stick, so having a plethora of repetition is the key to keeping the knowledge. This is one factor that makes traditional college highly obsolete. The format of learning is very structured, and ends at the end of your tenure. Its no wonder many higher education institutions are considering lifelong learning to be a powerful prospect.
They say for example Medical professionals like doctors, forget half of many of the science they learn with only ONE year after schooling. Without having some sort of personal regime at least. This is one of the biggest purposes to have a Do It Yourself Degree because it gives you the ability to learn all throughout your life. Doing all of this now provides you with the framework you will need for the rest of your life. Lifelong learning prevents Alzheimer's and Dementia, as many of the causes for them is a lack of novelty in the minds of the afflicted.
Key points to consider: Interleave knowledge pools, repeat information daily/weekly/monthly/yearly, lifelong learning, and try to keep the first pool of courses smaller.
This podcast was made with the purpose to go a bit deeper in the philosophy, and some other talking points. It has some valuable information unique to it, as there was just too much to have one single post. I also created another companion piece you should check out too!
About the Creator
I created a Modular Degree to pursue a higher education, autodidactic, ambition. Allowing me to create a synergy in 3 fields of innovation:
Global Sustainability Development
Innovation and Project Management
Social Entrepreneurship
Reader insights
Be the first to share your insights about this piece.
Add your insights