Bringing Back Normalcy
New-Age Teaching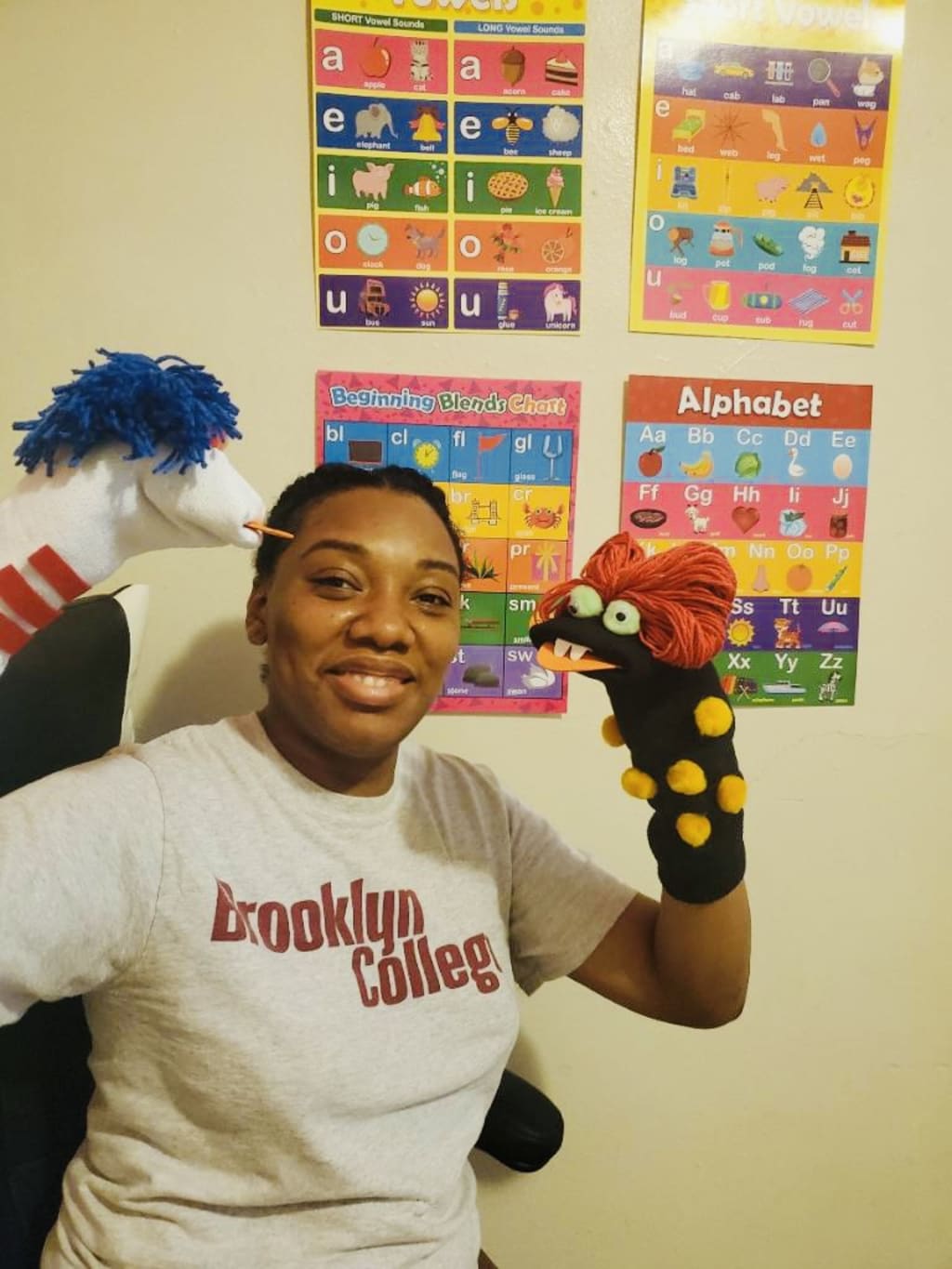 Carl, Jasmine and me
The past year and a half has been the most unpredictable and in anyways the most tragic time that I could have lived through in modern history. Never had I imagined as I was making my New Year's resolutions and watching the fireworks light up the New York skies surrounded by others beaming with hope of things to come in their eyes, that in just a few months the world would be united in a struggle for survival that would be unprecedented and unparalleled. My career choice helped to make matters a bit more complicated. I am a teacher, but not just any teacher, I am an elementary school teacher and if that wasn't enough to complicate this precarious situation that COVID-19 brought, I am a Kindergarten teacher.
I was used to running around with four and five year olds, helping them learn how to read, how to write and just expose them to the ins and outs of a school environment. As a teacher, you are trained to think of worst case scenarios. You are trained to come up with strategies to set students up for success but never did I fathom teaching kindergarten aged-children through a computer screen but this has been a time of unprecedented things and so this is what I started to do.
Everyday I began to teach my students through the Zoom virtual platform and it started out rough, to say the least. Families were stressed and confused and the kids were struggling to understand why they were placed into this strange new circumstance. Whether I knew it at the time or not, I had to be the anchor for all of these people and help them to cope with our new world while simultaneously grappling with the situation myself and attempting to become accustomed to a pandemic world. Virtual teaching began to take a heavy emotional toil on me and I began to question myself every night as I thought through all that I believed went wrong that day. Families were overwhelmed and it was apparent that the kids were having a hard time understanding that this screen that they had to stare at for six to eight hours a day was now school. As the months went on, teaching became a task in trial and error. My primary priority had to shift from my lessons plans implementation to engagement. I began to employ tons of movement breaks in between lessons. Throughout the day, the kids, the families and myself were doing yoga, stretches, dance breaks and even silly wiggle-breaks to help all of us find balance and refocus. As strange as it felt at first, it was working. The kids were happier to log in everyday and in turn their families became more hopeful and felt more successful as an educator. Because the kids were more engaged and comfortable in this new virtual environment, they were learning. I was thrilled.
But as one success tightened the threads of our school year, strands began to unravel in another way. As the virtual school year progressed, as any other school year, some students became restless and many of them began to show signs that they needed some sort of socialization. Because I was so focused on their engagement with the academic instruction, I failed to feed their social needs. It did not occur to me that most of these children, because of the restrictions that came with the pandemic, were not very exposed to other children or just other people outside of those within their household. They were not able to play with each other, talk to each other about their interests, their ideas and their dreams. They were now stuck in a cycle of staring at a screen that the adults called "school", listening to a stranger they called "teacher" and moving their bodies during wiggle breaks. This was a problem and something had to be done.
This is when I thought my creativity could really shine. I thought about a craft that I had learned about two years prior at Summer live-in camp in Maine. It was wild, and unexpected but I believed it just might work. So, I went to the craft store Michaels and picked up all the materials I thought I would need to make some sock puppets. I got all my materials ready and I started to make some magic. I cut some card boards out to make the mouth of my puppets, then I cut some thin foam colored paper into half circles that would eventually be the tongues for my puppets. One of the most fun parts was cutting tons of yarn that would become the puppet's hair. After hot gluing everything in place including the googly eyes to pom-pom balls as eyelids and cutting out some accent pieces to make the puppets come to life, I smiled because they actually looked like my visions. Surprisingly, making the puppets was therapeutic for me. I had forgotten how calming and healing the act of making the puppets would be. It was nice to just craft. It was a great escape to not think about lesson plans, academic gaps, social distancing, or even recovering from COVID. Just cutting and gluing until my vision came to life. The only part left was to present them to the kids and hope that they would interact with them as I envisioned.
The day I presented the puppets to the kids I was a little nervous but mainly excited. I started a 20-30-minute session in the afternoon to break up the school day that our school calls Choice Time. During this time, I would place small groups of students together to talk and play with each other but before this, the puppets would do their magic...hopefully. I mainly just used two of the puppets I made. Carl and Jasmine are their names. I introduced them to the kids and Carl and Jasmine were used to show my students how to start conversations with friends, how to show someone on you are interested in getting to know them, how to be polite and even how to handle small conflicts that may happen as they interact with each other. The sock puppets were a hit! The kids were excited to see them and they were engaged and interested in what Carl and Jasmine had to say and all that they were doing. As I went around into their various breakout rooms, I noticed the changes happening. The kids were mimicking what they had noticed with the puppets. They were asking each other questions, showing interest in each other, asking about each other's day and taking turns. Since Carl and Jasmine truly got the kids attention and re-energized them, I began to use them a lot in my small group instruction especially during Phonics.
As unconventional as this past year and a half has been, the craft of making sock puppets was an unconventional way to re-align my teaching practices and re-invigorate my classroom. This pandemic has been difficult in so many ways and it has shown how out society has taken social interactions with each other for granted. The pandemic highlighted what social media, video games and the digital age have fostered and festered into our society—a lack of positive human interaction. And though quite tiny and on a very minute scale, I'd like to think that my little arts and crafts project has helped to cut a hole in the fabric of our current dysfunctional social interactions and help to support more positive human to human interactions and relationships. I know my puppets won't save the world but it helped to bring a lot of laughter, love and unity to my classroom.