Back to my Masters
After a dreadful year of dropping out, I put my faith in planners.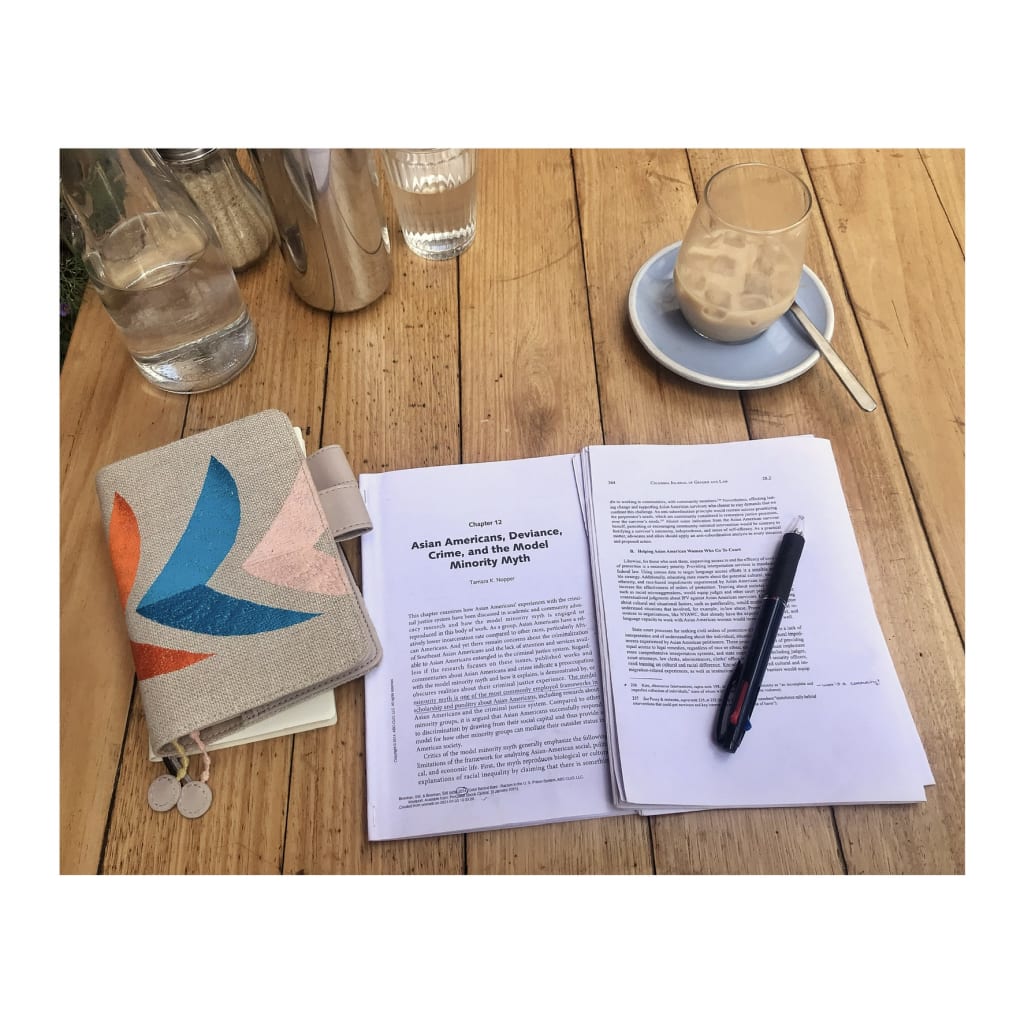 Outside at a cafe shortly after lockdown, my two planners on the left.
I am one week out before Term 1 begins and I am trying to prepare, frantically. Because last year, my first year back in uni for graduate studies after a decade of a career in the arts, was an abysmal failure. Out of two semesters, I passed a mere two classes total.
There is a pandemic, yes. In Melbourne 2020, we moved to online learning within three weeks of the start of the semester. All that seemed swell for the first few months of lockdown—I am an introvert; I have agoraphobia, which makes commuting a forever-challenge; and hey, I've spent a month in inpatient psychiatric before, I can do this!—then the rock bottom of depression hit. I stopped attending my online tutorials. I started to drink alcohol during the day to curb anxiety. I stopped responding to messages.
My worst moments of 2020? Drinking wine in a coffee mug during Zoom work meetings and uni tutorial discussions, thinking no one would notice my slurred speech. I was such a fool. I am so embarrassed. Yet I was also in need of help. 2020 made it abundantly clear that mental health must prioritize accessible and affordable care. For the most part, Australia provided, and I am fortunate to live here with Medicare.
This year is going to be different. Tomorrow is my 90th day of sobriety. I have a routine of reformer Pilates and strength training. I have a great professional mental health team who specializes in treating those with PTSD. Melbourne is no longer in lockdown and mostly COVID is not a major concern (we have such low numbers). I can breathe in the summer air, study in a park, journal in a cafe.
Heading into this term, I am more confident in myself than I have been in years. I have worked so hard to get healthy and I've stuck to it. Yet I know what it's like to fall apart so easily, so fast. We all now know the uncertainty of the world and we are all uneasy when imagining even the present.
So I turn to little tricks to get me back into the habit of scheduling, of managing a full schedule again. Crucial to it all are my two planners:
-an A6-sized Hobonichi original for all things school and personal. On my daily pages I journal everyday. At the end of the month, I scroll through my phone's photo albums and find the highlights and memorable snaps of the month, print them out onto tiny paper squares, and paste them onto the date of occurrence. It's a great way for me to reflect and appreciate. I also write all I have read and quote sparingly.
-Hobonichi Weeks is where I place all health related information. I check off my medications everyday. I keep a casual list of the meals I've eaten. I track my menstrual cycle. I note the weights I've lifted that day and how it felt. I write how my Pilates session went, trying to decipher if there is a pattern to my shifting physical and emotional modulations.
The planners are not just planners, unlike Freud's cigar. They mean for me a structure that I know I can never control, nor is control my desire, but perhaps a tool for 'mapping' out all the humdrum of our lives into something possibly very honestly meaningful. The planners are a tangible place where I construct, mirror, and reckon with my ever-changing values, my articulations of meaning.
how to
About the author
Asian American - Taiwanese - Australian.
In love with literature. Ex-filmmaker, now studying public health. Passionate about social issues and public policy on: mental illness, addiction, violence, & gender.
Reader insights
Be the first to share your insights about this piece.
Add your insights