AudioBee: Paid Translation, Transcription and Voice Recording Jobs
AudioBee pays you for recording voice phrases. It also has some tasks where you are required to transcribe and translate audio files.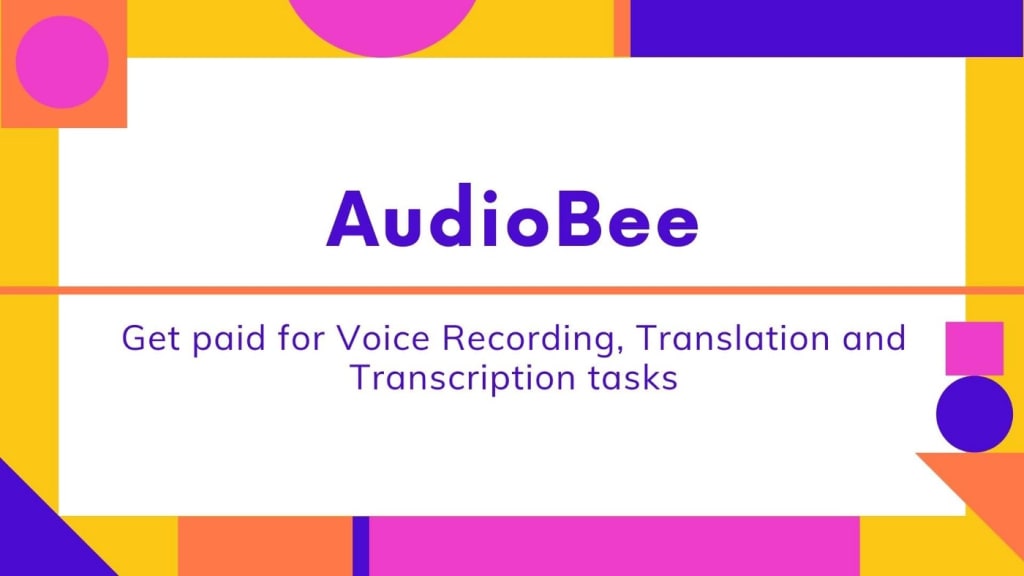 There are regular surges I see in voice recording jobs on various platforms. Earlier it was for training voice assistants in different languages (where I discovered Robson and Appen voice tasks).
This time there are several conversational voice recording tasks going on (longer tasks paying 50–60$) that led me to discover AudioBee.
What is AudioBee and how does it work?
AudioBee is another data collection and localization service (translation/transcription) platform. It accepts people from all over the world and they provide Freelance opportunities in 3 types of work:
Translation, Transcription, and Voice Recording.
AudioBee differentiates itself from other platforms by rewarding workers who meet their deadlines and work efficiently.
They claim to offer full-time roles to their dedicated workers. It places itself as a freelancing platform, rather than a crowdsourcing or "earn-per-task" model.
But personally, I feel that it should be treated as a Beer money site, as the work available on this platform is inconsistent as of now.
How to Signup and Start working on AudioBee?
Signing up on Audio Bee is quick and easy, but starting work might take you a day or two. This is because they need to manually check your test and approve your work.
Go to their signup page and fill in your details. Don't worry about your native language and job type, you can change/add them later through your profile.
Now you will be required to give a small test depending upon the job type you selected. For example, I selected voice recording, so I needed to record 3 sentences as a part of the test.
Submit the recordings. They will take 24–72 hours to review your submission. Meanwhile, you can complete your profile (add payment information, languages, task types, etc.)
After they approve your submission, you will receive a mail from them asking you to sign an NDA. Login to your AudioBee account and sign the NDA.
You will be able to see additional options on your dashboard such as "Jobs", "Completed Tasks", etc. Go to "Jobs" and see the tasks available for you. The rest of the Guidelines will be provided in the job description itself.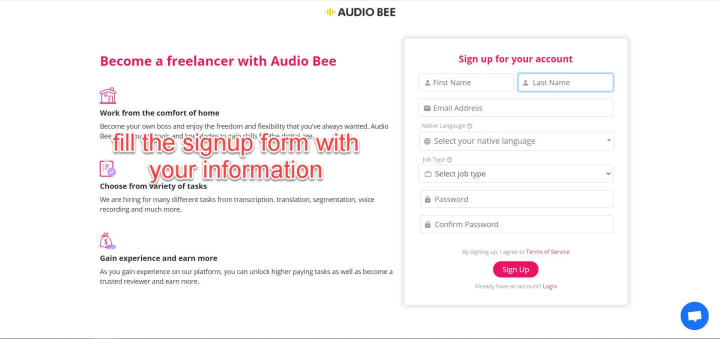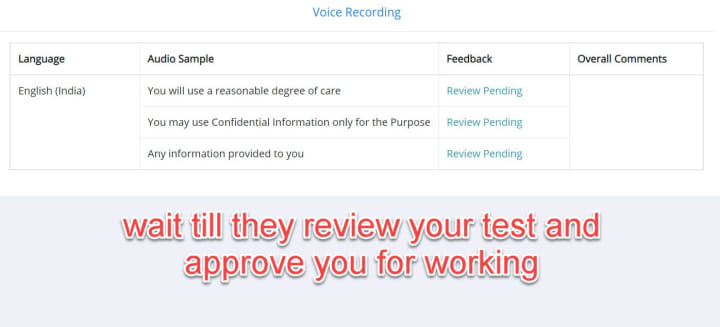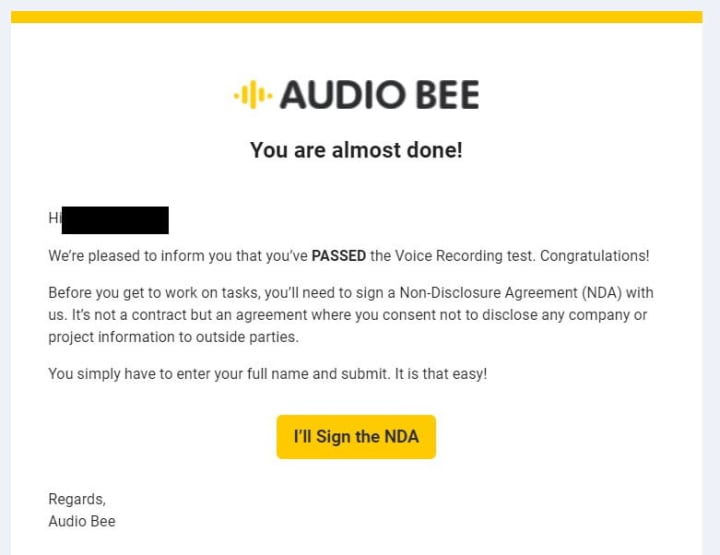 How much can I earn from AudioBee and how do they pay?
This is a pain point for a lot of people. AudioBee does not offer competitive rates for its tasks.
Even though their rates vary with the task type and complexity, you will find that similar tasks on other platforms pay a lot better (sometimes upto 3x more).
This is the reason I have categorized it as a beer money site, even though they claim themselves to be a platform for freelancers.
They process payments via Paypal and Payoneer, with an additional option of Bank Transfer for some countries.
Payments are processed within a week of approval of your task. Below is the payment proof I got from AudioBee.
AudioBee Payment Proof
I recently did a project with AudioBee, which was supposed to be an hour-long voice recording session. Got bored and gave up within 8 minutes.
They had clearly mentioned that I will be paid only if I complete the full session, but surprised me with a partial payment after the project was completed.
I wasn't expecting it but still received a partial payment, which gives me a good vibe about this one. Check out their payment proof below: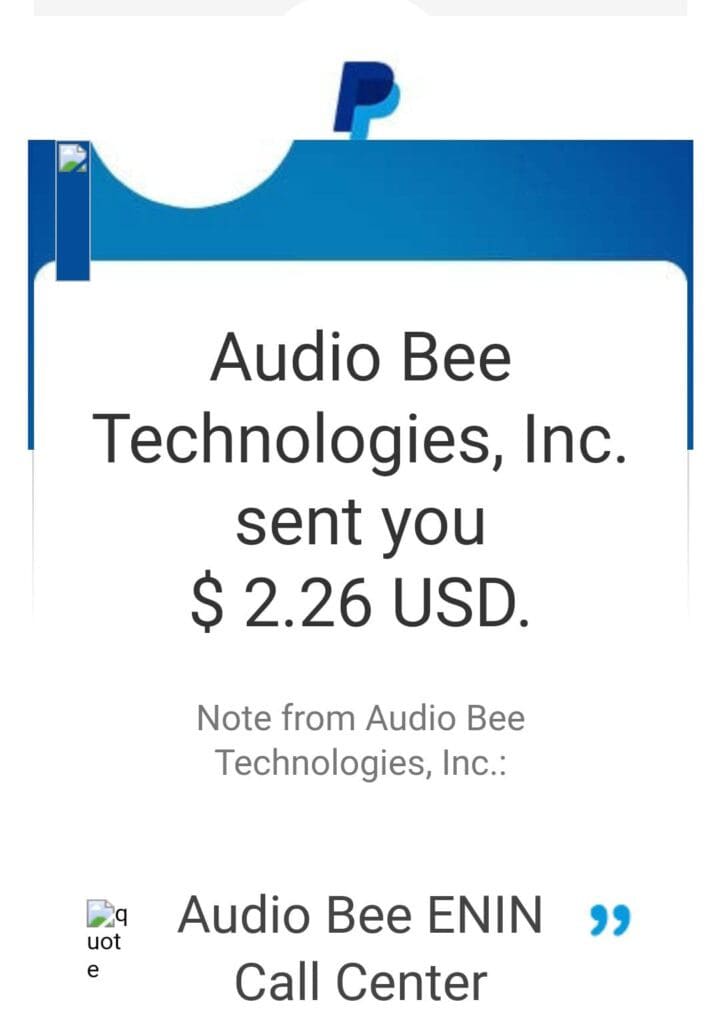 Is AudioBee Legit or a Scam? The problem with this platform.
There are several reports online and discussions on Reddit regarding the legitimacy of this platform.
A lot of people report getting stuck midway in the task and report it as being a scam.
The AudioBee team can be seen participating in several of these online threads, where they explain how they face a lot of technical glitches in their platform which cause these problems.
They say that since they are a new platform, they are still in the process of figuring a lot of things out.
But they do have a very active support team, which usually replies within an hour or two regarding any issue you have.
You need to report to the support team whenever you get stuck on a task, and they will guide you further or resolve your issue.
People who ultimately resolve their glitches do end up getting paid, while the others complain about AudioBee being a scam.
I can confirm that it is not a scam, but it definitely has a very low pay rate for a lot of the tasks on the platform.
Similar tasks on other platforms pay anywhere between 2–3x of that amount, sometimes even more. Let's just hope they resolve their glitches and increase their pay rates as they grow.
They do have some big plans for their platform, hope they achieve this and become better with time.
Update: AudioBee hasn't got any new tasks and it's been a while. There are not many hopes I have with this one.
---
Hello, people of Vocal. I quit my full-time desk job in search for an adventure. I wanted to work whenever, however and whereever I felt like.
Now, I write about online earning websites and tips.
My ultimate goal is to have a digital nomad lifestyle, but right now my goal is to get to 100 subscribers on Vocal. Follow my journey on https://digitalbazaari.com
About the Creator
I quit my full-time job for an adventure. To live a digital nomad lifestyle by working and earning money online. Follow my journey at digitalbazaari.com
Reader insights
Be the first to share your insights about this piece.
Add your insights