I fall madly in love with learning a new foreign language every few months. I'll seek out movies, television shows, and music in my desired language. I'll hungrily consume online content. I'll luxuriate in those new sounds and indulge in the feeling of how the words roll off my tongue. Then, inevitably, I'll want a break.
My foreign language affection is fickle and, as in every relationship, you have to work at sustaining the passion for foreign language study. When the work starts getting hard, I almost always just want be casual friends with all that new vocabulary and grammar. Sometimes, I'll abandon it completely. Other times, I'll still flirt with it but only when I'm in the mood. I've been known to re-engage with a language after a long absence but my attention is never permanent. When I leave a language behind, there's always a chance that I'll return for good but that hasn't happened yet.
I don't show the languages I study a lot of fidelity. I've always been upfront about that. All the language teachers I've ever had knew that my studies weren't serious. I'm only interested in the language that satisfies me in the moment. Sometimes, I seek the intensity of Italian or French. Other times, I enjoy the coolness of Russian or German. I often consider going back to the familiarity of Tagalog or Spanish. Recently, Arabic and Hindi have caught my wandering eyes.
There are a lot of free and paid online resources to learn languages but you have to spend a lot of time separating quality from trash. That kind of effort eats into the time I have to play in a language. There are also formal language classes but I would have to take out a mortgage to keep up with that cost. Then, there are books, my lifelong teachers.
My love of books stems from my childhood trips to the bookstore and library. I was a voracious reader and I could have put my family in debt with the number of books that I wanted. Thank goodness for my local public library.
I loved (and still love) going to the library and leaving with a couple weeks worth of reading. As a child, my backpack probably weighed as much as I did because of all the library books I carried around. My bag always contained books from different genres because I never knew what kind of story I would be in the mood to read at any given moment. (Apparently, I'm not into commitment when it comes to fiction genres either.)
The only problem with foreign language library books is that you can't write in them. Scribbling notes in the margins and filling in the blanks are absolutely forbidden. Sure, I could use a pencil and erase the evidence but that feels criminal. My mama raised me to return a library book in the exact state I borrowed it.
Over the years, I longed to buy foreign language study books from retail bookstores but buying books every time a new language intrigued me would've broken the bank. I often went into used books bookstores to see if there were any interesting language textbooks for sale but I usually left unfulfilled. Sadly, it seemed like I was forever bound to the 3-week borrowing period for library books.
A few years ago, I stumbled across the foreign language section in the Friends of the Library of Hawaii's annual book sale. I wasn't a stranger to the annual book sale but somehow it never occurred to me to look for foreign language books. It was a treasure trove. Every year since that discovery, I'm laser-focused on the foreign language section as soon as I walk in the door of the book sale.
The Friends of the Library of Hawai'i was founded in 1870 to help sustain Hawaii's public libraries. The beloved annual book sale is the biggest in the state. During my trips to the annual book sale, I load up my bags with books in foreign languages that I am currently studying, have studied, or want to study in the future.
Have I ever bought multiple copies of the same book? Why, yes, I have. I have no self-control when it comes to buying books that normally have a retail price of $90 but are being sold at a 97% discount. Who cares if I already have it? It's $3!
This is an example of what occurs in my brain during the annual book sale: What about this book on Czech? Do I even know what Czech sounds like? No. Have I met anyone from the Czech Republic? No. Have I met anyone that has even visited the Czech Republic? No.
Did I buy that that Czech for Beginners textbook? Of course, I did.
I recently moved so many of my books are boxed up and stored. That's a good thing because my collection of used books for languages that I do not speak, read, or understand confounds my family. They just don't understand. My wannabe-polyglot heart fills with joy whenever I buy a foreign language textbook.
I can stop buying language books any time I want but I just don't want to. Given that I cannot make a commitment to a single foreign language, sooner or later, I will get to all of the books in my collection.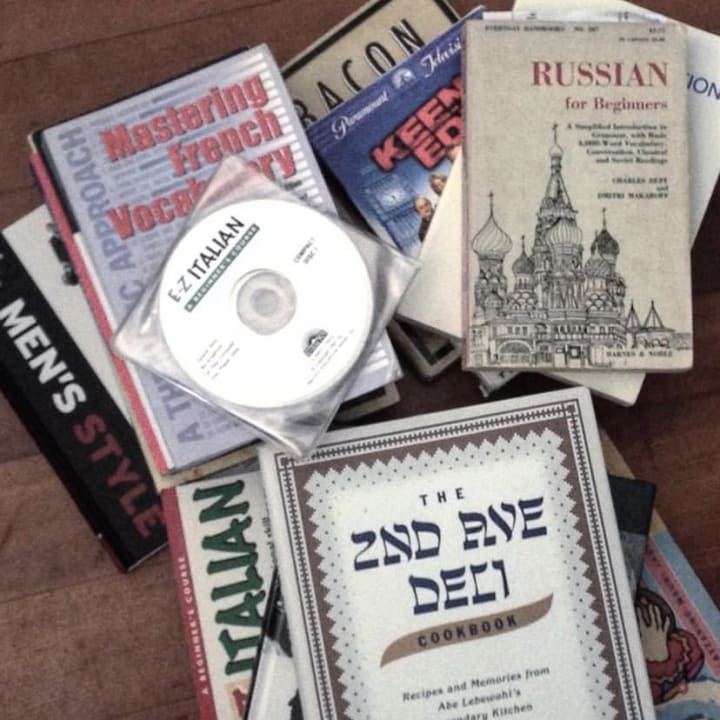 Many local public library systems have similar book sales and I encourage everyone to support their local libraries by buying books at these book sales. If you have a passion for learning anything — languages, cooking, history, or art — your local library book sale probably has something for you. Happy hunting!
____
Thank you for reading. If you enjoyed this story, please consider leaving a heart.