A Parent Problem
School suspension for silly infractions; Do they solve problems or create more of them?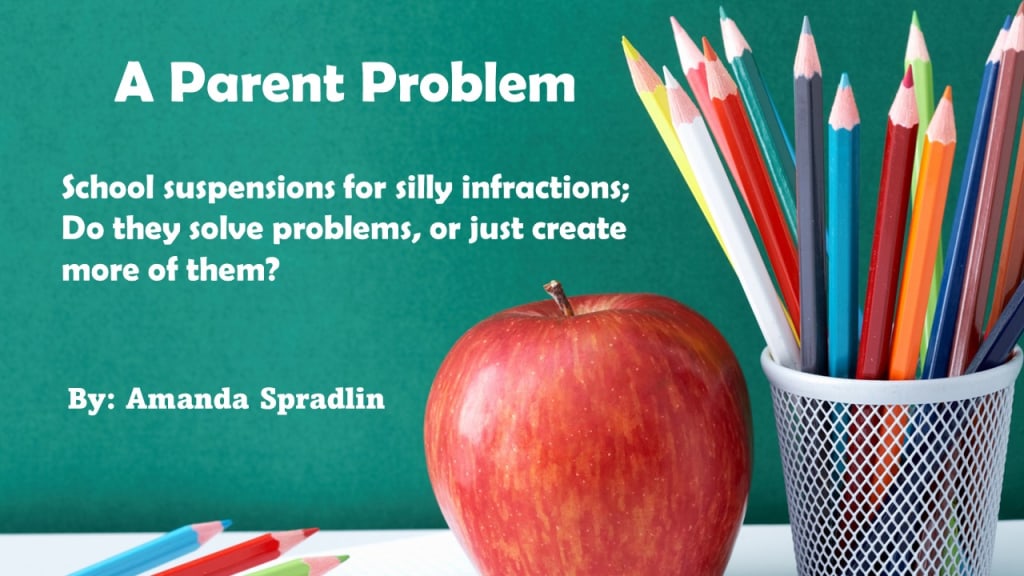 A Parent Problem, By Amanda Spradlin
Transparency is a tricky thing because to be so, you must stand strong in your own shortcomings, and that's something a lot of people spend their lives avoiding. They are simply unwilling.
I am not the greatest Mom, but I know I am a good one, and I don't have perfect children, but they are as bright as the sun. I'm super disappointed with the public school system. My daughter has not had the best elementary experience and my son isn't off to the greatest start either.
My son is in pre-K and was put on half days right off the bat because he doesn't take naps. My daughter is in 3rd and on her 5th suspension for things that I feel are unwarranted.
1st She got into an argument with a classmate that was making fun of her and calling her a liar when she told them her dad used to be a rapper but makes clothes now. She is no fighter, but she told them if they said another word about her dad, she was going to punch them in the nose, which resulted in her getting suspended (while the other kid didn't get in trouble at all) and I got called into the principal's office and had to explain that she was telling the truth.
2nd She got into an argument with a classmate that pretended to be her friend so she would buy her something at the bookfair, and then when the girl started being mean again and my daughter wanted the item back it became a whole dramatic scene. Again, my daughter got suspended, the other girl did not.
3rd They are about to do a play called American symbols on the statue of liberty, and one of my daughter's friends told her that she googled and found out that the pinky finger in China is like using the middle finger here in America. Then, my daughter turned around and went to tell another kid that same thing on the playground at recess, and she got suspended. The other kid who started it, did not.
4th The kids were talking about what they would do if there was a real purge, and my daughter got suspended for saying she would use a baseball bat. The other kids who were talking about it with her, did not.
Today, at pick up, my daughter ran up to me, super excited that she earned a fidget spinner as a prize for good behavior by the school counselor. However, when we went to turn and walk down the sidewalk, her teacher met us halfway. She didn't even make eye contact with me or even look at me, but she was like, "oh, girl, we're going to have to have a little interview with the principal tomorrow because 'kid' just told me that you told him to shut the f* up!"
I looked at my daughter, who was completely shocked, and I said, "that doesn't sound like you at all…" and she proceeds to tell me very calmly, "No, I did not. I told him to shut up, but I didn't say the f*!" Now, being her mom, I know that if she really did say it, she would've gotten super anxiety drama queen on me, right then and there, because she just got off grounded from going too far on her bike and it is her best friend's birthday. She was calm, and gleeful, and not worried a bit. She was telling the truth.
Still pretending like I don't even exist, the teacher started walking towards the principal and she was like "Well, we're just going to have to call everyone involved in for an interview and dig a little deeper to get to the bottom of this." I said, "Well, I'd like to dig deeper into a lot of things," and I looked at the principal and said, "I would like to have a talk with you, personally."
Turns out she told the kid to shut up because he was teasing her about having a crush on someone.
This will be my 3rd sit down with the principal and the counselor.
The first time, they decided to give my daughter a daily behavior chart, but once I started writing back to their notes and asking questions, or telling them she explained situations happening different, they decided to stop using it and the teacher called me, asking if I would have her evaluated.
My daughter does have social anxiety. However, she has had the same pediatrician since birth and has been to and returned to the same counseling center when needed since kindergarten. She is only 8 years old, but she has been through a lot. Our former neighbor treated her like his grandchild, and his passing was hard for her. We also lost my aunt, and our dog. We have moved 3x's since she was born, and last summer she was riding her bike and saw someone overdose in the middle of the street. This little girl of mine is such a strong and beautiful beast.
I did take her back in to be re-evaluated, per their suggestion, but the truth is she has been doing pretty good, despite these incidences. She's been keeping her room clean, she got a part in the school play, she's the team leader of a group project, and she's excited for a field trip and summer camp. Our doctor says that part of the problem is that the schools are turning normal kid behavior into a problem, "and you can tell them I said that." I agree 100%.
I homeschooled my daughter for 1st and 2nd grade due to Covid. I know she's a handful. However, I am still always with her when she's at home, every day. She knows she can talk to me, and believe me, she does. Still, I find myself sitting here, dumbfounded, that this is her 5th suspension, all over some he said, she said, pre-pubescent gossip. It is worse than politics!
This teacher is beyond unreasonable. She isn't even respectful. I swear, she would not even look at me!
I have already expressed my frustration to the principal about her calling me again AFTER my daughter was re-evaluated and trying to demand that I have bloodwork done on her, for no reason other than the fact that she doesn't like her attitude. Well, neither do I, but she is a child. How about we set a better example, teacher? It's so frustrating to try to show my kids that it's okay to be yourself when the schools are like oh no, not like that.
I mean, can kids still be kids, or nah?
If you've made it this far, thanks for reading my mom rant. <3
student
About the author
Amanda Spradlin is the founder of Coincidental Chaos. She writes with the passion of a questionable mind. Any donations are appreciated!
Reader insights
Be the first to share your insights about this piece.
Add your insights