A Guide to Being Prepared!​
The essentials for your upcoming Theatre, Musical Theatre, and Vocal Performance undergraduate auditions.​
College auditions are intimidating, even for students with a record of high school productions, community theatre, or opera work. College programs are more demanding than ever, and expect serious commitment from students. 18-hour+ semesters, performance requirements, and increasing rehearsals are now the norm.
Despite the challenges, performance attracts many students, so getting into desired programs requires thought and planning. This guide details how to make your audition stand out:
The Questions to Ask
Overall Preparation
The Week Leading Up the Audition—What to wear
The Day Before the audition (or leaving for an audition)
What to do the Day Of the Audition
1. The Questions to Ask
Once you've decided what schools you are going to audition for, you need to organize each school's information and audition requirements. Making a table where all of the information stays organized and accessible is an easy way to keep on top of everything.
Chart Example: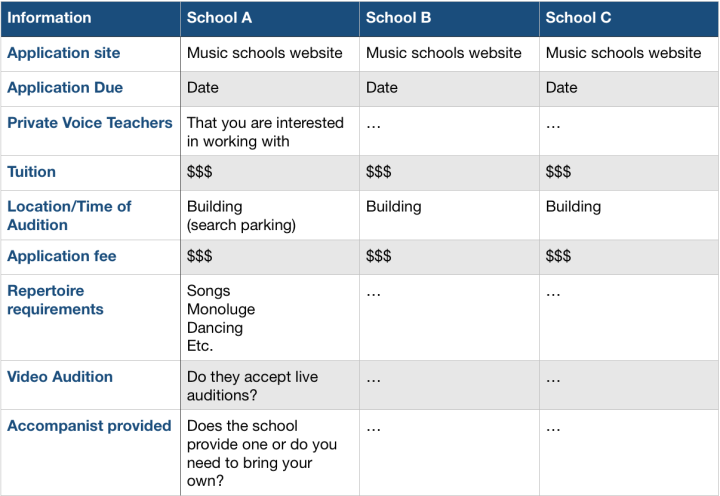 The application site tends to be the school's website, where all of the vital information is stored. On the site you will request a music audition, fill out all of the required information. As well as submit any additional materials, the school needs to determine your acceptance (i.e., SAT/ACT scores, GPA, and class rank).
The application's due date is often the "deadline" on the application site.
When researching school's, you MUST look at the private voice teachers and their studios. It is a teacher's job to shape and mold your voice during your undergrad, and they are an essential facet of your collegiate career. *Look at the teacher's bio on the school's website, get into contact with them, and ask if you may have a sample lesson when you come to the university for an audition.
Tuition is a significant factor when choosing a college, and you must not only apply to college's you cannot afford. A suggestion would be to discuss with your family, financial advisors, and the school itself when talking about tuition and realistic scholarship opportunities.
Knowing the location and time of your audition is essential! Put it in your calendar the moment you know about it, and set up reminders on your phone. Also, plan in terms of travel. Will you need to book a hotel, airfare, or pay for parking? These are all vital questions you will want to have answered at least a month in advance.
There may be application fees, be sure to communicate with your family or save up, because they tend to range from $50-$200 depending on the University. Keep in mind some schools do wave application fees, and it never hurts to ask.
Always be sure to check each school's specific audition requirements list. If you are required to sing, be sure to bring a copy of your sheet music printed front and back in the appropriate key. The most common repertoire requirements are:
Vocal Performance: Two contrasting pieces from the standard repertoire performed from memory: one in English and one in Italian, French, or German.
Theatre Arts: two contrasting monologues one minute in length.
Musical Theatre: a musical theatre song, a one-minute monologue, dancing of some kind.
Some schools have video auditions instead of, or in place of, live auditions. It is now becoming more common due to its convenience if you are unable to travel to a particular city due to either scheduling or cost. If you do choose to submit a video audition, be sure you follow the guidelines EXACTLY. Most often they want a full body shot along with an accompanist.
Most schools provide an accompanist, and often give you time before your audition to work with the pianist (15 minutes being the most common). *You may want to work with a separate pianist before you go to the audition. It is also courteous to submit/email your sheet music to the school so that the audition pianist may look at it.
2. Overall Preparation
I'm sure you've heard this phrase, but practice, practice, practice! You need to dedicate at least an hour a day to your total audition material. Research the show, and watch quality productions and performances to understand your character further. Seek advice from your teachers, and people whose opinions you trust; perform for them, and listen to their thoughts.
Print your headshot on 8'x11' glossy paper (I tend to get mine done at Walgreens) and staple your resume to the back of it. That way, your information does not get lost among the other applications.
And take care of yourself! Eat well, stay away from foods that do not make you feel good, and get some exercise; whether it be dancing, biking, or even walking, you need to keep your body busy.
3. The Week Leading Up the Audition-What to wear
The week leading up to an audition is tedious and exciting. During the week you should review your audition materials, and select the outfit(s) you want to wear. Make sure not to wear anything uncomfortable that you have not performed in or rehearsed in before. It is common to rehearse in one's audition outfit to make sure that every facet is satisfying.
For Girls:
If you are wearing pants, great! If you are wearing a dress or a skirt, be sure that it is knee-length, so that you don't accidentally flash your future teachers. Make sure your undergarments are well adjusted, and snug and your shoes are practical. Wear enough makeup, so the panel knows you're wearing makeup, but not enough that you look like Trixie Mattel.
For Guys:
You do not need to audition in a tux. Wearing a nice pair of slacks, a button-down shirt, matching belt, and dress shoes with black socks is a perfect ensemble. If you want to wear a jacket as well be sure it buttons comfortably, or unbutton it before you begin to sing. Putting on some makeup will not hurt, cover up the shine, add a little color to your cheeks and you will be good to go.
Make sure all of your travel plans are in order, and the school has confirmed your audition time(s). By this time, you will want to have all of your sheet music, resumes, and headshots printed, along with your other audition materials—and put them into one binder.
4. The Day Before the audition (or leaving for an audition)
This is a day for packing if you have not already out of pure excitement. Try your best to keep all of your belongings in two or three bags. Having too many things to keep track of in stressful times can make the experience less fun and more of a hassle.
Make a checklist for yourself and have someone look over it to be sure you don't forget an essential (i.e., toothpaste). You may also want to pack some snacks and scope out good restaurants near your audition location.
Pack your bags, set your alarm, get a glass of water, a cup of tea, and relax. Tomorrow will come, and you are ready for it!
5. What to do the Day Of the Audition
If you have prepared yourself for this day, it should go off without a hitch.
Get up in time to do your normal/everyday routine, as well as a 10-25 minute vocal warm-up. If you do not, you usually will want to stretch before you get into your clothing for the audition.
Arrive at the school/venue at the time the school sent you, or more than an hour before your meeting/audition time. You want to do this so you can get the lay of the land. Find the sign-in area, bathrooms, practice rooms, accompanist, and the room where you will be auditioning.
Each school is a bit different, so once you sign-in, they may have a tour or green room of some kind. It is entirely up to you if you want to participate, but I suggest finding a practice room, and meeting with the staff pianist who will be playing for you audition. Once you have free time, think about why you are doing this and use that to fuel your performance.
After your audition, the school may have you do some activities such as a tour or a group lunch. Have fun meeting the other potential students, and try your best not to compare yourself to any other students. You are there for your reasons, and they are there for theirs, and you never know what kind of student a school is looking for in their program.
Auditioning is hard and intimidating, but if you spend your time wisely and think ahead, you will not be overwhelmed by everything going on around you.
Break a leg!
how to

Sydney Fabregas
I am currently working on my undergraduate for Vocal Performance. I have a love for every facet of the arts, whether it is performing, production, or writing. I look forward to writing informative articles reflecting on my interests.
See all posts by Sydney Fabregas →