The Truth About Being Disabled at the Savannah College of Art and Design
No amount of expressing to SCAD that I couldn't function without special accommodations or showing them how my joints stiffened in the cold or revealing to them that I had visible holes in my skin could make them budge all of my junior year and into my senior year. I still wasn't disabled enough for them and was still prompted to function just like all of the other students.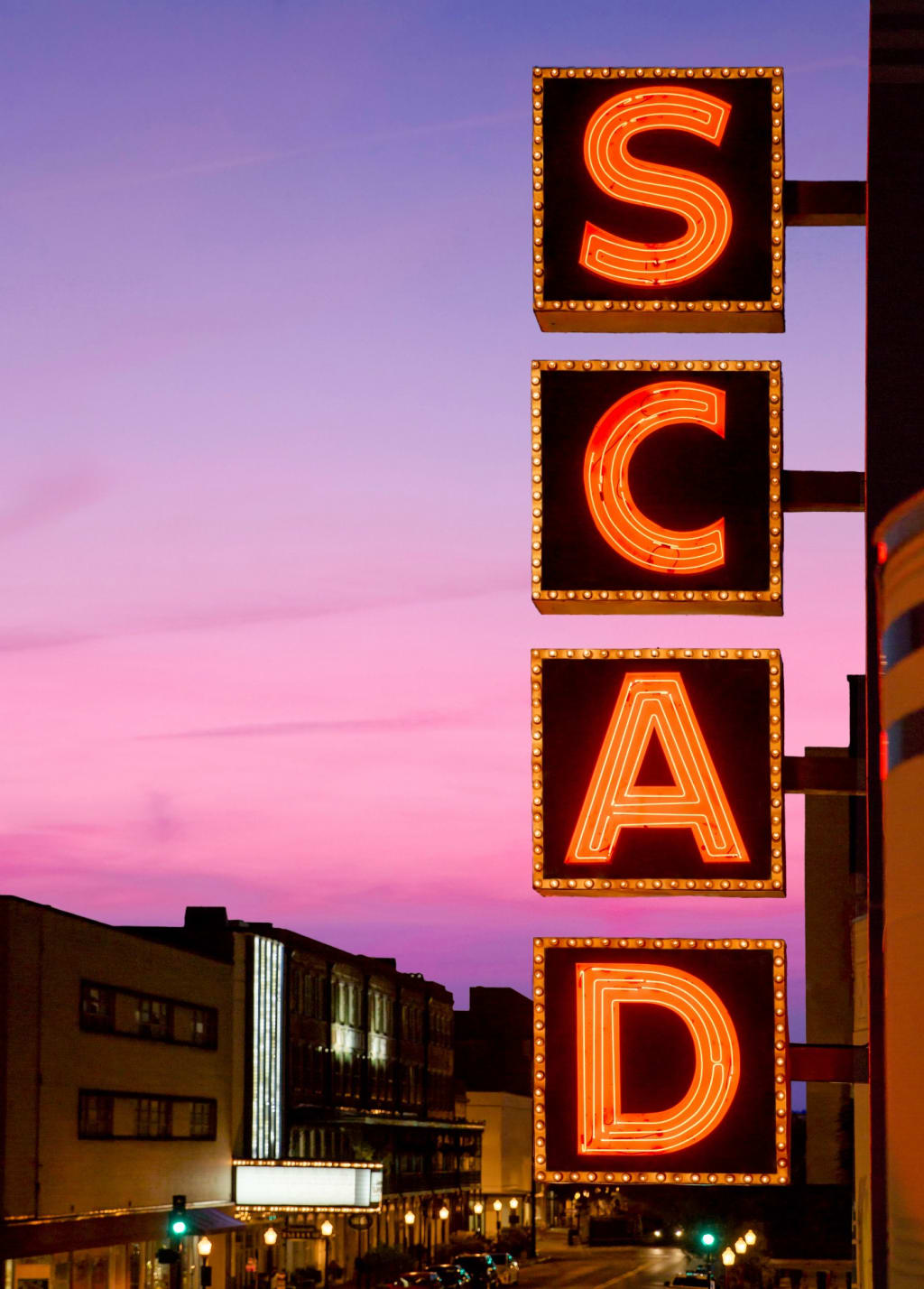 I have a disability.
I've had this disability for two years and developed it while I was in college.
But in the days I spent dreaming (manifesting) about my future life traveling the world, booking celebrity clients, and being my own boss I never pictured having a disability.
The wake-up call comes when your disability comes hurtling at you at full speed when you were perfectly healthy before it. You have to stop and think about what's really a priority when life itself is a risk because of your health. And the worst part of it is when you surround yourself with able-bodied people, who knew you pre-disability but don't understand what you're going through now.
My disability didn't become debilitating until my senior year of college, just a few months ago. I was living in an apartment that I couldn't afford, working a work-study job that didn't pay enough (but was offered to me through my school, go figure). The only thing I had were a few solid friends that supported me during my darkest days when I was physically unable to feed myself due to the numbing pain of psoriatic arthritis. Or needed to get places, but wasn't able to walk. Or when I ran out of my medication. Without them, I don't think I'd be here.
It's tough being in college. But being in college with a disability is an entirely different level of struggling that not many people can relate to. I went to the Savannah College of Art and Design and studied at the Savannah, Atlanta, and Hong Kong campuses. Out of the three campuses, the Atlanta campus was the most helpful towards my disability and the most understanding. However, the other two campuses were stubborn in providing mental health and physical disability services due to the lack of resources, shortage of counselors, and an uncontrollable increase in student suicides. When I was noticing that my mental health was rapidly declining, I reached out to student services in Hong Kong while I was abroad in the fall of 2017. I was told that I'd have to pay $500 HKD (only at around $70 USD, but with $500 HKD, I could eat many meals for a week) and undetermined bus fare to an unfamiliar area in order to receive possible mental health treatment. There was nothing they could do for me at SCAD.
By the end of the semester, I'd developed both psoriatic arthritis and Generalized Anxiety Disorder from stress.
When I returned to Savannah from Hong Kong, SCAD even claimed I "wasn't disabled enough" to receive special accommodations due to my disability being relatively invisible because it is both an autoimmune disease and a skin condition (on top of the anxiety), but not all psoriasis patches are visible. Yes, I could still walk on my own, but not without the assistance of handrails. Yes, I could live with others, but I was at risk for contracting diseases from using communal spaces because of my weakened immune system. Yes, the dorm was sufficient, but with the inability to decompress after a hard day of classes, my psoriasis would only flare to the point of me blacking out in the dorm room, and I had nowhere to turn.
No amount of expressing to SCAD that I couldn't function without special accommodations or showing them how my joints stiffened in the cold or revealing to them that I had visible holes in my skin could make them budge all of my junior year and into my senior year. I still wasn't disabled enough and was still prompted to function just like all of the other students.
I quickly became content with the fact that I would probably die at SCAD.
I had to act fast and move back on campus due to the unaffordable off-campus housing. I spent all of winter break begging to SCAD and holding my breath, pleading to them that I needed special accommodations for on-campus housing. They didn't reach a decision until a week before school started, placing me in a double occupancy room and overruling my accommodations request. Still not believing that I needed special help. I spent the first half of the winter semester still begging for an accommodated living. No budge. I was told that every dorm was full and I'd have to stay put, as long as I stayed in Savannah. At the end of the semester, I wrote the accommodations center an honest email, and the next week, I was able to transfer to the Atlanta campus, where I could receive accommodations.
However, I waited two years to receive accommodations from SCAD, finally obtaining a single room my FINAL quarter—weeks before graduation.
Fortunately, I graduated with honors in June from SCAD Atlanta. With the biggest weight of my life finally lifted from my shoulders, I felt as if I could breathe again. But I can't help but feel weary for the friends who haven't graduated yet, with years of SCAD still ahead of them. Will they make it to graduation? How will they weather during their junior or senior years—the toughest years at SCAD? Will they ever seek counseling, and if so, will SCAD tell them to wait a month into the semester, just for them to stare into the dead eyes of a "counselor" who's in training and is just trying to get through the list of students who signed up that day for therapy?
In April, a Medium article was written by former SCAD student Stephanie Franklin-Marr, revealing the truth about what it was like to be a SCAD student. It's gained a lot of traction this week, specifically on my timeline where post-grad and still-enrolled students are discovering it and sharing it with their friends. She writes, "It's a strange, unhappy reality that most SCAD students know: they are not valued by the school leaders. And when mental health and other services provided by the school are so lacking, it's hard not to agree. It's hard not to hold the school somewhat accountable for vulnerable students taking their own lives." This is sad, but a true reality faced by most, if not all SCAD students. Later, Franklin-Marr adds that SCAD's emphasis on its outside image overshadows the poor morale on campus. SCAD often brainwashes its own students with highly edited video footage of icons such as Oprah, Mahershala Ali, Hugh Jackman, Emily Blunt, Robert Pattinson, and Chris Evans (just to name a few) who come and go but never really know the truth about the school.
I didn't come to SCAD with a disability. I didn't start classes with extreme joint pain and fatigue. Instead, because of the stress I experienced from the lack of help from the school itself, tight deadlines, the culture of the students (feeling out of place because I was black and being undermined by white students who were in the same program as me), and with aching knees from having to stand shoulder-to-shoulder on a crowded bus just to get back to the dorms, or to eat, or to get to class put too much strain on my body that I never could've ever imagined. There are many challenges--that could be easily fixed by SCAD--that determines the wellness of students with or without disabilities! And we put our bodies through so much for really nothing at all.
I want to thank Stephanie for writing such a truthful article. If no one else speaks again after her about SCAD (which I doubt will happen), I will. Maybe it could save a life.