2017 OSEU Strike: Refund
Why Students Want Their Money Back #wepaytolearn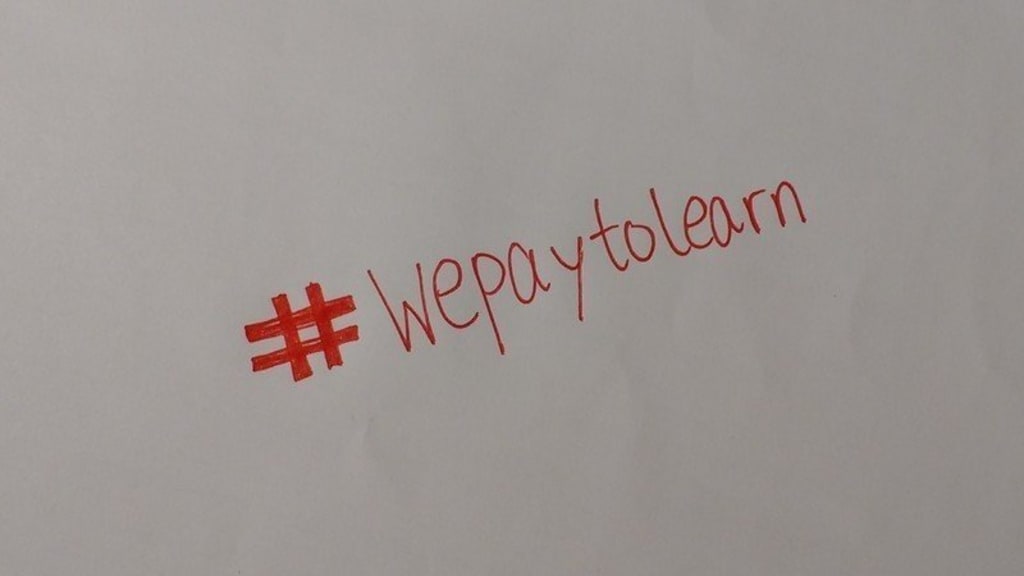 #wepaytolearn
If you read my previous article, you will know that I'm a student in Ontario who is unable to attend class because the profs are on strike. I briefly mentioned in the article that there is a petition for students to get a tuition refund making the rounds on the internet, and I have seen many people confused as to what the petition is all about and why students are signing it, so I decided to write out a little explanation.
On October 16, 2017, 12,000 college profs walked away from their jobs and started a lockout strike. This means that around 200,000 full-time college students are unable to attend class. I won't get into the semantics of why the strike is happening as that's what I did in my previous article.
Because students are not in class and are unable to get help with assignments, and as a student, who paid for my education, I am incredibly frustrated. I paid for a service and I am not receiving it, that right there is the main reason that the petition for a refund of our tuition was started.
If you went and hired a company to do work on your lawn, paid them in advance for four months of work and then they didn't show up for 3.5 weeks, you would ask for your money back. If you hired a band to play a show at a party and they didn't show up, you'd ask for your money back, so why can't students who paid for their education get a refund from the institutions that they paid to learn at? Why was I getting called petty, immature, and stupid for wanting my money back? The petition isn't asking for a full refund, the author did the math and it says that (for their program) they paid $30/day in tuition, so they want $30 back for every day that the strike is on, and that seems like a fair deal. Here is the description of the petition from the petition's page:
Ontario's 24 public colleges and the union representing their faculty are in negotiations over their contract. College faculty have declared that they will be on strike as of October 16th, 2017 if a deal is not reached.The purpose of a strike is to put pressure on the employer. However, as it stands, College administrations have nothing to lose.Students pay the same tuition regardless of how much time and learning we lose if a strike occursAdministrators continue to earn their comfortable salaries even if classrooms are empty.It's a public system, therefore students can't really "take their business elsewhere." The colleges therefore have a monopoly.Students suffer the most, yet we are not part of the conversation. We lose learning. We lose time. We demand a refund.Many students work minimum-wage jobs to pay for ever-rising tuition costs that vary between $3,800 - $7,500 for two semestersSome are mature students with families to care for and bills to pay. Our college education is a ticket to employment.Parents spend their hard-earned money to invest in their children's education.We, the 235,000 full-time and over 300,000 part-time students demand a tuition reimbursement for each day lost should a strike occur. At an average tuition of $5,000 for two 13-week semesters, we are paying nearly $40/day to be in school.Full-time students must be reimbursed $30/day should a strike occurPart-time students must be reimbursed $20/day should a strike occurWe, the students, want to be in school and we want to learn. We are paying for it. If the two bargaining teams do not consider our educational and employment prospects as motive enough to reach an agreement, then perhaps a justifiable hit to the colleges' bottom line will.#wepaytolearnThis petition will be delivered to:College Employer CouncilSonia Del MissierOPSEU - CAAT-A
As of writing, the petition has received 111,592 signatures of the 150,000 that it is asking for, far more than the original 50,000 signature goal. I signed the petition because I'm not receiving the education I paid for and also to put pressure on the College Employment Council to start working on a solution. They don't lose anything during the strike, they get paid their full wages whether or not there are students in the seats. They have nothing to lose through the strike, but now the 111,000/ 200,000 students want their money back there is a reason for them to find a quick and easy solution to the strike.
But students didn't stop at just a petition, we also started two hashtags to bring media attention to our cause. #Wepaytolearn was the one associated with the petition and #collegestrike was started to just bring attention to major media outlets of the struggles of students and profs.
If there is anything positive to take away from the strike, it is the fact that I can relax and focus on writing articles and playing video games while also taking a little bit of time every day to do some studying. Since I have no clue when I will be back in class, I'm just keeping my head down and taking it day by day, and so should any other students that are out of class. Just focus on getting whatever homework and studying done that you can and make sure to take the extra time you have each day to hang out with friends and family and focus on the things you love doing. But remember that #wepaytolearn!
About the Creator
I run a blog called The Ottawa Sound which aims to promote Ottawa Canada based musical artists, venues and any other aspect of the local scene. I'm also in two bands Rebel Reload and Batavia.
Reader insights
Be the first to share your insights about this piece.
Add your insights