10 Best HVAC Podcasts in 2022
Best HVAC Podcasts to Follow in 2022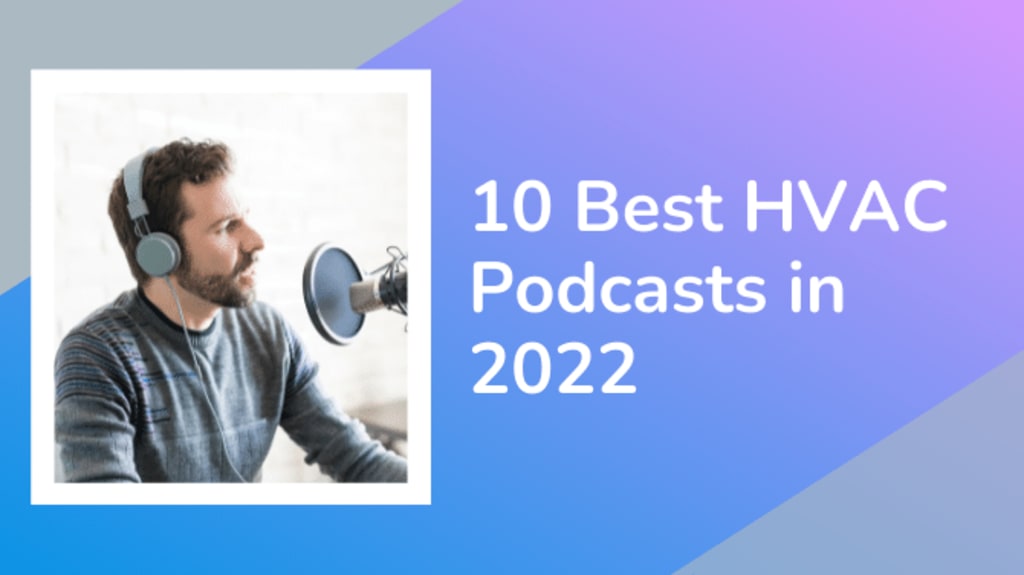 If you work as an HVAC technician, you presumably spend a lot of time commuting between job locations. Such truck rides can be extremely tedious and dull at times.
However, there is a simple way for technicians to add a little excitement and productivity to their commutes without doing any extra work.
Why not listen to something more educational while driving rather than driving in quiet or with music playing in the background?
You may easily download HVAC podcasts and listen to them whenever it is convenient for you, or you can watch a live podcast broadcast once you know the day and time it will run. HVAC podcasts may be a terrific tool for growing your HVAC business and staying up to date on service industry events.
You can always learn more, no matter how long you've been in the sector or major industry issues. There are always new ideas accessible to broaden your horizons and improve your abilities. And listening to an HVAC podcast while driving is a great way to learn new stuff.
So, let's go right to the top HVAC podcasts:
1. HVAC School
HVAC School is the most consistent technical podcast on this list, and it's a must-listen for technicians who want to stay current in their field. It covers a wide range of topics, including industrial refrigeration, ductless systems, and combustion fundamentals. Business owners will be interviewed for the remaining opportunities as well.
HVAC School, which focuses on the technical side of the HVAC industry, is a must-listen for technicians who want to stay on top of their game. This HVAC shop discussion podcast focuses on less commonly discussed topics such as ductless systems and commercial refrigeration. They also include helpful information on hiring, interviewing, and training. HVAC School releases new episodes every Tuesday and Thursday.
2. HVAC Know It All
HVAC Know It All is owned by Gary McCreadie, a certified refrigeration and gas technician, and includes a podcast, YouTube channel, and other materials. The curriculum includes excellent tool reviews as well as a well-balanced mix of technical and professional guidance.
HVAC Know It All is the greatest podcast for practical technical advice, industry specialists, expert comments, and tool evaluations. HVAC Know It All releases new episodes every week.
3. HVAC Masters of the Hustle
The podcast's host, Jason Walker, established HVAC Masters of the Hustle to help those who want to excel and advance their careers in the HVAC industry. Jason Walker presents and interviews some of the most successful HVAC business owners, who share their success stories and insider secrets in this series.
This HVAC podcast will undoubtedly present you with all of the facts on how to prepare for success in the HVAC sector every day. New episodes of The HVAC Masters of the Hustle Podcast are.
4. HVAC 360
HVAC 360 offers a unique viewpoint on the HVAC sector for technicians, HVAC contractors, and facility personnel interested in the commercial side of buildings. The programme delves into systems and products, their operations, optimal contexts for use, science, and HVAC diagnostics.
While not every episode will pique your attention, there are enough to widen your knowledge and assist you develop in your HVAC career. Matt Nelson, a licenced mechanical engineer and host, enjoys working on construction sites and wants to share his skills.
HVAC 360 provides a comprehensive and all-encompassing approach to the commercial side of the HVAC industry for professionals and contractors. The episodes focus on the operation of systems and items because Matt Nelson is a certified mechanical engineer.
5. Contractor Sales Academy
Tom Reber co-founded the Contractor Sales Academy, which teaches tradespeople how to sell. Tom and two other contractors on the show promote CSA's distinctive "Shin Fu" sales method, which they teach in their CSA: The Bridge curriculum, through their personal experiences and words of wisdom.
6. HVAC Uncensored
HVAC Uncensored is a chat show about running and managing an HVAC company, comparable to an FM morning talk show but with more swearing (the uncensored portion). The podcast was created by Gil and Kelley, two seasoned HVAC experts. The HVAC Millionaire YouTube channel, maintained by co-host Kelley McKay, provides HVAC business advice.
7.The HVAC Jerks
If you like that style, The HVAC Jerks, a morning talk show-type podcast hosted by three down-to-earth contractors, is another must-listen. In casual chats, they discuss a wide range of essential industry issues, technical topics, and business advice. The HVAC Jerks is a podcast hosted by three down-to-earth HVAC Software contractors that discusses business advice, technical challenges, and industry news. If you prefer listening to morning discussion shows, this podcast is for you.
8. Control Talk NOW
ControlTalk NOW approaches HVAC in a different way. The hosts of this podcast, ControlTrends, a website focused on industrial and commercial controls, are Eric Stromquist and Ken Smyers, two specialists in HVAC and building automation distribution. This podcast is beneficial for HVAC companies interested in commercial HVAC systems, such as smart and green building standards and systems.
9. The Wealthy Contractor
The Wealthy Contractor is hosted by entrepreneur and business adviser Brian Kaskavalciyan. Brian shares how he turned his home improvement company into a multi-million dollar national franchise and speaks with other home service experts about the various elements of a successful HVAC business model to give you the tools and insights you need to forge your path to success, wealth, and freedom.
HVAC Know It All is the greatest podcast for practical technical advice, industry specialists, expert comments, and gear reviews. HVAC Know It All airs new episodes every week.
10. Cracking the Code
Cracking the Code is produced by EGIA Contractor University to teach contractors the best business management techniques. The podcast is hosted by Weldon Long, a sales specialist in the HVAC industry. The Electric and Gas Industry Association's clients include contractors, manufacturers, and other industry specialists.
Conclusion
Consider listening to one of these HVAC podcasts the next time you're on your way to work. They allow you to stay up to date on market knowledge, learn new industry strategies and tactics, and feel more productive while driving.
Using the latest HVAC software can help your HVAC company streamline
Reader insights
Be the first to share your insights about this piece.
Add your insights